This budget-friendly easy turkey meatball recipe is one to make on repeat! Pesto is a nice change from the traditional turkey meatballs with marinara sauce meal, and there are so many ways to switch this meal prep recipe up.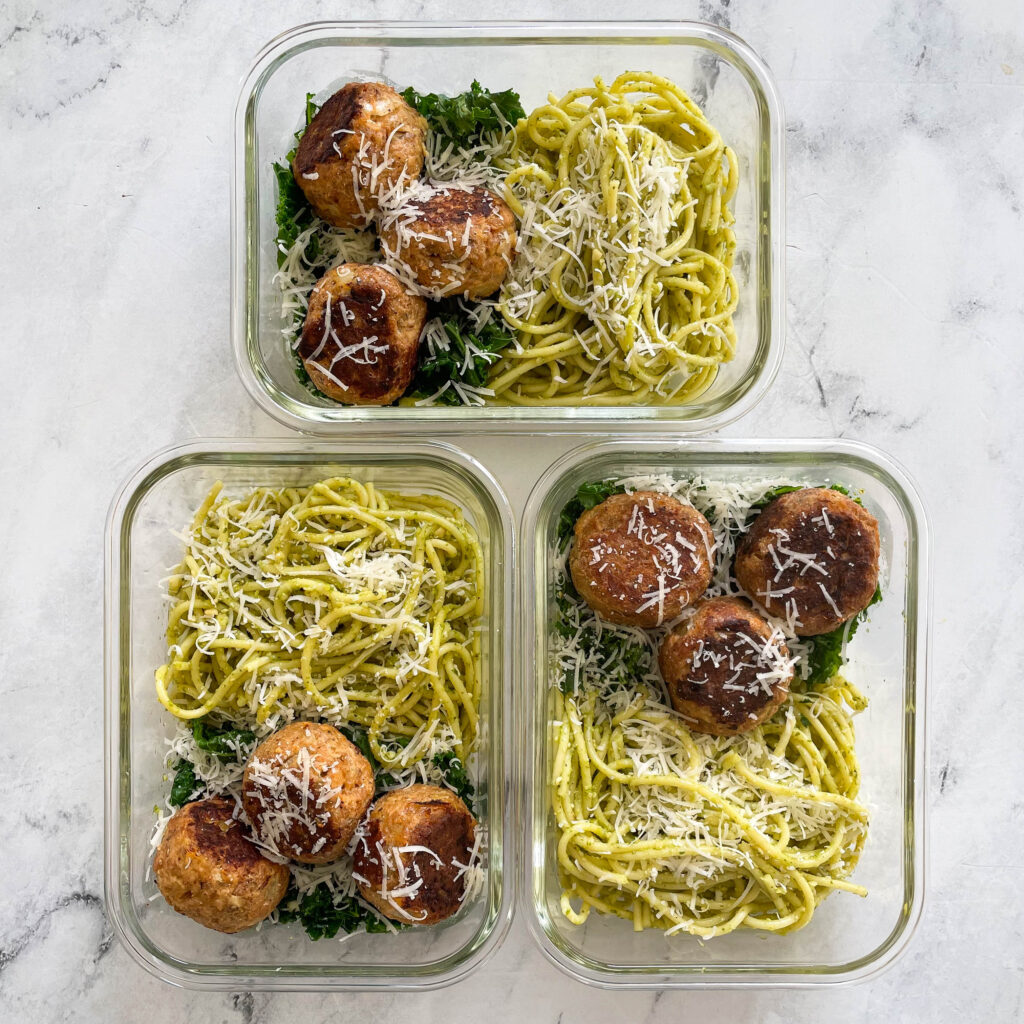 Tips For Making Turkey Meatballs On A Budget
Because I was on a budget, these meatballs were simple but sooo good in this prep. There aren't a ton of ingredients in this recipe. I just added a few spices, some cooked chopped onion and voila!
What made it difficult: the meatballs required a lot of attention while cooking so they would cook evenly all around. Just keep this in mind! If you're a fan of baking meatballs, that will work too.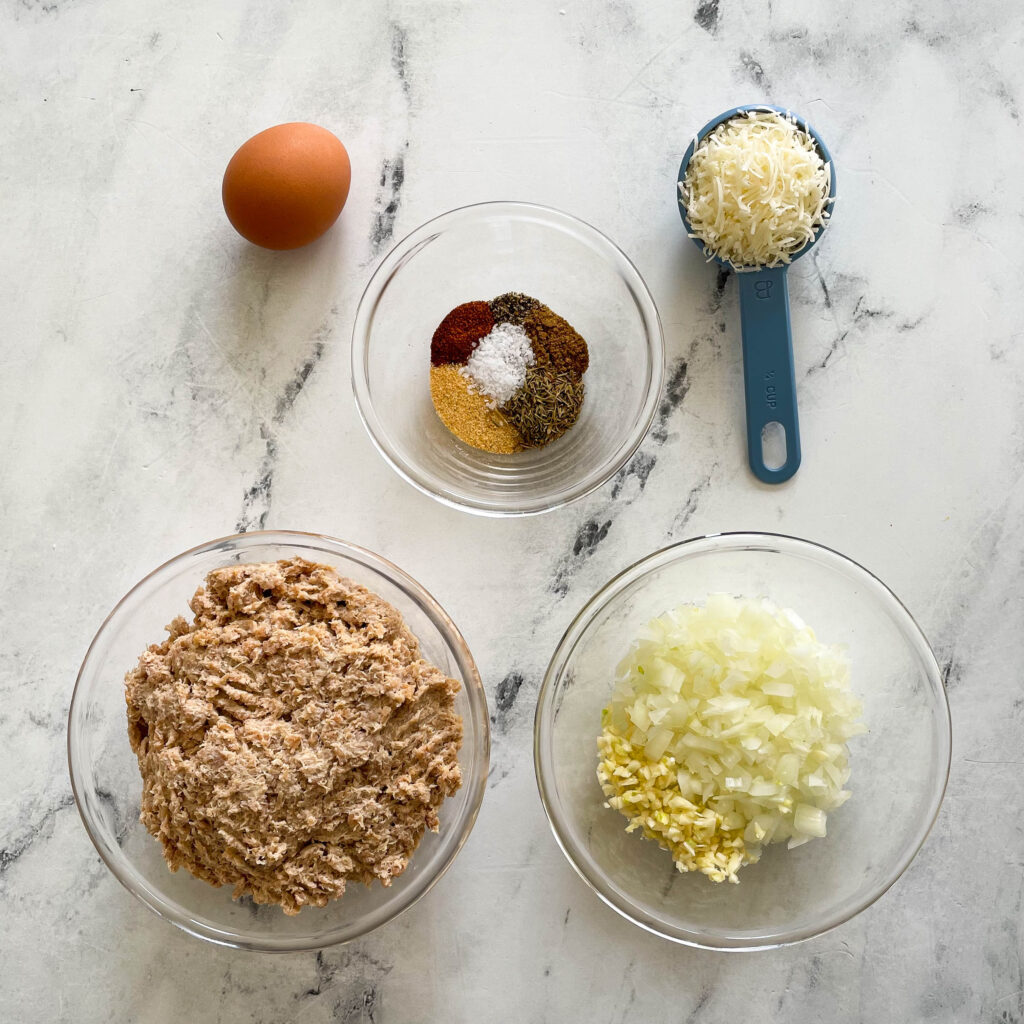 How To Make Kale Taste Good
On a budget, kale was my cheapest option. I can buy a huge bunch for just under a dollar, and it lasts me all week. I actually bought two bunches for this budget challenge.
One important suggestion: cook the kale AFTER the meatballs so you get some of that flavor in there. You can use any veggie though with this meal. Broccoli, asparagus, green beans, spinach, brussels sprouts and roasted carrots would be great in this meal too.
Making Your Own Pesto
When I originally made this meal, I made pesto from scratch with kale, pecorino romano and walnuts. It turned out okay, but I need to perfect my "poor girl's pesto" before sharing the recipe.
Click here to see another good, cheap homemade pesto recipe that I've used in the past. Or, just buy pre-made pesto. Nothing wrong with that (if you're not on a $30 budget!).
I don't love making pesto for meal prep because it's just an extra step, but it did taste pretty fresh.
To make this meal gluten-free, I used a veggie pasta from a brand called Barilla. It was under $2 for a 12 oz box and it was honestly one of the best kinds of pasta I've tried for meal prep!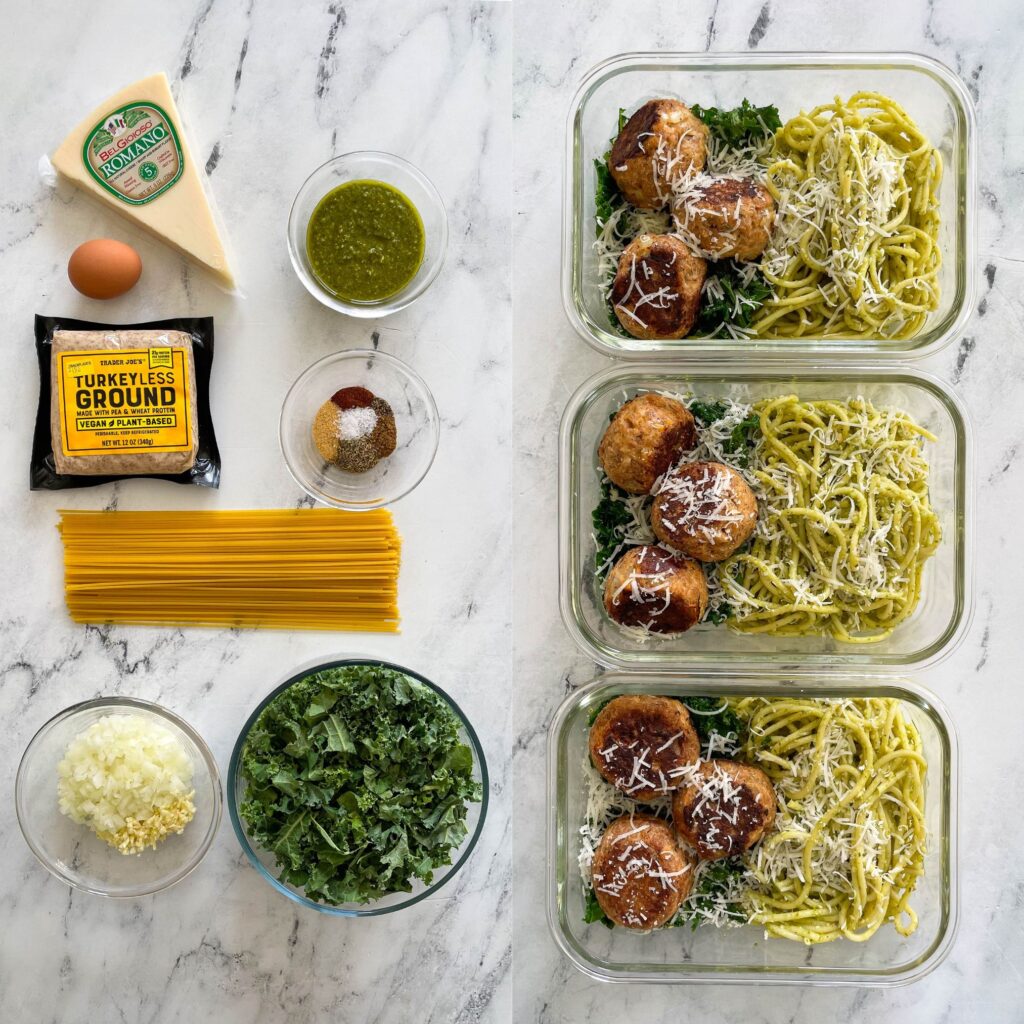 How To Switch Up Easy Turkey Meatballs
You can make this vegan by making vegan meatballs. I would use white beans for this.
Also by making a vegan pesto with nutritional yeast instead of cheese.
You can use whatever pasta you want, doesn't have to be gluten-free
You can trade the kale for your favorite vegetable
This is a freezer friendly meal. Freeze for up to three months in the freezer and let it thaw for a day before reheating on the stove or in the microwave.
You can easily double this recipe if cooking for two.
As always, try to eat this within four days of cooking if you're not freezing it. I actually ate this on day four and it still tasted amazing. This is DEFINITELY one of my winners, so I hope you enjoy it!
Happy prepping 🙂
I'd love to see your version of this recipe! Feel free to share it with me via DM on Instagram @worwkeeklunch or tag me in the caption/on the post.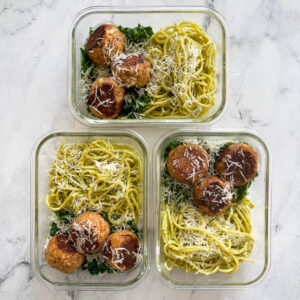 Turkey Meatballs With Sauteed Kale And Pesto Pasta
Ingredients
6

oz

pasta

any kind works

16

oz

ground turkey

chicken would work too

1/2

yellow onion

chopped

6

cups

kale

chopped

3

cloves

garlic

minced and divided

2

TBSP

oil

of your choice

6

TBSP

pesto

store bought or homemade

3/4

cup

pecorino romano

for garnish, optional

marinara sauce

of your choice for meatballs, optional

salt and pepper to taste

1

tsp

cumin

2

tsp

thyme

1

tsp

onion powder

1/2

tsp

cayenne
Instructions
Prepare pasta according to the package. Save 1/2 cup of the pasta water!

Prepare the meatballs by adding turkey, onion, 1/2 of the garlic and all the spices in a bowl. Mix well and form balls with your hands. I made 9.

Add the oil to a skillet over medium heat. After 2 mins, add the turkey meatballs. Let them cook for about 5 mins before rolling them over. Repeat this step until they're cooked through (about 15 mins) then remove them from the pan and set aside.

Add a little bit more oil, the kale and remaining garlic to the pan. Saute for about 5 mins, until the kale is soft.

To assemble: toss the pasta with the pesto and reserved pasta water then divide into your containers. Add the kale, turkey meatballs and garnishes if using.
DID YOU MAKE THIS RECIPE?
Please leave a comment below on the blog or share a photo with us and tag @workweeklunch! Can't wait to see what you made!