What's better than a sweet and salty, caramelized pecan pie? A version with chocolate! If you love a good classic pecan pie, then you are in for a treat with this easy chocolate pecan pie. I hope you love it!
Need help meal planning? We're all about it in the Workweek Lunch Meal Prep Program! Get access to our meal planning tools, grocery list generator, and more. Start a free trial today!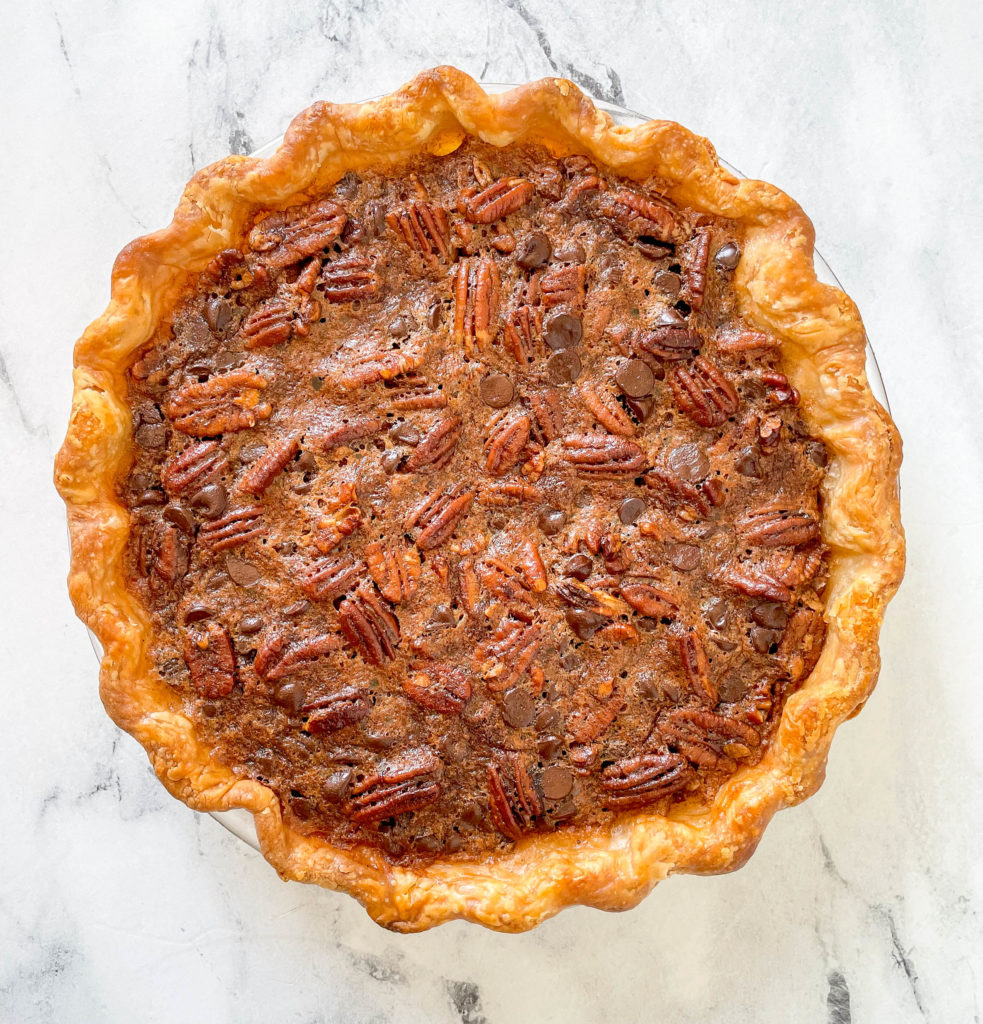 What you need to know about the BEST chocolate pecan pie:
The crust
You will need one 9″ (23 cm) pie crust for this recipe. Use your favorite tried and true storebought pie crust to keep this pie super simple. Because more storebought pie crusts come in packs of two, you can save one in the freezer or make two of these if you want one to take and share and one to keep for yourself.
If you have a homemade pie crust recipe that you love then definitely make that! I personally really enjoy making pie crusts and I have found this recipe to be one of my favorites.
For gluten-free crust:
Gluten-free pie crusts can typically be found near the other pie crusts in the freezer section. If your store does not offer a gluten-free option, you can make your own using this recipe, or your favorite gluten-free pie crust recipe!
I have found that a lot of storebought pie crust is accidentally vegan because it's made with oils. If you cannot find a pie crust without dairy at your grocery store, you can make one using the recipe I linked above with a 1:1 swap for your favorite vegan butter or your favorite vegan pie crust recipe.
How To Bake a Perfect Pie Every Time
The key to making an amazing pie with a tender, flaky crust is a very cold dough and a very hot oven. This is why it's so important to keep your pie crust chilled at all times. Any time your dough starts to look or feel greasy put it in the fridge! Chill your dough for at least 15 minutes (30 is best!) after rolling it out and placing it in your pie dish, and again after crimping your edges with the design of your choice. This may feel like a waste of time but I promise it's worth the extra effort! This ensures that the crimping around the edges of the pie stays in place and allows the crust to puff up and become flaky.
Par-baking your crust will prevent the dreaded soggy bottom that can happen sometimes with pies. To par-bake your pie crust, you will need parchment paper and about 2 lbs of dried beans. You can buy pie weights if you prefer, but dried beans are available at just about any store and are pretty affordable! I have a stash of pinto beans in my pantry that I use over and over again as my pie weights and they work perfectly fine.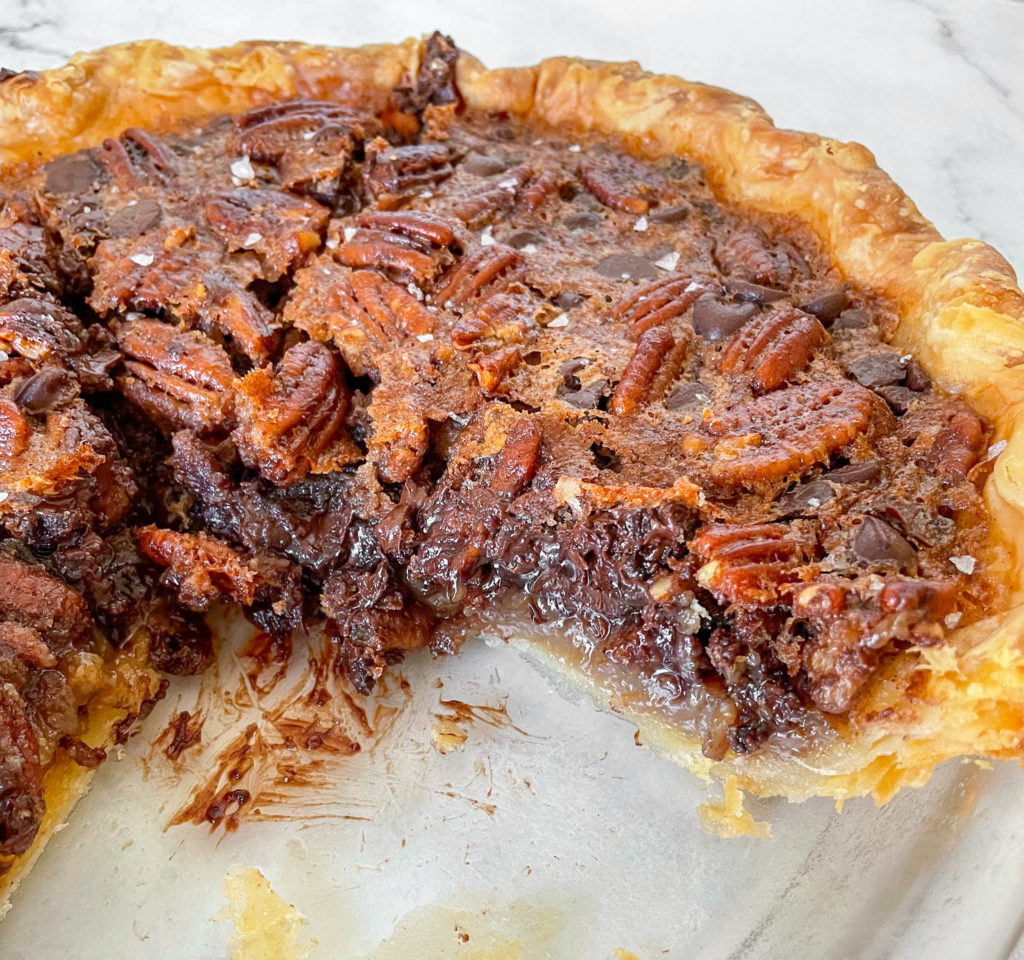 When to cut into your pecan pie:
Allow your pie to cool completely before slicing to avoid a runny mess. I know, this is truly the most difficult part about baking this pie, especially with the aroma that will fill your kitchen!
When you cut into the pie while it is still warm, the custard filling will start to ooze in the center because it has not fully set, causing it to be runny. Delicious yes, but slightly messy and not exactly what we are going for. This pie would be great to make either the morning of or a day before you want to enjoy it to allow ample time for it to cool completely.
Storing this easy chocolate pecan pie
Our chocolate pecan pie will keep at room temperature for up to two days uncut. Once you cut the pie, wrap tightly with plastic wrap, or store the slices in airtight containers and place them in the fridge for up to 5 days.
You can freeze this pecan pie baked or unbaked for up to 3 months. If you decided to freeze it unbaked, freeze it for at least 3 hours on a baking sheet to allow the filling to set, then tightly wrap the pie in a few layers of plastic wrap and freeze. Thaw the pie in the fridge overnight and allow to come to room temperature before serving. To bake the unbaked pie from frozen, add 15-20 minutes to the total bake time.
Serve the chocolate pecan pie at room temperature or warm up individual slices in the microwave for 30 seconds. This pie is incredibly delicious on its own but will pair perfectly with your favorite vanilla ice cream or whipped cream! Enjoy!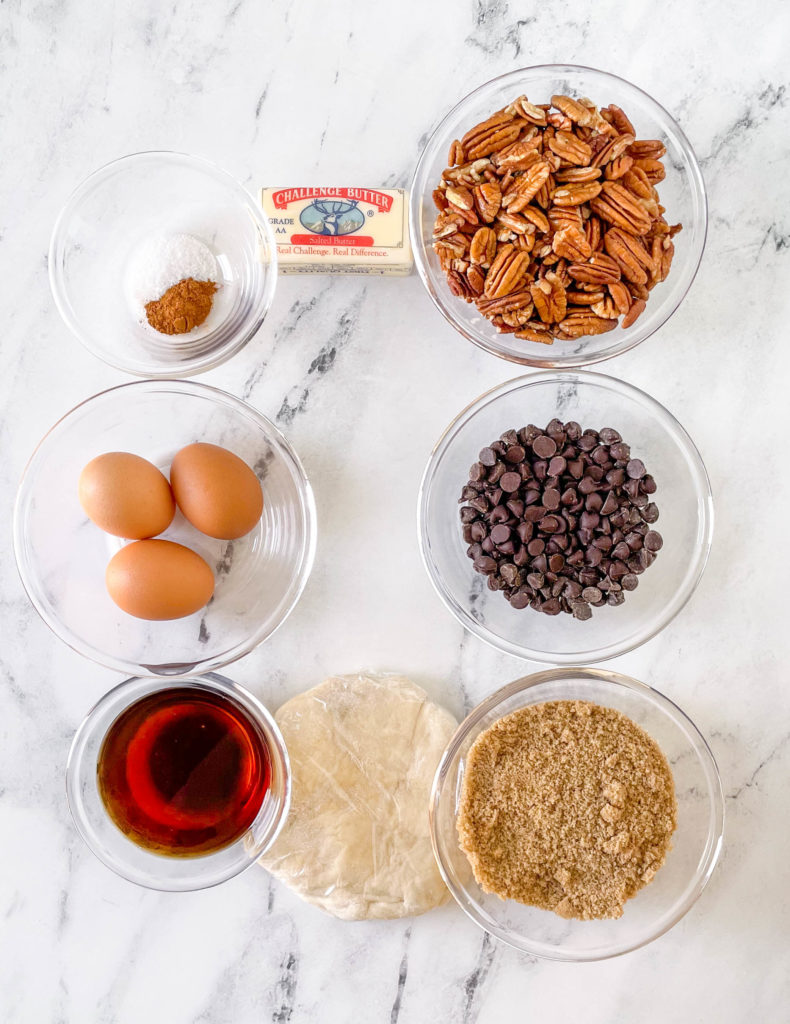 And don't forget to try our other delicious holiday recipes!
Chocolate Pecan Pie
Ingredients
1

9" pie crust

23cm

6

tbsp

butter

unsalted, melted and cooled

3

eggs

room temperature

1

cup

packed brown sugar

1/2

cup

maple syrup

1

tsp

vanilla

1/2

tsp

cinnamon

1/2

tsp

salt

plus more for sprinkling on top

4

cups

dried beans

for par-baking crust, sub pie weights

2 1/2

cups

pecan halves

1/2

cup

semi-sweet chocolate chips

sub dark chocolate chips
Instructions
Roll out your pie dough on a clean, lightly floured surface, until you have an even circle that is about 12″ (30.5cm) in diameter. Carefully place the dough into the pie pan and press it down into the pan gently along the bottom and the sides. Do not trim or crimp yet! Cover loosely with plastic wrap or a clean kitchen towel and let it chill in the fridge for 15-30 minutes.

Crimp pie crust edges and chill for another 15 minutes while you prepare the filling. Preheat your oven to 425 F (220 C).

In a large mixing bowl, add the melted and cooled butter, eggs, brown sugar, maple syrup, vanilla, cinnamon, and salt. Whisk until well combined and put in the fridge.

Remove your chilled crust from the fridge and prick the entire bottom of the crust with a fork. Place a piece of parchment paper inside followed by your dried beans or pie weights. Place your prepared crust on a baking sheet to catch any drips and bake for 15 minutes. Carefully remove the beans and parchment paper and bake for 3-5 more minutes or until the pie crust bottom is slightly golden and not shiny. Let cool for at least 15 minutes.

Add your pecans and chocolate chips to the bottom of the cooled pie crust. Whisk your chilled filling together one more time before adding to the crust, and then carefully pour the filling over the pecans and chocolate chips. Carefully transfer your pie to a baking sheet and place it in the oven. To prevent the edges of the pie from getting to dark, wrap a thin piece of foil around the edges of the pie, careful not to cover any of the filling.

Bake for 45-55 minutes, or until the custard appears to be set and no longer wobbly. Top with sea salt if desired and allow pie to cool completely at room temperature for at least 2 hours, then transfer to the fridge. Serve cold or at room temperature. Enjoy!
DID YOU MAKE THIS RECIPE?
Please leave a comment below on the blog or share a photo with us and tag @workweeklunch! Can't wait to see what you made!