Pineapple upside down is such a simple yet impressive dessert! These mini pineapple upside-down cakes are classic, festive, and perfect to share at a holiday gathering. Enjoy!
Need help meal planning? We're all about it in the Workweek Lunch Meal Prep Program! Get access to our meal planning tools, grocery list generator, and more. Start a free trial today!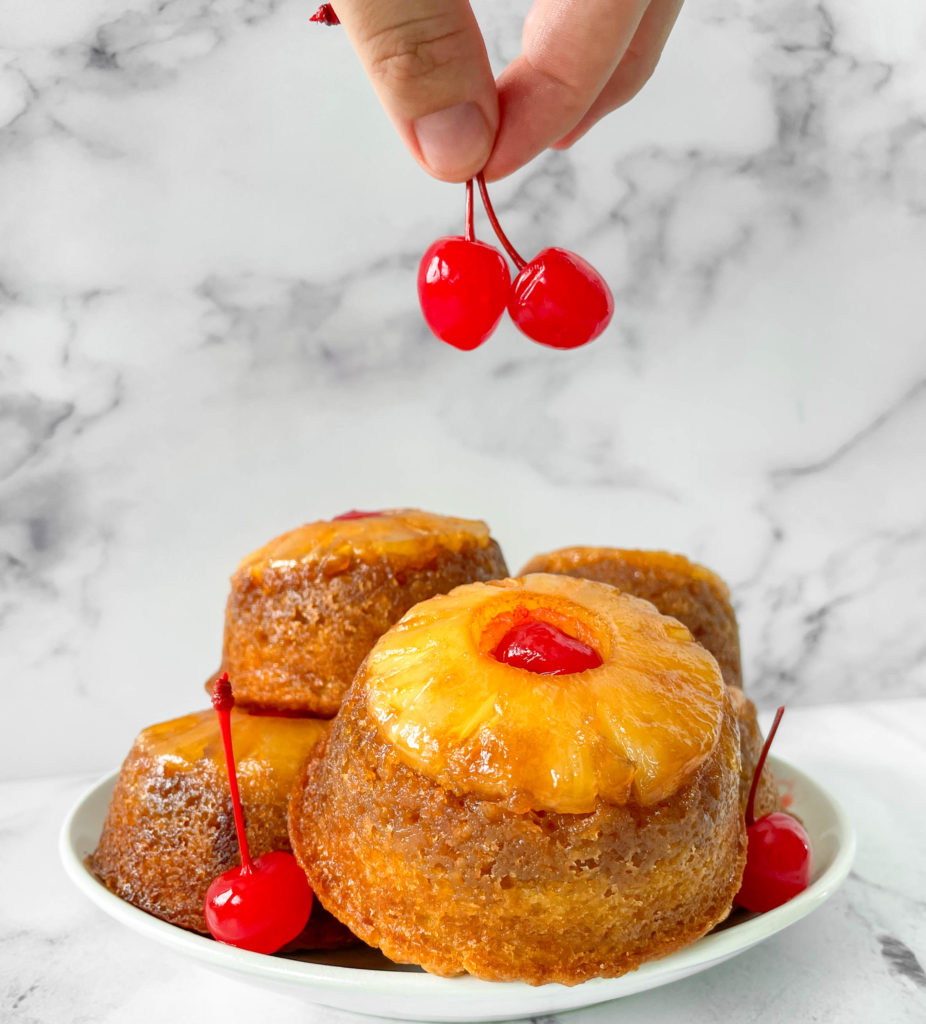 Equipment you'll need for these mini pineapple upside down cakes
These mini cakes are baked in a jumbo muffin pan which perfectly fits individual pineapple rings while keeping them whole. This recipe makes 6 mini cakes and can easily be doubled to make more!
If you want to use a regular muffin pan, you will need to cut the pineapple rings to fit in the bottom of the pan. You can use a glass the same size as the bottom of your muffin pan to cut the pineapple into a ring that will fit perfectly so you can still put the cherry in the middle. You will also need to reduce the baking time from 20-23 minutes to 15-17 minutes.
Changes you can make to these mini upside down cakes
You can used crushed pineapple if you are having trouble finding pineapple rings. Just know the appearance will look different and it will have more texture on top!
Use an all-purpose gluten-free flour if you are gluten-free. Our members often recommend Bob's Red Mill!
If you are dairy-free, you can use your favorite non-dairy milk and vegan butter,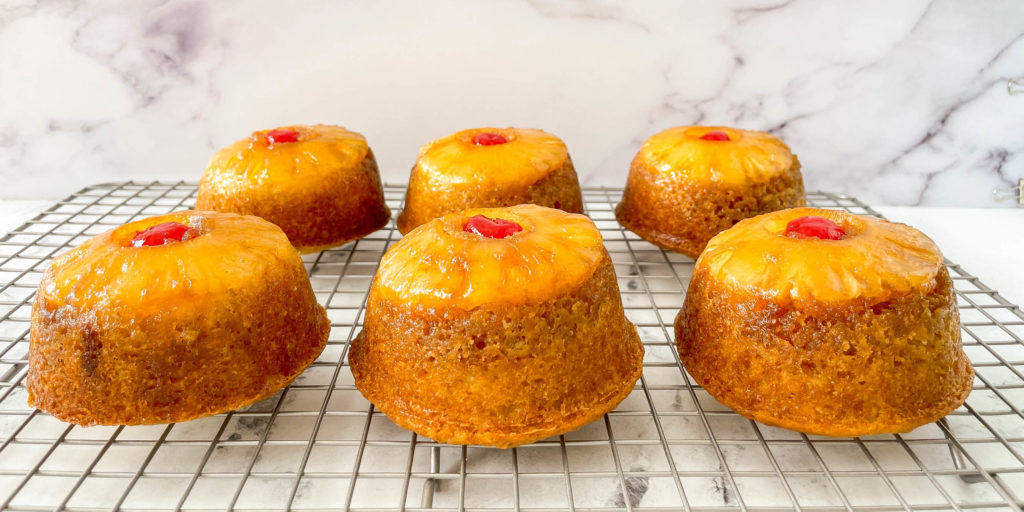 Upside-down cake tips
To prevent these cakes from being soggy, I recommend blotting or patting the pineapple slices and cherries to remove excess juice.
Because the muffin tins will be very full, the cakes will puff up and become slightly rounded on the top. This is okay! Once you invert the cakes the rounded parts will flatten slightly with the weight of the fruit.
If you want to make this into a regular cake instead
If you want to go a more traditional route and make a regular pineapple upside-down cake, I would recommend this recipe from Sally's Baking Addiction!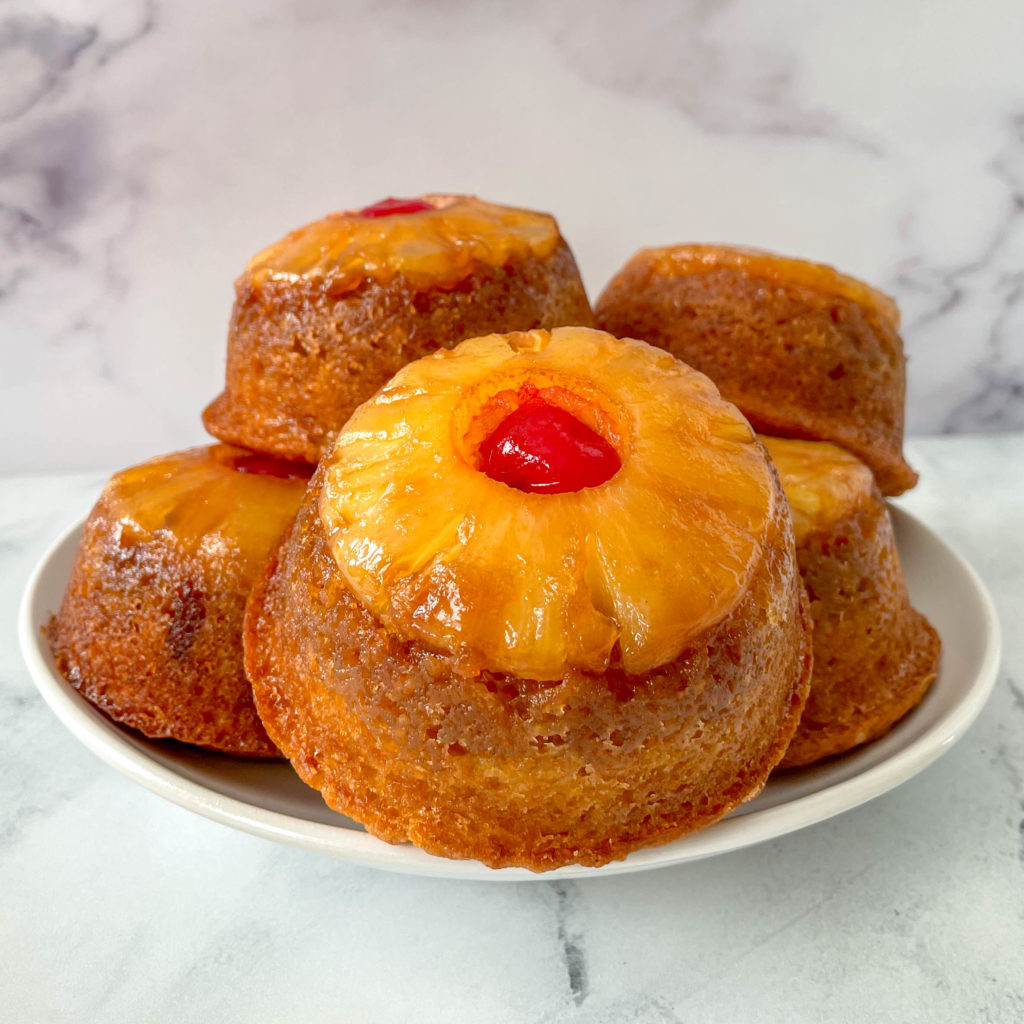 How to store these mini pineapple upside down cakes
These cakes will be good at room temperature for up to 3 days and in the fridge for up to 5 days. I do not recommend freezing these because when the fruit defrosts it may cause the cakes to become soggy or dense. These are great served at room temperature or warmed up with some ice cream or whipped topping!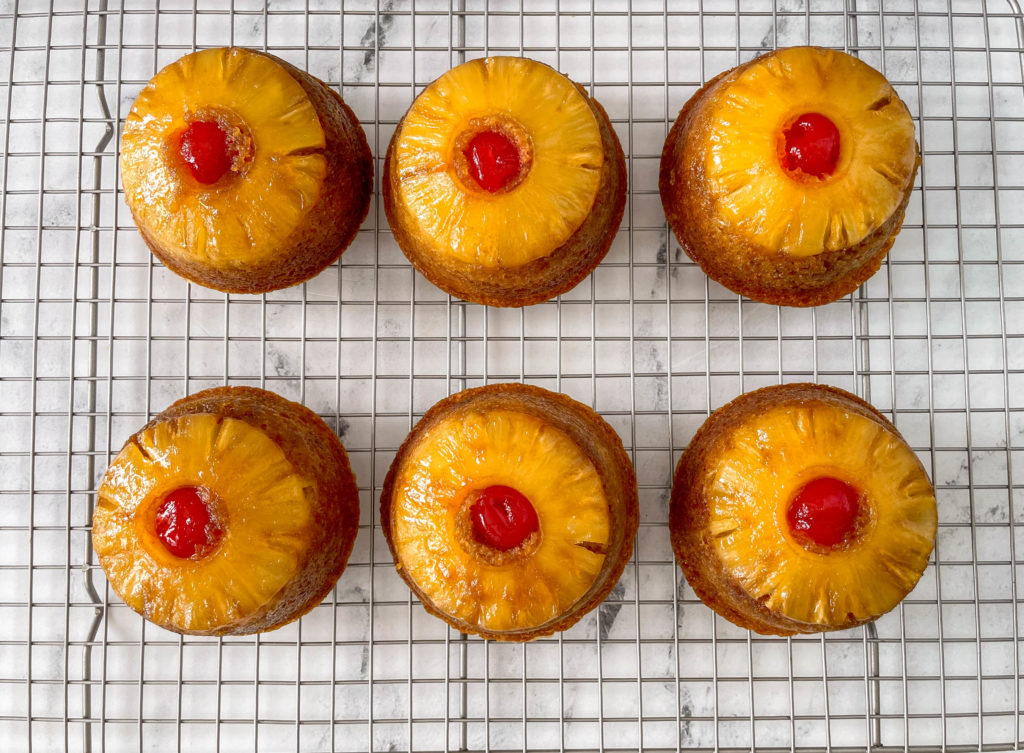 Don't forget to check out our other delicious holiday recipes!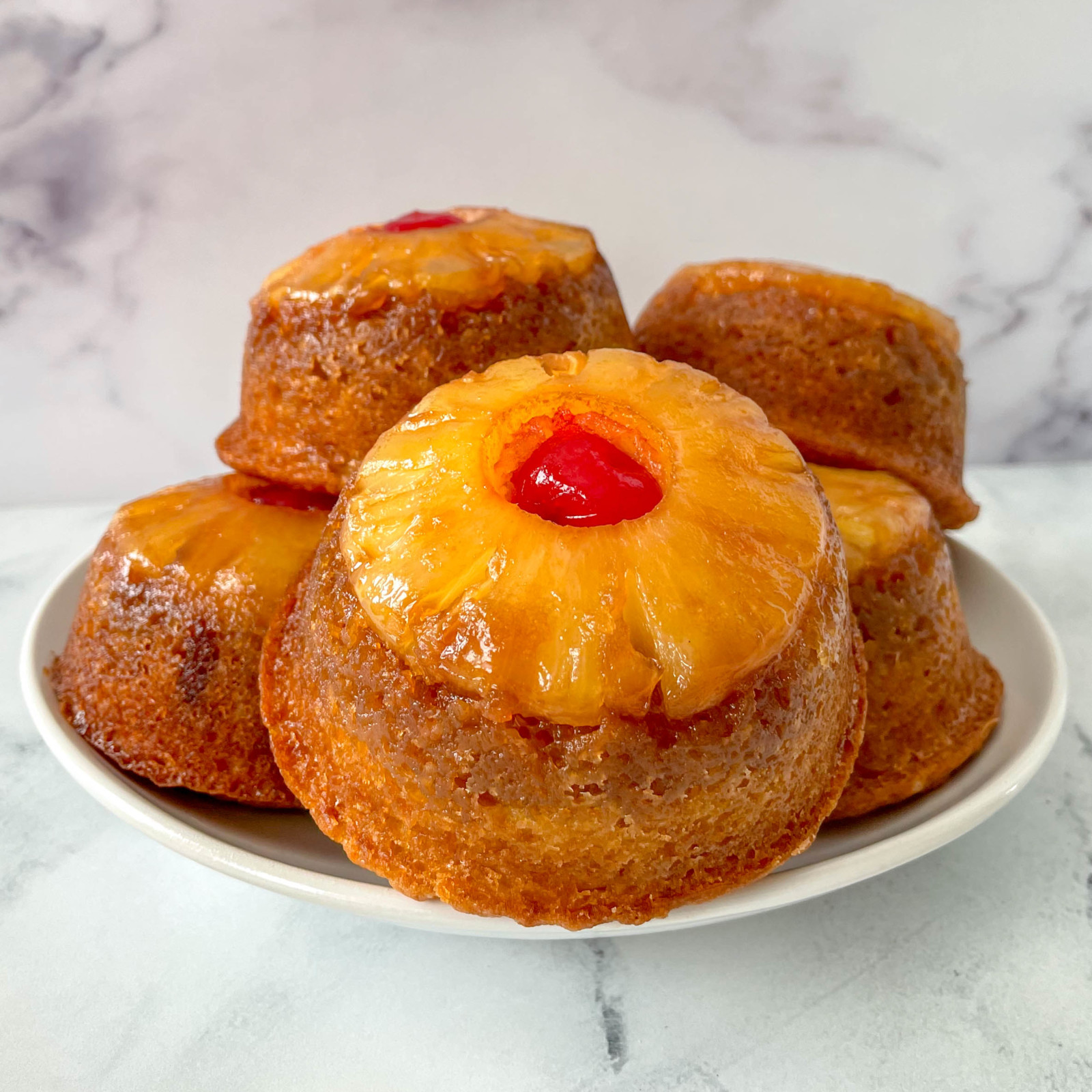 Mini Pineapple Upside Down Cakes
Ingredients
For the topping
1/4

cup

butter

melted

1/2

cup

brown sugar

1/8

tsp

salt

6

pineapple rings

patted dry

6

cherries

patted dry
For the cakes
1/2

cup

butter

softened

3/4

cup

granulated sugar

2

eggs

room temperature

1

tsp

vanilla

sub dark rum

1 1/2

cups

all-purpose flour

1

tsp

baking powder

1/2

tsp

baking soda

1/4

tsp

salt

1/4

cup

pineapple juice

1/4

cup

milk

room temperature
Instructions
Preheat your oven to 350 F (175 C). Prepare your jumbo muffin tin by dividing the butter evenly between each tin (about 1 tbsp in each tin, 1 tsp for a regular-sized muffin tin), brushing up along the sides to evenly grease each tin. Next, divide the brown sugar evenly between the tins (about two tbsp in each tin, 1 tbsp for a regular-sized muffin tin) and then add one pineapple ring and one cherry in the center. Press down gently to push the pineapple into the brown sugar butter mixture. Set the prepared pan aside while you make the batter.

Make the batter. In a medium-sized mixing bowl, whisk the butter and sugar together for 2-3 minutes, or until creamy and well combined. Whisk in one egg at a time, followed by the vanilla or rum until well combined.

In a separate bowl, sift or whisk together the all-purpose flour, baking soda, and salt. In a measuring cup combine the pineapple juice and milk right before you are ready to use them. Alternate between 1/3 of the dry ingredients and 1/3 of the pineapple juice milk mixture and mix into the wet ingredients of the batter until everything is just combined and no large lumps remain. Divide the batter amongst the muffin tins, filling up almost the full tin for each one.

Bake for 20-23 minutes (15-17 minutes for a regular sized muffin pan), or until golden brown and a toothpick inserted in the center comes out clean. Let the cakes cool in the pan for 5 minutes, then run the toothpick or a butter knife along the edges to loosen any caramelized bits.

Place a wire baking rack on top of the muffin pan and carefully but quickly flip the pan. You may want to have a towel or something underneath the wire rack to catch any drippings. Carefully shake or tap the muffin pan onto the wire rack until the cakes are free. Serve the cakes warm and enjoy!
DID YOU MAKE THIS RECIPE?
Please leave a comment below on the blog or share a photo with us and tag @workweeklunch! Can't wait to see what you made!