When you think of fall recipes, what pops into your head?
For me, fall recipes for meal prep are all about squashes, apples, warm spices, baked goods and comforting meals.
Fall is an easy favorite amongst home cooks because we get to reap the benefits of late summer produce AND slightly cooler weather, creating the perfect vibes for cooking and baking.
Check out these nine fall recipes for meal prep from yours truly and some of my favorite bloggers. I hope these recipes will inspire you to cook and help you save money by meal prepping and shopping seasonally.
This classic salad includes so many fall flavors and it's a great work lunch that's easy to eat at your desk if that's your usual routine. Eat meat? You can easily add chicken or turkey on top. Store for up to four days in the fridge and enjoy with your favorite dressing or a simple balsamic vinaigrette.
This is vegetarian meal is the one I whip out if I'm going to a potluck or feeding a crowd, but it's also an awesome meal prep that will make your coworkers so jealous! It smells incredible and it freezes well too.
This new breakfast recipe featuring caramelized pears feels gourmet even if you're eating it out of a container. Right now, the full recipe is available to members of the WWL Program only, but I hope this breakfast idea inspires you to get fancy with your fruit and spice up your oats a bit. This can last in the fridge for 3-4 days.
Sweet potato is considerably easier to handle than butternut squash and pumpkin. Not only is this vegan curry easy to make (just 10 ingredients!) but you get the sweet, comforting fall flavors without the hard work of peeling and chopping huge squashes.
I made this bread last week for my family – it was one of the best treats I've made in a while! I love that it requires very simple ingredients. Pumpkin bread is great as a meal prep breakfast, snack or dessert. It freezes well too!
I love meal prepping hummus as a snack, but adding pumpkin, roasted garlic and rosemary takes it to the next level. Hummus can stay in the fridge for at least a week and it's easy to take on the go!

Pot pies are so cozy and they're great for dinner preps! I love that this recipe only takes one-hour and packs in a lot of delicious vegetables.

Pretty much any one-pot meal can work for meal prep! This recipe capitalizes on the season's bounty of vegetables and flavors without too much work. This meal can last for up to 4 days in the fridge.

Would this list be complete without a soup? No way. Fall is a great time to whip up soup and freeze extra for busy winter weeks. Pumpkin soup is satisfying, flavorful and perfect for meal prep.

Granola is a fool-proof breakfast option that can be eaten plain, with yogurt or with milk (like cereal, which is how I eat it). I love this flavor profile! I bet it would make your kitchen smell incredible. Granola is freezer-friendly and lasts in the fridge for at least a week.
I hope these recipes inspire you to cook and meal prep seasonally this fall!  Go ahead and save this post if you found it helpful!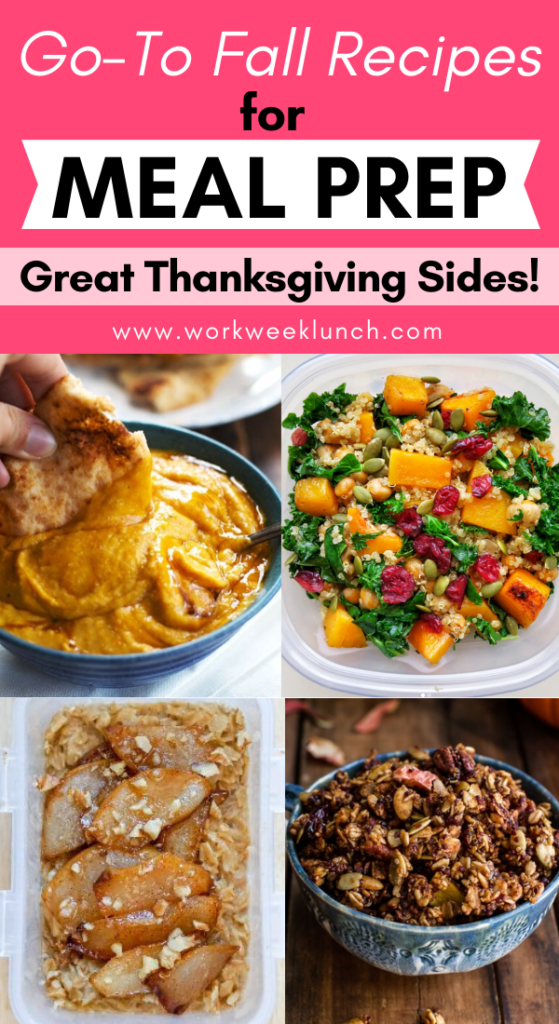 Read next: Meals that are perfect to serve at your holiday table AND perfect for meal prep! 
---
Need some meal prep guidance with the help of organized meal plans, tested recipes you can trust and itemized grocery lists? I got you. The WWL Meal Prep Program has 300 recipes, over a year of meal plans and all the support you need to get meal prep done each week to save time and money (while eating healthy!). Click here to sign up today for $7.99/mo. You can cancel anytime if it's not for you. Can't wait to see you inside!