We love the holiday season, but we love easy holiday recipes even more! There's no denying how demanding this time of year can be. Between all the gift shopping, home decorating, and gingerbread baking, smart shortcuts are essential for surviving past January 1st. In particular, we love the way that these easy holiday recipes deliver classic flavors yet require only a fraction of the usual amount of work.
Don't believe it's possible? We've developed a handful of party-friendly recipes that prove that preparing a festive feast doesn't have to be overwhelming. Delicious, easy to prepare, and even easier to transport, they'll be your saving grace when you're invited to yet another potluck. If you're looking for some potluck ideas that travel well and also don't require firing up the oven, check out these recipes!
Featuring options for appetizers, sides, mains, dessert, and even breakfast these easy holiday recipes give you everything you need to host your own gathering or help a friend out. But the best part of all is that each one contains at least a couple of elements that can be made and refrigerated or frozen ahead of time. Things like pie crusts and casseroles will retain their original taste and texture for ages when stored in the freezer. You can also always store any leftovers for future you to enjoy past the holiday season!
If you need more meal prep ideas, check out our other recipe roundups for some delicious inspiration! Let's get into these delicious holiday meals!
Need help meal planning? We're all about it in the Workweek Lunch Meal Prep Program! Get access to our meal planning tools, grocery list generator, and more. Start a free trial today!
Easy Holiday Recipes- Appetizers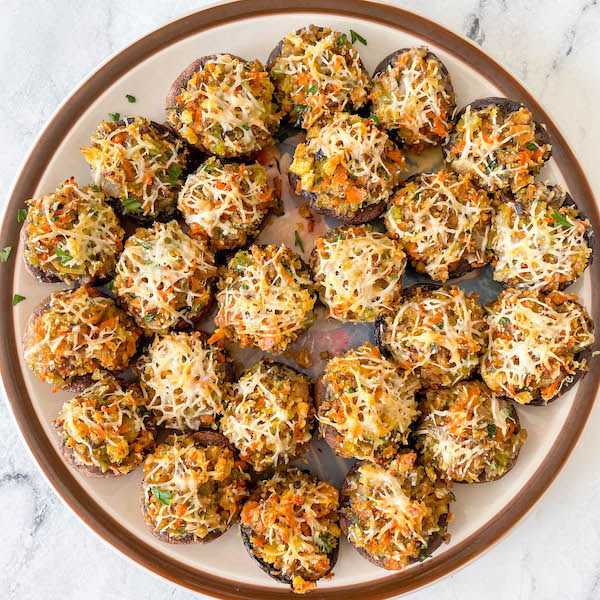 Though stuffed mushrooms may not get as much attention as our other holiday favorites, like turkey and mashed potatoes, we can't imagine this time of year without them. This recipe in particular provides easy alterations for just about any dietary needs, whether your guests are vegan or gluten-free. Freeze them for later while they're still unbaked to ensure your final product arrives at the dinner table in the best possible condition.
Related: Reuse Thanksgiving Leftovers: 30 Meals To Enjoy After Your Holiday Feast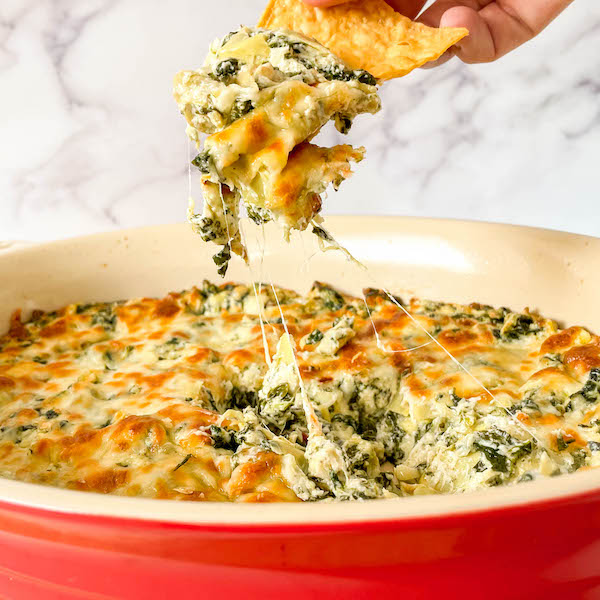 Spinach and artichoke dip is another can't-miss classic that belongs in every holiday spread. There are also plenty of ways you can adjust it to suit the preferences of you and your guests, whether that's ditching the mayo in favor of more sour cream, or adding a few red pepper flakes for some extra heat. Serve it with your preferred dipping vehicle, whether that's sliced French bread or tortilla chips.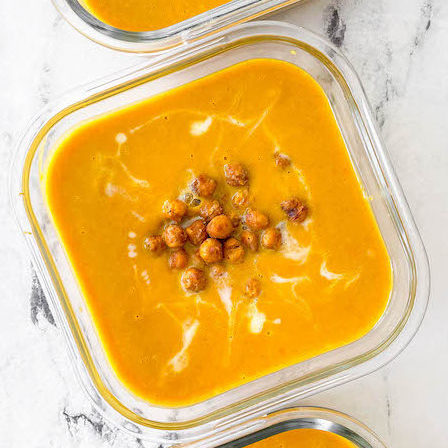 If you're planning on having multiple courses at your holiday party, this butternut squash soup is the way to go. It will impress your friends and family and can be enjoyed by everyone since it's vegan! But if butternut squash isn't your favorite, this creamy white bean soup is fantastic as well!
Easy Holiday Recipes- Side Dishes
Fresh and salty Caesar salad is the perfect dish for cleansing your palate when switching from one fabulous side dish to the next. Made with shredded Brussels sprouts, there are a few ways to simplify this version. Instead of slicing Brussels sprouts one by one, use a food processor with a shredder attachment to get perfect results in a quarter of the time. Then, keep that food processor out to make a super simple, yet authentic Caesar dressing that's so good, you'll want to have it on hand even after the holidays have ended.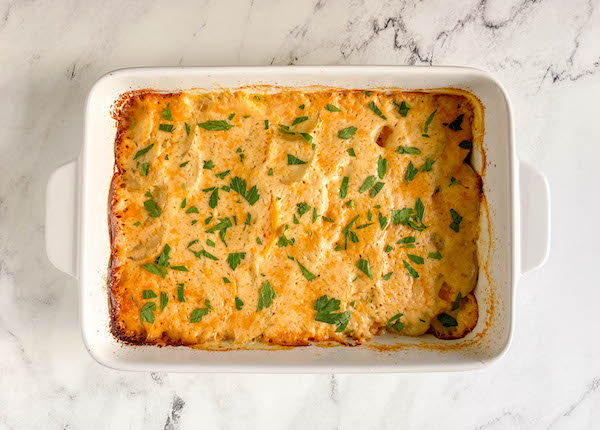 If you've always wished there were a way to eat potatoes and mac and cheese at the same time, then this is the recipe for you. Thinly sliced potatoes are stewed in a glorious cream sauce and festooned with showers of shredded cheese that melt to create a perfectly crispy, golden topping. This recipe also relies on a bit of butternut squash to highlight the seasonal vegetable and give the dish a bit of sweetness.
Related: Making Peace with Food: How Letting Go Gave Me More Control of My Life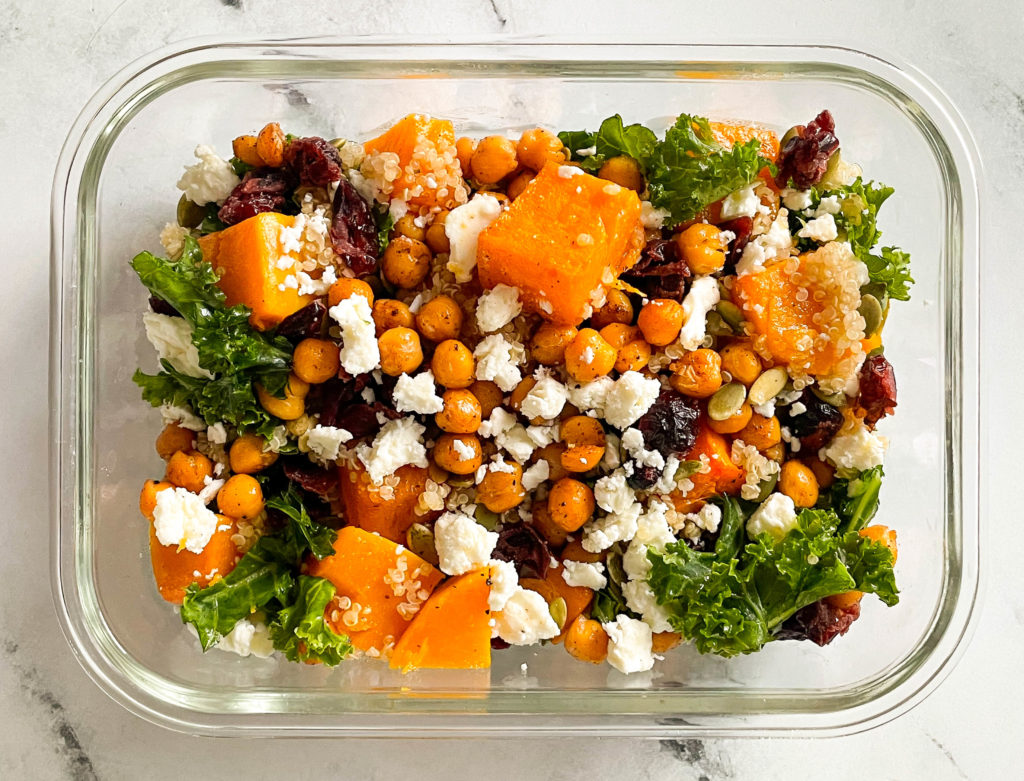 This butternut squash salad is the perfect side dish for any holiday event or gathering. It just screams Fall! Swap out the kale for spinach or arugula if you're not a fan. If you're serving a vegan crowd, leave off the cheese and you're good to go!
Easy Holiday Recipes- Main Dishes
If you're cooking for picky friends and family, it's almost impossible to go wrong with a cheesy pasta dish like this. Great with both meat and meatless fillings, it's a recipe that omnivores and vegetarians can enjoy alike. You can also save time while making it by using frozen, pre-cooked spinach instead of fresh (just be sure to remove as much liquid from the spinach as possible to avoid any unwanted sogginess).
Save yourself the trouble of making pie dough from scratch and use your favorite brand of vegan puff pastry instead. Just be sure to check the label to guarantee it doesn't contain any trace amounts of dairy. Then, whip up a big batch of these handheld pot pies to use throughout the entire holiday season. Heat them up in the microwave for a quick, festive lunch, or bring a whole box of them to your next holiday party.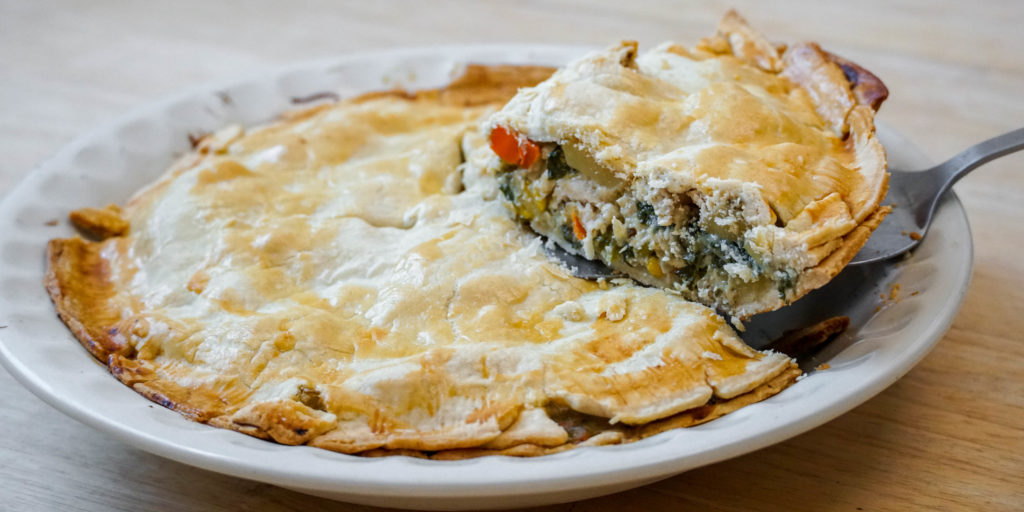 And if a more traditional chicken pot pie is more your style, we have that as well! To make our lives easier, I recommend using pre-made pie shells, found in the frozen or refrigerated section. That being said, if you love making your own crust, go for it! If you're cooking for a small group, these individual pot pies are great and can be made right in their containers!
No one is ever disappointed when they see classic spaghetti bolognese on the table! This recipe is hearty, comforting, and easy to make! If you want to switch things up a little bit but still want to make a pasta dish, try this seasonal pumpkin pasta.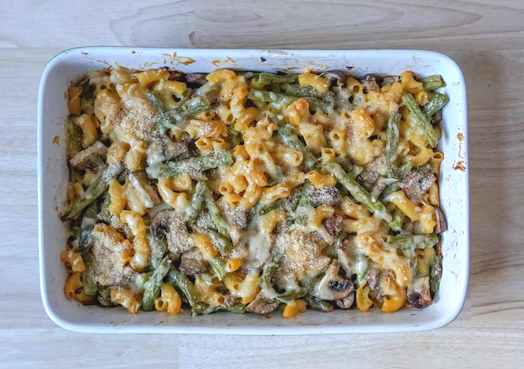 Normally, if you're going to add a vegetable to your mac and cheese, it's probably going to be broccoli. But this version includes ingredients you'll see in traditional holiday meals, like green beans and mushrooms! You can absolutely make this recipe a few days in advance and freeze it. Then you'd let it thaw a day before you need it and slowly heat it in the oven the day of your gathering. Consider adding a fresh layer of cheese on top too if going this route!
This is a vegetarian, gluten-free-friendly dish. So there's no meat in it, and you can choose gluten-free lasagna noodles if necessary! You can absolutely make this lasagna ahead, freeze it and defrost it in the fridge the day you need to eat it. Then heat it up in the oven (covered) at 300 or 350 F for 30 min to an hour and it will be as good as when you just made it. You can also assemble the lasagna at home and bring it unbaked to your friends/family dinner to bake in the oven if there's room!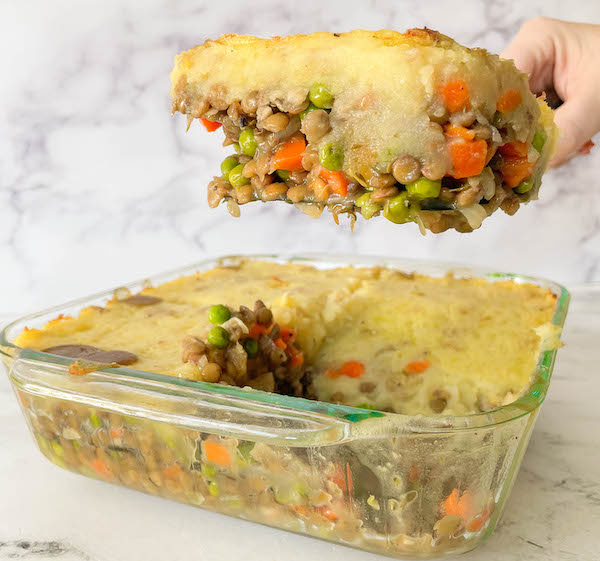 Shepard's pie is a comforting classic! This version is made with lentils, but it can easily be made with Beyond Beef or regular ground meat! This would be a delicious meal for a potluck or a great way to use up holiday leftovers to create a new meal!
Easy Holiday Recipes- Desserts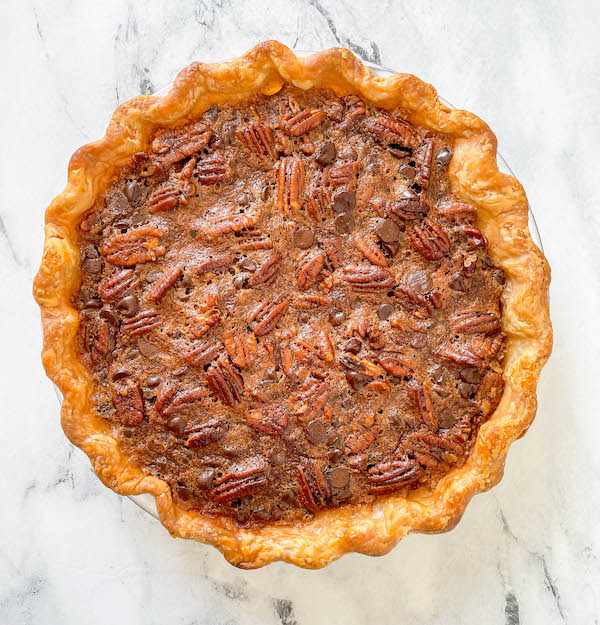 Classic pecan pie is great, but this sweet treat proves that it's even better with chocolate. This recipe, in particular, can be frozen both baked and unbaked, so it all depends on what's most convenient for you. Just be sure to give it an extra 15 to 20 minutes in the oven if you didn't bake it before freezing.
Related: No-Bake Desserts: 11 Sweets When You Don't Want To Fire Up The Oven
There's nothing more festive than flipping a pineapple upside-down cake out of its pan to reveal its glorious, candied fruit-topping. You can swap the regular flour for a gluten-free version (we recommend Bob's Red Mill brand) or substitute milk with coconut milk to give it an extra boost of tropical flavor in a plant-based way. Whatever you decide to do, there's almost no way to mess up these cute, individually-sized cakes.
Not a fan of the typical holiday fruit cake? Why not try a veggie cake instead? This single-layer carrot cake takes most of the fuss out of the baking process and delivers crowd-pleasing results every time. Want to make it ahead of time but don't have enough room left in your freezer? It holds up particularly well in the fridge because it's so moist and dense!
Holiday breakfasts recipes: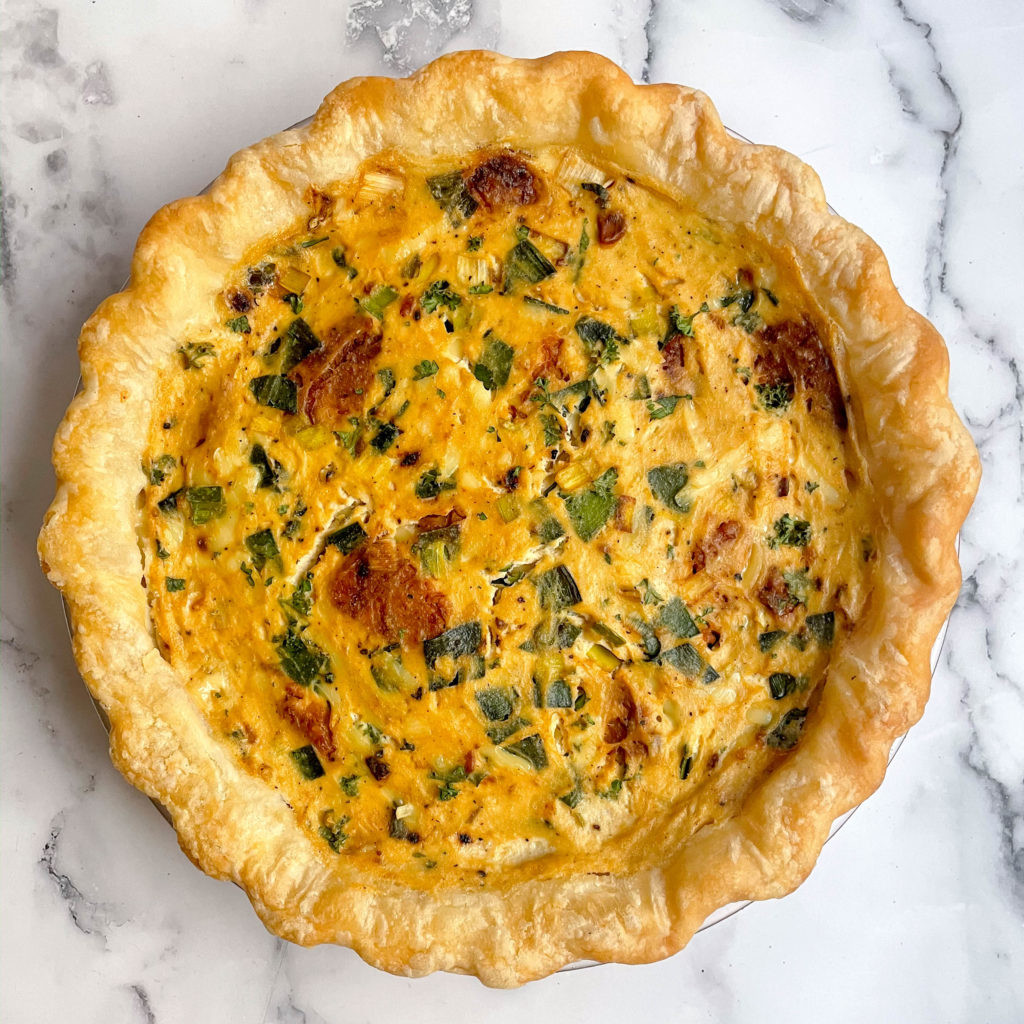 This Quiche Lorraine is the perfect recipe to bring to a breakfast or brunch celebration!! It can be eaten hot, cold, or at room temperature so you don't have to worry about using the oven when you get there.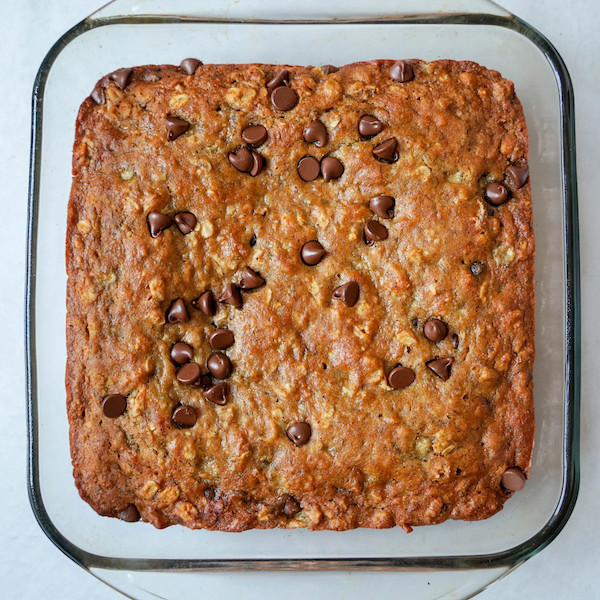 Who doesn't love classic banana bread? This recipe is always a hit and can be loaded up with your favorite add-ins such as nuts, chia seeds, chocolate chips, etc! You can also try these banana muffins if you're not feeling a loaf.
Nothing says the holidays like warm cinnamon buns fresh out of the oven. We got a little creative with this recipe and made them into cinnamon bun scones instead! Your friends and family will absolutely love these.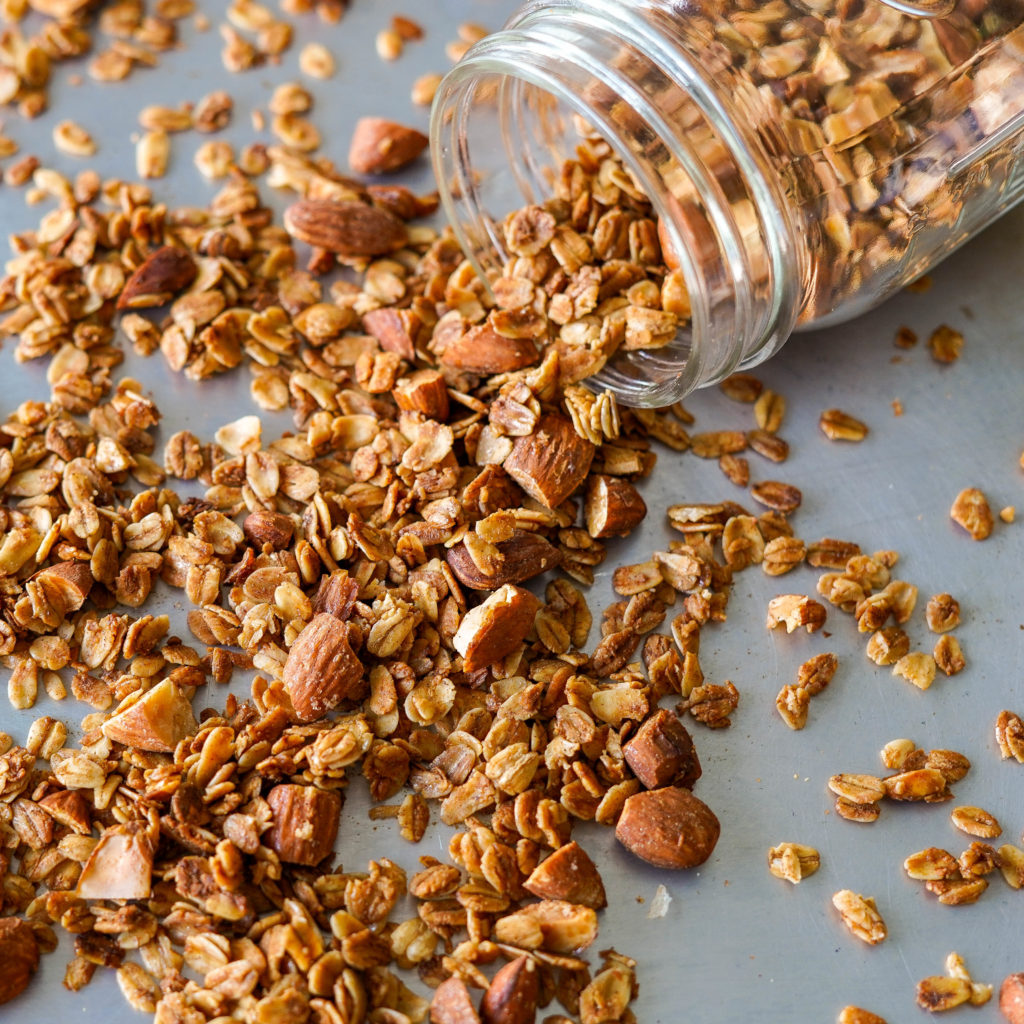 Want to be the favorite guest at your next gathering? Bring this delicious homemade granola as a host gift to say thank you. Trust me, this will win you major points!! Make sure to make a double batch so that you can enjoy some yourself.
We hope you enjoy these delicious, easy holiday recipes at your potlucks and parties this season! Comment below with your favorite or any recipes you'd like to see us develop in the future!
Pro tip: Help future you out in this busy season by stocking your freezer with homemade meals! Taking a few hours over the weekend to prep your freezer meal stash will give you peace of mind when things get chaotic.