This tasty peaches and cream baked oatmeal recipe will have you jumping out of bed in the morning! This simple yet flavorful breakfast is great for buffet-style eating with your family or having brunch with friends. And of course, you can use it as meal preps for the week!
We are using frozen peaches here so that you can easily enjoy this meal year-round. Don't forget to add a dollop (or more) of your favorite yogurt on top when you're ready to eat!
Get more recipes like this in the Workweek Lunch Meal Prep Program with access to our meal planning tools, grocery list generator, and more. Start a free trial today!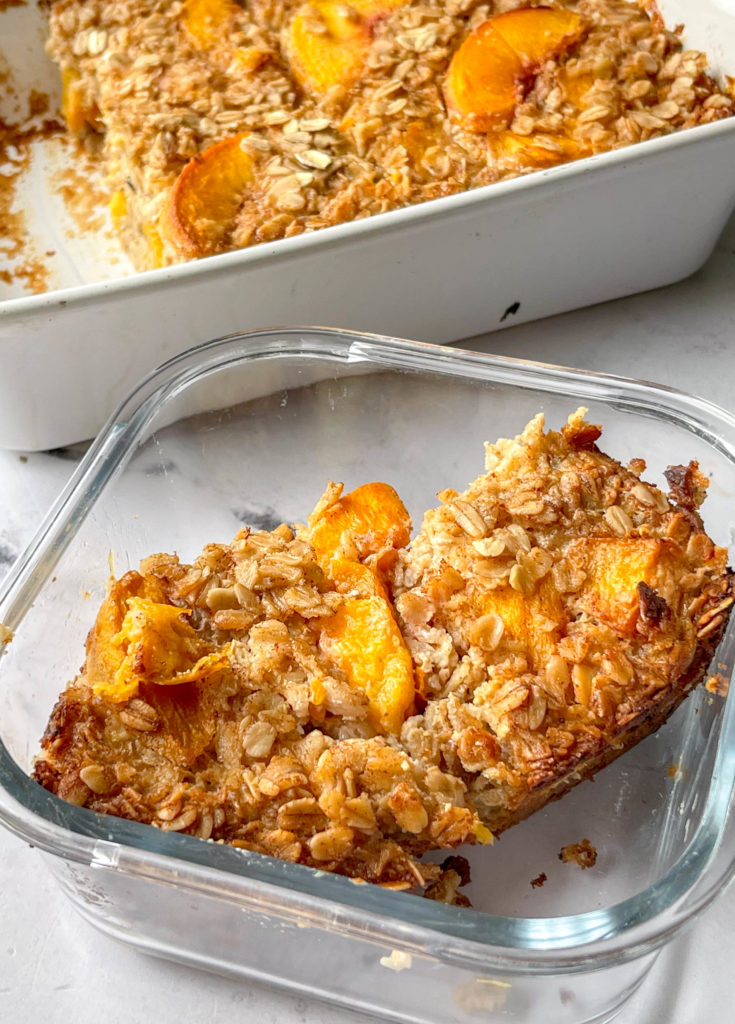 About this baked oatmeal recipe
As stated above, we're using frozen peaches here, but you can absolutely use canned or fresh. Summer is the perfect time to enjoy this recipe when peaches are in season! Of course, if you don't like peaches you can use whatever fruit you prefer in this baked oatmeal. Blueberries, raspberries, or bananas would be first on my list.
Make sure to evenly spread out your peaches before baking! You can also give them a rough chop to get smaller pieces so that they are more evenly distributed. That way you can make sure to have fruit in every bite.
Note that if you are using a shallow baking dish, this oatmeal bake will have more of a bar-like consistency and take less time to cook in the oven since it will be thinner.
Vice versa, if you use a deeper dish, it will have more of a mushy oatmeal texture and take more time to bake. But it is totally up to you what you prefer!
Swaps you can make to this recipe
If you're gluten-free: Make sure to grab your favorite gluten-free oats! You can't go wrong with the Quaker Oats brand.
If you're dairy-free: You'll want to grab your favorite non-dairy milk and yogurt, as well as vegan butter or margarine.
If you're vegan: Follow the swaps above for dairy-free swaps, and make sure you have agave or maple syrup on hand to replace the honey. You will also need to replace the egg with a flax egg.
Simply combine 1 TBSP chia seeds and 3 TBSP water and mix until it has a goopy consistency!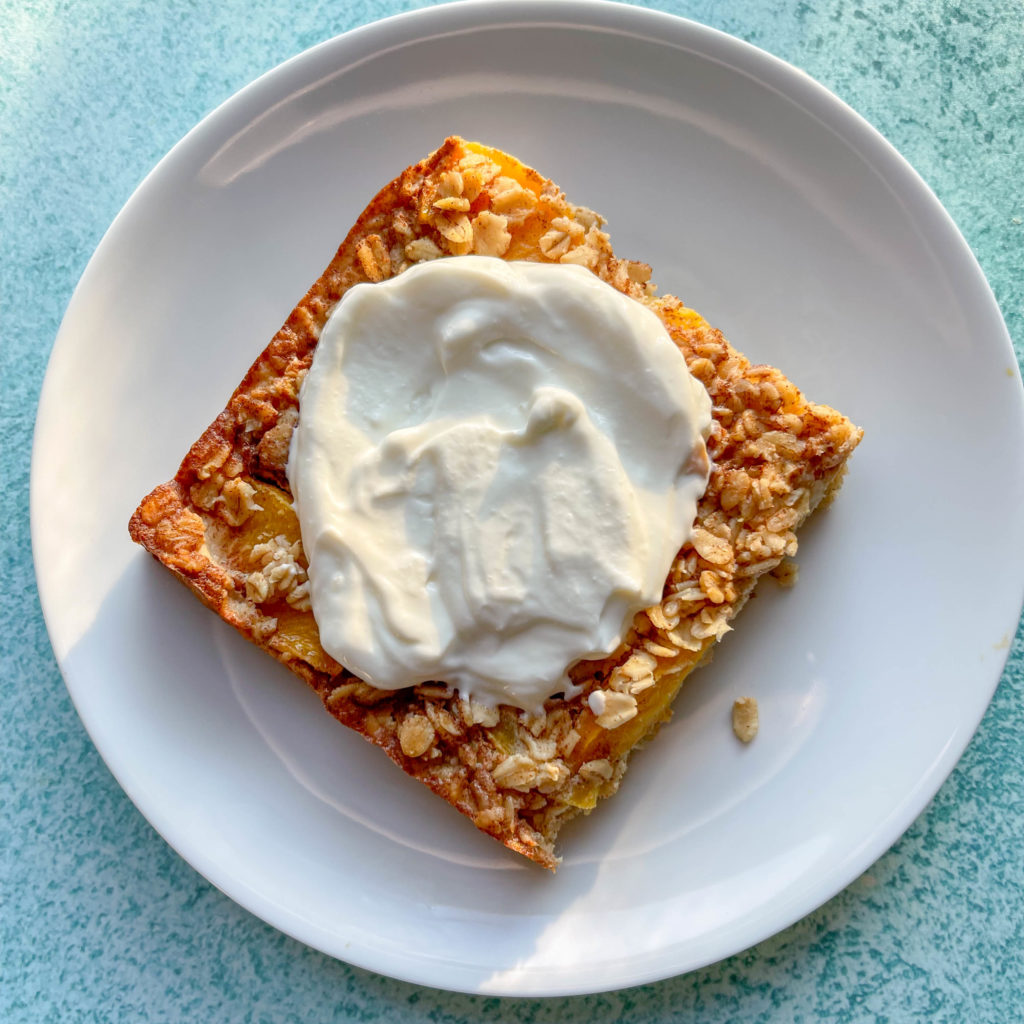 How to eat this baked oatmeal
Adding Greek yogurt on top of this oatmeal bake is my personal favorite way to eat it, but there are a few different ways to enjoy it!
Add some honey or maple syrup on top
Use more fruit as an additional topping. Berries would be delicious
Instead of Greek yogurt, use regular yogurt or whipped cream
Add some granola or nuts on top for some crunch!
Other breakfast recipes to try: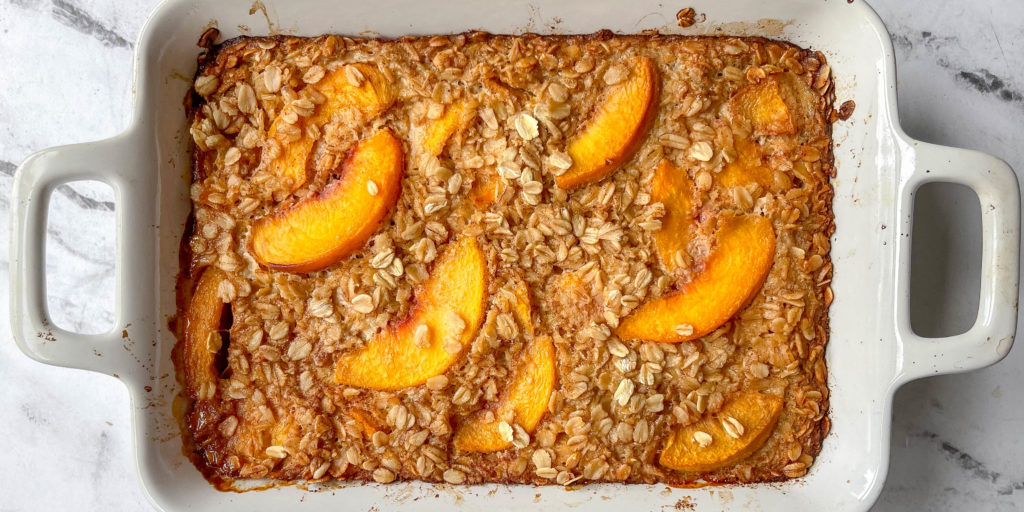 Storage & reheating notes
This oat bake can last in the fridge for up to 5 days. It's freezer-friendly for up to 6 months. Feel free to enjoy this cold, room temp or warmed in the microwave or in the oven.
Happy prepping!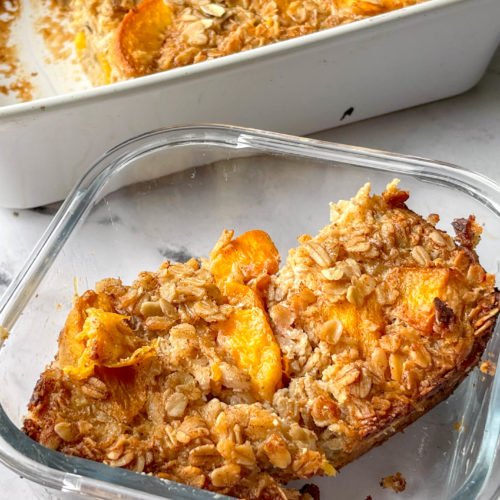 Peaches and Cream Baked Oatmeal
Ingredients
cooking spray
2.5 cup old fashioned oats
1 tsp baking powder
1 tsp cinnamon
1/2 tsp salt
2 TBSP butter melted and cooled
1.5 cup milk of your choice
1/4 cup brown sugar
3 TBSP agave maple syrup or honey
1/2 cup greek yogurt
1 egg
1 tsp vanilla
1 bag peaches 12-16 ounces frozen (can be totally frozen when added to the batter)
Instructions
Preheat your oven to 375 F (190 C). Prepare a square baking dish with cooking spray.

To a medium bowl, add the oats, baking powder, cinnamon and salt. Mix to combine.

To a larger bowl, add the melted butter, milk, brown sugar, liquid sweetener, yogurt, egg and vanilla. Mix well.

Then, add the dry ingredients to the wet ingredients and use a spatula or spoon to mix until just combined. Add the peaches (you can save a few to put on top of the bake) and stir.

Pour the mixture into the prepared baking dish and spread it to the edges of the dish evenly. Add the reserved peaches on top. Bake uncovered for 35-45 minutes, until the oats are firm to the touch and slightly browned on the edges.

Let the oat bake cool down for at least 20 minutes before slicing it into 4 pieces (or any serving size you want). Transfer the pieces to airtight containers and store them in the fridge for up to 5 days, or freezer for up to 6 months!
DID YOU MAKE THIS RECIPE?
Please leave a comment below on the blog or share a photo with us and tag @workweeklunch! Can't wait to see what you made!