Have you ever wished you can make mac and cheese fancy enough to serve to guests?
I have. And that's why I made this holiday-inspired gruyere, green bean and mushroom mac and cheese for you to try out!
Get more recipes like this in the Workweek Lunch Meal Prep Program with access to our meal planning tools, grocery list generator, and more. Start a free trial today!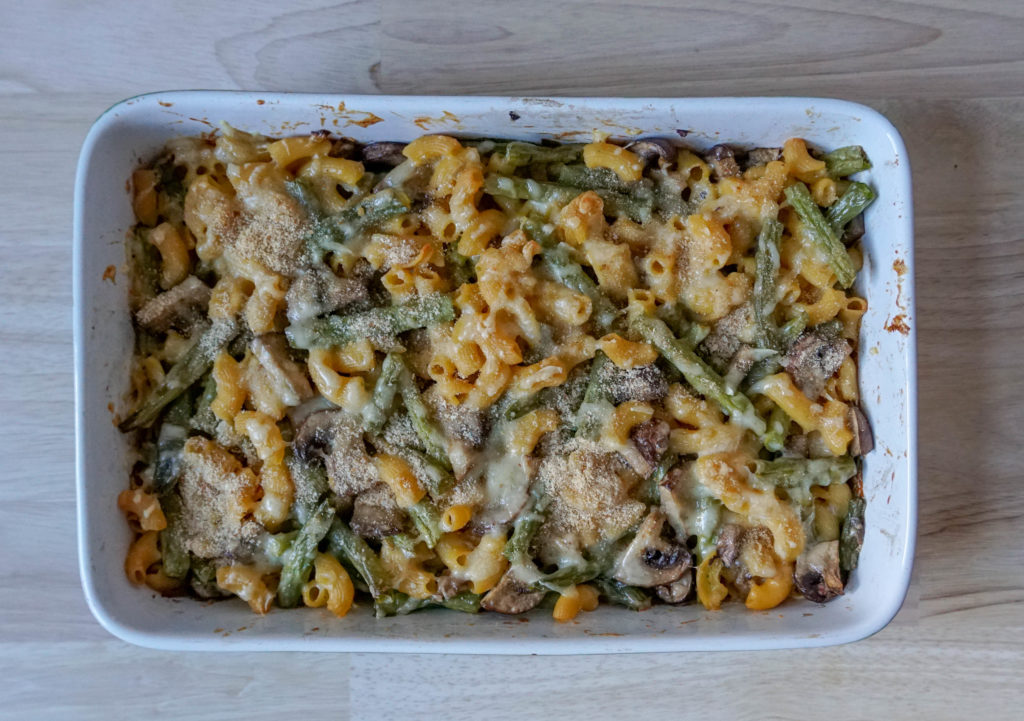 Mac and cheese meets traditional holiday elements
Normally, if you're going to add a vegetable to your mac and cheese, it's probably going to be broccoli.
But this version includes ingredients you'll see in traditional holiday meals, like green beans and mushrooms!
This right here is a veggie-packed dish you can feel good about, while also satisfying your desire for comfort food.
And here's a secret: the version pictured here is completely gluten-free! I used Banza chickpea pasta for the macaroni element. My partner couldn't tell… and I doubt your guests would be able to tell either!
How to customize this recipe:
Make it vegan. To make this recipe vegan, switch out the butter for vegan butter (I like Earth Balance) and cheese for vegan cheese (I like Daiya). Now, I don't think there's such a thing as vegan gruyere cheese (sigh) but you could skip that ingredient and it would still taste awesome! You'll also need to use non-dairy milk, but that doesn't change much (I test all my recipes with almond milk).
Make it gluten-free. To make this recipe gluten-free, use a gluten-free pasta (I used Banza!) and replace the flour in the sauce with all-purpose gluten-free flour. The AP variety always works best in my experience, but you can try with coconut flour and other types!
Change up the veggies. So I wouldn't change the veggies much here, but you want to go for dark green ones like chard, kale, spinach, asparagus, broccoli and brussels sprouts. It balances out the cheddar nicely and they pack a lot of nutrients! If you're not a mushroom person, that's ok! Skip them entirely or replace them with another veggie. I recommend tomatoes, cauliflower and peas!
If you're making this for guests…
This recipe makes 4-6 servings, so keep that in mind when whipping it up for a potluck or holiday dinner.
I recommend serving it as a side dish or entree for the kids. To make it even more fun, try baking it in a muffin tin because why not?
You can absolutely make this recipe a few days in advance and freeze it. Then you'd let it thaw a day before you need it and slowly heat it in the oven the day of your gathering. Consider adding a fresh layer of cheese on top too if going this route!
You can also make this recipe a day before you need it and reheat it before you sit down to eat dinner. I'm sure it will be a big hit!
If you're making this for work lunches or weeknight dinners…
This meal can last in the fridge for up to four days or in the freezer for up to 6 months. It reheats well in the microwave, in the oven or on the stove!
You might be wondering, where is the protein in this meal? How can it be a complete meal prep on its own?
Well, my first suggestion is using protein pasta. That checks the protein box off. But also keep in mind that cheese and veggies pack a lot of protein and this meal is plenty filling and satisfying on its own!
Happy prepping 🙂
Holiday Meal: Mushroom, Green Bean & Gruyere Mac N' Cheese
Ingredients
8

oz

short pasta

1

TBSP

oil

1

clove

garlic

minced

2

cups

baby bella mushrooms

chopped

2

cups

green beans

chopped (chop the ends off too!)

salt and pepper to taste

2

TBSP

butter

2

TBSP

flour

of your choice

2

cups

milk of your choice

8

oz

shredded cheddar cheese

shredded (about 1/2-3/4 cup)

4

oz

gruyere cheese

(to shred)

cooking spray

1/2

cup

bread crumbs

(optional)
Instructions
Preheat your oven to 375 F

Cook the pasta according to the package. When it's done, drain it and return it to the pot.

Add 1 TBSP oil to a skillet over medium heat. Then add the garlic and sautee for 3-5 mintues, stirring frequently until fragrant. Add the chopped mushrooms and green beans to the skillet. Season with salt and pepper. Cover and cook for 10 minutes, stirring ocassionally.

While the veggies cook, add the butter and flour to a saucepan over medium heat. Whisk until combined. Then add the milk and bring to a low boil, whisking frequently. Turn the heat down and add 3/4 of the bag of cheddar cheese to the pot, followed by 1/2 of your shredded gruyere. Add salt and pepper, then stir until the cheese has melted.

Add the cooked veggies to the pot with cooked and drained pasta. Then add the cheese sauce to the pot. Season with salt and pepper and mix until everything is tossed in the cheese sauce.

Grease a baking dish with cooking spray. Transfer the cheesy veggie pasta mixture to the dish and spread out with a spoon or spatula so it's even. Then top with the remaining cheddar, gruyere and bread crumbs if using. Bake, covered for 20 minutes. Then remove the cover and bake for an additional 10 minutes.
DID YOU MAKE THIS RECIPE?
Please leave a comment below on the blog or share a photo with us and tag @workweeklunch! Can't wait to see what you made!