You don't have to be intimidated by this easy quiche lorraine recipe. Although it sounds fancy, this delicious quiche lorraine only needs about ten minutes of prep time, the rest is hands-off!
If you aren't familiar with quiche lorraine, it is a savory tart of meat and cheese and is the perfect breakfast for when you want something a bit different than an egg sandwich or a burrito. This French dish is sure to impress friends and family for brunch, but can also be enjoyed all week long as meal preps!
Get more recipes like this in the Workweek Lunch Meal Prep Program with access to our meal planning tools, grocery list generator, and more. Start a free trial today!
Want to make this meal? This recipe is shoppable via Jupiter! Click here to fill your cart with groceries and have them delivered to you asap.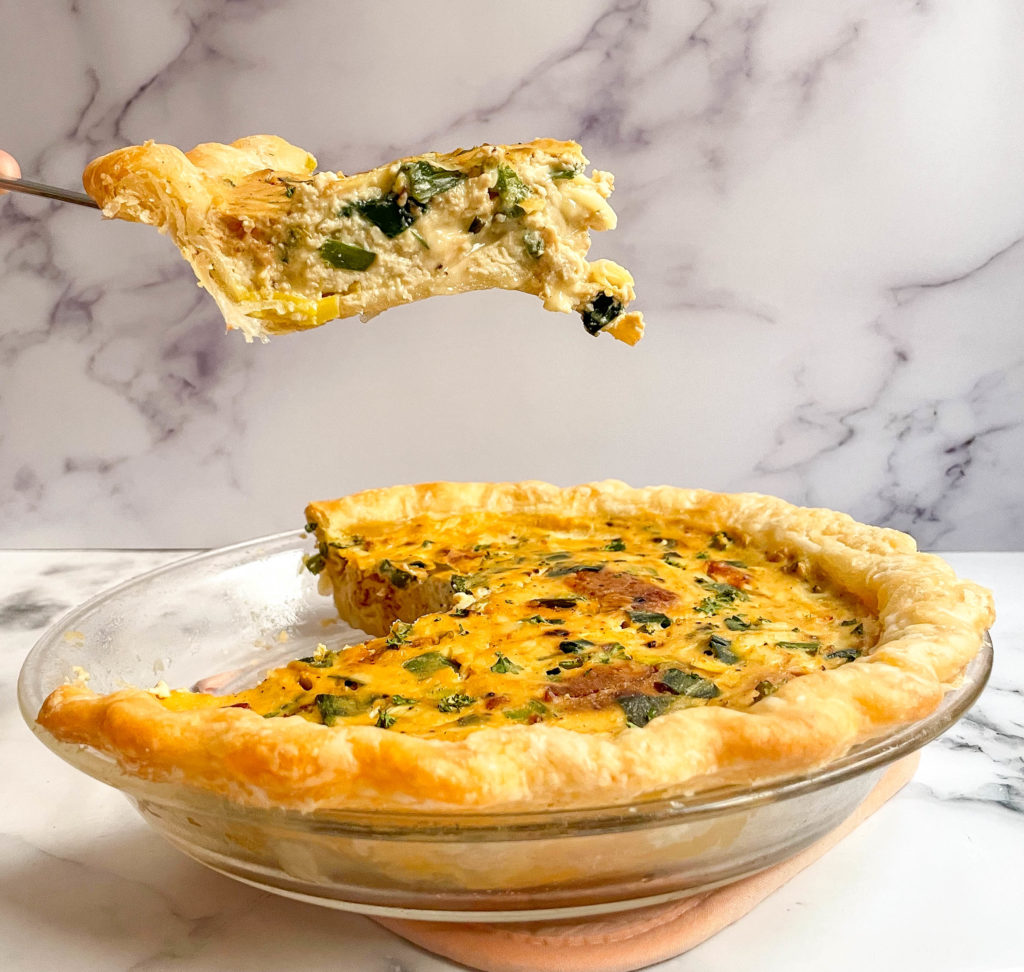 Swaps you can make to this easy quiche lorraine recipe:
If you don't want to use bacon, ham or sausage would be a great replacement.
If you want to replace the bacon with a plant-based protein, I would use tempeh. You can check out our collection of tempeh recipes for cooking tips.
You can replace the yellow onion with red onion, shallot, or leeks.
Use your favorite milk in the custard! If you are non-dairy, choose your favorite non-dairy milk and butter that are neutral in flavor.
Swiss cheese is great, but feel free to use your favorite cheese or whatever you have on hand!
Add some color to your quiche by adding up to 2 cups of cooked and strained greens like spinach or kale.
Crust customizations:
Use a frozen pre-made pie crust to make this meal as quickly as possible!
If you make your own crust, make sure to chill the crust in the pan for at least 15 minutes before baking.
To perfectly par-bake your crust, poke holes along the bottom with a fork, cover it with parchment paper, and fill it with dried beans to prevent the crust from rising in the oven.
If you are gluten-free and you do not want to make your own crust, you could try a hash brown crust for a fun twist!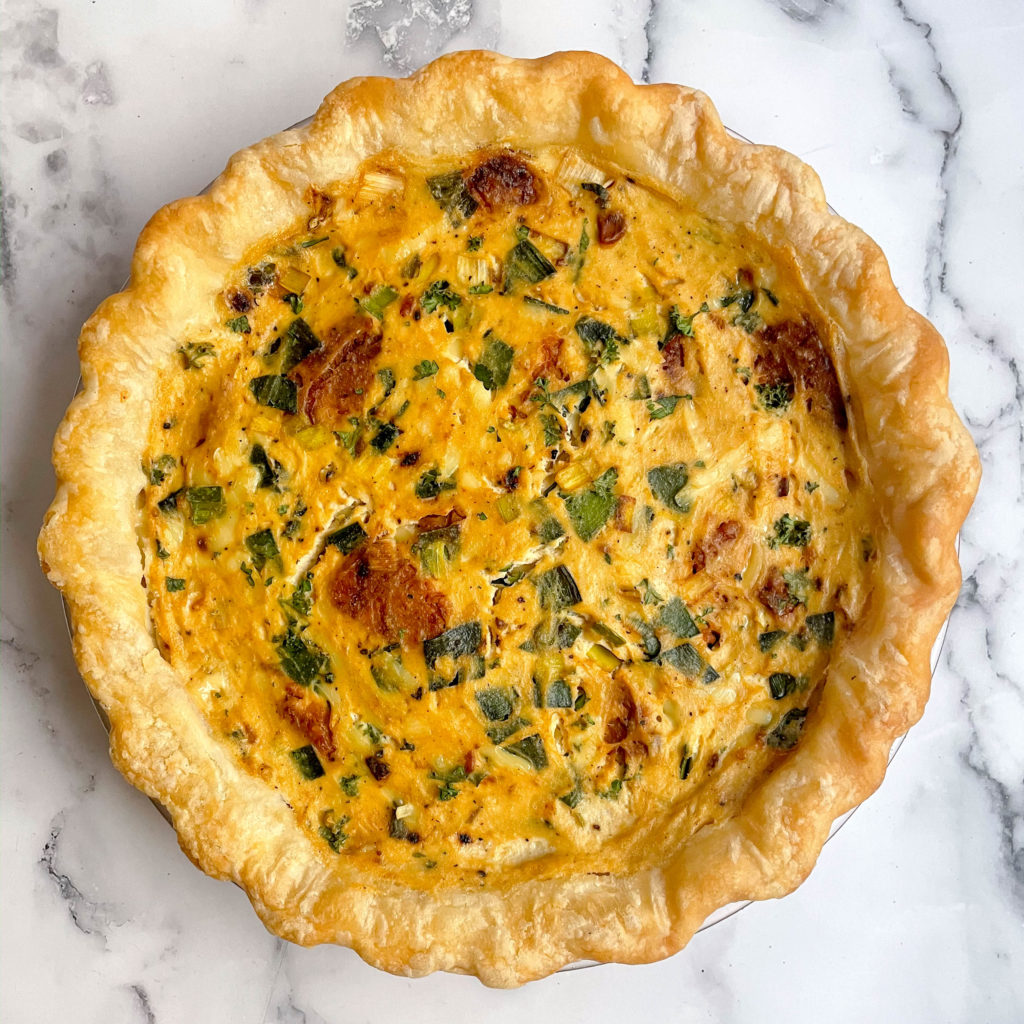 How to make your own pie crust:
If you want to make your own pie crust, this recipe only takes thirty minutes to prep! We do recommend par-baking (also known as blind baking) the crust before adding the filling (as mentioned in the recipe).
To perfectly par-bake, poke holes along the bottom with a fork, cover it with parchment paper, and fill it with dried beans to prevent the crust from rising in the oven. Heat your oven to 375 degrees and cook for about 10-15 minutes or until the crust is starting to brown and appears set. This recipe lays out everything you need to do and has a great video!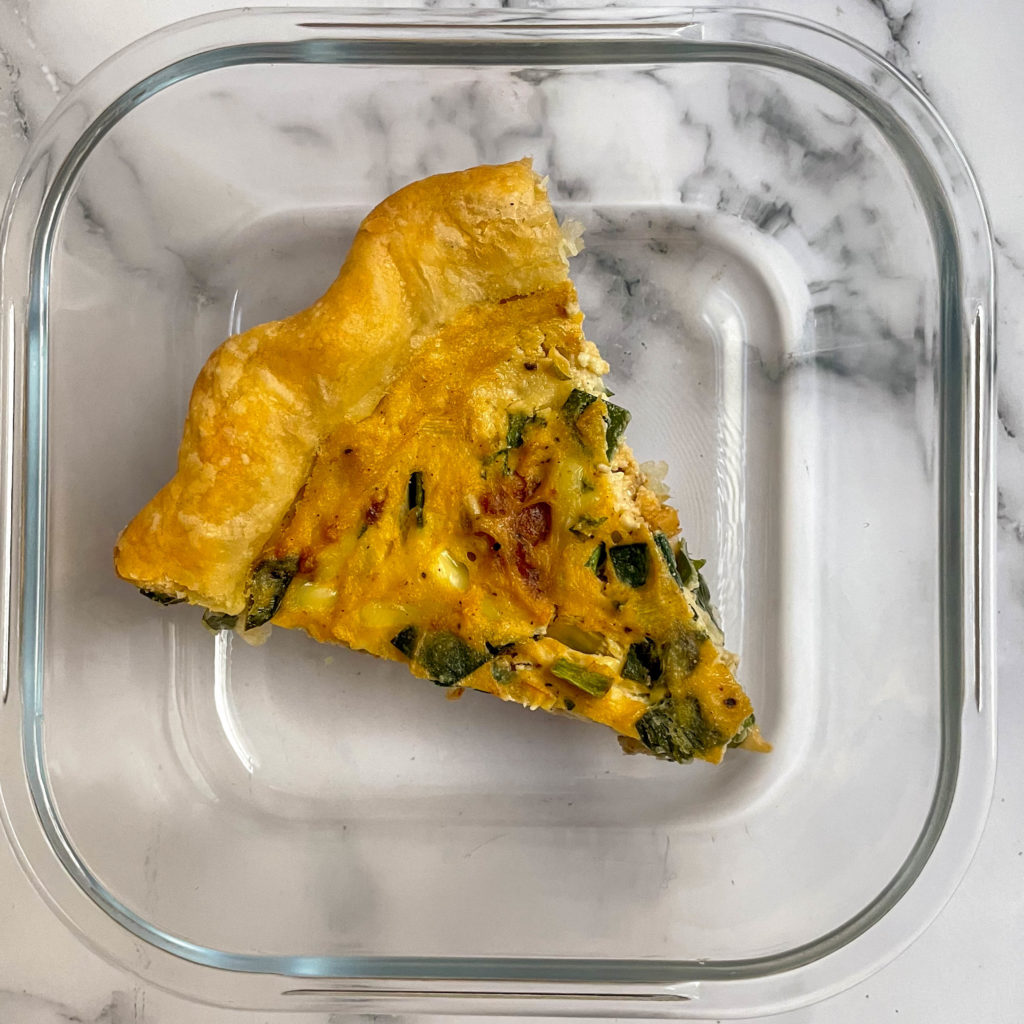 Quiche Lorraine FAQ
Can I use milk instead of heavy cream for quiche?

Yes, you can use milk instead of heavy cream in quiche. The texture and flavor of the quiche may be slightly different. Heavy cream has a higher fat content than milk, which gives quiche a richer, creamier texture and flavor.

To substitute milk for heavy cream in quiche, use a 1:1 ratio. You may need to adjust the baking time slightly as milk may cause the quiche to take longer to set.

You can also try substituting half-and-half or a combination of milk and melted butter, which will give a similar consistency and flavor to the heavy cream.
What is the difference between quiche and Quiche Lorraine?'

Quiche is a savory dish consisting of a pastry crust filled with a mixture of eggs, milk or cream, and various cheeses, veggies, meat or seafood.

Quiche Lorraine is a specific type of quiche that originates from the Lorraine region in northeastern France. It is made with a shortcrust pastry crust and a filling consisting of eggs, cream, bacon or lardons, and cheese, typically Gruyere or Emmental.
Should I pre-bake crust for quiche?

It depends on the recipe and the type of crust you are using. Pre-baking the crust, also known as blind baking, helps ensure that the crust is fully cooked and crisp before adding the quiche filling. Pre-baking is especially important if the quiche filling is very wet or has a long baking time, as it can prevent the crust from becoming soggy.

If using a store-bought pie crust or a homemade crust that's not sturdy, pre-baking is a good idea. This will help to prevent the crust from becoming too soggy and also ensure that the bottom of the crust is fully cooked.
How to Store & Reheat Quiche Lorraine:
This quiche lorraine will last in the fridge for 3-5 days, and it can be eaten cold or reheated.
To reheat, you can use the microwave, but for best results use your oven or toaster oven to keep the crust nice and crisp.
Freeze this quiche for up to 3 months before or after baking
Other breakfast recipes you'll love:
Freezer-Friendly Veggie Breakfast Burritos
Starbucks Copycat Recipe: Spinach Feta Breakfast Wrap
Vegan Banana Bread (Perfect Breakfast Or Snack)
Easy Zucchini Bread For Breakfast Or Snacks
And for our master list of breakfast recipes, click here!
Easy Quiche Lorraine Recipe
Ingredients
1

pie crust

fresh or frozen

6

oz

bacon

about 4-6 slices, chopped, sub breakfast meat of your choice

1/2

yellow onion

sliced thin

1

cup

milk of your choice

4

TBSP

butter

melted

5

egg

1/2

tsp

salt

1/4

tsp

pepper

1/8

tsp

nutmeg

cayenne

to taste, optional, sub hot sauce of choice

1

cup

shredded swiss cheese

sub Gruyere or white cheddar
Instructions
Preheat the oven to 400F (200C). Prick the bottom and sides of the pie crust then bake the crust for 10 min. Once the crust is baked, lower the oven temperature to 375F (190C).

In a skillet over medium heat, cook your bacon pieces until crispy, about 5-6 minutes. Set aside on a paper towel-lined plate, then remove most of the bacon fat from the pan, leaving about a tablespoon. Add your onion to the pan and cook stirring frequently for another 5-6 minutes, until the onions are soft and starting to brown. If they start to stick, add a splash of water.

In a measuring cup or small bowl, combine the milk and melted butter. Combine the milk mixture with the eggs in a large bowl and beat until the eggs and milk are fully combined. Add the salt, pepper, nutmeg, and cayenne if using.

Add your crumbled bacon, onions, and shredded swiss cheese to the bottom of your cooled crust. Carefully pour the egg mixture over the filling. I find this is easiest if your pie plate is on a baking sheet. You can add half the egg mixture, place the pan in the oven, and add the rest of the egg mixture once it is in the oven so you don't spill it.

Bake quiche for 35-40 minutes until the quiche is mostly set with a small wiggle in the center, or a knife inserted an inch from the crust comes out clean. Let cool for 10-15 minutes before slicing. Cool completely before storing.
Notes
You can freeze this quiche unbaked and bake it the day of eating if you'd like! 
DID YOU MAKE THIS RECIPE?
Please leave a comment below on the blog or share a photo with us and tag @workweeklunch! Can't wait to see what you made!