I can get behind any meal that involves chickpeas and sweet potatoes.
Especially one like this Moroccan chickpeas meal prep, which is one of the coziest, most satisfying meals I've ever made. It's also one of the easiest.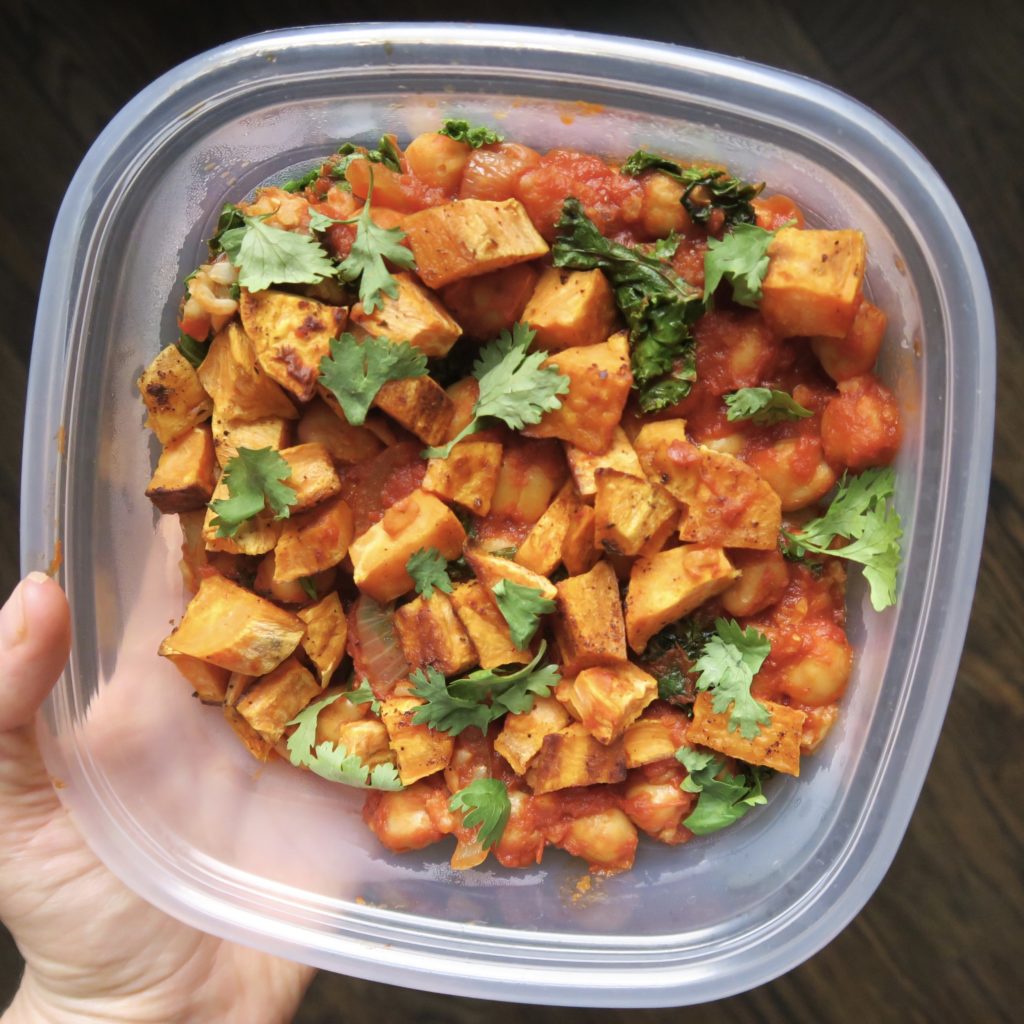 This recipe is inspired by one of MindBodyGreen's weekly meal prep recipes. I put my own simplified spin on it and adapted it for meal prep purposes. That being said, this can totally be a quick weeknight dinner too.
While it's not a one-pot meal because you have to bake the sweet potatoes, these Moroccan chickpeas are just as easy. While the sweet potatoes roast in the oven, the chickpeas, crushed tomatoes and spices simmer on the stove, leaving you with lots of passive time.
What makes this meal "Moroccan?"
It calls for a basic Moroccan spice/flavor blend which includes cumin and cilantro (aka coriander). If you want, you could add ginger, turmeric and paprika to get even more Moroccan flavor.
Nothing brings me more joy than finding a meal that's just as tasty as it is healthy. Chickpeas are a solid source of protein, carbs and fiber. Tomatoes are packed with vitamins and nutrients too.
This dish can last up to four days in the fridge in airtight containers. It heats up well on the stove or in the microwave.
Like this recipe? Sign up below and immediately get FREE mini meal plans!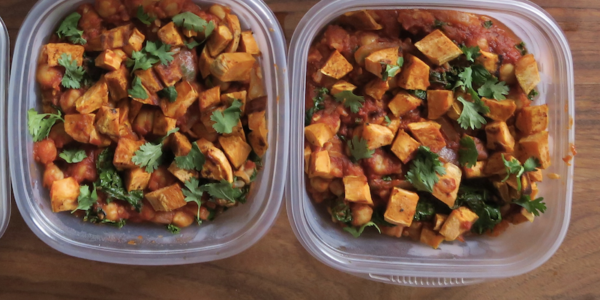 | | |
| --- | --- |
| | |
Preheat the oven to 400 F (200 C) and lay out 3 meal prep containers

On a baking sheet, lay out the sweet potatoes and add a glug of oil, salt, pepper and cumin. Toss with your hands or a wooden spoon to evenly coat the cubes. Spread them out a bit and bake for 25-30 mins

In a large skillet, on medium heat add oil and the chopped onion. Cook until translucent (about 5 mins).

Then add garlic, chickpeas, tomato paste and crushed tomatoes. Add salt, pepper, cumin and a dash of crushed pepper. Stir and bring to a slight boil. Then, reduce heat to a simmer, cover and cook for 10 minutes.

Add the kale and stir. The kale should get soft in about 3 minutes.

Assemble the meals: divide the chickpea/tomato mixture into three portions, add sweet potato on top. Then add chopped cilantro.
These meals should last up to four days in your fridge when stored in airtight containers. You can heat them up in the microwave (one minute and 30 seconds) or on the stove (about five minutes)!
Like this recipe?
There's a lot more where that came from. Click here to sign up for weekly meal prep tips and quick, healthy recipes made for busy people.
Questions? Concerns? Drop them below in the comments.