What makes perfect vegan wraps? It's all about having a variety of textures. I've been perfecting lunch wraps for years, and this one is definitely a front runner. I promise these won't get soggy on you either!
Here, we have sweet smokey sweet potatoes, roasted chickpeas lightly mashed, creamy avocado, and crunchy kale and radishes. What takes the flavors in this wrap to the next level is the citrus worked into the chickpeas and avocado. You can eat this wrap cold or at room temperature, making it perfect for lunch on the go.
This recipe is also featured in my cookbook, The Workweek Lunch Cookbook: Easy, Delicious Meals to Meal Prep, Pack, and Take On The Go out on March 29, 2022! It includes 60 approachable recipes designed to be meal-prepped and stored.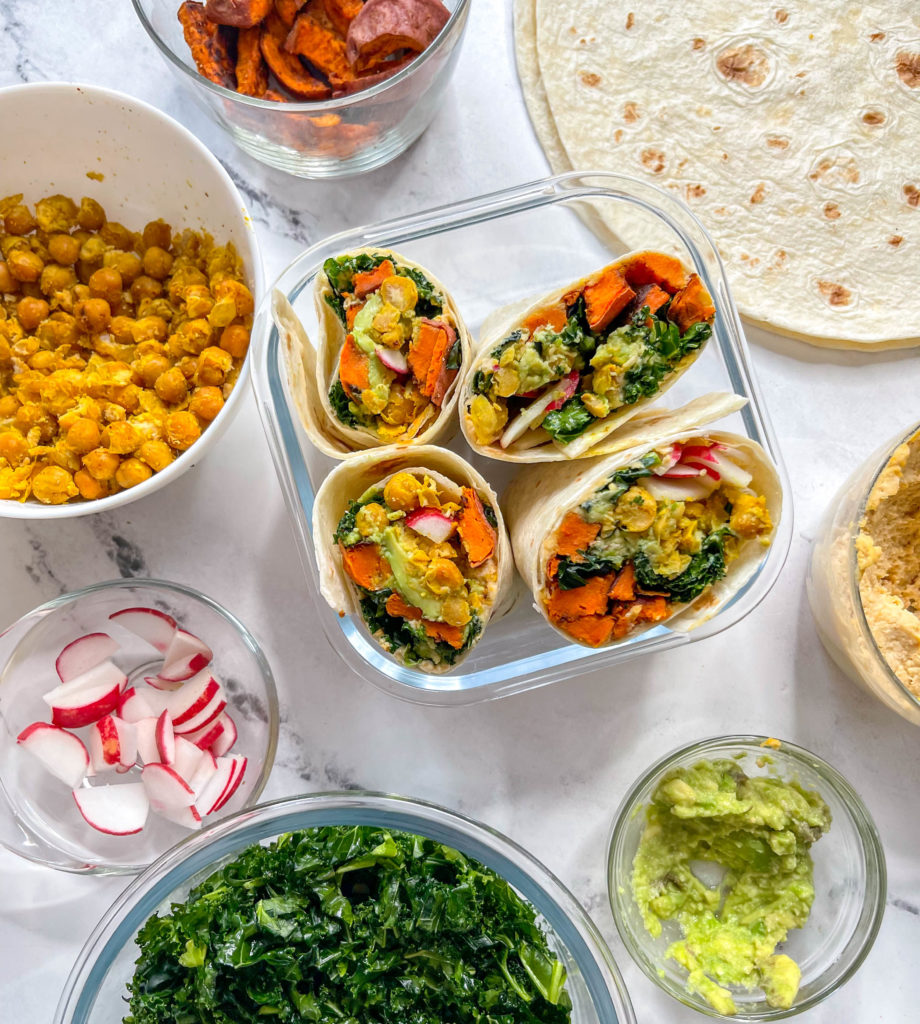 How to customize these vegan wraps
Switch up the veggies:
If you don't want to use sweet potatoes, regular potatoes would work as well. You can also use pre-made fries to make this even easier.
Add cooked veggies such as broccoli, mushrooms, bell peppers, summer squash, red onion, asparagus, or cauliflower.
Substitute the kale in these vegan wraps for spinach, swiss chard, or even arugula. Kale will however hold up the best over time.
If radishes aren't your favorite, feel free to leave them out!
Related: Cold Lunch Ideas: Meal Prep Recipes When You Don't Have A Microwave
Change the protein:
Vegan chicken would be a great substitute in this recipe if you don't want to use chickpeas. Although we didn't test it, fried tofu could be good as well!
If you want to make these vegan wraps omnivore swap the chickpeas for shredded chicken or shredded turkey. You can also cut the chicken into strips or small pieces if you do not want to shred it!
For even more ideas, check out our master list of vegan protein options!
Make your own hummus:
Using storebought hummus is absolutely fine! However, if you want to make your own, here is our easy and delicious hummus recipe!
Related: 20 Meal Prep Salads That You'll Actually Enjoy Eating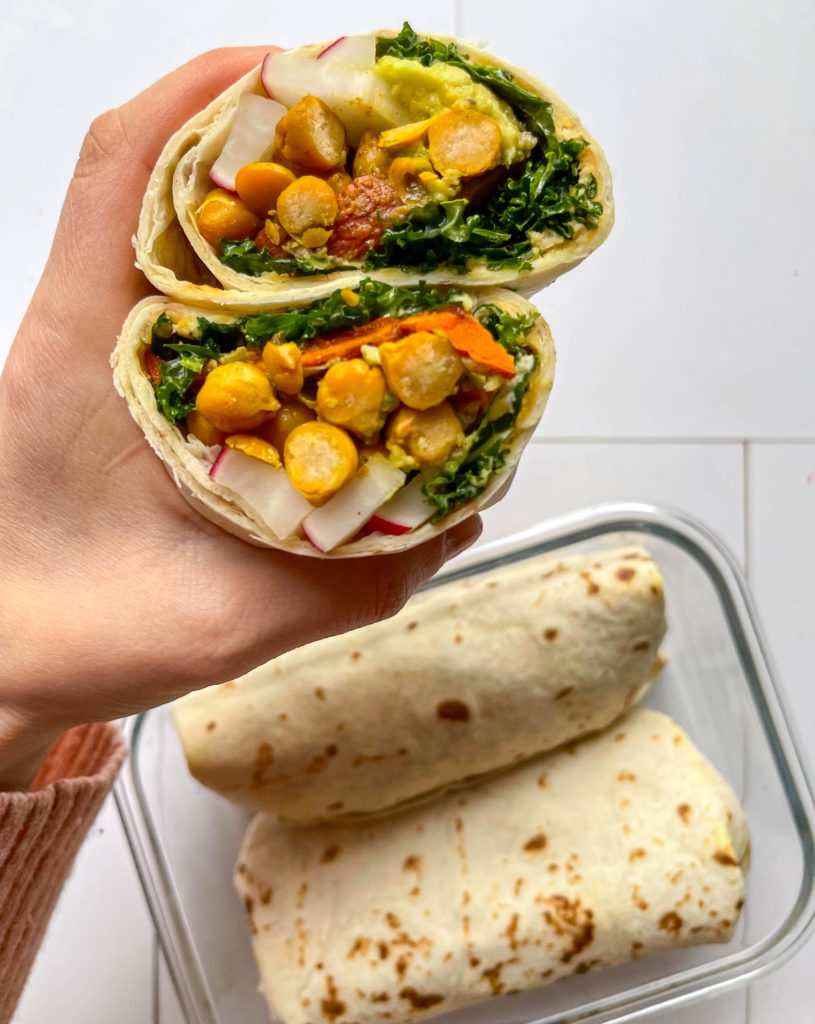 Tortillas suggestions
If you like regular flour tortillas (that's what I use), these wraps should not get too soggy if you choose to wrap them for meal prepping. My favorite tortillas brand is Mission! But if you're using whole wheat or gluten-free wraps, it's important to wrap these up right before eating.
Gluten-free and whole wheat wraps don't hold as well overnight and are more difficult to fold up. If going this route, store the wrap fillings in individual containers, then heat it up and wrap it before you eat!
Check out the video below where I rate six different kinds of gluten-free tortillas!
You could easily turn these vegan wraps into a bento box!
These were pretty filling, but this wrap might not be enough on its own for you. So you can turn this into a bento box situation by pairing it with fruit, popcorn, pretzels, chips, trail mix, a muffin or whatever else sounds good at lunchtime.
Related: 70+ Best Camping Meals (Easy and Affordable!)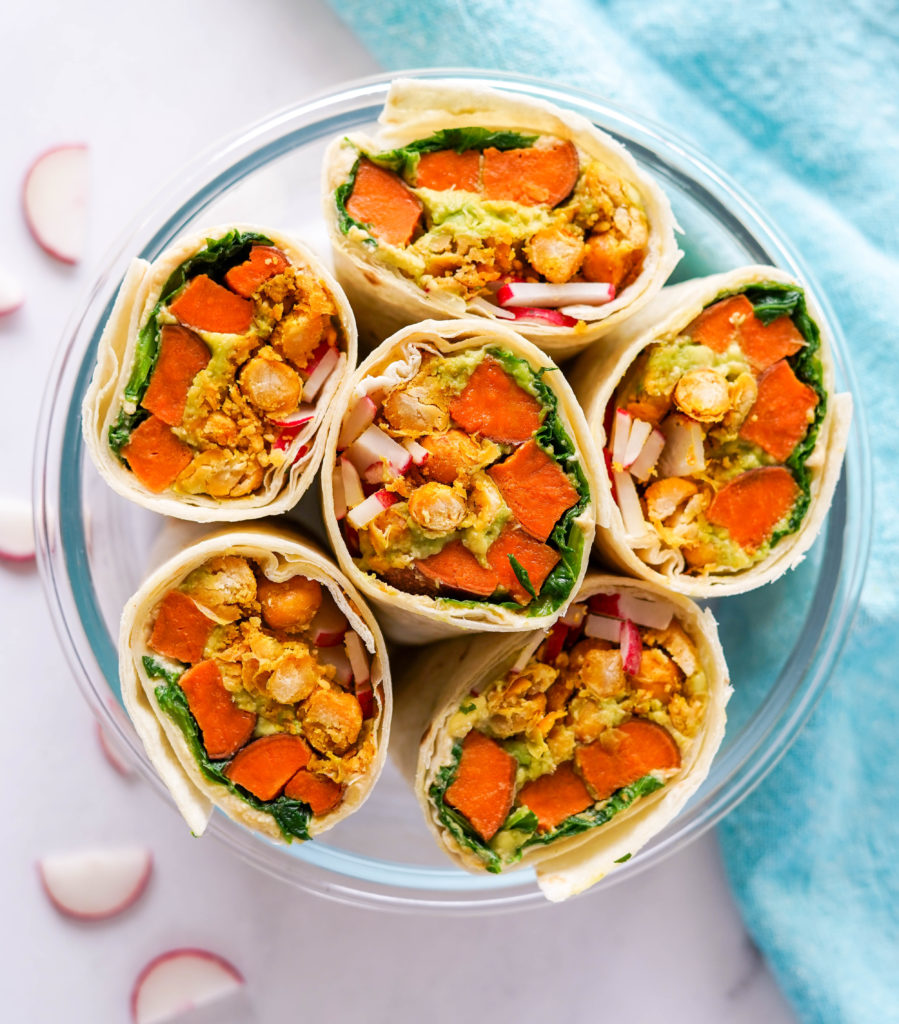 Storing these easy vegan wraps:
This meal will last 3-4 days in the refrigerator, and it is not freezer friendly! They are good cold or at room temperature. I don't recommend reheating these wraps unless you decide to skip the avocado. Happy prepping!
And don't forget to try out our other delicious recipes!
Here are a few you may be interested in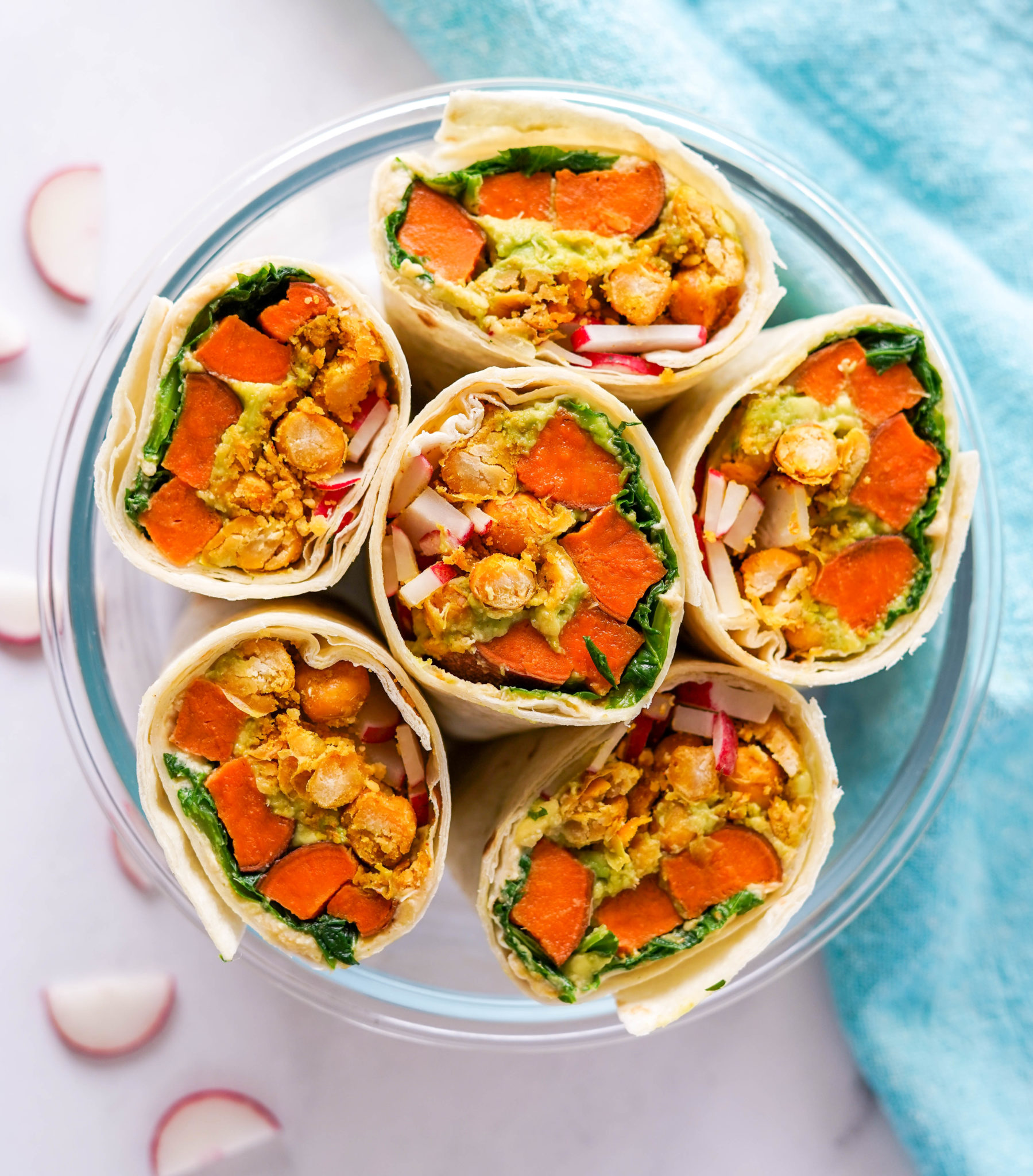 Sweet Potato & Chickpea Avocado Wraps
Ingredients
1

sweet potato

chopped into thick fries

2

tbsp

30 ml olive oil

divided

1

tsp

cinnamon

1

tsp

cumin

½

tsp

salt

¼

tsp

ground pepper

1

15-oz

can chickpeas

rinsed and drained [425-g]

1

tsp

paprika

1

tsp

curry powder

3

cups

kale

chopped [268g]

1

large

avocado

pitted

1

tbsp

lemon juice

divided, [15 ml]

3

large

tortillas

10 inch ,25-cm

1

cup

hummus

[232g]

6

radishes

chopped in half and sliced

Hot sauce

optional for serving
Instructions
Preheat your oven to 425°F (220°C).

To a mixing bowl, add the chopped sweet potato, half of the olive oil, cinnamon, cumin, salt and pepper. Mix well with a wooden spoon or your hands. Pour the sweet potato onto a baking sheet and spread out the "fries" so they're not touching each other. Bake for 30 to35 minutes on a lower rack, flipping halfway, until the "fries" are tender and have darkened in color on the outside.

To the same bowl you used before, add the chickpeas, remaining olive oil, paprika, curry powder and salt to taste. Pepper is optional. Mix with a wooden spoon so the chickpeas are coated in the spices. Pour the chickpeas onto another baking sheet and bake for 15 to 20 minutes on a middle or upper rack. They'll be a little crispy and darker in color when they're finished.

Let the sweet potato and chickpeas cool down to room temperature when finished.

Meanwhile, bring 4 to 5 cups of water to boil and add a few big pinches of salt. Get a bowl of very cold water (it's best if you can add a few ice cubes) ready to go next to the stove. When the water is boiling, carefully add the chopped kale and let it cook for 1 to 2 minutes, until it's vibrantly green. Drain the water from the pot using a strainer and transfer the kale to the bowl of cold water. This stops it from cooking more. Lay a clean kitchen towel on the counter and spread the blanched kale on it to dry before assembling your wraps.

Mash the avocado in a bowl. Add half of the lemon juice and a pinch of salt and mix. In another bowl, mash the cooked chickpeas gently. Add the remaining lemon juice and mix. 

Let's wrap! Lay a tortilla down on a flat clean surface. Spread one-third of the hummus on the lower third of the wrap horizontally, in the shape you want your wrap to be in. Think of it like you're "outlining" the shape of your wrap with the hummus. Place one-third of the kale on the hummus, followed by an even layer of sweet potatoes—make sure they're not piled on top of each other! Add one-third of the mashed avocado on the potatoes, followed by one-third of the lightly mashed chickpeas. Top it off with a layer of sliced radishes. 

Rolling the wrap: With your hands on either side of the wrap, fold the bottom of the wrap over the filling—it's okay if it doesn't cover the filling completely. Then fold the two sides over the edges of the filling. This is the tricky part—with the sides folded in, fold the wrap and filling completely over away from you. Adjust to tuck in the sides and keep rolling until you're out of tortilla. This takes practice! Repeat the last two steps two more times to make all three wraps. 

Storage, reheating and serving notes: These wraps can last in the fridge for up to four days and they're not freezer friendly. Store in an airtight container in the fridge until you're ready to eat! These can be eaten cold, room temperature or warmed in the microwave or on the stove. 
DID YOU MAKE THIS RECIPE?
Please leave a comment below on the blog or share a photo with us and tag @workweeklunch! Can't wait to see what you made!