I've been playing with granola flavors for months now, and this vanilla maple almond granola is my favorite one yet!
It's so cozy and satisfying, you're going to love it.
Do you have to use almonds? Absolutely not.
Get more recipes like this in the Workweek Lunch Meal Prep Program with access to our meal planning tools, grocery list generator and more. Start a free trial today!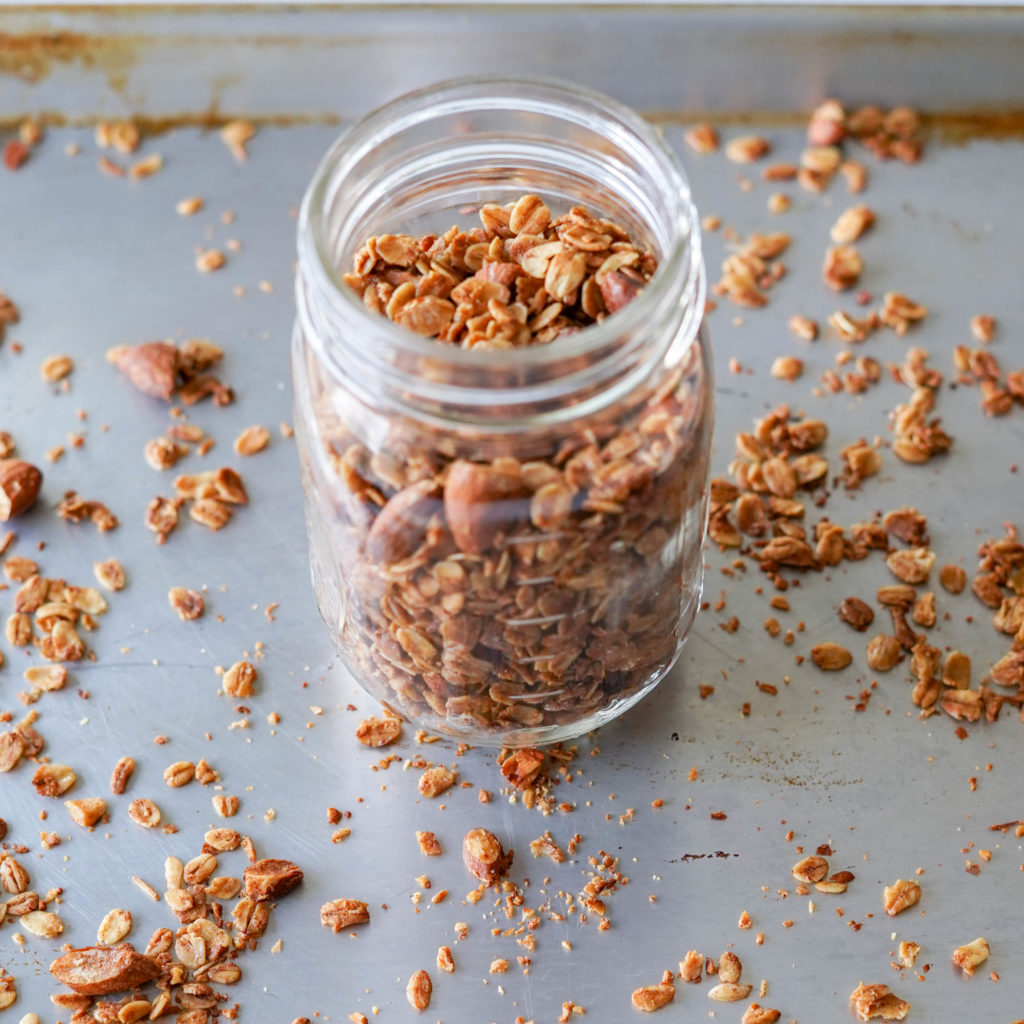 Make This Vanilla Almond Granola Your Own
If you're allergic to nuts, skip them. Dried cranberries would also go well in this granola if you can't use a nut or seed component.
If you can't find or don't want to use almonds, use walnuts, cashews or pepitas instead.
Make sure to use a sharp knife when cutting the nuts you choose to use! We love this Nakano knife! Use the code TALIA for 10% off.
What you can add to this maple granola (after it cools down)
Coconut flakes

Chia seeds

Sunflower seeds

Pepitas

Dried fruit

Caramel chips

Chocolate chips
How To Make Crunchy Granola
While cooking granola, it will be helpful to stir it every 10 mins or so while baking it in low heat. Make sure to use a sheet pan – not a baking dish – when making granola.
Here's a link to my favorite sheet pan.
The one thing to avoid with granola is not letting it cool all the way down before storing. If you transfer it to a container when it's still warm, condensation will collect inside the container and make it moist. No thanks!
To make crunchy granola clusters, mix a beaten frothy egg white into the oat mixture before baking. The egg whites act as a binder and make delicious, crunchy clumps of granola! 
Note we didn't test this egg white method with this recipe, but it should work for all granola recipes.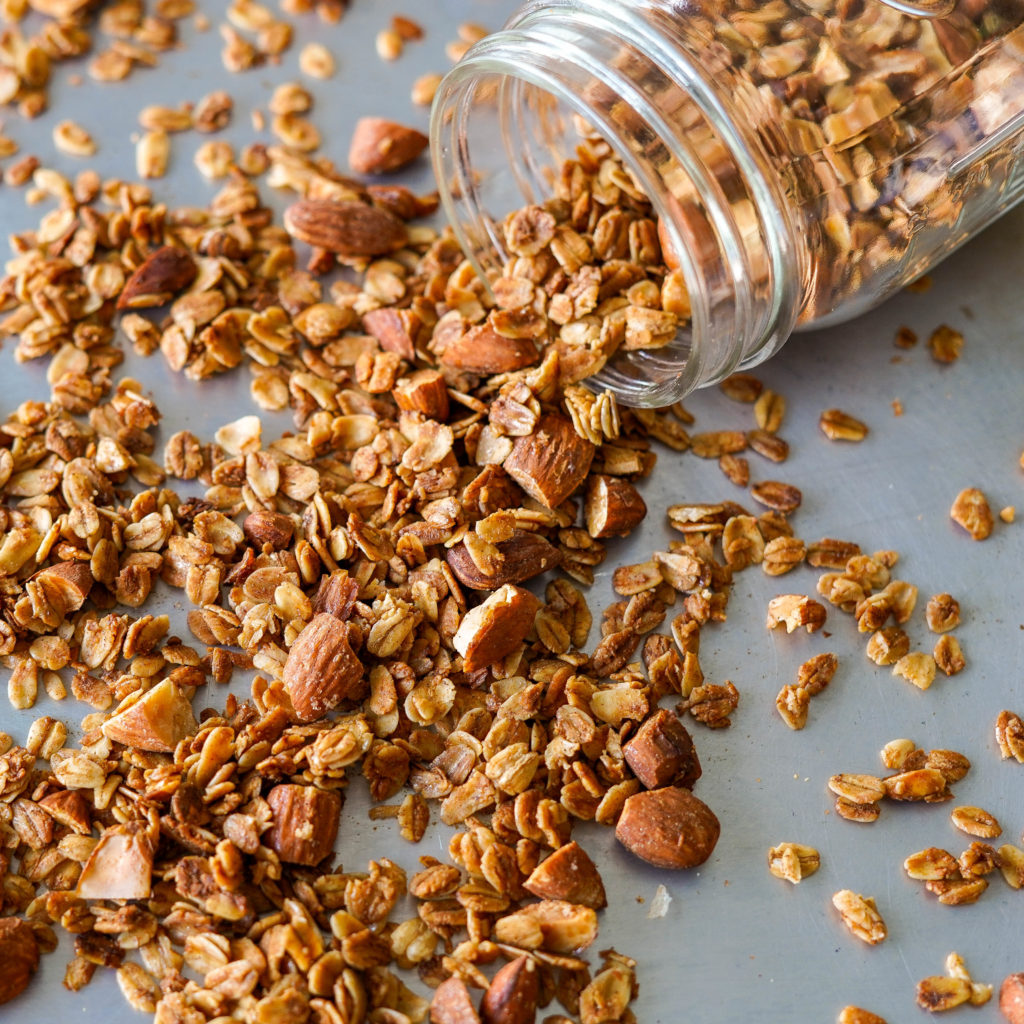 Are Oats Gluten-Free?
Technically, yes oats are naturally gluten-free! However, there is still a chance of cross-contamination with gluten-containing grains when they are at the farm or during transportation. So if you are gluten-free, make sure to pick up certified GF oats to be safe!
Ways To Eat This Delicious Vanilla Granola
When eating this granola, pair it with your favorite yogurt, cottage cheese, or just eat it like cereal! Why not?
If you're into smoothie bowls, this granola would make a great crunchy topping.
This recipe calls for 1 cup of oats and I'm calling 1/4 cup of granola one serving. If you want to use more or less as one serving, that's entirely up to you!
I personally love to enjoy my granola with milk, like a bowl of cereal. Yum!
How to double this almond granola recipe:
To double this recipe, simply double the ingredients! And I highly recommend doing that, because this granola will go FAST. You can still just use one sheet pan when doubling this recipe.
To add more volume, add more toppings (listed above) or make sure to eat it with something filling like Greek yogurt or cottage cheese!
My favorite Containers for Granola
Mason Jars (found at most grocery stores)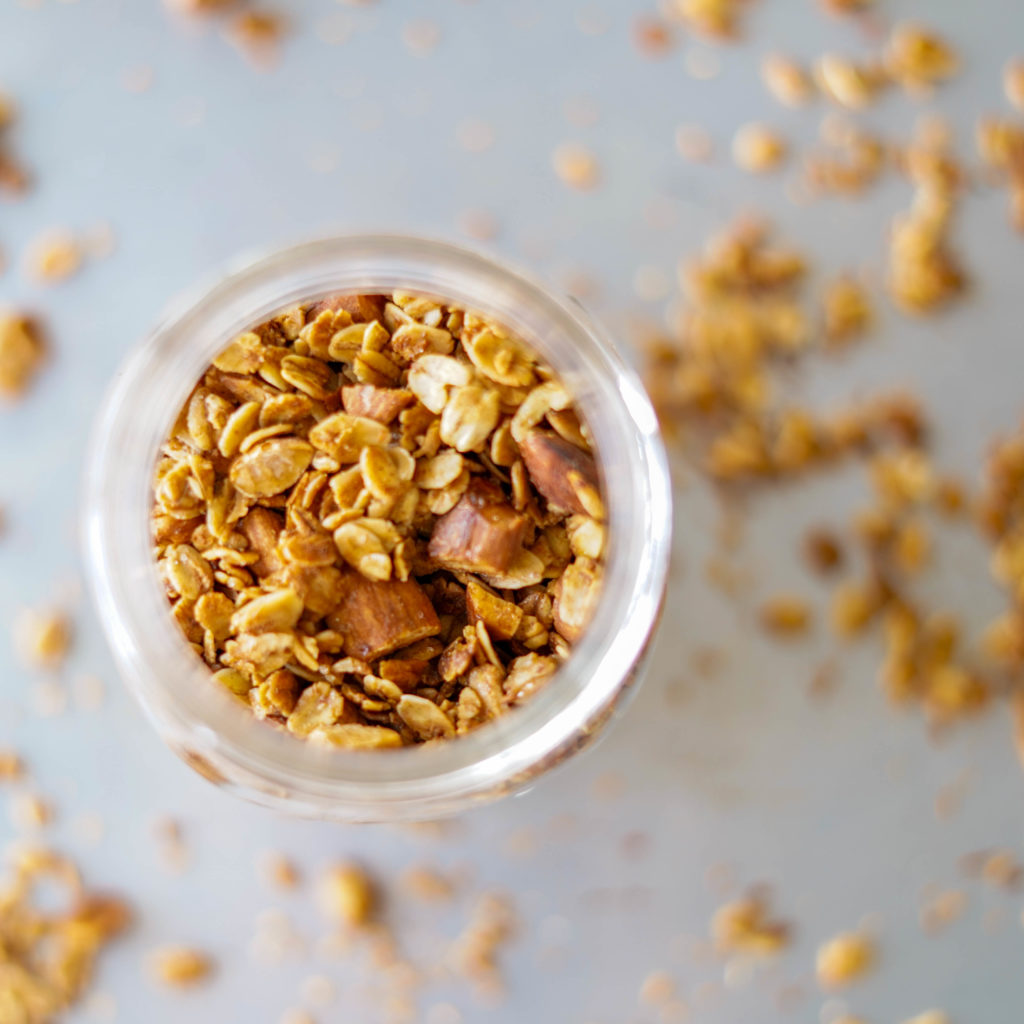 Storage & reheating notes for vanilla almond granola:
This granola can last in the fridge in an airtight container for up to 2 weeks and in the freezer for up to 3 months. It doesn't need to be reheated.
Happy prepping!
More Meal Prep Breakfast Recipes We Love!
Spinach Feta Breakfast Wraps (Starbucks Copycat)
Snickerdoodle Pancakes with Cream Cheese Drizzle
Morning Glory Muffins With Apple and Carrot 
Or, check out the video below for four delicious breakfast ideas for when you are on a budget!
Budget-Friendly Breakfasts | 4 Meals Under $10!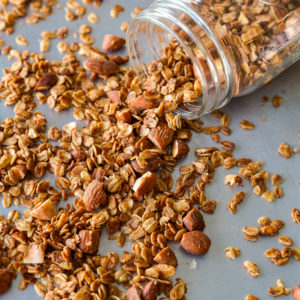 The Best Vanilla Maple Almond Granola
Ingredients
1

cup

old fashioned oats

1/2

cup

almonds

raw unsalted , chopped

1/4

cup

almonds

raw unsalted, left whole

1

tsp

cinnamon

1/2

tsp

salt

1-1/2

tsp

vanilla extract

1

TBSP

granulated sugar

+ more if you want it on the sweeter side!

2

TBSP

maple syrup

2

TBSP

coconut oil

or butter

cooking spray
Instructions
Preheat your oven to 325 F. Add the oats, chopped almonds, whole almonds, cinnamon and salt to a mixing bowl.

In a small saucepan over medium-low heat, melt the coconut oil or butter and add the vanilla, granulated sugar and maple syrup. Mix well and turn off the heat when combined. Pour the vanilla and maple mixture into the bowl with the oats and stir well.

Prepare a baking sheet with cooking spray. Pour the oat mixture on the tray and spread the oats out. Bake for 10 minutes, then take the pan out and stir/flip the oats. Place the tray back in the oven for 10 minutes, then let it cool for 10 minutes before storing in a container. Serve with yogurt, cottage cheese or eat it on its own!
DID YOU MAKE THIS RECIPE?
Please leave a comment below on the blog or share a photo with us and tag @workweeklunch! Can't wait to see what you made!