This salmon poke bowl recipe is a great way to get one of your favorite takeout items at home! They are perfect for when you are in the mood for something fresh, crunchy, and flavorful. Although our version is not authentic, this is a delicious, meal prep-friendly recipe that will satisfy your cravings for poke!
The main elements in this recipe are teriyaki salmon, fresh elements (like carrots, jalapeno, cucumber, red onion, and mango), edamame, saucy cold soba noodles, and spicy mayo.
Get more recipes like this in the Workweek Lunch Meal Prep Program with access to our meal planning tools, grocery list generator, and more. Start a free trial today!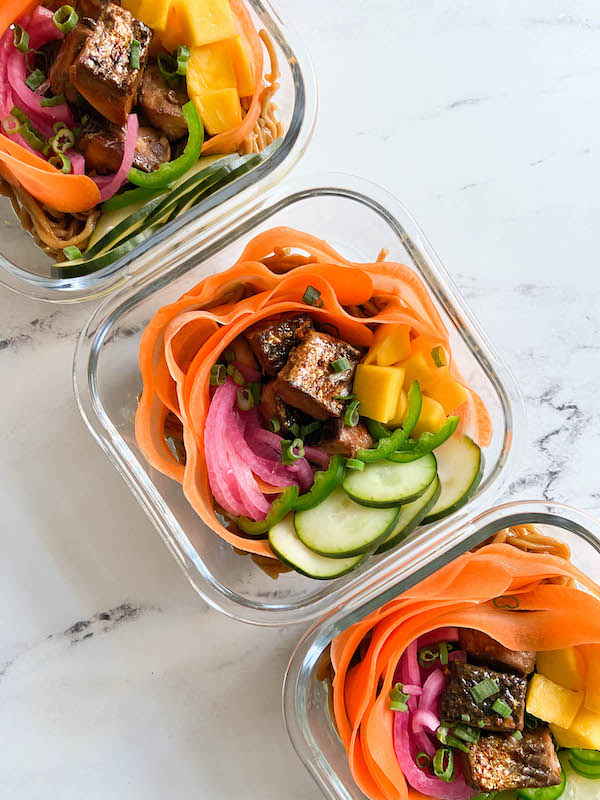 First, what is a poke bowl?
Poke bowls are from Hawaii and the word poke means "to slice." The modern version of these fresh, colorful meals (sometimes served as an appetizer) usually involves raw tuna, pickled veggies, maybe some fruit, sticky rice, and lots of yummy sauce options.
I'm just going to put this out there – raw fish and meal prep don't mix. If you're comfortable working with sushi-grade fish and want to try this out as a one-off dinner, do it!
Otherwise, we're sticking with safely cooked salmon for meal prep and taking flavor inspiration from this delicious Hawaiian dish. This recipe is definitely more of a lightly pickled veggie salad marinated and cooked salmon over a bed of cold noodles with sriracha mayo. And trust me, it's delish and perfect for anyone who prefers crunchy fresh veggies overcooked veggies for meal prep. 
How to make this salmon poke bowl recipe your own:
Change up the veggies: You can add scallions, tomatoes, shitake mushrooms, ginger, avocado, red cabbage, bell pepper, or zucchini noodles. Keep in mind some of these wouldn't be found in a traditional poke bowl.
Change the base (instead of noodles): Use white rice, brown rice, zucchini noodles, cauliflower rice, or mixed greens to make it more like a salad.
Change the protein (instead of salmon): Grilled chicken, breaded chicken, shrimp, tofu, seitan, and BBQ pulled pork would all be awesome options. I took inspiration for this meal from this poke place near my mom's apartment called Poke Bowl. If you want some ideas for different veggie combinations, I recommend looking at their menu for ideas too!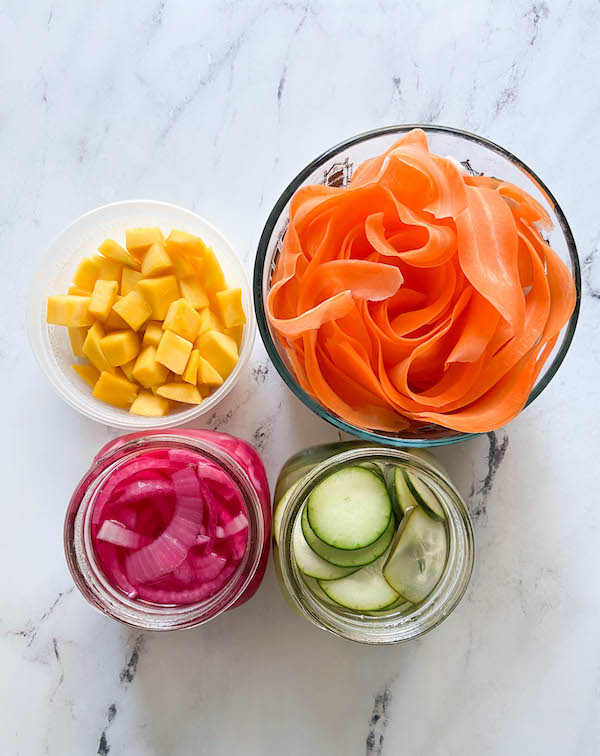 Let's talk about the sauce and garnishes
Since this is more in the cold prep/salad category, garnishes and sauces are really important (and there's a lot of room to customize here too). Sriracha mayo was an obvious choice for this prep since it's a 2-ingredient situation, but here are some other fun ideas:
When in doubt, just squeeze a lime on top of your bowl or add a dash of soy sauce. When it comes to garnishes, here are some fresh ideas:
nori (seaweed)
radishes
roasted peanuts
sesame seeds
black sesame seeds
garlic chips
sprouts
pickled ginger
wasabi peas
green onion
cilantro (not traditional at all, but so delicious)
See? There are so many ways to go with this salmon poke bowl recipe and it's easy enough to do over and over again with different veggies, garnishes, and sauces.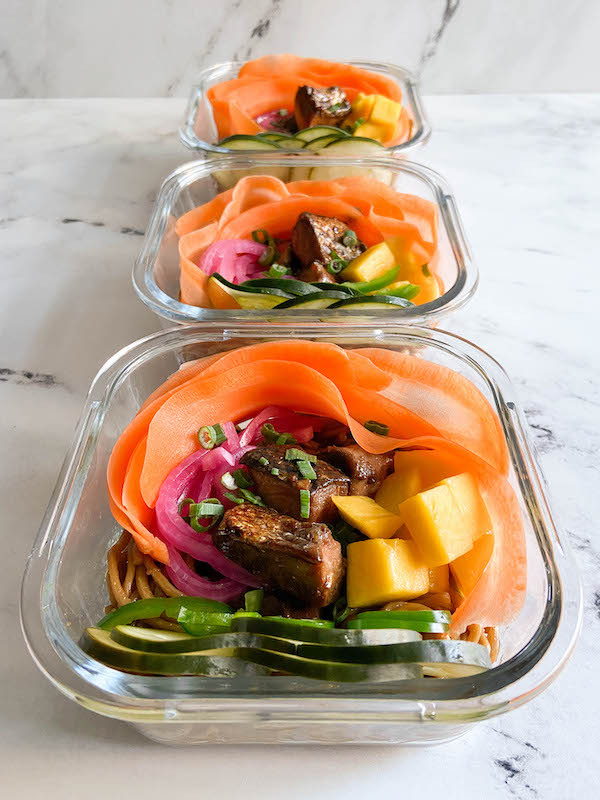 How to store and reheat this salmon poke bowl
Technically, this is meant to be eaten cold or at room temp. But I actually dumped the toppings into a bowl, then reheated the base (noodles) in the microwave (can also work on the stove) and added the toppings back to the container and topped it with sriracha mayo before eating.
I don't recommend reheating the whole bowl though – just the base and maybe the protein! To make reheating the base easier, keep them separate from the toppings. This meal can last in the fridge for up to 4 days! It's not freezer-friendly. Happy prepping!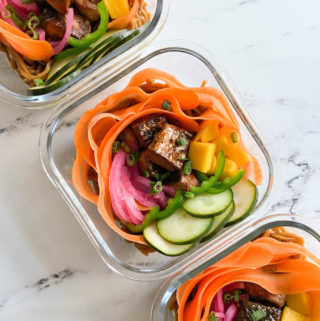 Meal Prep Teriyaki Salmon Poke Bowls
Ingredients
2

inch

ginger

grated

2

clove

garlic

grated

2/3

cup

soy sauce

sub tamari or liquid aminos

2/3

cup

agave, maple syrup or honey

5

green onion

green ends sliced

16

oz

salmon

chopped into cubes

6

oz

soba noodles

sub any kind of noodle

1/4

cup

water

2

tsp

cornstarch

1

jalapeno

seeded and chopped into half circles

2

carrot

peeled into ribbons

1

cucumber

sliced

1/2

red onion

sliced, sub red cabbage

1

mango

sliced

1

cup

edamame

optional

sesame seeds
for quick pickling veggies – optional
1

cup

vinegar

any kind works, a mixture of different kind also works

1

cup

water

2

TBSP

granulated sugar

1

TBSP

salt
Sriracha Mayo
1

cup

mayonaisse

3

TBSP

sriracha

if you're not into spicy, sub 1/2 the sriracha with ketchup

1/2

lemon

for juices

1/4

tsp

salt

plus more to taste
Instructions
Optional quick pickled veggies: combine the water, vinegar, sugar and salt in a small pot and bring it to a boil. Meanwhile, add the veggies you want to pickle (cucumber, red onion, jalapeno or carrots) to separate jars or containers (or you can pickle them all together) and pour the boiled liquid over them. -I just pickled the red onion and cucumber.- Press the veggies into the liquid with a wooden spoon so they're covered. If there's not enough liquid, add equal parts water and vinegar. Let them sit at room temp for about an hour, then move them to the fridge. Picked veggies can keep for at least a week in the fridge!

Add the salmon cubes to a bowl. To a measuring glass, add the soy sauce, sweetener, ginger and garlic. Add about 1 TBSP sliced green onion too. Stir well, then taste and adjust flavors as desired. You can also add a little sriracha if you like spicy! Pour HALF the sauce over the salmon and let it marinate for 15-20 mins. Set the remaining half aside.

Cook the noodles according to the package and set aside.

In a skillet or saucepan (one big enough to fit the noodles): heat the remaining half of the sauce over a medium-high flame until it starts to bubble (about 3 minutes). Meanwhile, stir the cornstarch and water together in a cup or bowl. Once the sauce is bubbling, pour in the cornstarch slurry and turn the heat up. Stir constantly until the sauce thickens a bit (2-3 minutes). It doesn't have to be super thick, but shouldn't be watery. Turn of the heat. Add the noodles to the skillet and toss them in the sauce.

Cook the salmon: heat up olive oil or vegetable oil in a nonstick pan for 2-3 minutes. Add the salmon cubes (try to keep as much marinade out of the pan as possible) and let them cook for no more than 10 minutes over medium heat, rotating the pieces frequently. Salmon cooks fast and you don't want to overcook it! Set the salmon aside and let it cool.

Assemble: divide the noodles between three containers so they cover the bottom. Add veggies (including ones you may have quick-pickled) on top, leaving room for the salmon. Have fun with the presentation! Add the salmon to the bowls. Add mango and garnish with sesame seeds.

Sriracha mayo: Combine the mayonnaise, sriracha, lemon and salt in a measuring glass or bowl. Mix with a fork or whisk. Taste and adjust if needed!! Divide the sauce between small containers or just add it to one big container (the idea is to keep it on the side).
DID YOU MAKE THIS RECIPE?
Please leave a comment below on the blog or share a photo with us and tag @workweeklunch! Can't wait to see what you made!