I love a fresh strawberry salad. Adding fruit is such a simple addition, but it truly takes the salad to the next level and strawberries go so well with vinaigrettes, crunchy nuts, and creamy cheese. This salad is inspired by the flavors of spring, using strawberries, leeks, and a spring salad mix. Don't forget to rate this recipe if you try it!
Get more recipes like this in the Workweek Lunch Meal Prep Program with access to our meal planning tools, grocery list generator, and more. Start a free trial today!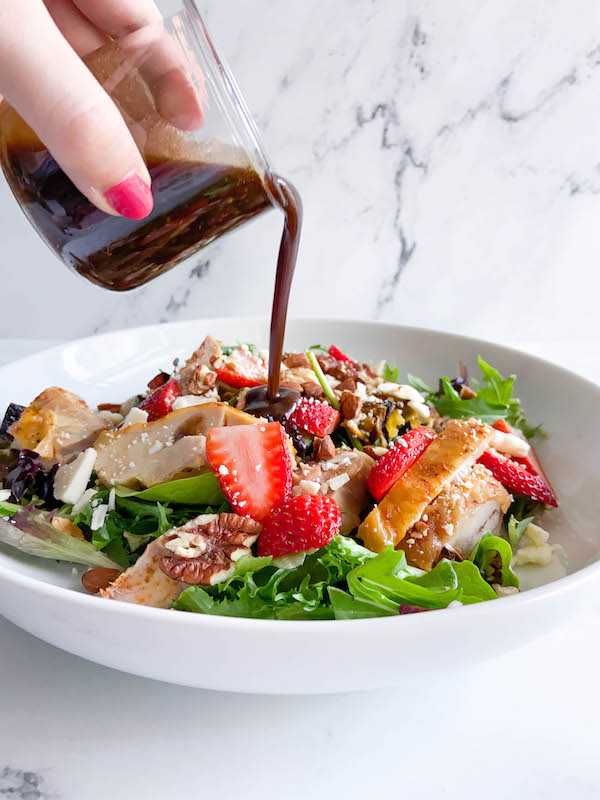 How do you cook leeks?
If you haven't cooked with leeks before, here's what you need to know:
Remove the greens and either discard or save them for homemade stock or another dish.
Leeks can hide a lot of dirt and sand, so wash them really well after you slice them, then pat them dry.
If you don't like or can't find leeks, use any other onion as a substitute! Red, yellow, white, and pearl all work fine.
Related: 25 Easy Meal Prep Lunches For Beginner Home Cooks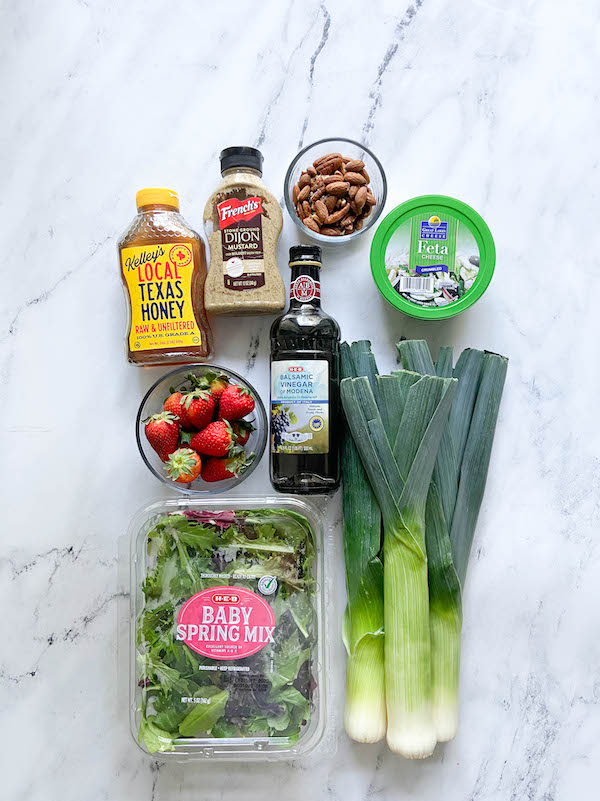 Tips for making this Strawberry Salad
Use skin-on chicken for that rotisserie chicken feel (or use rotisserie chicken!)
Swap out the dressing for your favorite variety. Poppyseed dressing, creamy avocado, and green goddess dressings would all be delicious. Store-bought is always welcome here!
Swap out the greens. I wanted a spring vibe so I opted for a baby spring mix, but you can definitely use kale, spinach, arugula, or chopped lettuce.
For extra oomph, throw some fresh herbs in with your greens: basil, cilantro, parsley, and mint would all be delicious.
Add more carbs! Croutons, rice, quinoa, orzo, potato, sweet potato, or even a tortilla to make a salad wrap.
If you just don't like feta cheese- swap it out for gorgonzola, blue cheese, or goat cheese!
If you don't like strawberries–apples, pears, nectarines, apricots, and even plums would work in this!
Add some more crunch! Walnuts, cashews, peanuts, seeds, or croutons would be great.
Adding a sliced avocado would be awesome if you have one!
Related: 18 Meal Prep Recipes For When You Have No Microwave or Fridge At Work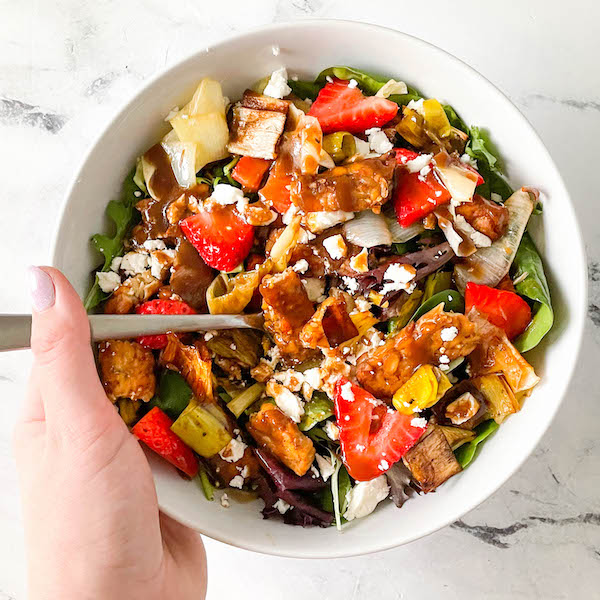 How to make this spring salad vegetarian
If you want to make this strawberry salad vegetarian, you can replace the chicken with 8 oz of tempeh (as pictured above!).
If tempeh isn't your thing, feel free to use tofu, veggie ground "meat", seitan, or chickpeas!
How do you make non-dairy feta?
Feta adds a nice tang and creaminess to this salad but it's totally optional! If you are vegan or dairy-free, you can use store-bought vegan feta (Violife is a great brand) or you can make tofu feta! Here's a simple recipe if you want to make your own feta for these salads:
16 oz tofu, drained, pressed, and crumbled
1 lemon, juiced
1TBSP apple cider vinegar
1/2 tsp salt
Combine the crumbled tofu, 1/2 the lemon juice, apple cider vinegar, and salt in a bowl and combine with a fork. Taste and adjust flavors, adding more lemon, vinegar, or salt if necessary.
Related: 20 Meal Prep Salads That You'll Actually Enjoy Eating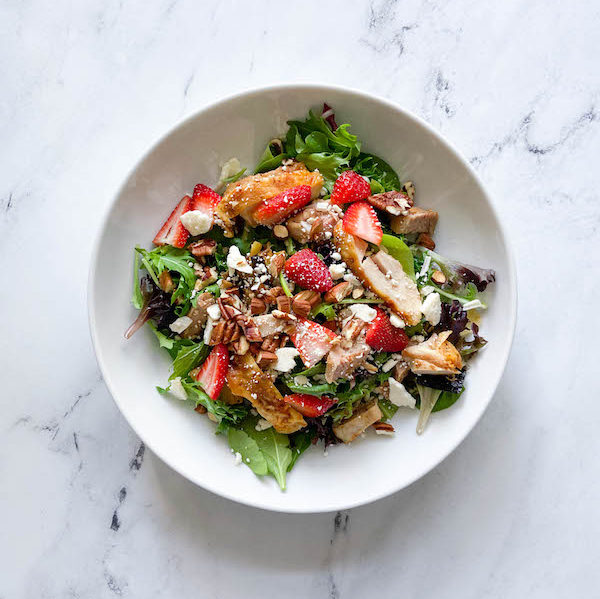 How to store this strawberry salad
Storage and reheating notes
This salad lasts in the fridge for up to 4 days. It's not freezer friendly. You don't have to reheat it, but I like to heat up the chicken and leeks in the microwave! It also tastes great cold or at room temp. Happy prepping!
Don't forget to try out these other delicious salad recipes!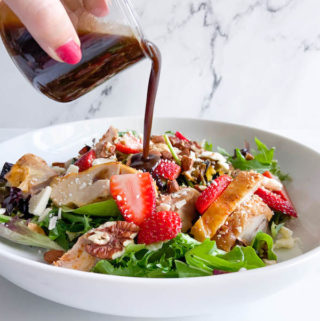 Meal Prep Strawberry Salad With Chicken
Ingredients
For the cooked components
3

leeks

white/light green part only, halved and cut into 1-inch chunks

2

TBSP

olive oil

divided

12

oz

boneless chicken thighs

1/2

tsp

paprika

1/2

tsp

garlic powder

salt and pepper
For everything else
6

oz

spring mix

sub greens of your choice

1.5

cup

strawberries

sliced

1

cup

almonds

chopped, sub nuts or seeds of your choice

1

cup

feta cheese

sub crumbly cheese of your choice

For the honey balsamic vinaigrette

1/4

cup

olive oil

2

TBSP

balsamic vinegar

1

TBSP

honey

plus more to taste, sub agave or maple syrup

1

tsp

dijon mustard

1

clove

garlic

minced

salt and pepper
Instructions
Preheat the oven to 400 F (200 C).

In a bowl or zip-top bag, combine the leeks with 1 TBSP of olive oil and salt and pepper to taste. Stir until the pieces are well coated and add them to a rimmed baking sheet. Spread them out a little bit so they aren't touching, leaving room for the chicken.

To the same bowl or bag, add the chicken thighs, the remaining 1 TBSP of olive oil, the garlic powder, paprika, and salt and pepper to taste. Stir until the thighs are well coated, then transfer them to the rimmed baking sheet. Bake for 30-35 minutes until the chicken is fully cooked (juices run clear). Let the chicken rest for a few minutes before chopping into chunks for the salad.

While the chicken cooks, make the vinaigrette. In a bowl or jar, combine the olive oil, balsamic vinegar, honey, dijon mustard, garlic, salt, and pepper. Either whisk or shake vigorously until the vinaigrette is fully combined. Taste the vinaigrette and add more salt and sweetener as needed.

Assemble the salad. If you plan to eat this salad cold, add a third of your greens, chopped chicken, leeks, strawberries, feta cheese, and almonds to a container. If you want to eat this as a warm salad (my preference!), store the chicken and leeks in a container separate from the greens, strawberries, feta cheese, and almonds. Repeat two more times. Store the vinaigrette on the side until you are ready to eat.
DID YOU MAKE THIS RECIPE?
Please leave a comment below on the blog or share a photo with us and tag @workweeklunch! Can't wait to see what you made!