These vegetarian quesadillas featuring sweet potato and black beans are foolproof! Quesadillas are one of my favorite things to order out, but you rarely see a veggie-only version with sweet potato and black beans on the menu. I love this meal prep because it's freezer-friendly and super satisfying on every level.
Get more recipes like this in the Workweek Lunch Meal Prep Program with access to our meal planning tools, grocery list generator, and more. Start a free trial today!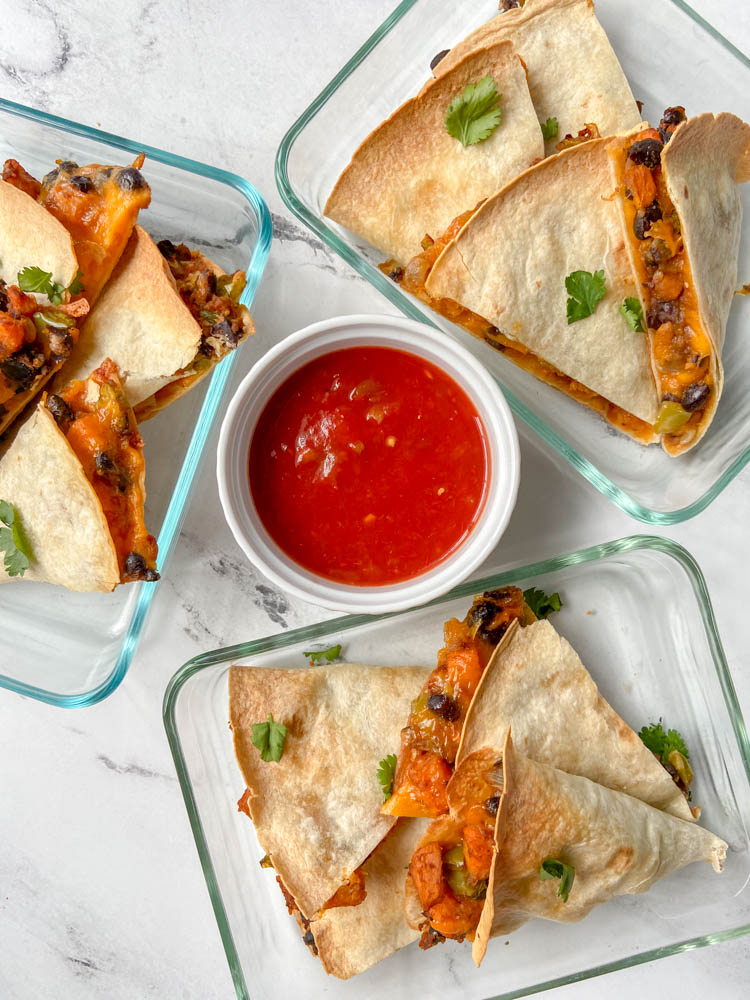 The main elements in this meal prep recipe are tortillas, sweet potatoes, black beans, cheese, and green bell peppers. Salsa on the side is optional but highly recommended.
Related: Kid-Friendly Recipes: 15 Go-To Meals Parents Always Make for Their Kids
Customizing these vegetarian quesadillas:
Make it gluten-free: use gluten-free tortillas! I recommend Mission brand GF tortillas
Make it dairy-free: use non-dairy cheese such as Daiya! You need something melty to bind the quesadillas together
Add meat: shredded chicken, shredded pork or ground turkey would be awesome in this meal. About 1/2 a pound (226g) should do it!
Not into sweet potato or want to add more veggies? Another kind of sweet squash would be great, but you can use other veggies such as cauliflower, zucchini, bell peppers, red onion, corn, mushrooms and greens. Yukon gold potatoes would work too!
Not into black beans? Try chickpeas for more of a Mediterranean flavor profile! And if you eat meat, you can totally swap black beans for a protein option listed above
Want to turn this into more of a breakfast quesadilla? Add scrambled eggs before they go in the oven.
Quesadillas are an awesome meal prep "template" since there's a lot you can do with them. Get creative and remember to go based on your own tastes, preferences, and needs.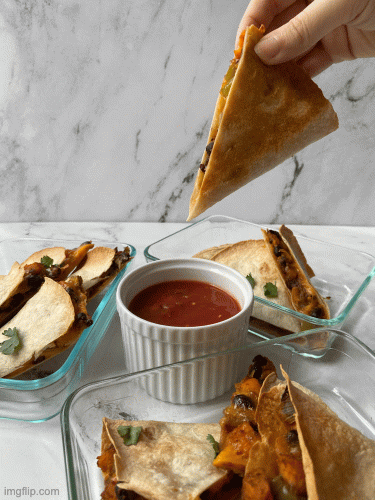 What to serve with quesadillas:
You can absolutely eat these by themselves and they will be satisfying enough for a meal! But if you want to combine them with some sides, here is what I would recommend:
Rice and Beans
Mexican Slaw
Chicken Tortilla Soup
Mexican Street Corn
Chips and Guac
All the dips- salsa, sour cream, hot sauce, guac, queso
Roasted Veggies
Related: 70+ Best Camping Meals (Easy and Affordable!)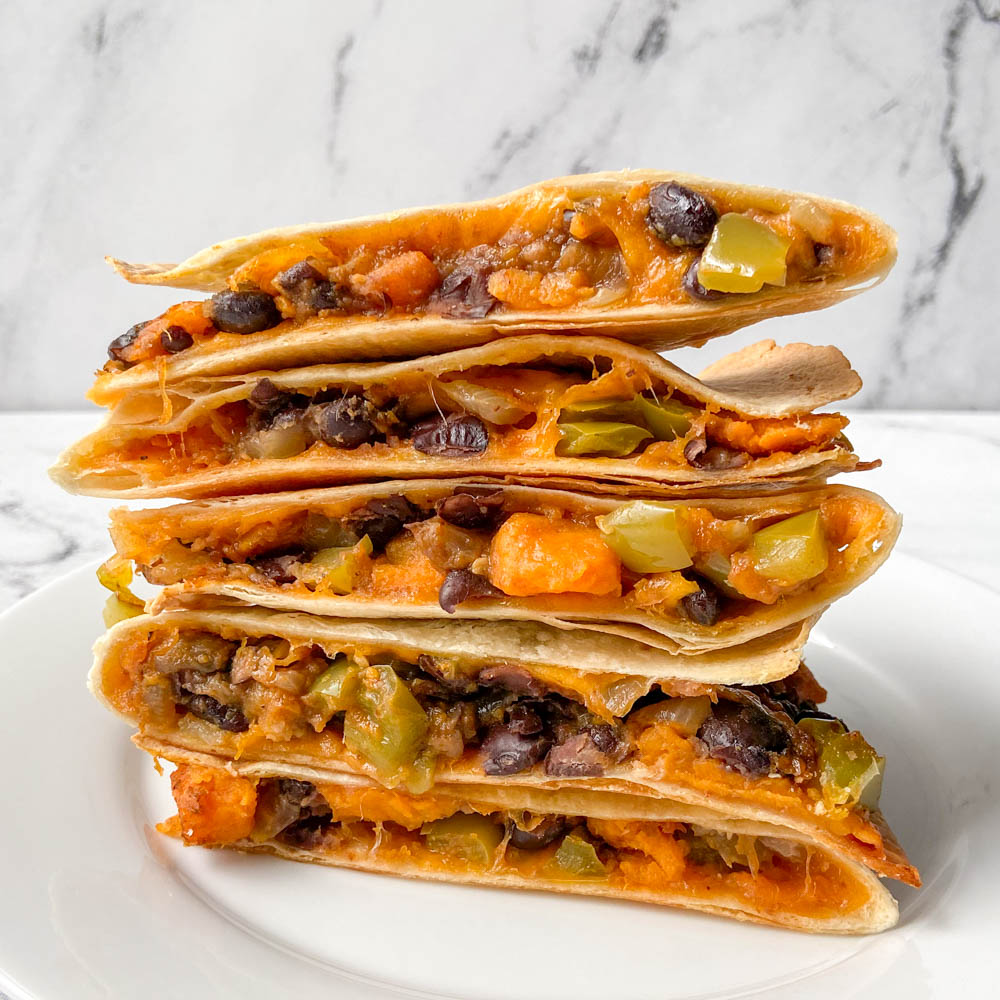 Why I recommend baking quesadillas (instead of cooking them on the stove)
Technically, you can make this recipe on the stove if you don't feel like firing up the oven. I like baking them because it's a hands-off, mess-free way to cook a bunch of quesadillas at once! But I'll leave the method up to you.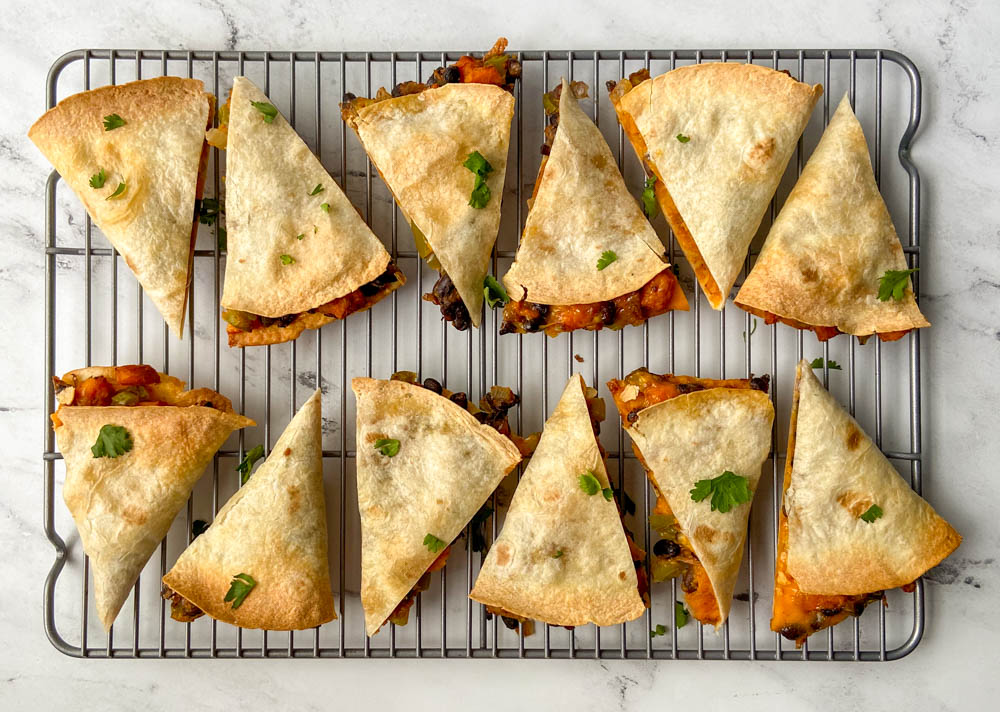 How to reheat vegetarian quesadillas
Microwave. If this is your only option, I recommend wrapping the quesadilla in a dry paper towel while microwaving it. The paper towel will soak up extra moisture! It won't be crispy, but it won't be soggy either.
On the stove. Use a non-stick pan over a medium flame! You might have to flip the quesadilla to reheat it evenly.
In the toaster oven. Your best bet for a fast, crispy, warm quesadilla.
Under the broiler in the oven. This is my method of choice, but you have to keep a very close eye on your quesadilla so it doesn't burn!
In the air fryer. If you have one! I haven't tried this, but apparently it works like a charm.
How to store vegetarian quesadillas
Quesadillas can last in the fridge for up to 5 days and are freezer friendly for up to 6 months! We recommend storing them in glass airtight containers. Happy prepping!
Here are our container suggestions!
Try out these other delicious quesadilla recipes too!
And don't forget to try all of the other delicious WWL recipes!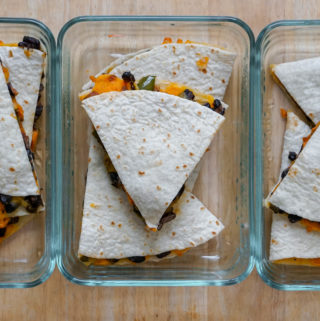 Sweet Potato Black Bean Quesadillas
Ingredients
1

TBSP

olive oil

sub coconut oil

1/2

onion

chopped

1

sweet potato

chopped into small cubes

salt and pepper to taste

1

green bell pepper

chopped, sub jalapeno!

15

oz

can of black beans

rinsed and drained

1

clove

garlic

minced

1/2

tsp

chili powder

add 1/2 tsp more if you like more heat

1

tsp

paprika

1

tsp

cumin

cooking spray

3

large

tortillas

3

cups

shredded cheese

any kind works, I used mozzarella

1-1/2

cups

salsa

for serving
Instructions
Preheat your oven to 400 F.

Add 1 TBSP olive oil to a skillet over medium heat. Then add the sweet potatoes and onions with a little salt and pepper. Cover the pan and let the potatoes and onions cook down for about 10-15 minutes, until the sweet potatoes are pretty soft.

Add the green bell pepper, black beans, garlic, chili powder, paprika, cumin and more salt and pepper. Stir well and cook until the bell pepper has softened, about 10 more minutes.

Assemble the quesadillas: Spray a baking sheet with cooking spray. Add a tortilla and sprinkle 1/2 cup of cheese over one half. Scoop about 3/4 cup of filling on top of the cheese. Sprinkle another 1/2 cup cheese on top of the filling. Fold the tortilla over so it covers the filling and press down gently to even it out. Repeat 2 more times. Note that if you have extra filling, you can freeze it on its own or make more quesadillas to freeze in the future!

Bake the quesadillas at 400 F for 15-20 minutes. No flipping needed! Let them cool before cutting and placing in containers.
DID YOU MAKE THIS RECIPE?
Please leave a comment below on the blog or share a photo with us and tag @workweeklunch! Can't wait to see what you made!