It's coming. The day when most of us with unite around a table laden with foods like turkey and ham and cranberry sauce and mashed potatoes. Green bean casserole. Sweet potato casserole. Mac and cheese. Soft, warm rolls. Ahh.
I personally love stuffing my face with the vegan alternatives to these foods, and I hope you, too, will be stuffing your face with glee. But when the face-stuffing is done, there will be leftovers. And you will have food fatigue.
What am I supposed to do with all of these leftovers?! you'll think. I can't eat the same meal for five days straight! And you don't have to. Because we at Workweek Lunch are here to help! These recipes will transform your Thanksgiving leftovers so they're not only appetizing, but genuinely delicious.
Before we dig into these creative solutions for your Thanksgiving leftovers and tips for storing them, I just want to say this: Thanksgiving is a holiday that, for many of us, brings up conflicting emotions. Its grand intentions are admirable: we should all practice gratitude and eat delicious food with people we love on a regular basis. But for some, coming together with extended or even immediate family can be painful and even traumatic. I want to acknowledge and send some love out to those people.
Thanksgiving is also a painful reminder that the United States is a country built on stolen land. I'm going to write a fun recipe roundup, but I can't leave out the fact that Indigenous Americans have historically been and continue to be oppressed and ignored in this country. It's important to remember the true history of Thanksgiving as we devour our feasts and transform the leftovers into entirely new dishes.
Tips for storing Thanksgiving leftovers
Here are some fast facts about storing all the leftovers you'll have to maximize their life in the fridge and freezer.
Cooked turkey: can be frozen for a year if wrapped tightly to avoid freezer burn. Ok in the fridge for up to 4 days.
Mashed potatoes and potato casseroles: can be frozen for up to 6 months. They freeze best with a good amount of fat in them (butter/oil). Ok in the fridge for up to 4 days.
Stuffing: can be frozen for up to a year. It works best if you freeze it in small portions. Ok in the fridge for up to 4 days.
Gravy: freeze in an ice cube tray for up to a year. Frozen gravy would be a great way to fix any accidentally overcooked meat! Ok in the fridge for up to 5 days.
Green veggie casseroles: try to eat them! They don't freeze well. Ok in the fridge for up to 4 days.
Cranberry sauce: ok in the freezer for up to a year and in the fridge for up to 5 days.
Breads and rolls: freeze 'em! They all freeze well and are easy to revive after frozen.
Desserts: try to finish them off. They're mostly good in the fridge for up to 4 days.
For Thanksgiving leftovers storage, I highly recommend these oven-safe glass containers.
These are 28 oz glass containers that are great for smaller portions! This pack of four is currently $20.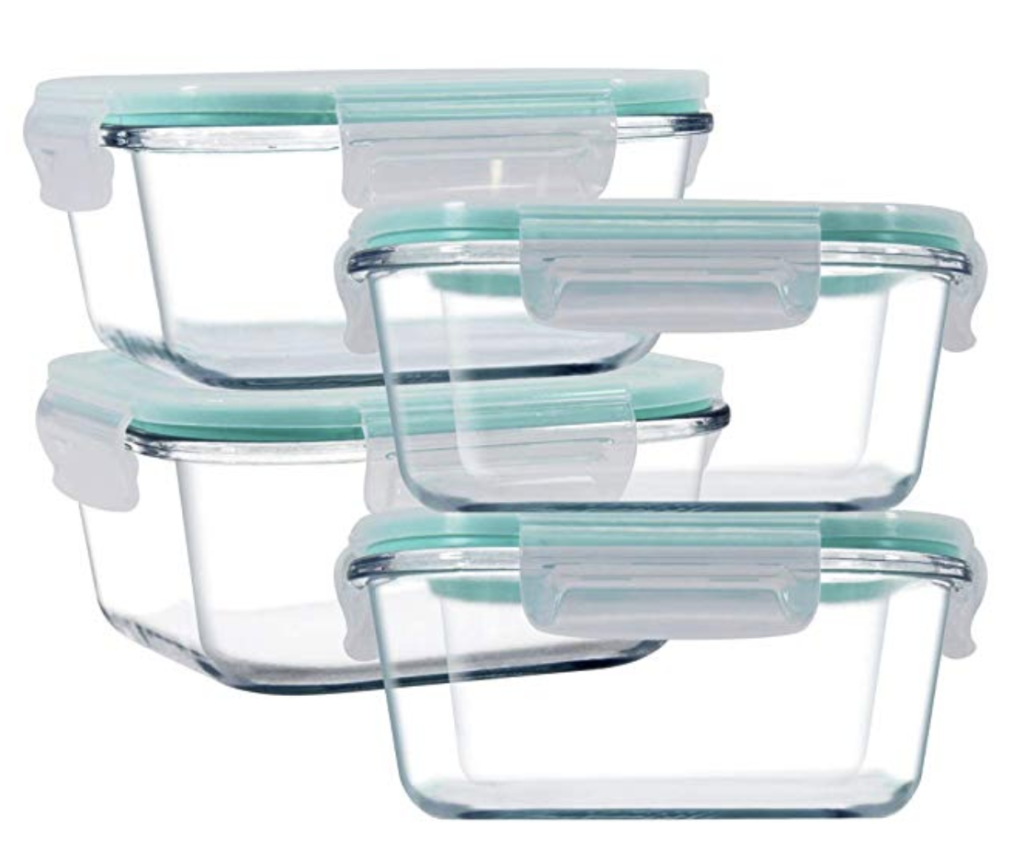 And for larger portions, I recommend these 36 oz oven-safe containers. Right now this pack of five is $24.
Now… Here are 30 Easy & Delicious Recipes That Will Transform Your Thanksgiving Leftovers
I'm obsessed with this recipe for a few reasons. First and foremost, it's winter, or as I like to call it: Soup Season. Now is the time to eat truly SO much soup! And any iteration of a Thai coconut soup (this is a version of Tom Kha Gai, which is usually made with chicken) is absolutely going to make you and your tastebuds feel very warm and fuzzy. Also — I have a possibly blasphemous confession. Growing up, I never liked Thanksgiving turkey! It was always too dry, and putting it in a soup solves that problem.
Here at WWL, we are always all about the meal prep, and these are super prep-friendly — easy to pack in a container or grab on your way out the door. I also think it would work well and still be delicious with pretty much any dough, including more simple bready ones. Puff pastry is delicious but not the easiest to find/make! Either way, a big chef's kiss to this work of Thanksgiving genius. It'll transform your Thanksgiving leftovers all at once.
Lasagna is such a satisfying dish, and one of my absolute favorites. As in, when my family collectively realized none of us really liked turkey, I suggested we make lasagna for Thanksgiving instead. Anyway, this is your Thanksgiving plate, but in lasagna form. And I firmly believe everything is better in lasagna form. It's also easy to slice up and — you guessed it — pack up for meal prep. You can replace the turkey in this recipe with whatever your main dish was. Unless your main dish was lasagna? Woah … meta.
I mean, do I need to explain? This is ridiculously easy to make, and frying up the potatoes and stuffing will refresh the flavors and reintroduce moisture to anything that's gone a bit dry. And there's just nothing better than that crispy on the outside, soft on the inside bite of delight.
I would've never thought to make pancakes out of thanksgiving leftovers. It's genius! I love that this Thanksgiving staple can be transformed into a yummy breakfast. And the marshmallow sauce is a perfect companion!
Another genius recipe I never would've thought of. I love the way a few simple spices can transform those classic Thanksgiving flavors (which, though delicious, you might possibly get a little tired of) into something totally different. And the easy one-pot situation makes this a really sexy option for someone who spent the past three days cooking up a storm and preparing more work-intensive dishes. The meal-prep-worthiness cannot be overstated!
It's always a great idea to meal prep your desserts, so when the cravings hit you're prepared to satisfy them. These cranberry bars, based on a lemon bar recipe, are super prep-friendly with super simple ingredients. And they pack a lot of tang, which I admire.
I made green bean casserole for the first time last year, and WOW. Would very much recommend it. This recipe gives you a very specific ingredient list for your green bean casserole, but I'm fairly certain this frittata will be amazing regardless of what brand of green beans you use. I think "When in doubt, add eggs" is a generally good rule to follow in cooking and in life, and I can't imagine any better way to improve on an already incredible dish.
Fact: you can transform almost any meal into a bowl of ramen. Especially on Thanksgiving, when you can use leftover turkey bones for the broth. Yum! Fill your bowl with homemade bone broth, your favorite ramen noodles and leftover veggies from your Thanksgiving feast. Add your ramen egg and bam! Thanksgiving ramen.
Looking for something a little more wholesome after your Thanksgiving feast? Pile on leftovers on top of a bed of quinoa or your favorite grains. This makes the perfect meal prep lunch too!
Leftover gravy + a pile of fries = Thanksgiving poutine! This Canadian-inspired dish is an absolutely delicious and creative way to use up leftover gravy.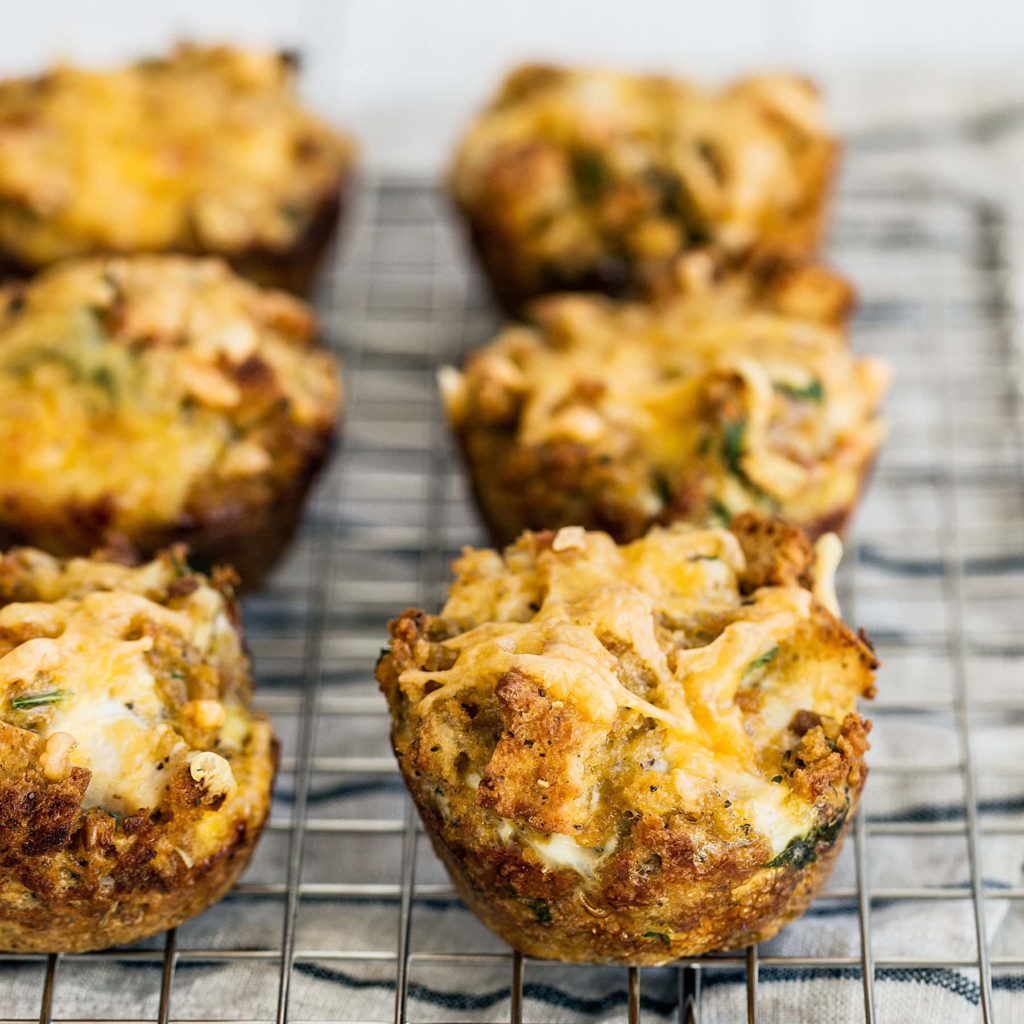 Fun fact about stuffing: you can mold it into almost anything, even muffins! Bake them up with cheese, an egg and herbs and you're good to go.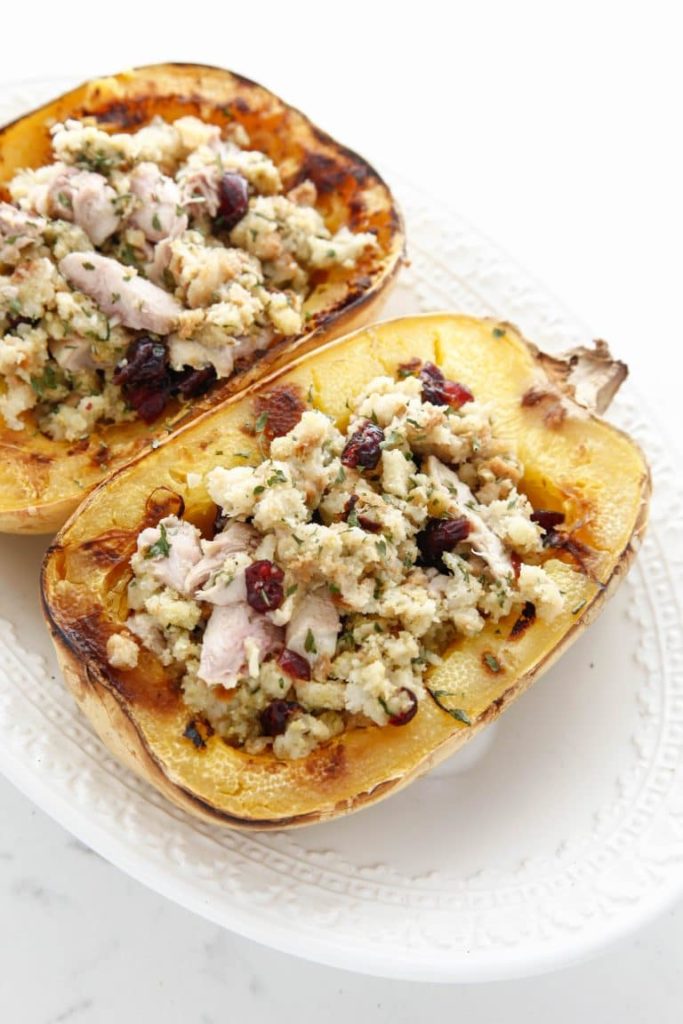 Best Thanksgiving Leftover Ideas From The WWL Community:
19. Thanksgiving Leftovers Shepherd's Pie
20. Turkey Cranberry White Cheddar Quesadillas
21. Cheesy Mashed Potato Waffles
22. Turkey And Thanksgiving Leftovers Pot Pie
27. Turkey Taquitos
29. Thanksgiving Stuffing Strata
30. Leftovers Breakfast Burrito
If you enjoyed this post, go ahead and Save it to your Holiday Meal Prep Board for next time!
---
Thank you so much for reading! For content like this delivered right to your inbox, sign up to get on our email list here. When you sign up, you'll get a free mini-meal plan, meal planning template, pantry list and more.