If mac and cheese holds a special place in your heart, we have something in common. 
But making this cheesy delight from scratch used to intimidate me so much! Making cheese sauces seemed too advanced for someone like me, who could barely make a pot of pasta without supervision (true story).
Turns out, making mac and cheese from scratch is super easy and I can't wait to share my foolproof method with you.
Get more recipes like this in the Workweek Lunch Meal Prep Program with access to our meal planning tools, grocery list generator, and more. Start a free trial today!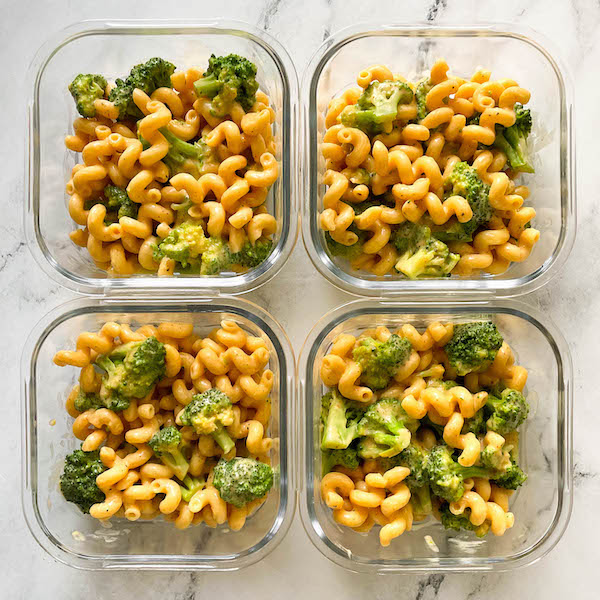 How to make Creamy Mac and Cheese Sauce
The easiest way to make homemade cheese sauce for your mac is by starting with a roux, then adding milk and cheese (plus other flavors, which we'll get to later). This is called a bechamel sauce (flour, butter, milk).
A roux is a mixture of flour and fat (oil or butter in most cases) that allows sauces to get thick. You make it by cooking flour in the fat so it's no longer raw (raw flour can be super harmful to consume) which takes about 2-3 minutes and requires your attention on the stove.
Once you have a good roux going, you can slowly add milk. It's important to not let your milk boil (then it will curdle) but the heat should be medium-low so it bubbles a little bit. You want to use a whisk, not a spoon or spatula, during this process to smooth out any lumps from the flour and butter mixture.
As you cook the sauce, you'll notice it will start to thicken. Then you can add in your cheese, salt, pepper and other spices.
If your sauce gets too thick, simply add more milk (or water/broth). If it's too thin, turn up the heat slightly and let it cook more.
When your sauce is done, you can toss your cooked pasta in it and enjoy ASAP (we love a good stovetop mac and cheese) or bake it to get a crust on top if you have some patience (recipe below).
What is the best Cheese for Mac and Cheese?
Cheddar is a classic cheese choice. You really can't go wrong with it. For best results, grab shredded cheddar cheese or shred up a block yourself!
If you want to get a little fancier, gruyere, gouda, brie, cream cheese, mozzarella, and parmesan make great cheese options.
I usually just add whatever I have on hand – except feta. Maybe feta wouldn't be great in this dish.
The great thing about making a bechamel sauce is that most cheeses will melt right into the sauce and not be a lumpy, stringy mess. So rule of thumb, any cheese that melts well can work in mac and cheese.
Mix It Up
Mac and cheese makes a great base for all types of flavor profiles and ingredients to make it more interesting if that's what you're in the mood for.
Here are some of the many ways you can jazz up a regular mac and cheese:
Jalapenos or something spicy (sriracha, your favorite hot sauce) for a kick

Roasted vegetables will round this casserole out a bit in a very delicious way

Cooked spinach or mushrooms can be mixed in with the pasta

Basil pesto stirred into the sauce (trust us)

Add ground meat to make it a chili mac

Throw in some chopped up bacon

Roasted garlic mixed into the sauce will make your mac a bit fancier

Add pepperoni to make it a pizza mac
Your mac, your rules!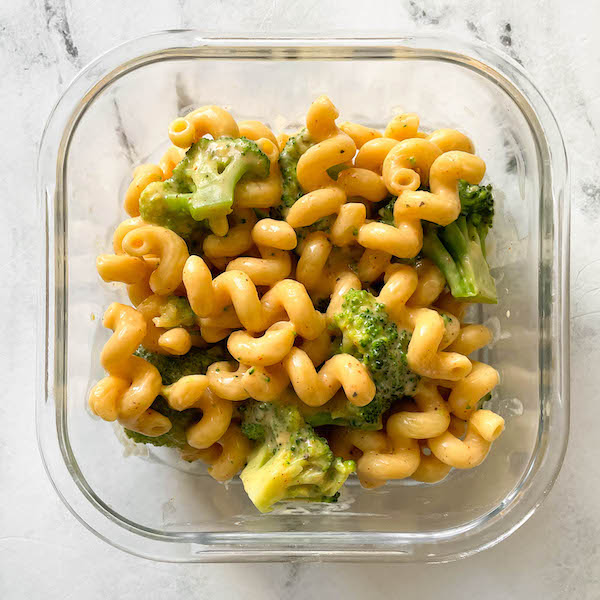 What To Pair Homemade Mac and Cheese With
Some would argue that mac and cheese on its own is not a meal, but as I said before, you make the rules.
If you want to make this recipe as a side dish, you can pair it with a number of different mains! Here are three easy ideas.
You could make a classic BBQ plate with baked chicken wings (or cauliflower wings) and braised greens or roasted broccoli.
Or whip up a fresh side salad and your favorite pan-fried proteins!
When in doubt, throw your favorite vegetables on a sheet pan and roast them to go alongside.
In the WWL Program, all our recipes incorporate vegetables to make them a full meal so you don't have to worry about sides! Click here to join on a free trial!
Notes about this Recipe
It's super freezer-friendly. Feel free to freeze it for up to 6 months.

You can freeze this recipe unbaked and then bake it (from frozen or after it defrosts) when ready to eat!

Double the recipe if you want to have extra for the fam.

You technically don't HAVE to bake this, but I think the texture is better for meal prep/leftovers

Feel free to use gluten-free flour if you need to (in the sauce)

This can be stored in the fridge for up to four days.
Happy prepping!
Other Mac and Cheese Recipes to try!
More Comfort Foods We Love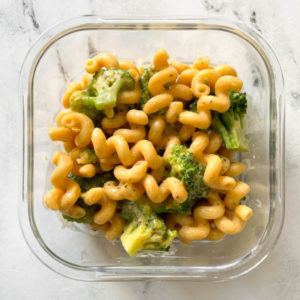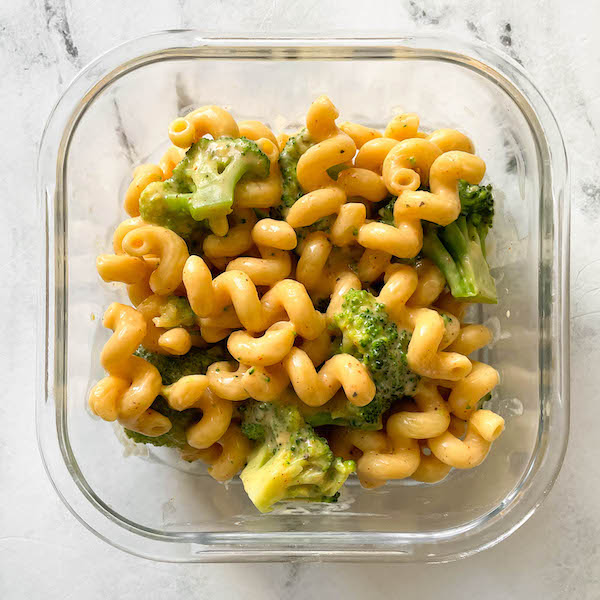 Mac and Cheese for Meal Prep
Ingredients
cooking spray

8

oz

short pasta

any kind works!

1

head

broccoli

chopped into florets, about 3 cups

2

TBSP

butter

or vegan butter, I used Earth Balance

2

TBSP

flour

of your choice, I used whole wheat

1

cup

milk of your choice

warmed

2

cups

shredded cheese

of your choice, I used real cheddar

1

tsp

chipotle powder

salt and pepper to taste

1/4

cup

breadcrumbs

optional
Instructions
If you plan to bake the mac n' cheese, preheat the oven to 400F / 200C and prepare a 9×9 baking dish with cooking spray.

Make the pasta: Bring a large pot of water to a boil, then add a big pinch of salt and the pasta. Boil according to the package directions, adding the broccoli to the pot 2-3 minutes before the final cook time, or until the pasta is al dente and the broccoli is bright in color. Drain the pasta and broccoli in a strainer and set aside. 

To a medium-sized sauce pan, add the butter and allow it to melt. Add the flour and stir for 2-3 minutes, until combined and bubbly. Add the milk, turn up the heat slightly and stir constantly until the mixture thickens. Add the cheese and stir until melted. Add the chipotle powder, salt and pepper. Taste and adjust seasonings to your liking.

Remove from the heat, then add the cooked pasta and broccoli to the cheese sauce. Stir until well combined.

If baking, pour the mac n' cheese into the prepared baking dish. Top with the breadcrumbs and bake for 15 minutes uncovered.

Divide the mac n' cheese between meal prep containers and allow to cool completely before storing in the refrigerator or freezer.
DID YOU MAKE THIS RECIPE?
Please leave a comment below on the blog or share a photo with us and tag @workweeklunch! Can't wait to see what you made!