Tofu used to intimidate me. Now? It's one of my favorite protein sources to meal prep with.
Thanks to Minimalist Baker's super easy (and crispy) tofu recipe, I'm a tofu pro. I highly recommend checking Dana's recipe out if you've never successfully cooked with tofu before.
In general, stir fry is one of the easiest, tastiest dishes to meal prep.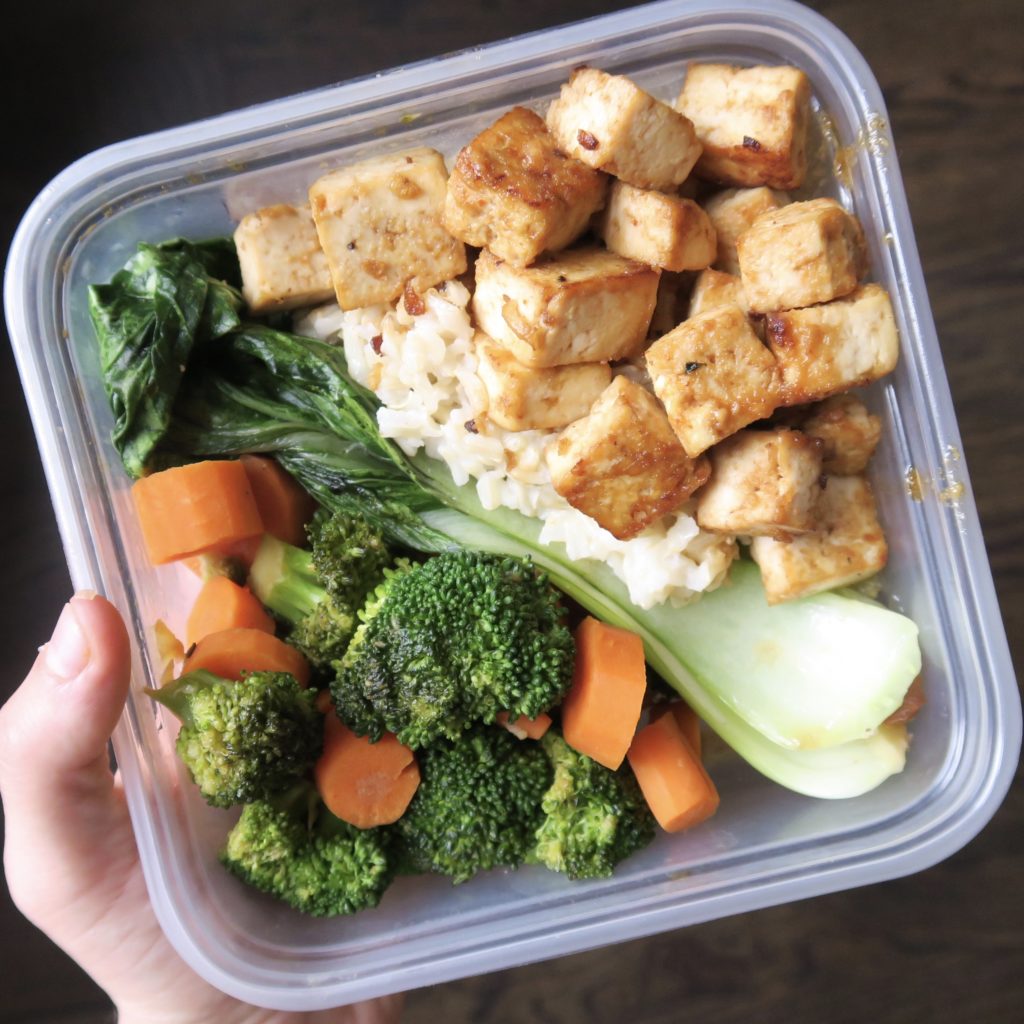 The format of a stir fry, which is protein, veggies and rice or noodles with a tasty sauce, provides the perfect template to get creative AND make it healthier than takeout. That's the goal, right?
I won't lie. I don't think this meal prep is faster than ordering takeout. But let's be honest.
There are two known outcomes when ordering takeout. 
Outcome one: You end up ordering way too much and tell yourself you'll eat the rest the next day. But come tomorrow, your fried rice just doesn't look as appetizing. The leftovers go in the garbage.
Outcome two: You tell yourself you'll only eat half of what you order, but end up eating ALL of it. You end up with a food baby so prominent (and uncomfortable), you have to change into sweats.
Neither of those outcomes will be the case with this stir fry. While this tofu prep is delicious and satisfying, the recipe was designed with leftovers in mind (like all of my recipes).
What I love about this stir fry is that you get the experience of eating takeout without the food baby or guilt. Best of both worlds!
Suggested substitutions:
Not a broccoli fan? Add zucchini or green beans instead.
Not a carrot fan? Add cabbage, baby corn or any other veggies you like instead.
Don't have peanut butter? Almond butter, sun butter, cashew butter, or any other type of nut butter would work fine.
Don't like baby bok choy? Leave it out and add more broccoli or carrots.
This dish can last up to four days in the fridge in airtight containers. It heats up well on the stove or in the microwave.
I know you'll enjoy this one! I know that if it were up to me, I'd eat this every week for sure.
Do you get bored of eating the same thing all the time? Sign up below and I'll help you keep healthy meal prep easy and interesting!
And if you liked this recipe, go ahead and save it to your Vegan Meal Prep board or your Tofu Recipes board!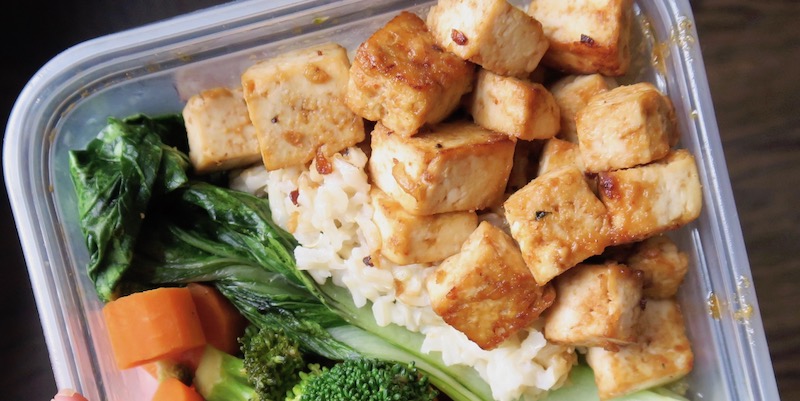 Easy Tofu Stir Fry Meal Prep (Vegan)
Ingredients
Main Ingredients
14

oz

package of firm tofu

drained & cubed

1

head of

broccoli

chopped

3

medium

carrots

peeled & chopped

1

bunch

baby bok choy

washed

3/4

cup

rice

oil

of your choice

salt and pepper to taste
stir fry peanut sauce
1/4

cup

soy sauce

or liquid aminos

1/4

cup

agave, maple syrup or honey

1/4

cup

nut butter

1

tsp

rice vinegar

1

clove

garlic

minced

1

tsp

sesame oil

sriracha

to taste (optional)
Instructions
Preheat the oven to 400 degrees, prepare a baking sheet with foil and lay out three meal prep containers

Cook the rice according to the package

Drain tofu: put it on a plate, cover it with a paper towel and place a heavy object on it for 10-15 minutes. Cut into cubes and set aside.

Prepare the sauce: Mix the sauce ingredients in a bowl. Pour the sauce over the tofu and set aside.

In a large skillet, add a glug of oil, saute the baby bok boy, add salt and pepper for five minutes (until the leaves get soft) and place into containers

On medium heat, add a little more oil to the skillet, then carrots & broccoli with a splash of soy sauce, pepper and water. Stir, cover and steam for seven minutes. When done, add the veggies to containers

Add a little more oil, then tofu to the skillet on medium heat. Cook for 10 minutes, flipping the tofu occasionally until it's a bit brown. Then, transfer tofu from the skillet to the baking sheet (spread the cubes out) and bake for five minutes

Finish the meals off by adding the rice followed by the tofu to containers.
DID YOU MAKE THIS RECIPE?
Please leave a comment below on the blog or share a photo with us and tag @workweeklunch! Can't wait to see what you made!