I always feel like restaurants charge an arm and a leg for wings, which is why we are sharing an easy BBQ wings recipe that you can make at home. This is my tried-and-true recipe for delicious wings, and bonus--if you chop the wings yourself, you end up with some great parts for chicken stock!
Get more recipes like this in the Workweek Lunch Meal Prep Program with access to our meal planning tools, grocery list generator, and more. Start a free trial today!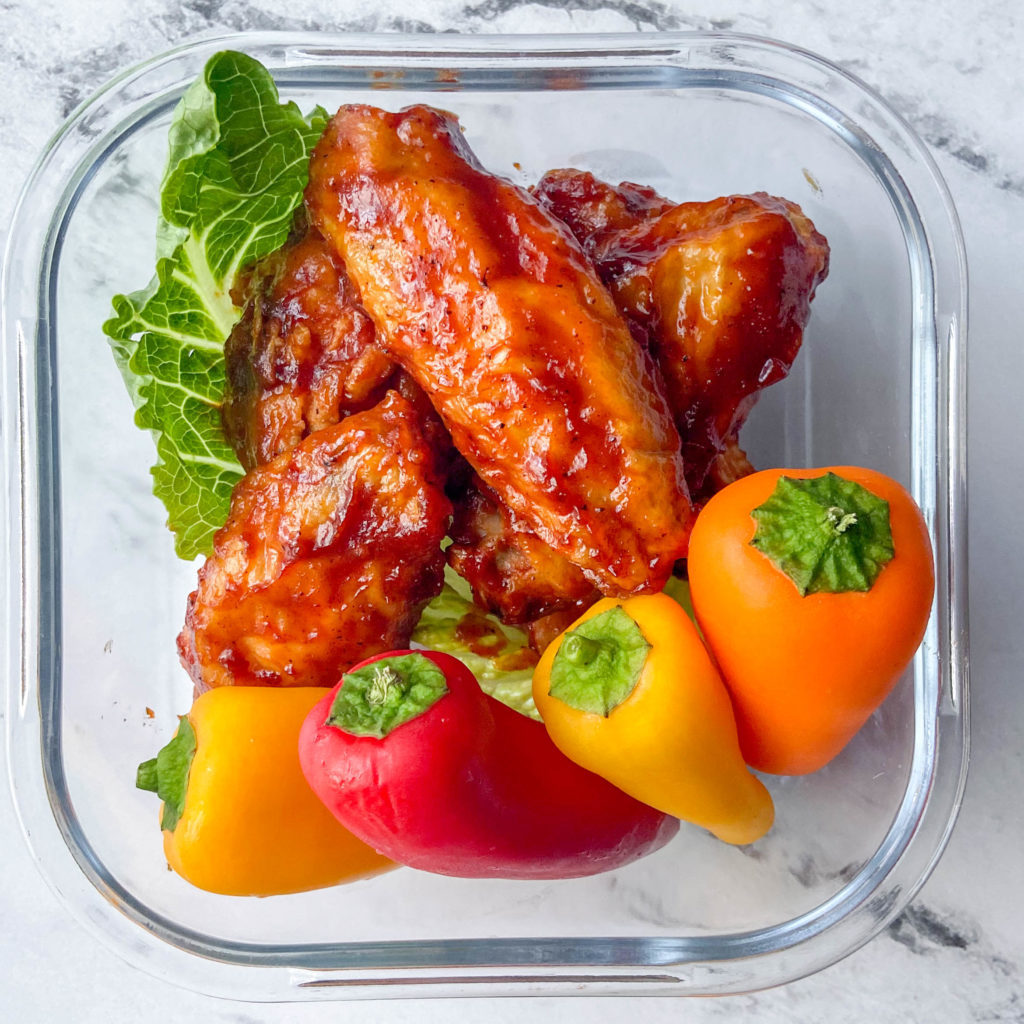 The easiest swaps in this recipe are the sauce and the sides.
For sauces, you can:
Buy your favorite BBQ sauce instead of making it from scratch if you're short on time.
Use buffalo sauce, garlic butter and parmesan, teriyaki sauce, sweet chili sauce, Cajun spices for a dry rub--the sky's the limit!
Go crazy with dips! The classics are ranch or your fave blue cheese dressing, but use what you like.
For sides:
Go classic with celery and carrot sticks, or mix it up with sliced bell peppers
Steamed broccoli and cauliflower
French fries or a baked potato
Your favorite pasta salad or side salad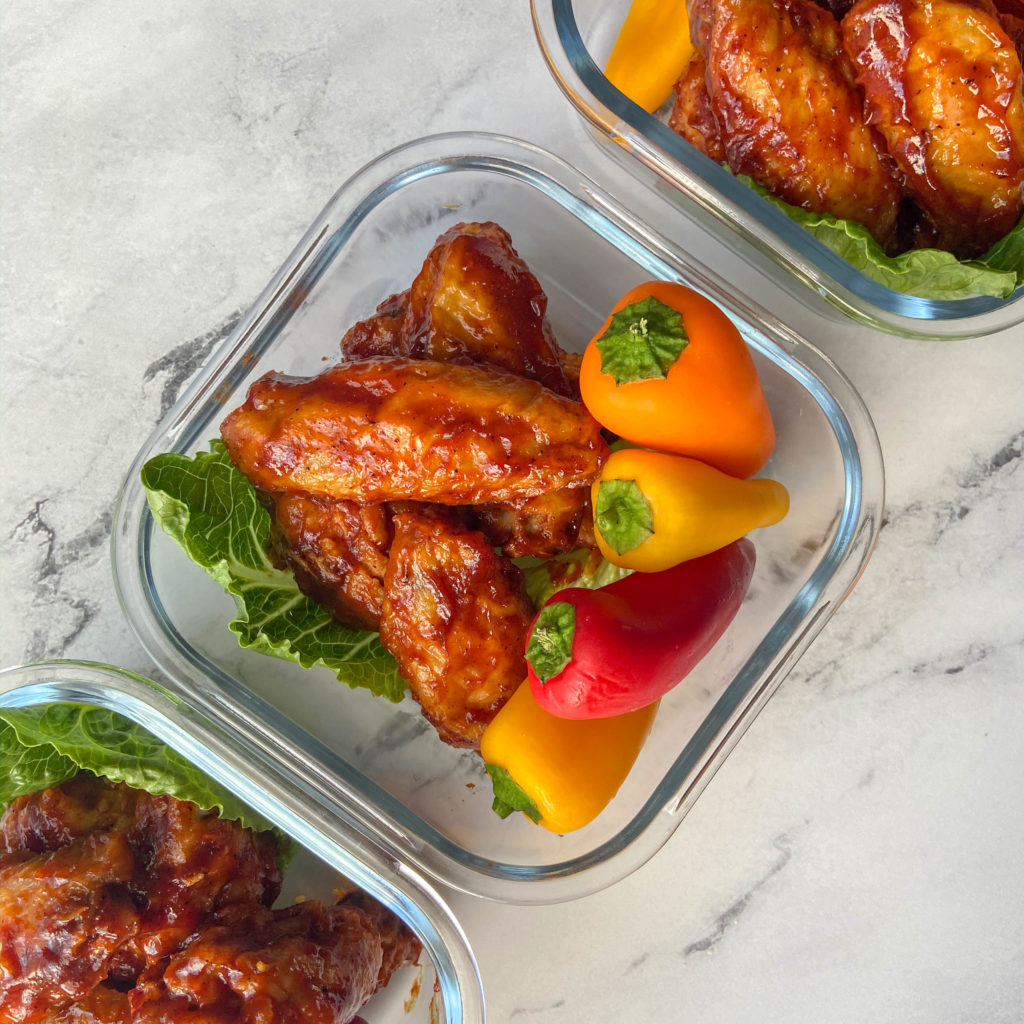 Cooking Techniques For This BBQ Wings Recipe

We ballparked 1 pound of wings per serving, which is about 6-8 wings depending on size. If you know you or your partner loves wings, increase this number as needed.
If you are buying whole wings to butcher at home, buy a larger package than you need because you will remove the wing tips and they account for some of the weight.
You can definitely use pre-cut frozen wings too! You should still toss them with the salt and baking powder, but follow the temperature instructions on the bag. They will still need around 80 minutes to get nice and crisp.
These wings have a long cook time but they are totally hands off, so you are free to put your feet up or multitask with another dish on the stove. The key to success with these wings is making sure none of them touch the pan or each other! That will give you the crispiest oven-baked wings.
Also, don't skip on lining your baking sheet – the chicken juice will get really stuck on the pan throughout the long cook time and this will save you time on clean up.
If you want to make cauliflower BBQ wings:
If you're vegetarian, vegan, or simply want to eat more veggies, cauliflower wings are absolutely delicious! This recipe for bbq cauliflower wings looks amazing.
We also have a great video on how to make buffalo cauliflower wings on our Youtube channel. Check it out below.
Storage and Reheating Notes

This recipe will last in the fridge for up to 4 days and you can freeze the cooked wings and cauliflower wings (unsauced) for up to 6 months. Reheat in the microwave, oven, or toaster oven. Store your sauced wings separately from any sides. Happy prepping!
Here are some other recipes we think you'll love
BBQ Chicken Wings Recipe
Ingredients
cooking spray

48

oz

chicken wings

4

TBSP

baking powder

2

tsp

salt

3/4

cup

ketchup

1/3

cup

apple cider vinegar

1/4

cup

brown sugar

2

tsp

paprika

1

tsp

cumin

1

tsp

salt

1

tsp

pepper

1.5

tsp

liquid smoke

1.5

cup

raw veggies of your choice
Instructions
Preheat your oven to 250 F (130 C). If you are using frozen wings, preheat the oven to 375 F (190 C). Prepare a large baking sheet with aluminum foil and top with a baking rack sprayed liberally with cooking spray.

Pat the wings dry. In a large bowl or gallon bag, add all the wings and sprinkle over the baking powder and salt. Stir or toss to coat.

Add the chicken wings face up in a single layer with no pieces touching. Bake for 35 minutes. Without removing the wings from the oven, increase the temperature to 425 F (220 C) and bake for an additional 45 minutes. If you are using frozen wings, do not increase the temperature! Just continue baking for another 45 minutes.

While the wings finish cooking, prepare the barbecue sauce. Combine the ketchup, apple cider vinegar, brown sugar, paprika, cumin, salt, pepper, and liquid smoke in a skillet or saucepan. Bring to a gentle boil then reduce the heat and let it simmer for 7-10 minutes, or until it reaches the thickness level you want. Feel free to taste and adjust as you go! Add more sugar if you want it sweeter, more vinegar if you want it tangier, more liquid smoke/paprika if you want it smokier.

When the wings are done, toss them with the sauce. Let cool completely for 15 minutes before storing. Keep the wings separate from your raw veggies to make reheating a breeze. That's it!
DID YOU MAKE THIS RECIPE?
Please leave a comment below on the blog or share a photo with us and tag @workweeklunch! Can't wait to see what you made!