I'll be honest, I had no idea that bourbon chicken was associated with mall food court eats until I posted about it on Instagram a while back. This meal had been on my list for a while because I was gifted bourbon at an event last year. I'm not a big drinker, so naturally, I started looking for recipes to use it in. And that's how I learned about this amazing version of bourbon chicken.
While bourbon chicken is usually found in Chinese takeout places, it actually comes from Bourbon Street in New Orleans and has Cajun roots.
This recipe is also featured in my cookbook, The Workweek Lunch Cookbook: Easy, Delicious Meals to Meal Prep, Pack, and Take On The Go out on March 29, 2022! It includes 60 approachable recipes designed to be meal-prepped and stored.
Ready to try? Keep scrolling!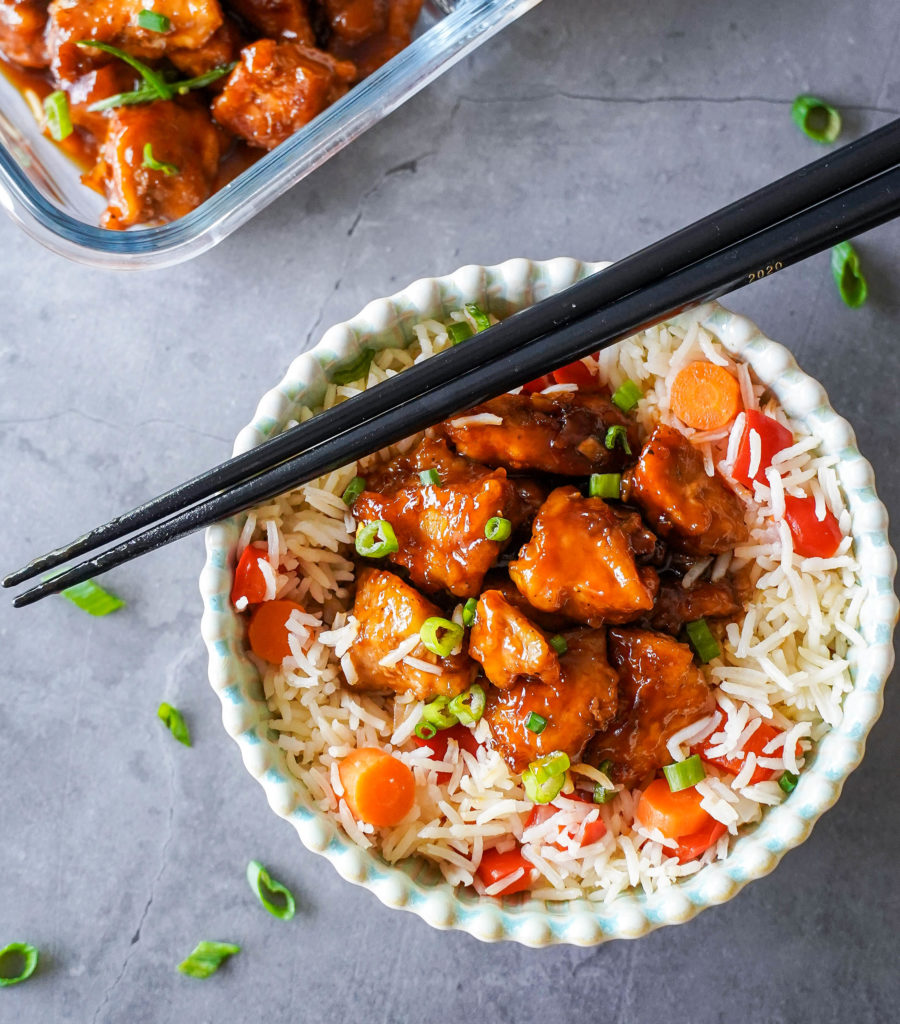 About this bourbon chicken:
This is a fun and easy one! There are three main steps: cooking the chicken, cooking the sauce, and cooking the rice. You'll need just one pot and one pan to make it happen.
This recipe includes chicken, rice, chopped veggies, and a lot of sauce ingredients.
What is bourbon chicken sauce made of?
Don't be intimidated by the long list of sauce ingredients! It includes a lot of what you already have like soy sauce, ketchup, brown sugar, water, and apple cider vinegar.
We wrote this recipe to be made with bourbon (1/4 cup) or a substitute: maple syrup + vanilla extract. It won't taste exactly like bourbon, but it will taste really good. I tried it both ways and I would make either one again!
Also if you don't have bourbon, you can try using whiskey.
Related: 15 One-Pan Chicken Dinner Recipes You Can Meal Prep in 30 Minutes
How to customize this recipe:
Chicken thighs would work for this meal instead of breasts!
If you don't want to use alcohol, you can use 1/4 cup of maple syrup and 1 tsp vanilla extract
Not feeling rice? You can use any grain or even noodles of your choice for this meal.
If you like heat but don't want to use crushed red pepper, you can add sriracha or paprika into the sauce. Be sure to taste test!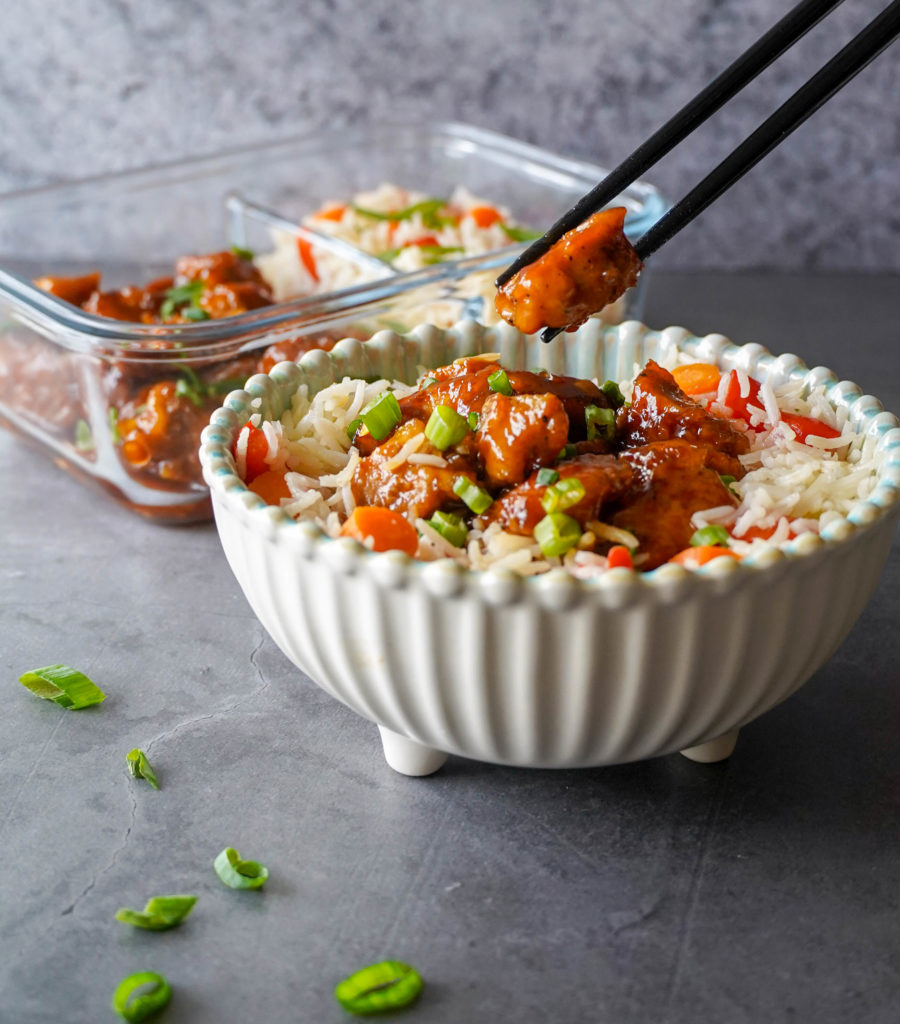 Let's talk veggies
Bourbon chicken can be associated with Chinese Takeout, Cajun Cuisine, and various other cultures. Because of this, you can go a lot of different ways when customizing!
We're using carrots, bell pepper, and peas in this meal, but you have a lot of options here!
Green beans, broccoli, cauliflower, snap peas, edamame, bok choy, greens, baby corn, onions of any kind, eggplant, zucchini, chopped green beans, and white mushrooms all work in this meal.
Related: 25 Easy Meal Prep Lunches For Beginner Home Cooks
For the Bourbon:
Don't want to use your fancy bourbon for cooking? Here are some cheaper brands that will deliver on flavor without the price! And remember you can always get a small bottle if you don't normally drink bourbon!
(Prices may vary depending on location)
Very Old Barton Kentucky Straight Bourbon ($16.00)
Benchmark Old No. 8 Bourbon ($16.00)
Evan Williams Bottled in Bond ($18.00)
Old Grandad Bourbon ($19.99)
Evan Williams 1783 ($20.00)
Wild Turkey 101 Kentucky Straight Bourbon ($21.00)
Old Forrester Straight Bourbon Whiskey ($25.99)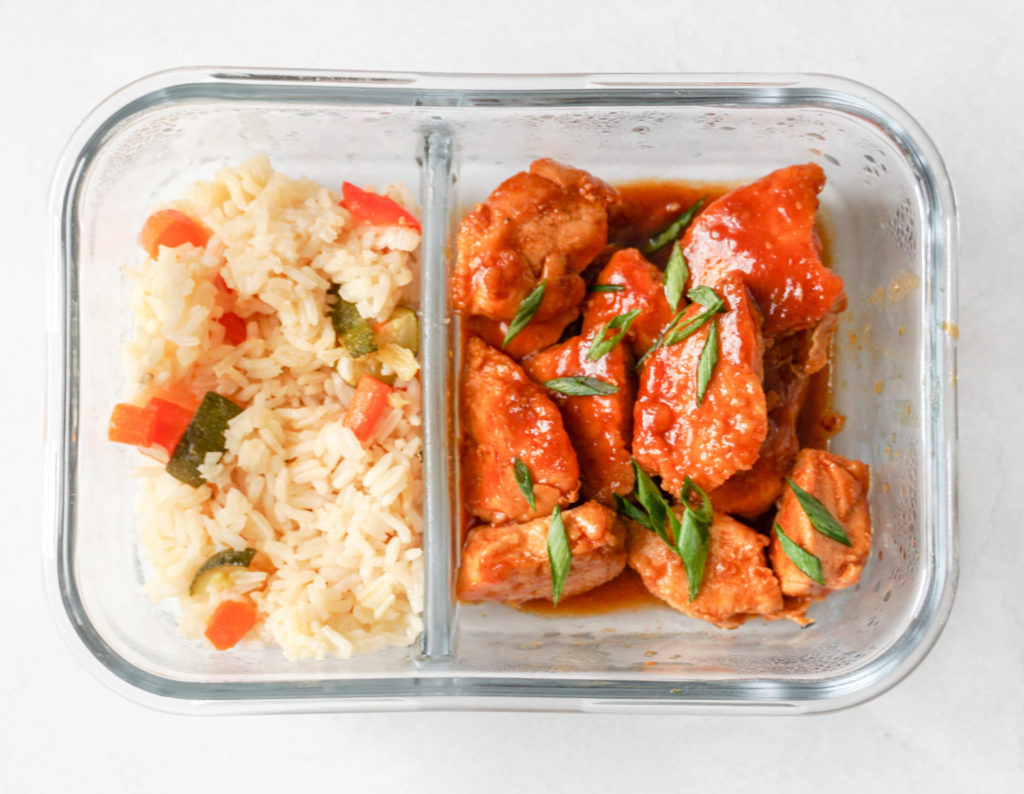 Storing this bourbon chicken recipe:
This meal lasts for up to 4 days in the fridge. You can freeze it for up to 6 months! You can also save any extra sauce in the fridge for up to 6 days.
Reheat this meal in the microwave OR on the stove.
Happy prepping!
Don't forget to try out our other delicious recipes: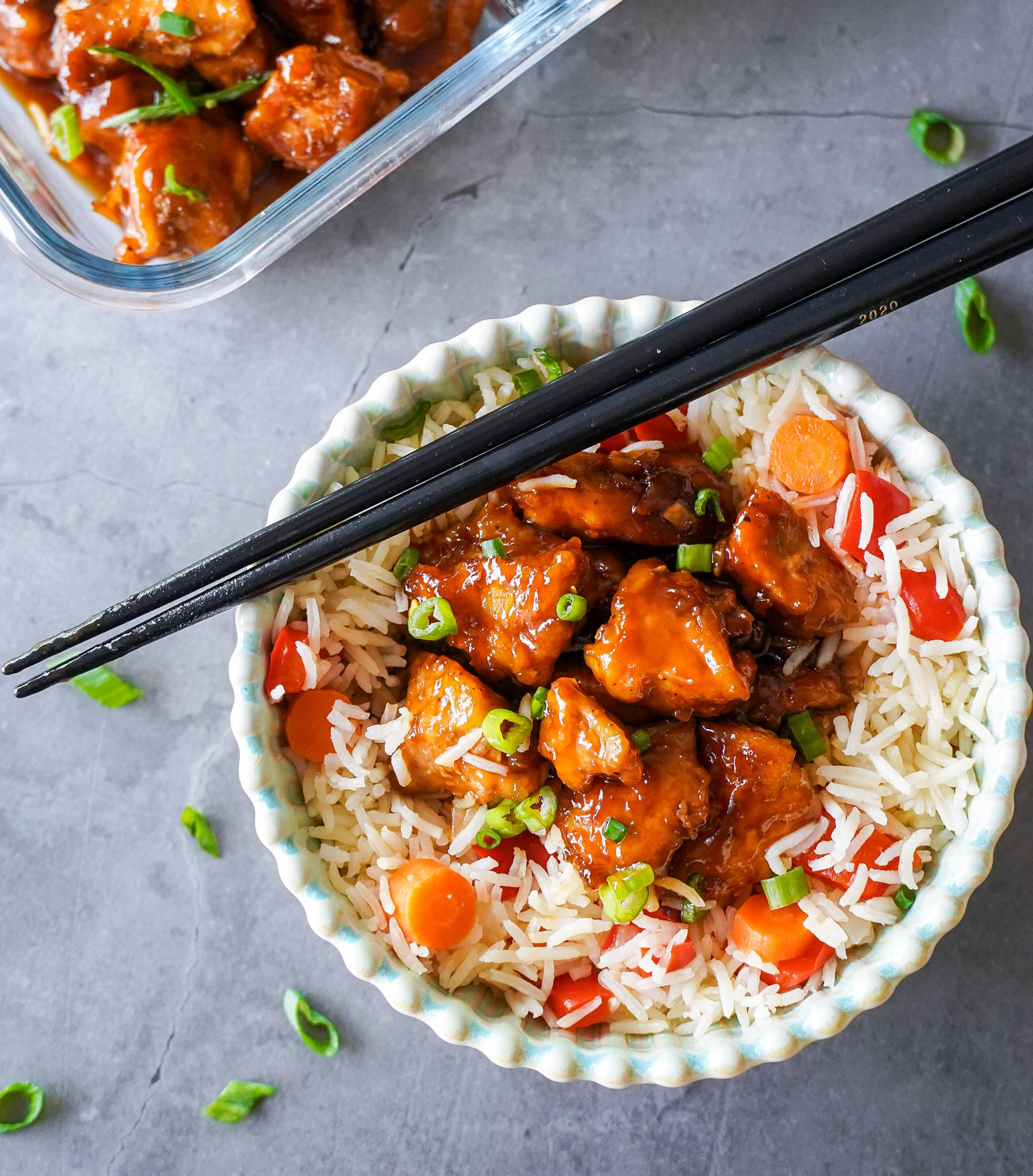 Bourbon Chicken & Quick Veggie Rice
Ingredients
For the chicken
16

oz

chicken breast

chopped into small chunks

2

TBSP

cornstarch

salt and pepper to taste

1/4

cup

vegetable oil

sub avocado oil, canola oil
For the sauce
1/2

cup

water

1/3

cup

soy sauce

sub tamari or liquid aminos

1/4

cup

bourbon

sub maple syrup + 1 tsp vanilla extract

1/4

cup

orange juice

sub apple juice

1/4

cup

chicken broth

sub veggie broth or water

2

TBSP

ketchup

1

TBSP

apple cider vinegar

1/3

cup

brown sugar

1/2

tsp

onion powder

1/4

tsp

crushed red pepper

leave out if you can't stand any heat

1

clove

garlic

minced
For the veggie rice
1

tsp

olive oil

1

carrot

peeled and chopped

1

red bell pepper

chopped

1

cup

peas

frozen

1/2

tsp

salt

3/4

cup

rice

1-1/2

cup

water
Instructions
Prepare the chicken: Add the cornstarch to a bowl with a good amount of salt and pepper and mix. To another bowl, add the chopped chicken and pour the cornstarch mix on top. Use a wooden spoon to toss the chicken to coat it in the cornstarch.

Heat up a skillet for 2-3 minutes. Then add the oil and let it heat up for another minute or two. The oil and pan need to be very hot! Using tongs, carefully add the chicken to the pan, giving it enough space. You may need to cook the chicken in 2 batches. Cook on each side for 5 minutes – it should be golden and crispy. When cooked through, set the chicken aside.

Start the rice: Add 1 tsp oil to a pot over medium high heat. Add in the chopped veggies with a pinch of salt and cook, stirring frequently, on high heat for a minute. Add in the rice and water. Bring the pot to a boil, then reduce to a simmer and cover with a tight-fitting lid. Cook over low heat for 10 minutes, then turn off the heat to let the rice steam. No peeking or stirring!

Prepare the sauce: Add all the sauce ingredients to a measuring glass or bowl. Whisk well until all the ingredients are combined. Make sure to taste it!

Cook the sauce: Add the sauce to the same pan you used for the chicken over medium heat and bring the mixture to a boil. It takes about 3-5 minutes. Add the chicken back to the sauce, turn down the heat to medium/low and let the sauce cook uncovered until it's reduced by about half, stirring occasionally.

Assemble: Divide the cooked chicken and rice between three meal prep containers. Let the meals cool for at least 20 mins before covering them and storing them in the fridge!
DID YOU MAKE THIS RECIPE?
Please leave a comment below on the blog or share a photo with us and tag @workweeklunch! Can't wait to see what you made!