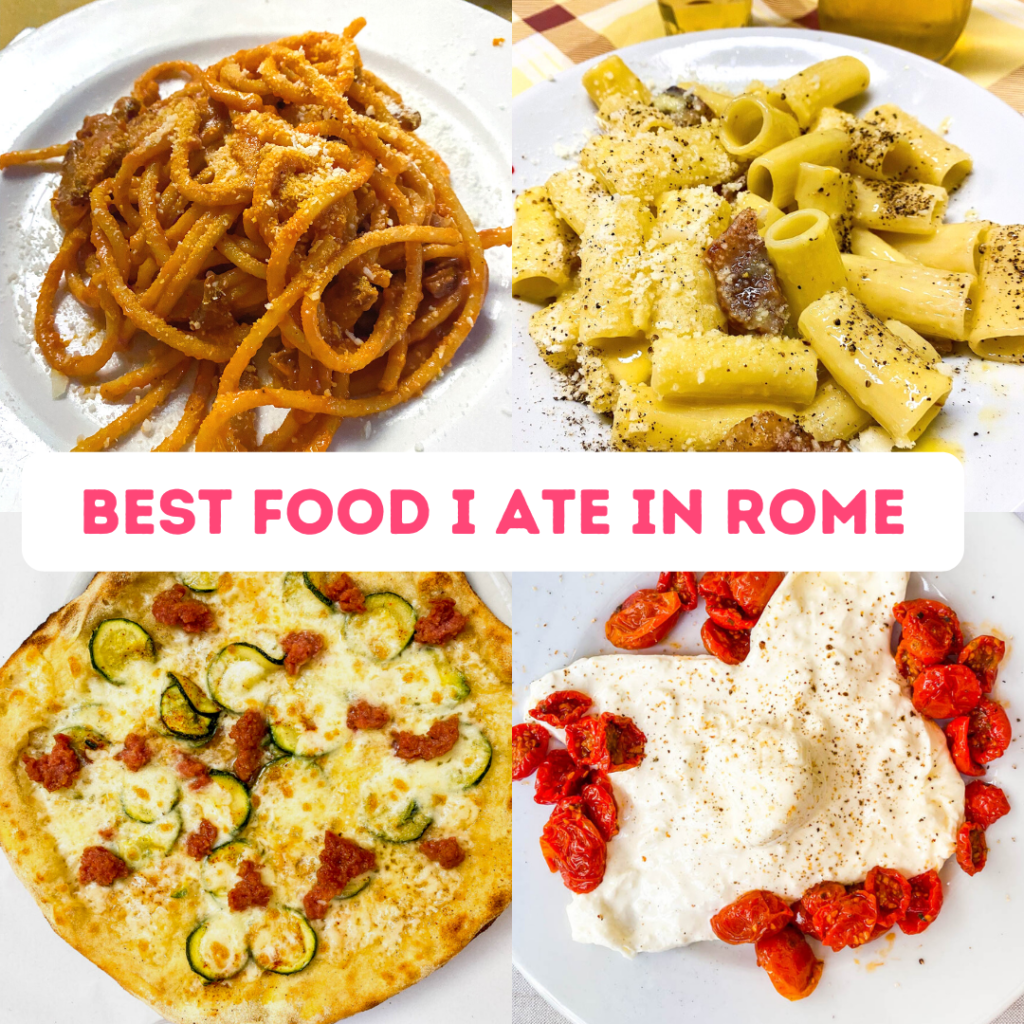 Why I traveled solo to Italy
The food in Italy has been calling me for YEARS, so when I had the chance to fly to Rome and eat everything I possibly could, I jumped on it.
I had visited Italy as a bratty teenager and hated the food somehow (picky eater life), so I was excited to go back, visit Rome for the first time, and redeem myself.
Italian food is my weak spot as a cook. I grew up in a kosher household and we just didn't eat much Italian, plus marinara sauce terrified me (wasn't into red saucy foods as a kid). So I was hoping to come away from this trip with a better understanding of what makes Italian food so good. I know Italy has several regions, and I only got to enjoy the food in one city in one region (Lazio), but I feel I definitely have a better understanding of Roman food at the very least. And I'm still hungry for more!
In this post, I'm walking you through the week I spent eating in Rome. You'll learn about the restaurants I tried, tips for planning a trip, how to order food and coffee, and more.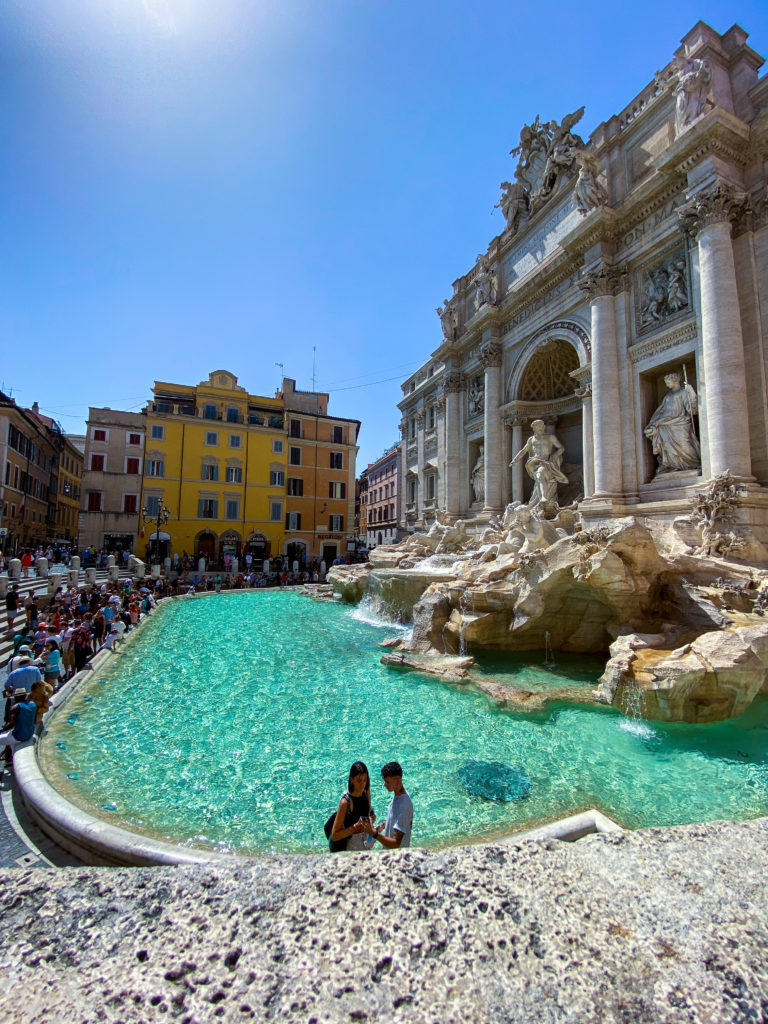 What food Rome is known for
Every region of Italy has special and traditional dishes. So you won't find bolognese on many menus in Rome, but you will find these four quintessential pasta dishes featuring Pecorino Romano cheese (never parmesan). While Rome has many traditional foods, I focused on pasta during my trip.
There are three main elements to traditional Roman pasta dishes: pasta, obviously, guanciale, which is pork cheek, and pecorino. These four pasta dishes are variations on these three ingredients! Learn more here.
Cacio e pepe – pasta, pecorino romano and lots of pepper.
Carbonara – pasta, egg, pecorino and guincale
Amatriciana – pasta, pecorino, guincale and red sauce
Gricia – pasta, pecorino and guinciale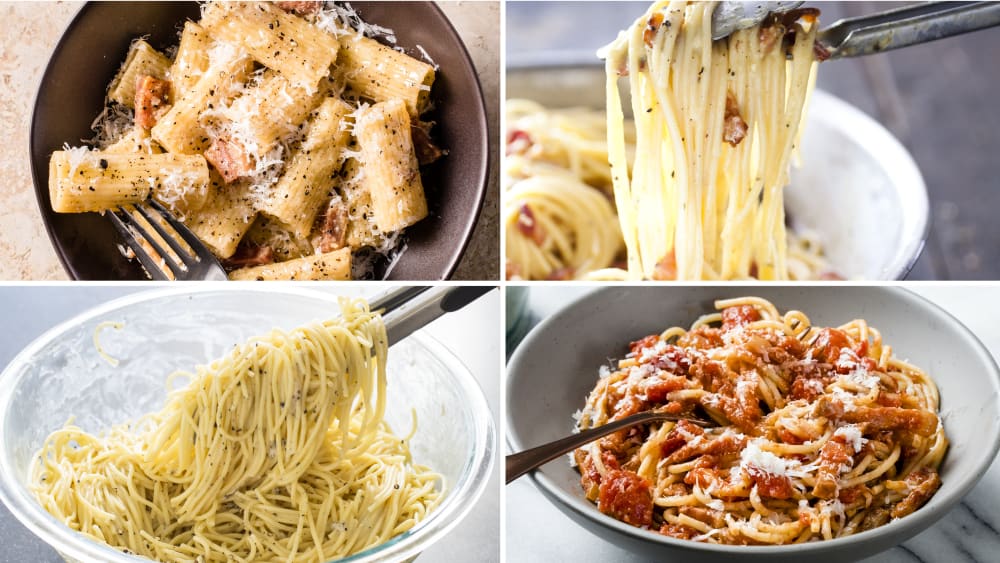 I tried all but the last one and carbonara was my favorite. I can't wait to try making these at home! You'll find these four pasta dishes on pretty much any menu in Rome.
Affordable restaurants I tried in Rome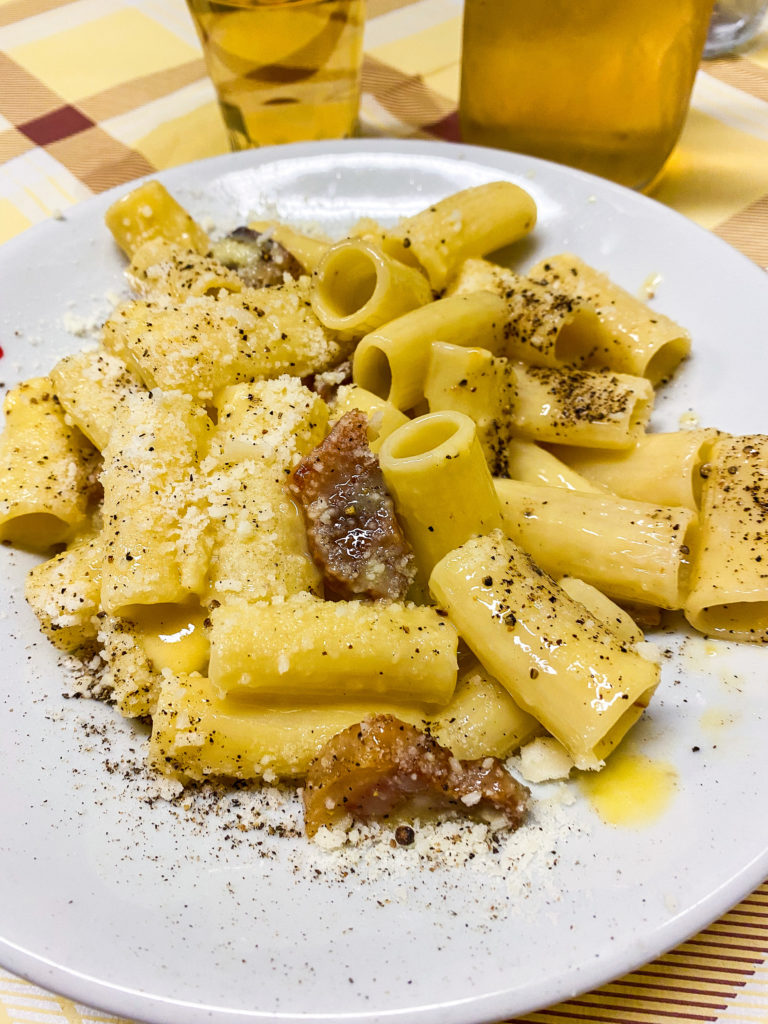 Da Enzo is insanely popular. I arrived at 6:45 pm before they opened at 7 pm, and was about the 10th person in line. By the time they opened, the line was extremely long, and this was in the middle of the week during a pandemic! As a single diner, they sat me inside which was less desirable, but the food was still so good. Since this place is so popular, you definitely can't linger at a table. It's just not the vibe, unlike most Italian restaurants where they won't rush you out. The food was delicious, but the experience was just ok for the price.
Another popular, highly recommended affordable spot that makes Neapolitan-style pizza. It's tucked away in Trastevere and wasn't busy at 5 pm when I went, but it can get insanely busy. I enjoyed the Dar Poeta pizza with mozzarella, zucchini, and spicy sausage a lot!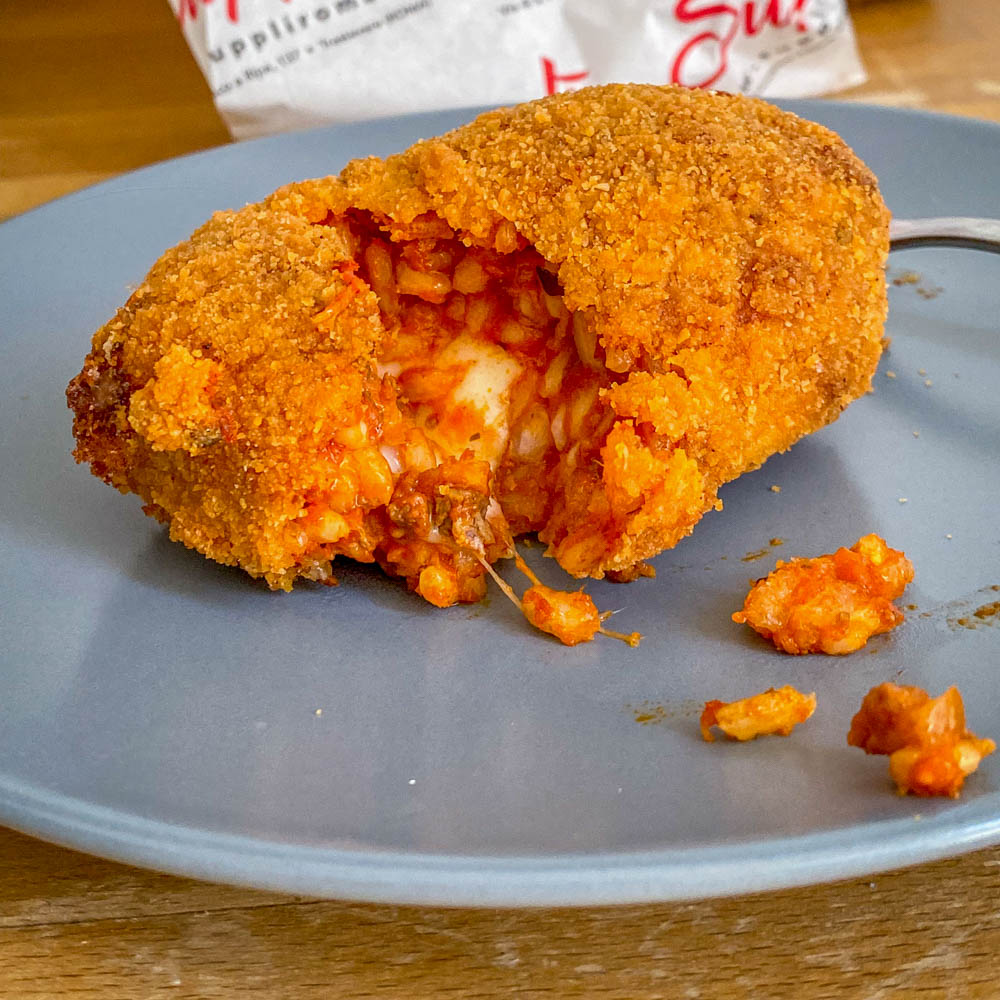 Always with a line out the door, this spot serves Roman-style pizza (pizza al taglia, meaning by the slice), suppli (fried risotto balls stuffed with mozzarella) and more. This would be the perfect stop for a small snack or small lunch between all the pasta meals. Don't miss the cacio e Pepe suppli if you have a chance to try it!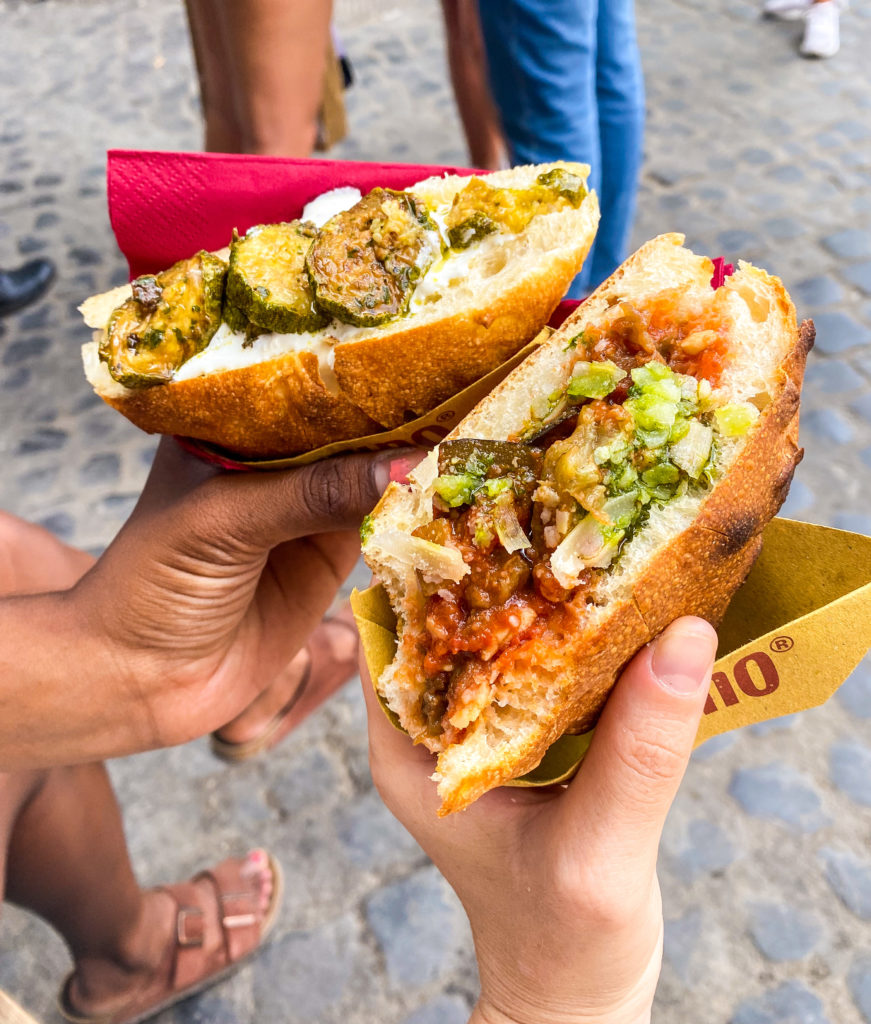 Trappizino is a type of triangular sandwich that I would describe as stuffed pizza – but it's not a calzone either. The food here is absolutely incredible and to me is one of the best foods in Rome! I got the eggplant trappizino and would love to have had a chance to try the other flavors. Seating is very limited here, so we just took our food away and found a place nearby to sit and eat. Trappizino is easy to eat on the go!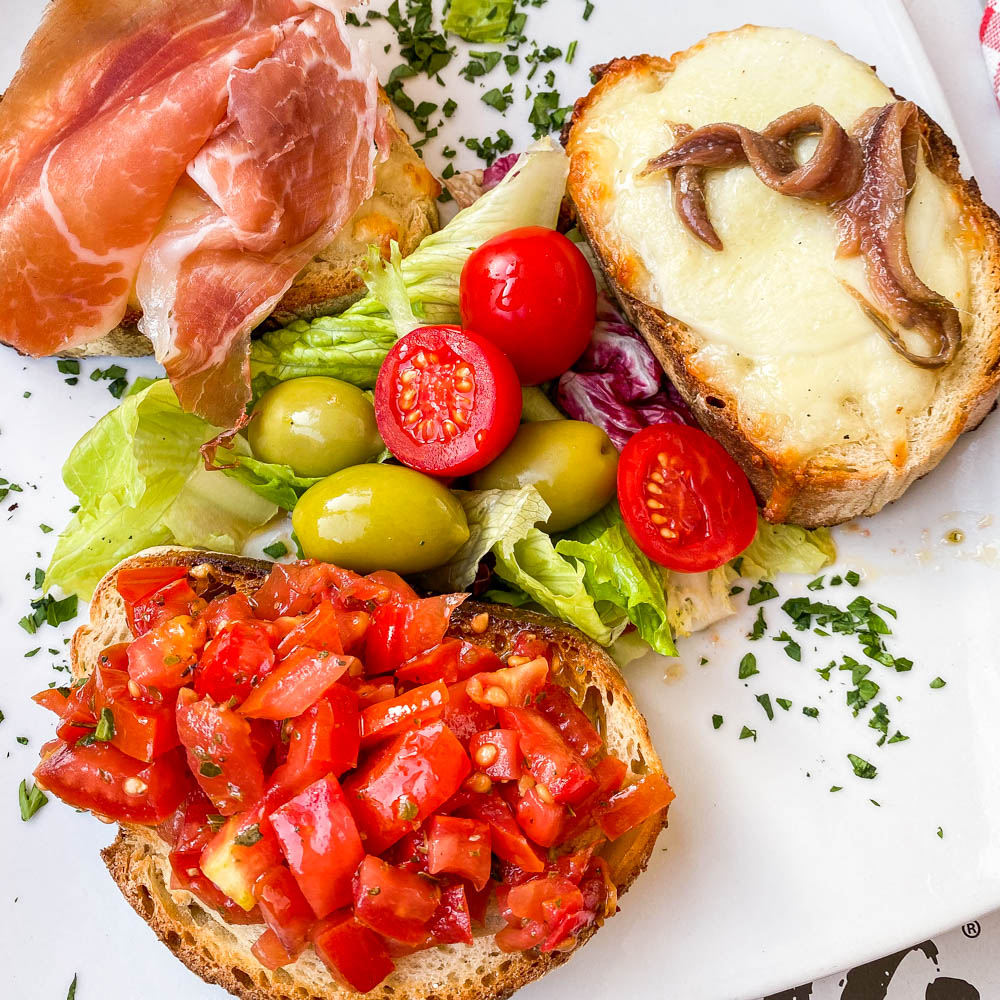 This place sits right in the main square of Trastevere, which is so lively, especially when the band shows up at 7 pm. Try to get a seat at 6:45, otherwise, there will be a huge line. I tried the bruschetta and Aperol spritz here, both were so refreshing and delicious. While the food wasn't a standout for me, this is simply a great spot for people-watching, good bites, and the possibility of catching some live music.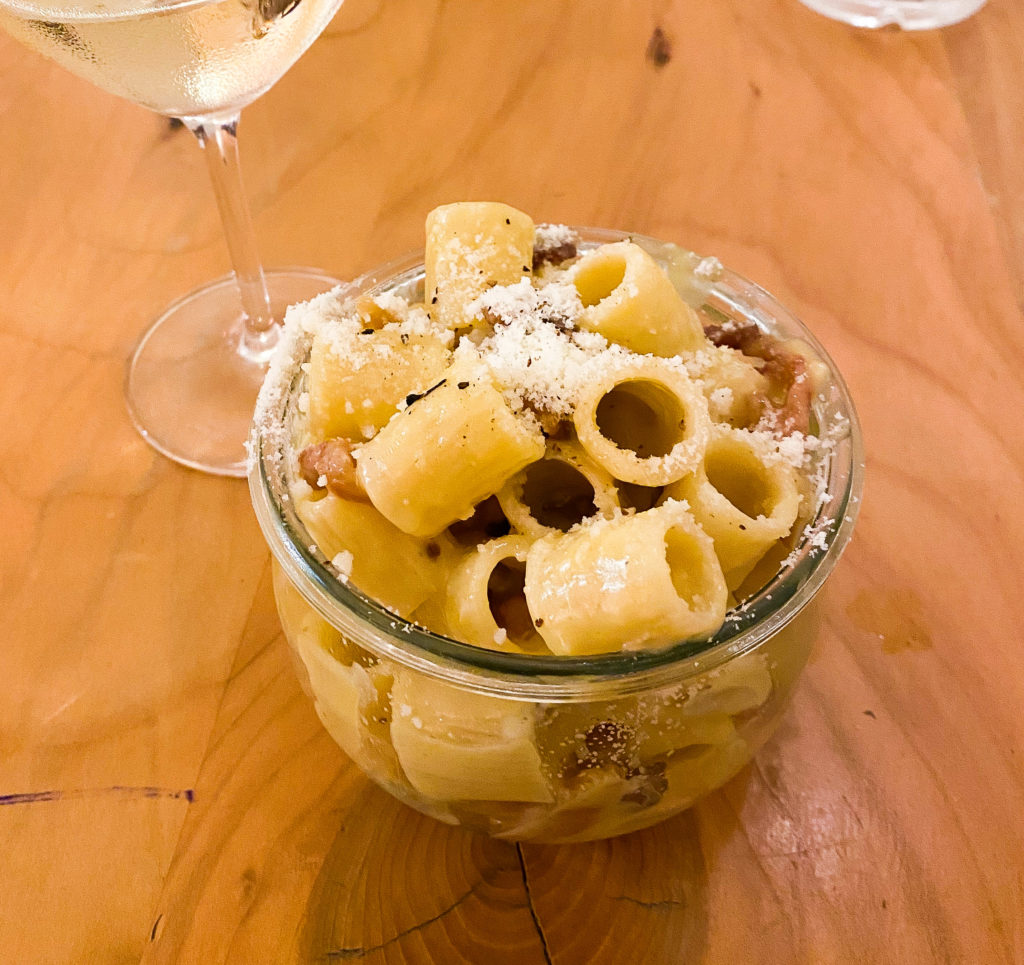 If you're on the hunt for amazing carbonara go to Egg. In addition to the classic pasta carbonara, they serve twists on it like truffle carbonara and more. This place always had a bit of a wait or was packed and the waitstaff is very friendly. They speak great English too.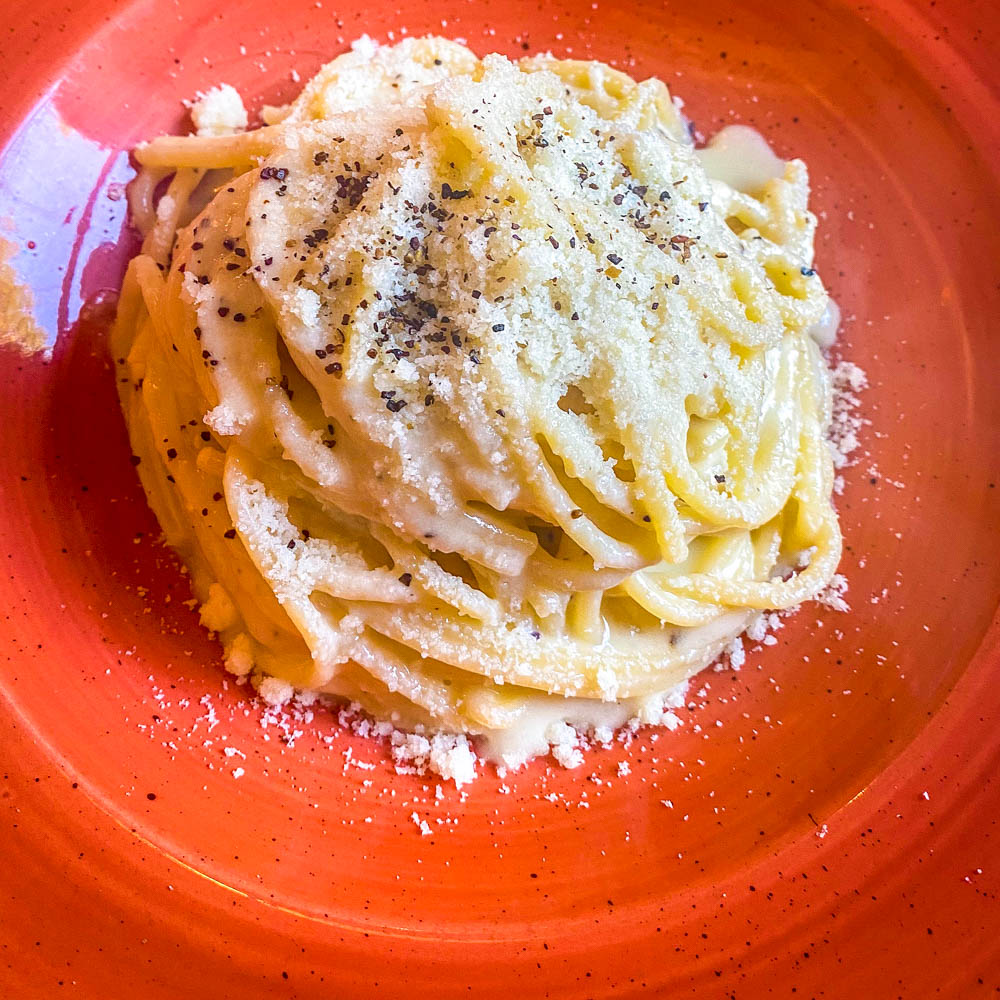 I stopped in here for my first cacio e pepe after a long flight in to Rome, and it really hit the spot. This is actually more of a Mexican place, but they serve the classics too. I enjoyed the ambiance of this place and stopped in a few times for coffee.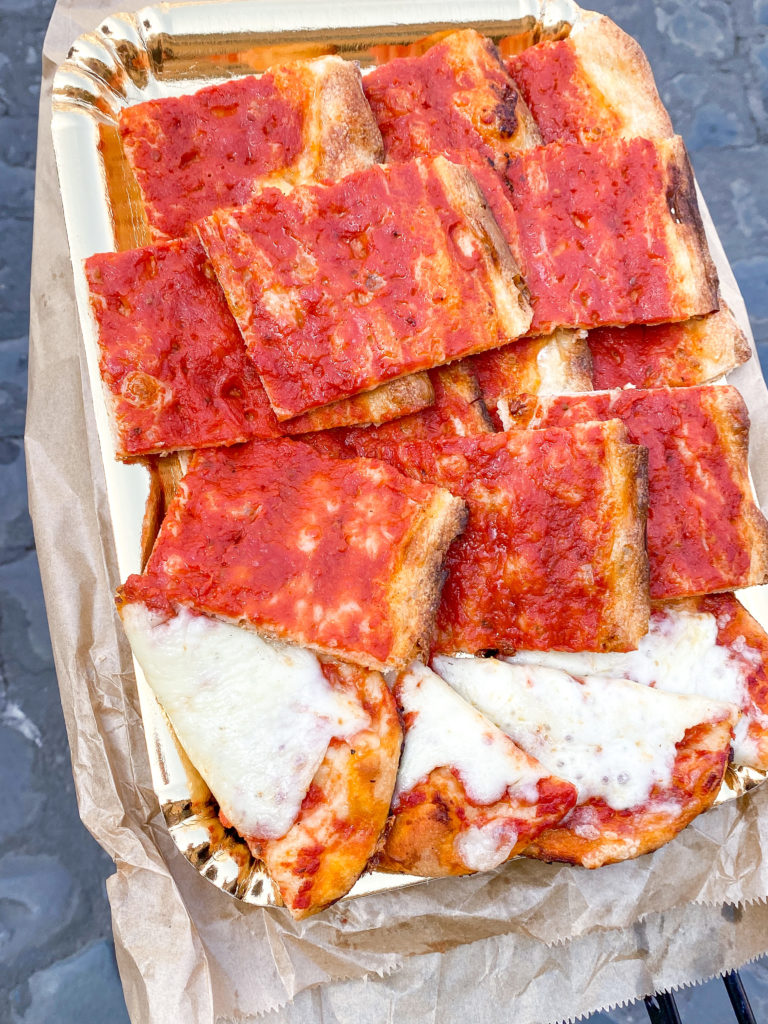 This is a super small, well-known bakery by Campo de Fiori and the pizza was incredible. You can sometimes watch the bakers work in the window next to the storefront!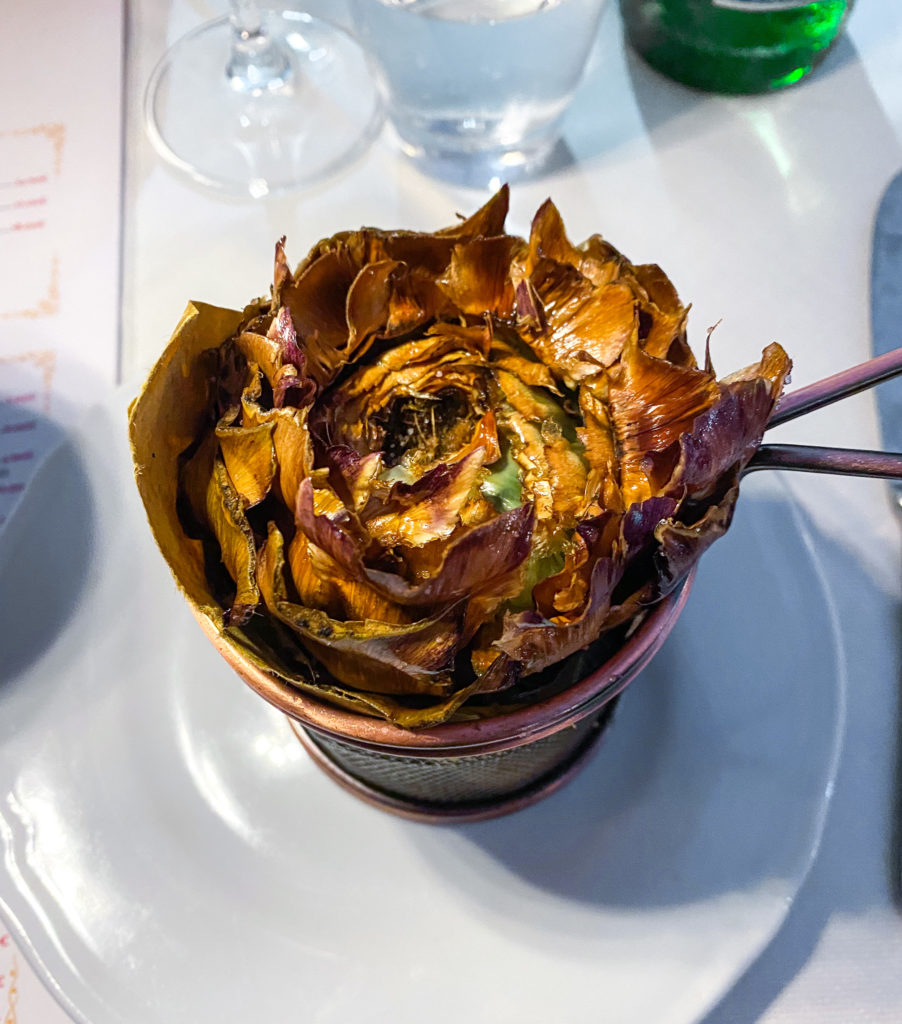 A foodie trip to Rome would be incomplete without a meal or two in the Jewish quarter. Historically, this is the area of Rome where Jewish people were forced to live (walls surrounded the area, trapping them in) and it was extremely poor. But some of the Roman food was born from this time, which is still cooked up and served in this lively strip of ristorantes and bakeries. I enjoyed the famous Jewish-style fried artichoke at this new Osteria and really enjoyed it!
Osteria zi' Umberto
This restaurant was more off the beaten path (it was only recommended to me by one person) and it was one of the best meals I had in Rome! I went with a small group and we enjoyed the prosciutto with melon (so refreshing), calamari, grilled squid, orecchiette with broccoli (our fave), amatriciana, gnocchi, and more. Highly recommend this spot for dinner.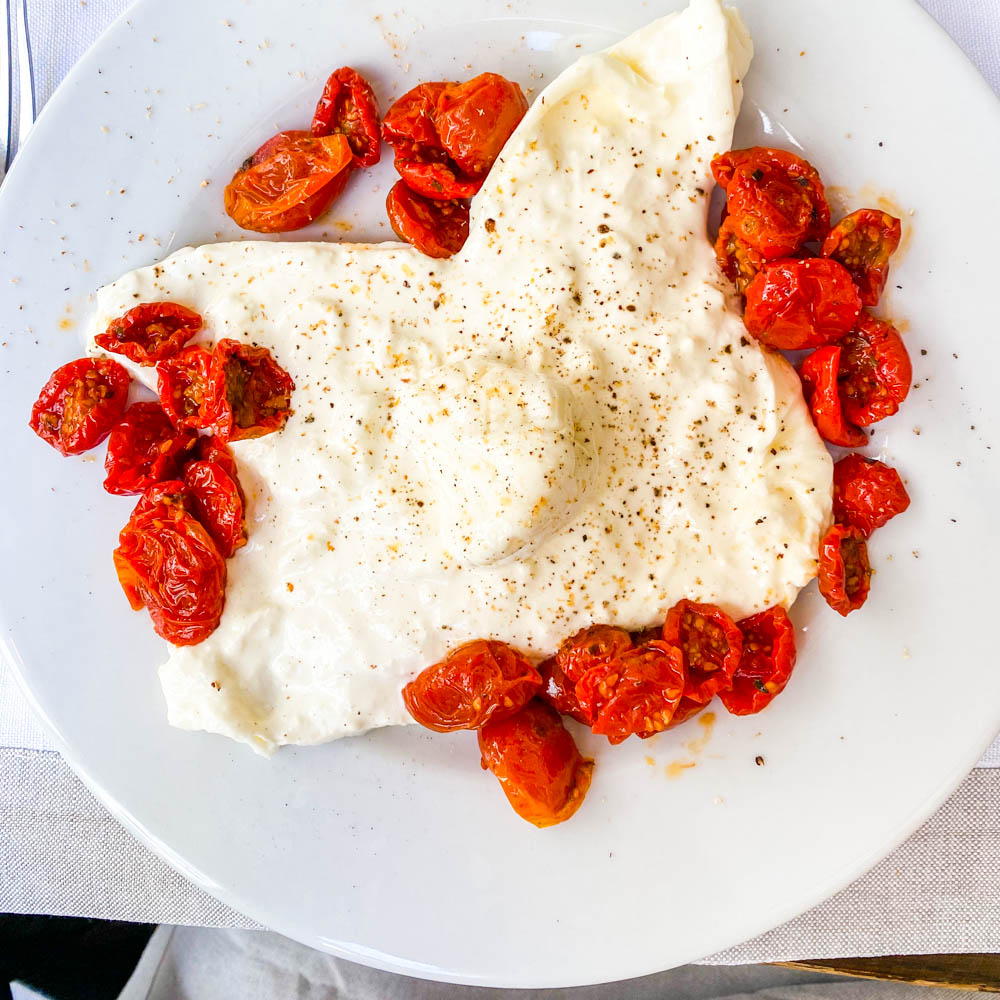 Full disclosure, I didn't eat a whole meal here and it's not cheap to eat here. So I won't say anything about the food overall. I had the burrata plate with tomatoes, and it was delicious, but that's not enough to judge the entire experience off of. That being said, I have a feeling this place is a little hyped up – it's definitely a "special meal" kind of place. It's an institution that owns it, and like Da Enzo, it's not the kind of place where you can linger for very long because it's so popular.
You must have reservations to eat dinner here, and they make it easy to reserve online in English. Roscioli is supposed to be one of the best restaurants and serve some of the best food in Rome, and was recommended to me over and over by folks who visited, but only ONE of the locals I talked to had heard of it. To me, this says a lot.
Bars and dessert spots I tried in Rome
All of these dessert places are fantastic and I'd recommend any one of them for tiramisu or gelato!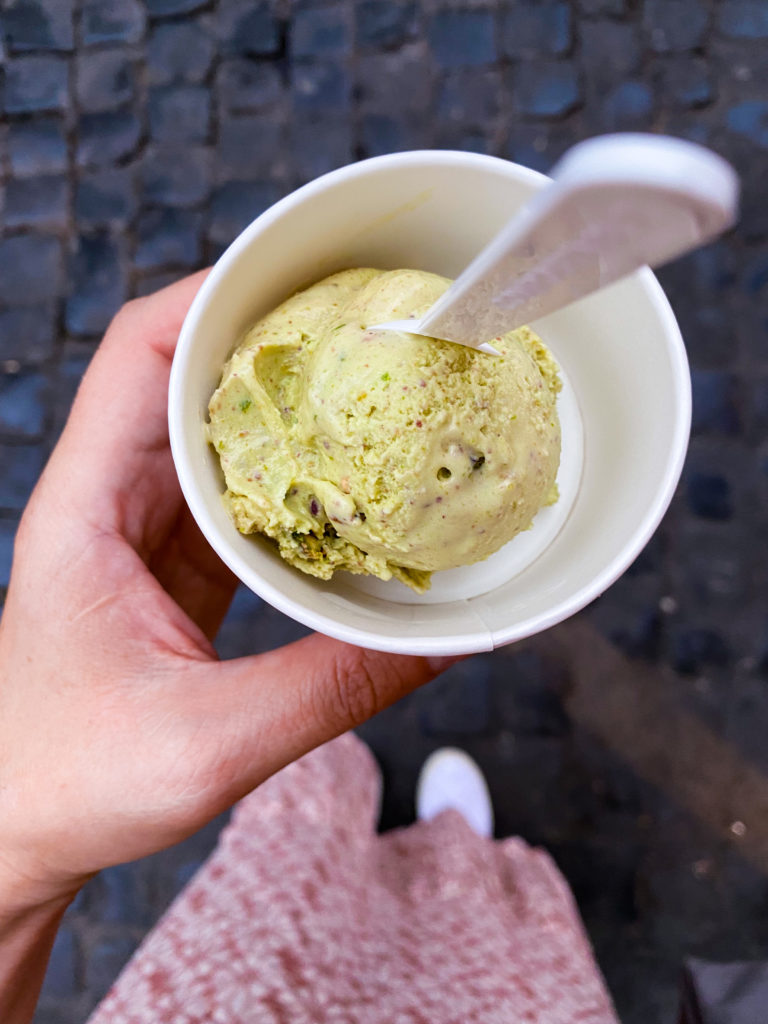 Giolitti – known for gelato
Otaleg – known for gelato, in Trastevere
Pimm'S Good – a cute bar packed with locals in Trastevere
Giselda – perfect spot for a morning coffee and cornetto
Tiramisu – watch the tiramisu get put together fresh in front of your eyes!
Pericaff Pasticceria – another great morning spot across from Giselda
Baylon Cafe – serves American breakfast if you need it!
Recommended restaurants in Rome
There are dozens and dozens of restaurants that were recommended to me by our incredible Instagram community and random people in my life!
I've put them all together on a map for you here. You can save the spots that look good to you on your own Google map!
Click here to view the map of recommended restaurants in Rome!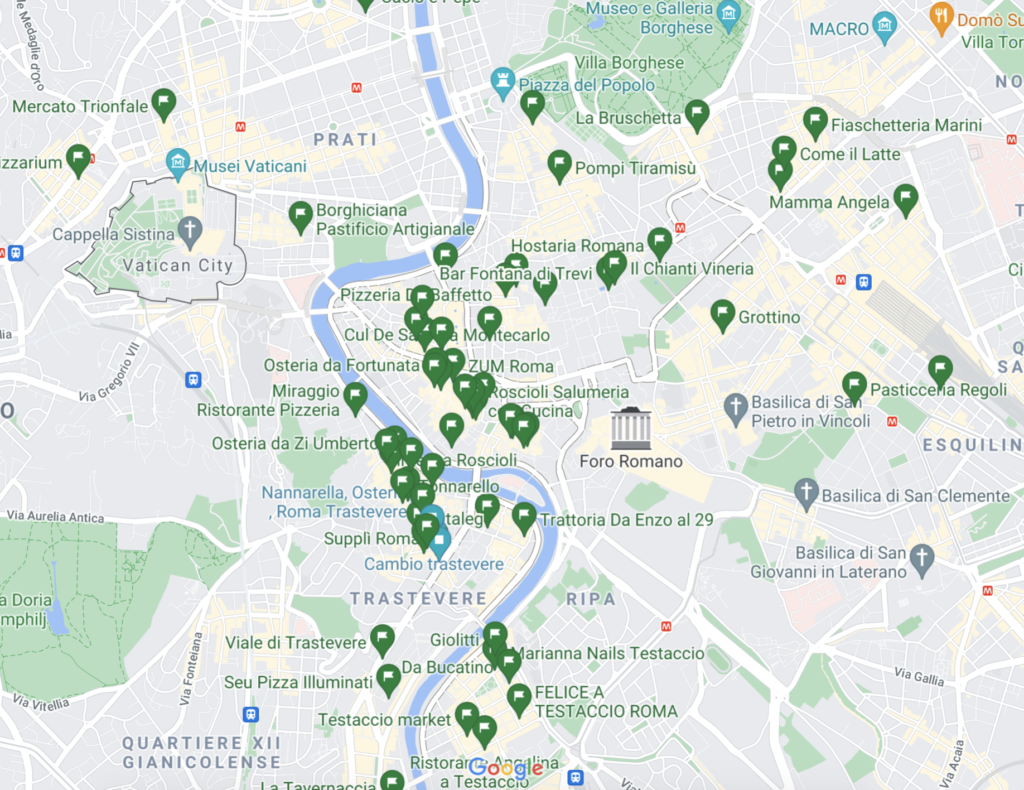 What to eat for breakfast in Rome
Breakfast is generally a coffee or cappuccino with a cornetto, or "brioche" which is an Italian croissant. I learned on a food tour that in Italy, it's too hot to use butter in pastries like croissants, so they use vegetable oil instead. The end result is a fluffy, soft croissant. If you can find one with pistachio filling, go for it. And try one with the Nutella – it's so cool to watch them pump the hazelnut spread directly into the pastry.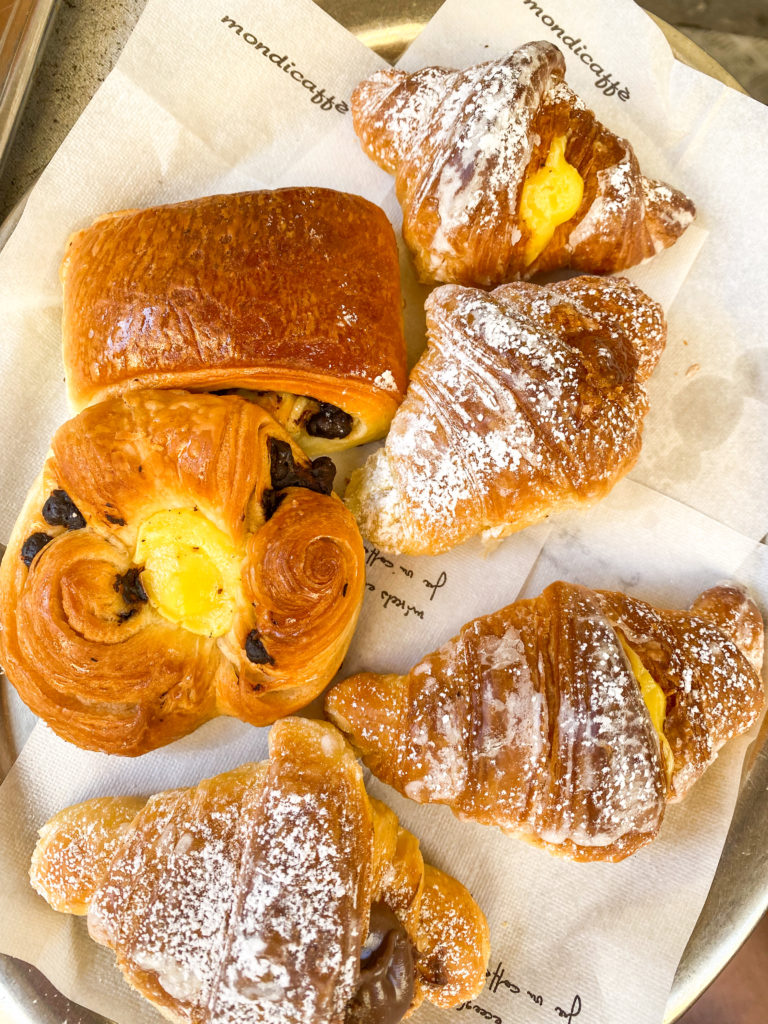 When you're sick of cornetti, I would try to find yogurt and fruit in shops near your hotel or BnB, or seek out tourist-friendly restaurants that serve eggs and American breakfast fare.
In my experience, I quite enjoyed eating a small breakfast so I could enjoy more pasta later!
What to expect when eating in Rome
Italians generally drink wine or water with dinner, never beer and rarely a cocktail. Cocktails and beer are ususally consumed before dinner.
The wait staff will not come check on you after your food has been served and you will not be rushed out of the restaurant. After your food is served, you'll have to flag down a waiter for anything else you need or the check.
Boxes for leftovers won't be offered, but if you ask they will provide them. Again, this is true for Rome, and I'm not sure how it is in other cities, especially smaller towns.
I found that if you leave a lot of food on your plate, the waiter will ask what was wrong with it. They don't like to waste food in Italy, so it's more polite to just ask for a box and take it home than say that you won't finish it.
To get the check, just say "il conto, per favore" (check please) and you'll be on your way. If paying with a card, they'll bring the card machine to your table.
I was told not to tip in Rome and no one gave me any dirty looks, so I think it was ok. But if you feel like tipping, try it and see what happens. Keep in mind that waitstaff are paid an actual salary in Italy.
Eating alone isn't weird in Rome! I saw many peope doing it.
Italians generally eat at 9pm. So it's pretty easy to get a table at any restaurant arond 7pm, or right when the restaurants open. Many restaurants don't open before 7pm!
Sometimes reservations are required or you'll find that a restaurant is just too booked to seat walk ins. I found it was pretty easy to call ahead the day of to get a table, or make reservations online for more popular places like Roscioli. You can also walk by the restaurant earlier in the day when they're open for lunch to see if you can make a reservation, which I did as well.
Tips for finding the best food in Rome
Ask for recommendations always. Hop on your favorite social media platform and ask your friends. This is probably the easiest way to find good places to eat! Then you can save them to your Google Maps or add them to a note in your phone.
Read blogs about Italy and watch YouTube videos. I got some great recommendations from watching vloggers in Italy talk about where they went to eat, and all of those recommendations help up for me.
Ask your hotel concierge, hostel staff or Airbnb host.
Unless you're SUPER intimidated by all-Italian menus, avoid eating at restaurants right next to the big sights. While the food might be ok, the experience won't be as authentic because you'll be surrounded by other tourists. But hey, there's nothing wrong with the convenience of eating right nexrt to the Pantheon if that's what you want!
Go to Trastevere or Testaccio – these neighborhoods aren't too far from the city center and are full of good restaurants that are off the beaten track, yet still freqented by hungry tourists.
If you take a tour or do any classes, ask your tour guide/instructor!
Take Google ratings with a grain of salt and remember that Yelp isn't a big thing in Europe.
Eating in Rome with food allergies
I don't have food allergies, but I've heard that Rome is very easy for allergies and restrictions around dairy, meat, and gluten.
Most of the cooking is olive oil-based, so right off the bat, you're in good hands if you're vegan or dairy-free. Apparently, Rome is a very gluten-free friendly city and you'll easily find options everywhere.
It's important to learn Italian phrases to ask the wait staff what would be suitable for you at restaurants, or carry a card with you that states your food restrictions/allergies in Italian to show to the waiter.
I found that menus had extensive easy-to-read icons showing which menu items contained which allergens at restaurants, which can help you navigate food choices.
Apps like HappyCow can help vegans find great vegan restaurants anywhere in the world.
Ordering coffee in Rome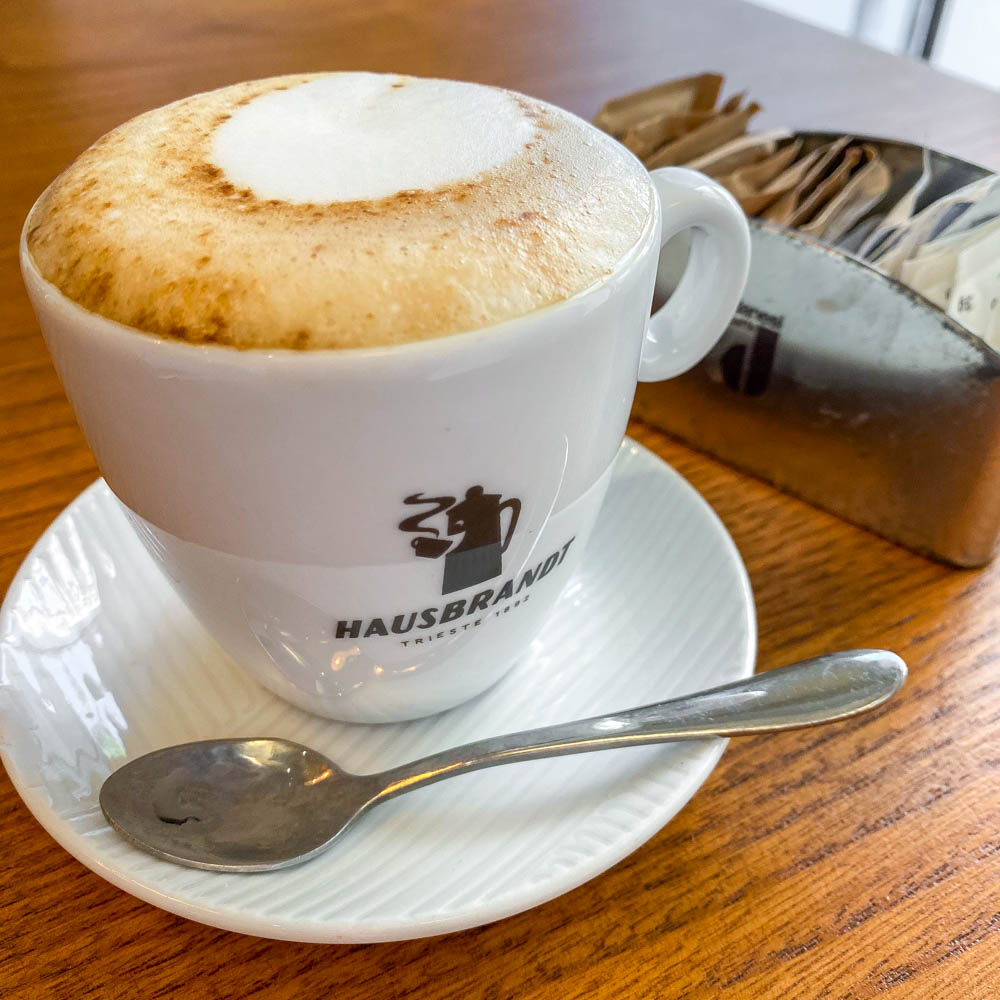 Ordering coffee in Italy works a little different than other places! First, you go up to the cashier, tell them what you want and pay (preferrably in cash). Then you go up to the barista and tell them what you want or show them your receipt. They'll make it there and serve it at the counter.
Cafes are called bars in Italy. So it's totally normal to walk into a bar at 8 am for a caffeine fix!
Italians don't drink drip coffee and you won't be able to find it anywhere. Instead, when you order a coffee (caffe) you'll get a shot of espresso to sip on, usually with a small glass of water.
There are many types of coffees you can order, but don't try to order a latte. Latte in Italian just means "milk" so you'll get a glass of hot steamed milk if you ask for that. Instead, ask for cappuccino.
My Rome Food Bucket List
Whenever I travel somewhere new, I create a food bucket list and try to check items off the list as I go! Here's my delicious bucket list for the best food in Rome:
Cornetti
Gelato (pistacchio, melon, tiramisu)
Tiramisu
aperol spritz
limoncello
cappucino, caffe
pasta carbonara
pasta amatriciana
cacio e pepe
pasta gricia
suppli
trappizino
pizza al taglio / pizza romano
pizza ebraica (Jewish-style pizza)
artichokes: Jewish-style and Roman-style
bruschetta
fried squash blossoms
saltimbocca alla romana (veal, proscitto & sage)
filetti di baccala fritta (frid salt cod)
maritozzo (filled pastry)
melon & proscuitto
burrata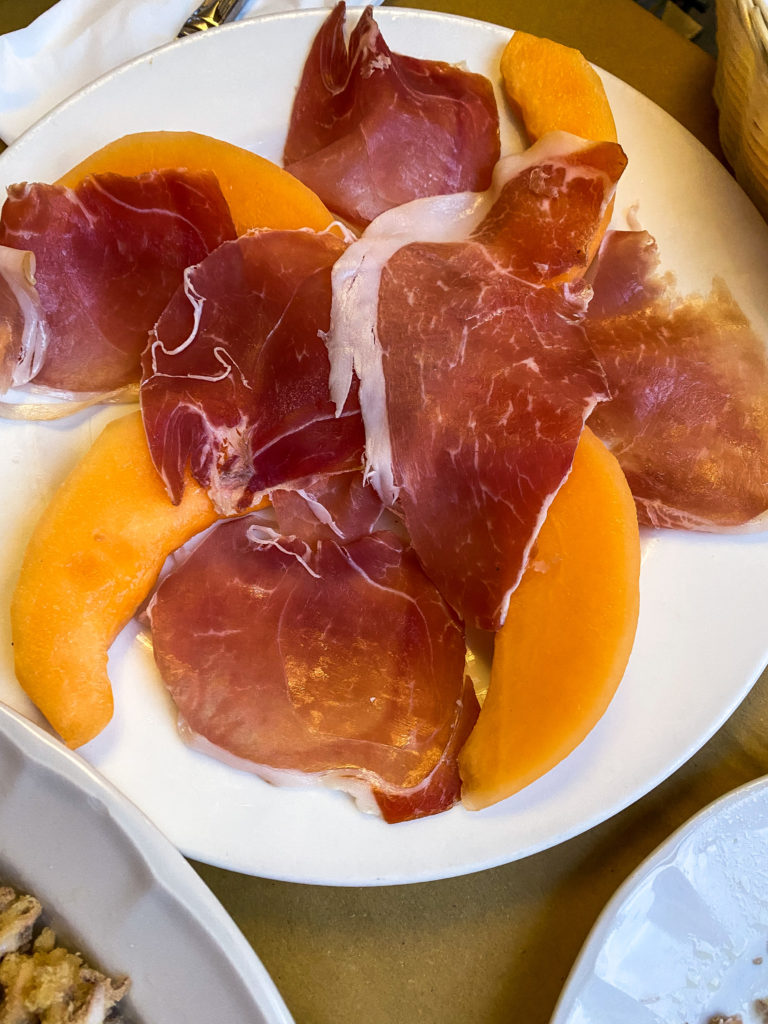 Where foodies should stay in Rome
If you're about history, stay in the Rome city center. But if you're about food, stay in one of these neighborhoods.
Trastevere
Trastevere is a historical neighborhood, and one of the only ones in Rome that still allows people to hang their laundry to dry outside. It's charming, has tons of narrow, twisting cobblestone streets and even more restaurants and bars. You can tell that locals love to come here and it has a totally different feel than Rome's city center. I loved staying here because it made me feel like a local.
From Trastevere, it's a 15-20 minute walk to Trevi Fountain, The Pantheon, The Colosseum, and Foro Romano. It's pretty close to Campo de Fiori and Piazza Navona, which are just right over the bridge which crosses River Tiber.
I felt safe staying and walking around Trastevere alone. No one bothered me!
Here's a link to the Airbnb I stayed in!
Testaccio
Across another bridge from Trastevere is the adorable area Testaccio. This is an even quieter, more off-the-beaten-path area that's packed with cute restaurants, but still close to the main sights of Rome. You'll see hardly any tourists here.
Campo De' Fiori
If you want to stay a little closer to the city center and nexrt to Piazza Navona, but not right in all the action, Campo de Fiori is the best spot. There are so many amazing restaurants packed into this area, as well as the lively market. It takes about 10-15 minutes to walk to the main sights in Rome from here.
Foodie experiences I tried in Rome
This was by far my favorite experience in Rome. Luca took us around on bikes, snapped amazing photos of us (not in a weird way, he just knows where the good spots are to stop and snap away!) got us quick bites to try, then made us a delicious meal in his studio kitchen, complete with homemade limoncello.
This experience was outside of the city center, which was great. Our host picked us (a group of 10) at the subway and drove us in a van to his outdoor kitchen near the Appian Way, which is a historical area of Rome. We first made pizza from scratch, and our instructors taught us how to roll out the dough and bake them in a wood-fired oven. Then we learned about different types of pasta and how to make different pasta shapes. Finally, we enjoyed our homemade pasta with wine, followed by tiramisu and limoncello. The instructors were a hoot and the pacing of this class was excellent. Of course, the food was good too.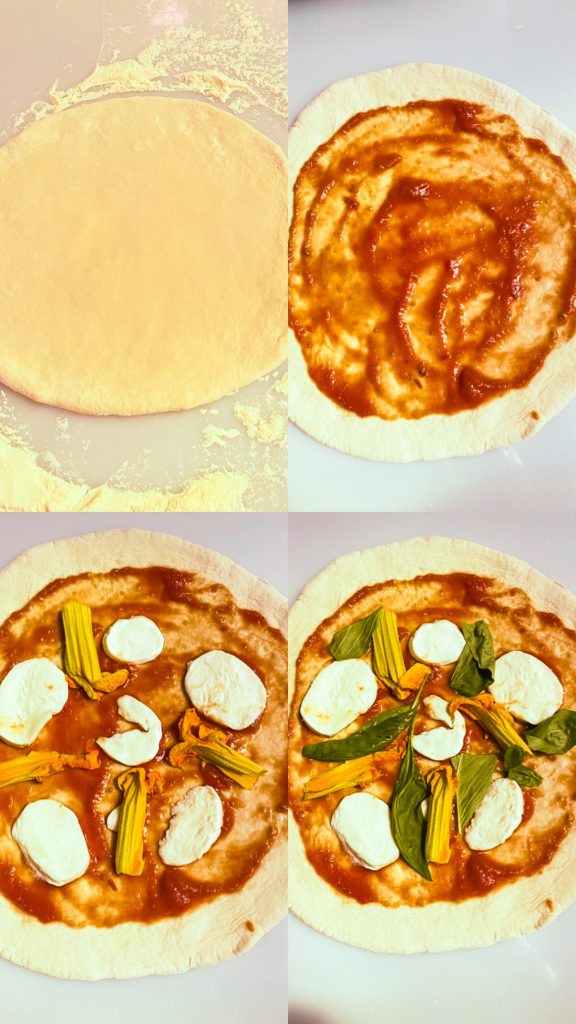 Here are a few tours recommended to me that I didn't get a chance to try:
Key Italian phrases to learn
I highly recommend learning a little Italian before you travel. It goes a long way and helps you get familiar with the language.
At the very least, learn these phrases:
Please – per favore
Thank you – grazie
You're welcome – prego
Good morning formal – buon giorno / salve
Good evening formal – buona sera
Have a good day / evening- buona giornata / buona serata
Goodbye formal – arrivederci
Help, please – Aiuto, per favore
Where is…? – Dov'è (pronounced doh-vey)
Where is the bathroom – Dov'è il bagno
What do you recommend? – Che cosa mi consiglia?
I would like… – vorrei (pronounced vor-rey)
FAQ about traveling in Rome
How did you stay connected while traveling?
There are many ways to stay connected when traveling abroad, but my way is to rent travel wifi. Travel wifi is basically a portable hotspot you can connect to your devices when traveling. It's about the size of a small phone and you can charge it overnight, and carry it around with you during the day. This is the only way I was really able to use Google Maps and Google Translate on the go. As a solo traveler, I found this immensely helpful and never had to bug anyone for their wifi password.
How did you find bathrooms?
My bathroom strategy in Rome involved always using it wherever I ate a meal. And if I was between meals, I'd walk into a restaurant and ask if I could use theirs -it was never an issue in Rome. Some public bathrooms charge money for use and normally don't have toilet paper, so keep some tissues on you! 
How did you communicate in Italian?
Thanks to having wifi with me at all times, Googe translate was my best friend. People can talk directly into the app in any language, and their words will be transcribed and translated into your language.
How did you navigate a new city?
Google Maps is essential! I was able to use the app live with my travel wifi, but you can also download maps to use offline.
What did you do with your bags before checking into an Airbnb?
If you're checking in/out of a hotel or Airbnb and can't stash your bags there for whatever reason, you can find luggage storage spots all over Rome. While I didn't use this service in Rome, I've used it successfully in other cities.
Is it easy to get around Rome?
The bus system is easy to navigate if you can pull it up on your google maps before you set out and it's a lot more reliable than the tram, which was more hit or miss. 
No one ever checked my ticket, but you can get fined if you don't have one.
You can buy bus and tram tickets at newsstands and tobacco stores (tabacchi in Italian) and in my experience, it was cash only.
For the metro and train, you can buy tickets at the station with a credit card or cash at a stall. 
I found all modes of public transportation to feel safe, but as always, keep your belongings close to you and don't leave anything valuable in your pockets.
Rome is also super bikeable if you're comfortable on a bike!
Do you use travel insurance?
Yes! I always get travel insurance, especially for solo travel. I use World Nomads. This travel insurance is for US residents only.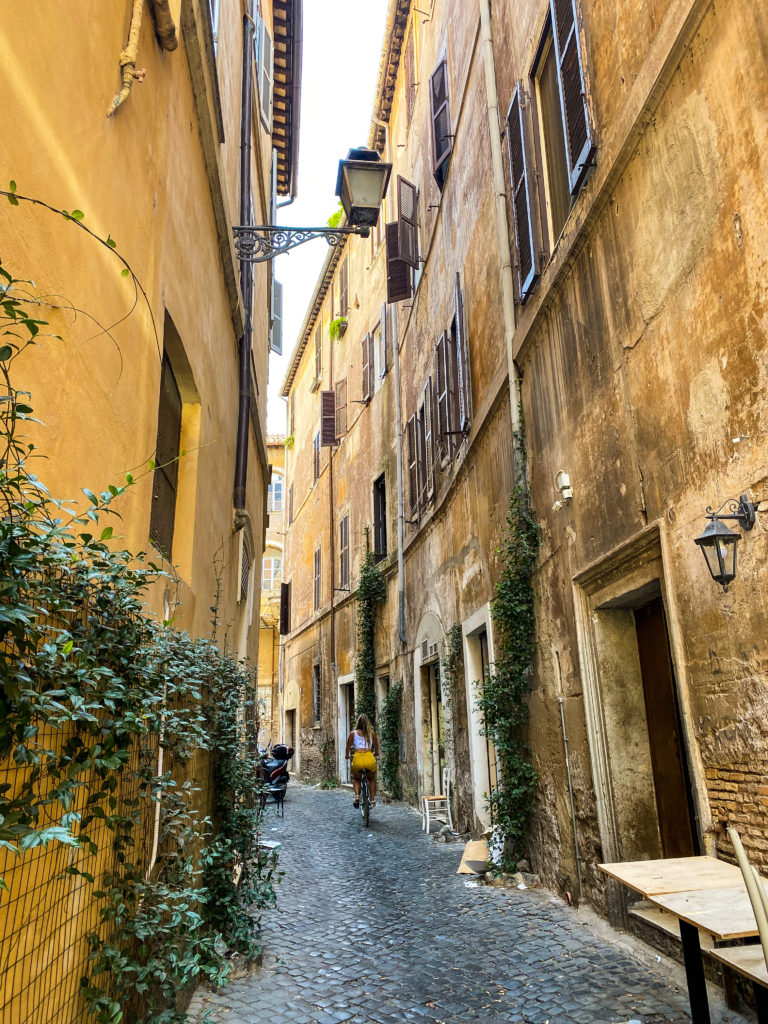 How much my trip to Rome cost
Flights: I flew round trip, direct to Rome from NYC for $1,871 on American. I upgraded my seat on the way there (included in that price I listed) to increase my chances of getting a good sleep on the way over, which I did. I could have found a cheaper ticket for sure, but I avoid layovers and like to buy the best seat possible! There were other flights available with layovers, in economy, for about $700 round trip.
Airbnb: I stayed in a gorgeous Airbnb for $935 for 7 nights ($133/night).
Transportation: I spent a total of $75 on transportation, including a taxi to the airport which was $50. Getting around Rome is cheap!
Food and coffee: I spent about $300 for 7 days ($42/day) on food in Rome, where I ate out for all but two of my meals (which I cooked in my Airbnb with food I bought from a market).
Souvenirs: $0. I don't really buy stuff when traveling!
Airbnb experiences: $130, including a really affordable walking tour I did the first night.
Total: $3,311. Not bad! I obviously could have spent less on the flight, but I wanted to spend more since it was my first international flight in a pandemic.
Planning your trip to Rome
How many days do you need in Rome?
Flying from the US, 6-7 is ideal. You'll have enough time to adjust to. the time zone and fit in a day trip or two without having to rush. It can be done in 5 days minimum (2 travel days on each side).
When is the best time to visit Rome?
Late spring, early summer and fall are the best times to visit Rome, when the weather is more manageable. Winter gets cold, but it's a low season for tourism.
How do you decide what to do?
Instead of doing what all tourists do, focus on what you're generally interested in. Rome is a big city, and there's something for everyone! I skipped the Vatican because it's not my thing. Try not to pack it in either, I recommend planning one activity per day and you can always plan more.
I hope you enjoyed this Rome recap and that you're inspired to eat all the pasta, pizza and gelato when you go!
Want to see more travel posts from me? Check out my foodies guide to Tokyo next.