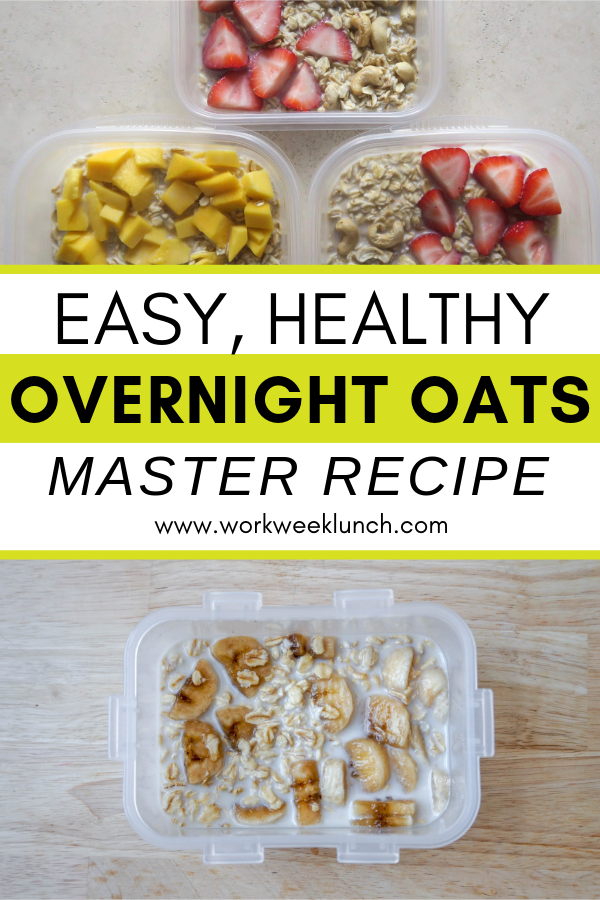 I only started doing breakfast meal prep recently, when I discovered the real power of overnight oats.
When I first heard about overnight oats, I was skeptical.
Cold oatmeal? How could that ever be good?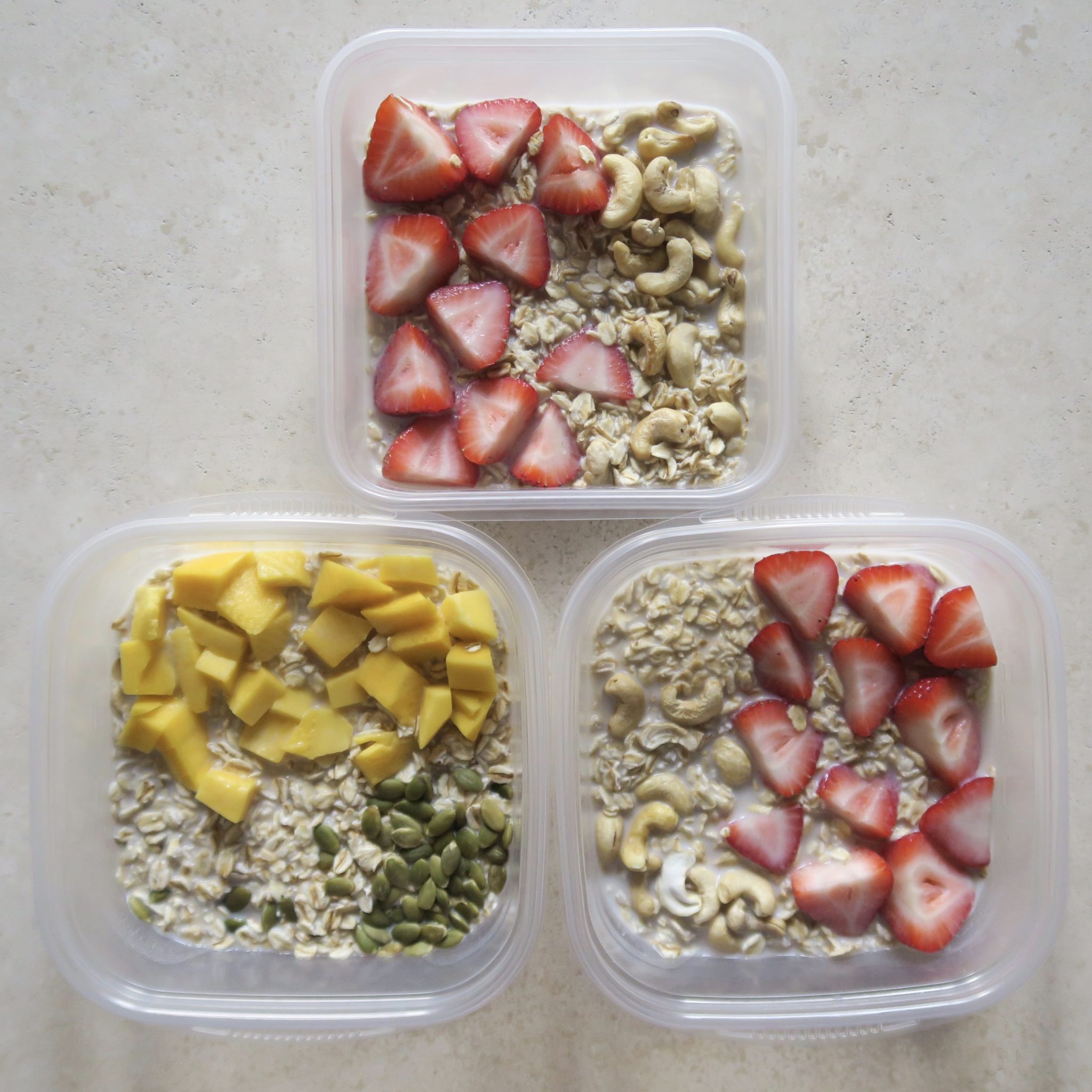 Turns out, overnight oats is one of the BEST meal prep staples I ever started using.
How breakfast meal prep changed my life:
Before I started making overnight oats, I used to have three go-to breakfasts.
Avocado toast or peanut butter toast.
Protein shakes and smoothies.
Hot instant oatmeal with fruit.
I used to take instant oatmeal to work if I was running late. Even though those breakfasts are healthier than the bagel and donut options that the office catered sometimes, they each involved at least five minutes of cooking or preparing in the morning.
Like most people, you probably know the feeling of scrambling to get out the door before work. Those five breakfast minutes must be spent wisely! Time is precious.
Enter overnight oats.
When I started incorporating overnight oats into my breakfast meal prep, my morning routine changed. Instead of having to take five minutes to prepare breakfast — it was already done. I just had to take the Tupperware out of the fridge and eat.
Honestly, it feels like magic some days. These oats can save you so much time and that alone makes this meal a must for any busy person who has to get out the door fast in the morning. Because having to skip breakfast when you have no time is the WORST.
How overnight oats work:
Normally, when you make oatmeal, you add boiling hot water to cook the oats so they're soft and chewy. You may add fruit, sweetener, nuts, seeds, peanut butter or whatever else.
Overnight oats are very similar, but instead of cooking the oats in hot water, they soak overnight in cold water or milk. The end result? Soft and chewy oats — but they're cold.
And you can still add the same toppings and sweeteners you normally would with hot oatmeal.
You might be thinking… but cold oatmeal?! Yes! It's good, I promise. But if it really turns you off, you can always heat up overnight oats in the microwave or on the stove. But that kind of defeats the purpose of prepping them in advance.
Overnight oats are:
Easy to make, it takes less than five minutes (depending on how much fruit you have to chop if any)
Cheap to make (oats are not expensive, plus you can use fruit in season)
Filling (I can make it until lunchtime without a snack if I eat overnight oats)
Healthy – they're packed with fiber and carbs
Versatile – you can make them a different way every time by changing your toppings
Want more ideas and overnight oats inspiration? Check out this post from Wholefully.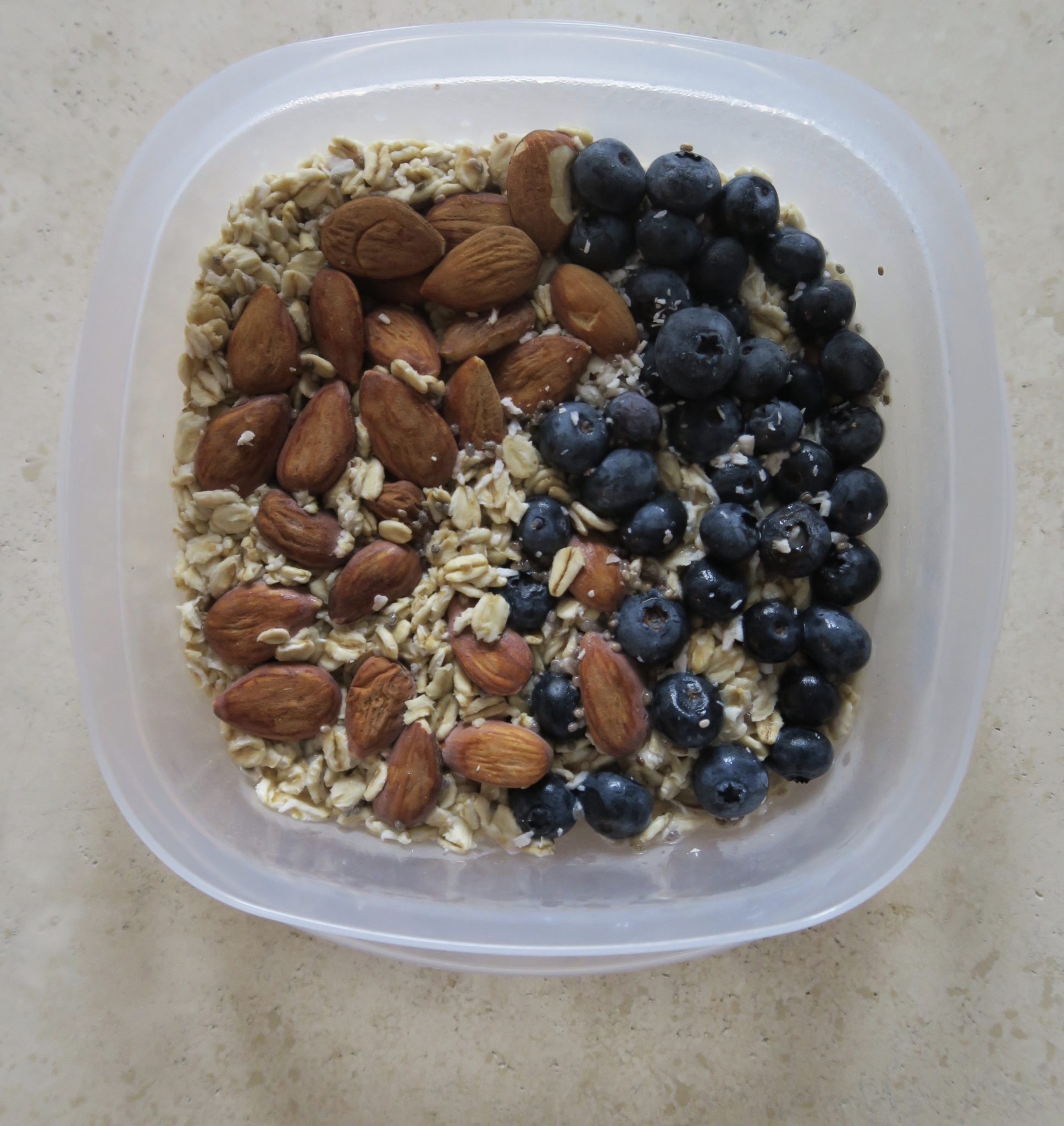 How this breakfast meal prep recipe works:
The recipe below is for ONE serving of overnight oats. If you were to prep overnight oats for five days, you simply use this incredibly simple recipe to make five servings in different containers.
The main ingredients are oats, liquid (water or whatever milk you like) and fruit. After that, go nuts, mix it up and add toppings according to your preferences.
Do NOT use steel cut oats for this recipe. It won't work! Steel cut oats must be cooked in hot water because of the way they're processed.
Overnight oats can last up to five days in the fridge — yes even with milk and fruit. I promise! Just keep it in an airtight container, and you'll be set.
Do you get bored of eating the same thing all the time? Sign up below and I'll help you keep healthy meal prep easy and interesting!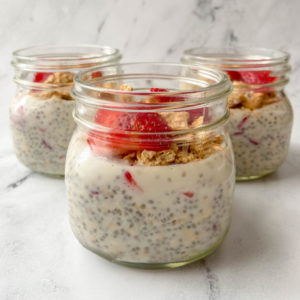 Overnight Oats Master Recipe
Ingredients
1/2

cup

old fashioned oats

3/4

cup

assorted fruit of your choice

(berries, banana, strawberries, apples, peaches, mango etc)

1

cup

milk of your choice
Instructions
Lay out as many containers as you need (up to seven max)

Add oats, fruit and milk/water to the container(s)

Add any other ingredients you want! We recommend yogurt, nuts, seeds, chocolate chips, nut butter, protein powder - you really can't go wrong!

Stir and seal in an airtight container in the fridge for up to 4 days. You can eat overnight oats cold, room temp or reheat them in the microwave or on the stove!
Notes
These meals should last up to five days in your fridge when stored in airtight containers. You can heat them up in the microwave or on the stove.
Like this recipe?
There's a lot more where that came from. Click here to sign up for weekly meal prep tips and quick, healthy recipes made for busy people.
Questions? Concerns? Drop them below in the comments.
DID YOU MAKE THIS RECIPE?
Please leave a comment below on the blog or share a photo with us and tag @workweeklunch! Can't wait to see what you made!