These crispy, crunchy flavorful buffalo cauliflower wings will make your week 100% better.
We're not knocking buffalo chicken wings – they're great – but there's something about the texture of these that makes them so delicious.
Stick around to read how to make them, store them and use them throughout the week!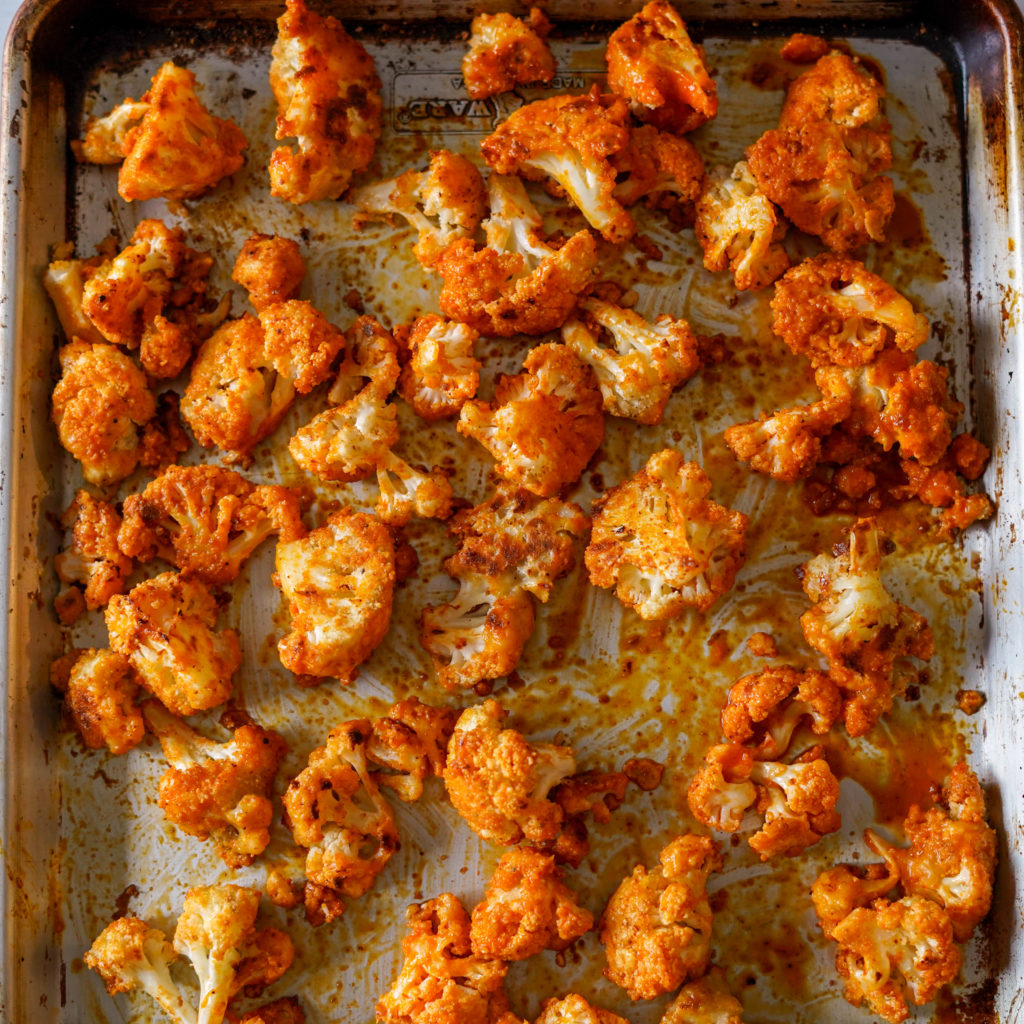 What meals can I use buffalo cauliflower in?
You have so many options for ways to use buffalo cauliflower! Here are some easy ideas:
Buffalo Cauliflower Pizza – use your favorite crust, tomato sauce, cheese and ranch!
Salads! I like to toss it with spinach, red onion, tomato and a creamy dressing
Tacos – use avocado, crunchy greens, salsa and ranch (obviously)
Wraps and burritos – with cheese, rice, beans or whatever else you enjoy in a tortilla!
Mac and cheese – why not add it to an easy mac and cheese recipe like this one?
Buffalo cauliflower pizza is my go-to. Seriously, save the cauliflower for the pizza topping, NOT the crust! Here's a mini buffalo cauliflower pizza I made.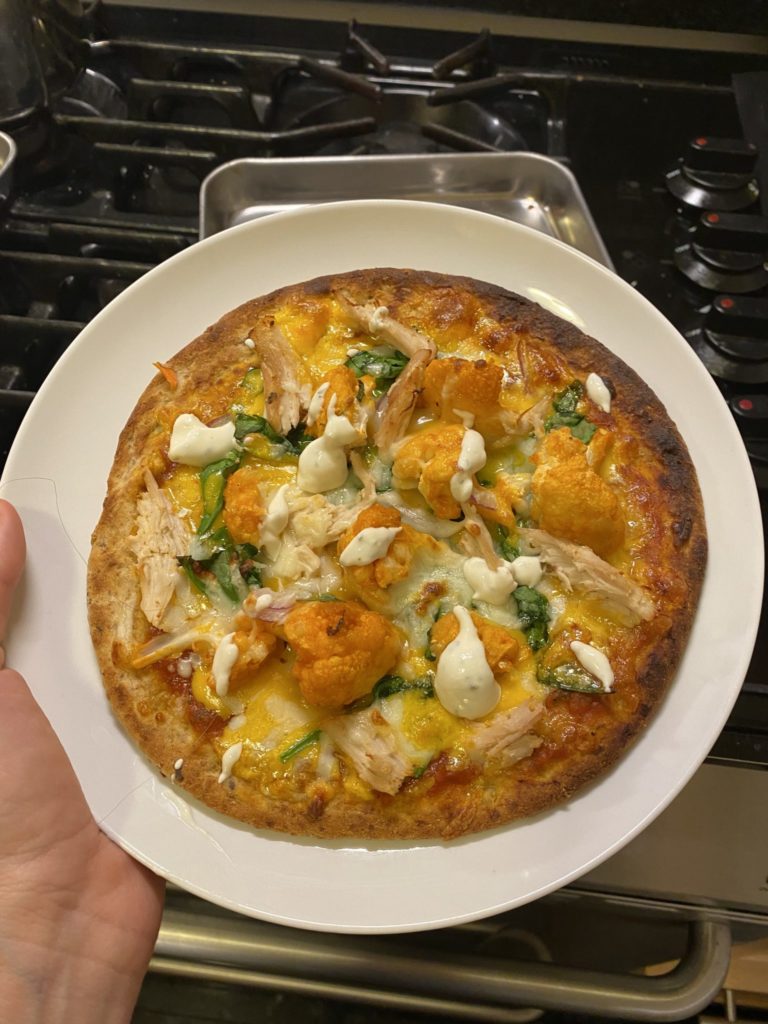 We have several "complete" buffalo cauliflower wing recipes in the WWL Program! You can join us on a free trial to get access to all our recipes, meal plans, meal planning tools, grocery lists and private community.
Ideas for veggies to pair with these cauliflower wings:
Braised or sauteed kale or spinach (pictured in my meal)

Crudites (raw cucumber, carrot, celery)

Roasted peppers and onions

Roasted brussels sprouts or asparagus

Sauteed green beans

Chunky corn salsa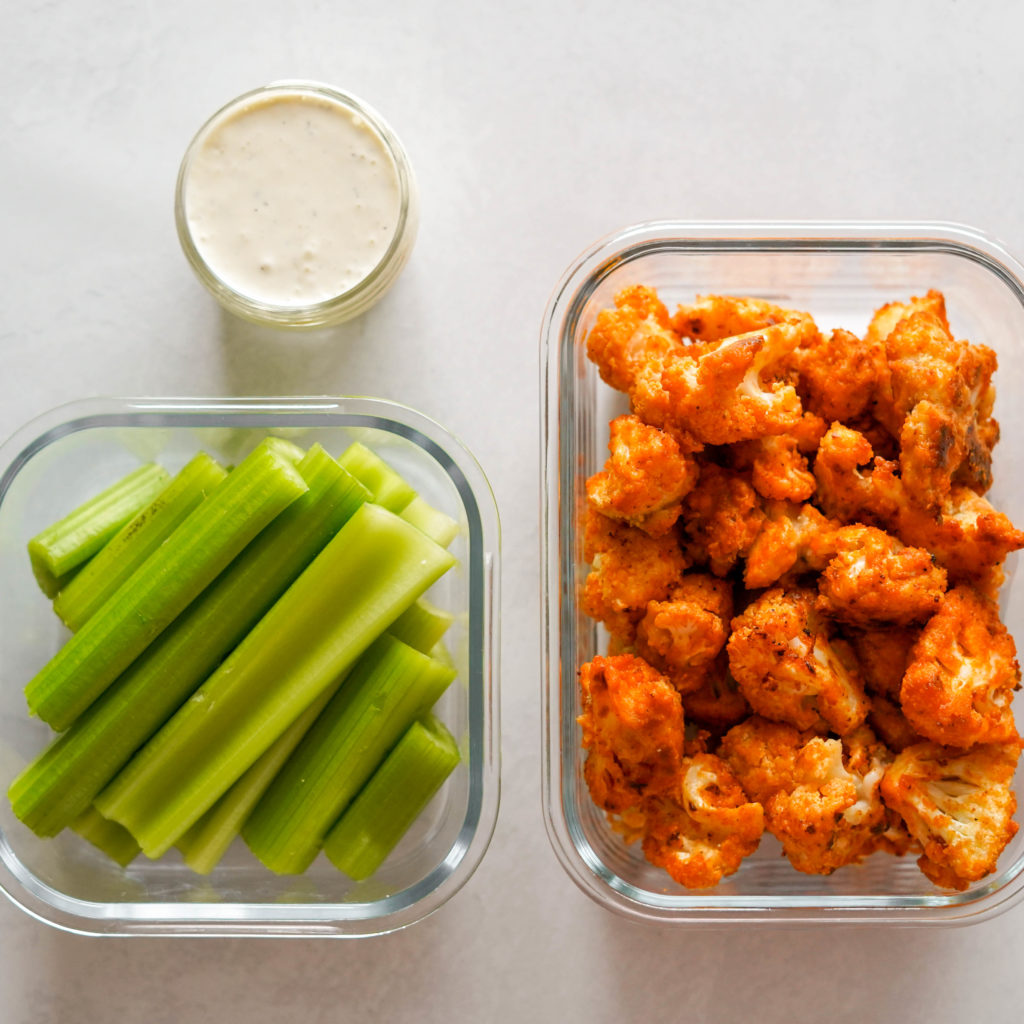 How can I make cauliflower wings vegan and gluten-free?
To make these crispy cauliflower wings vegan, use non-dairy milk in the batter and make sure that your hot sauce is vegan!
I have tested these with oat milk, soy milk and almond milk with great results. If the non-dairy milk you're using is slightly sweet, add a teaspoon or two of onion powder or garlic powder, or more salt.
To make these buffalo cauliflower wings gluten-free, use all-purpose gluten-free flour in the batter. Make sure your preferred hot sauce is gluten-free as well. Make sure to use a gluten-free flour blend you trust. I wouldn't expect great results with just almond flour or rice flour.
Also, use gluten-free breadcrumbs! If you can't find them though, you can omit them from the recipe. Nutritional yeast is a good swap for breadcrumbs in that case.
How to Make Baked Buffalo Cauliflower Bites | Workweek Lunch
How do you keep buffalo cauliflower wings crispy?
As you probably know, I'm not an air-fryer owner (yet). But if you have one, the air-fryer is your best bet for crispy cauliflower wings.
But if you're like me and don't own one, use the toaster oven or oven.
I stick mine under the broiler for maximum crispiness! Just make sure to keep an eye on them. Food can easily burn under the broiler. You'll only need about a minute or so.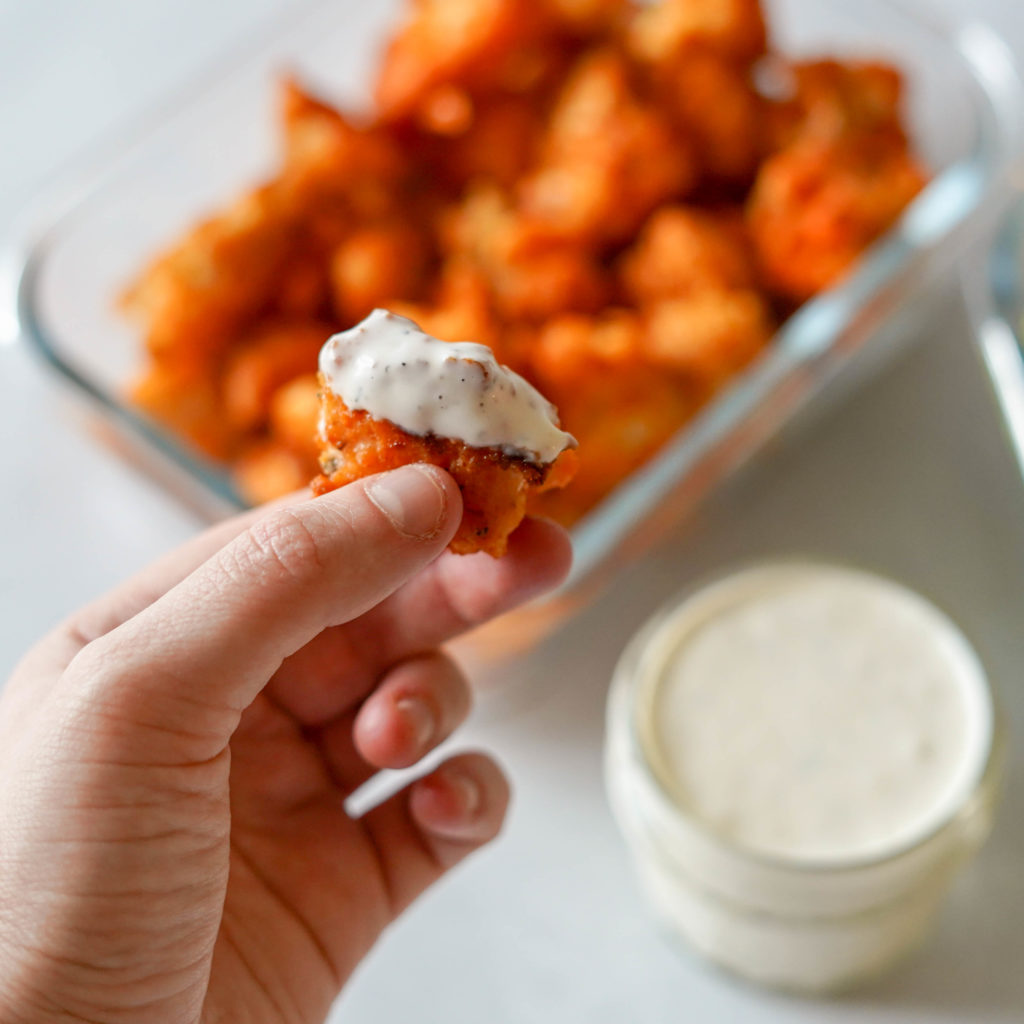 What sauces can I enjoy with these vegan wings?
Ranch dipping sauce or dressing is by far the best sauce for these wings! Here are some different recipes for ranch (or just buy your favorite)!
Obviously, ranch dressing isn't the only sauce flavor that goes with these wings!
Can I use this method to make crispy baked tofu wings?
Yes! You can totally swap out cauliflower for tofu with this method.
We recommend using firm tofu and you have to drain/press it before using. Here's a quick video to help you get the best results from tofu:
Our Favorite Hot Sauces And BBQ Sauces To Use
Franks Red Hot Sauce

Crystal Hot Sauce

Cholula

Valentina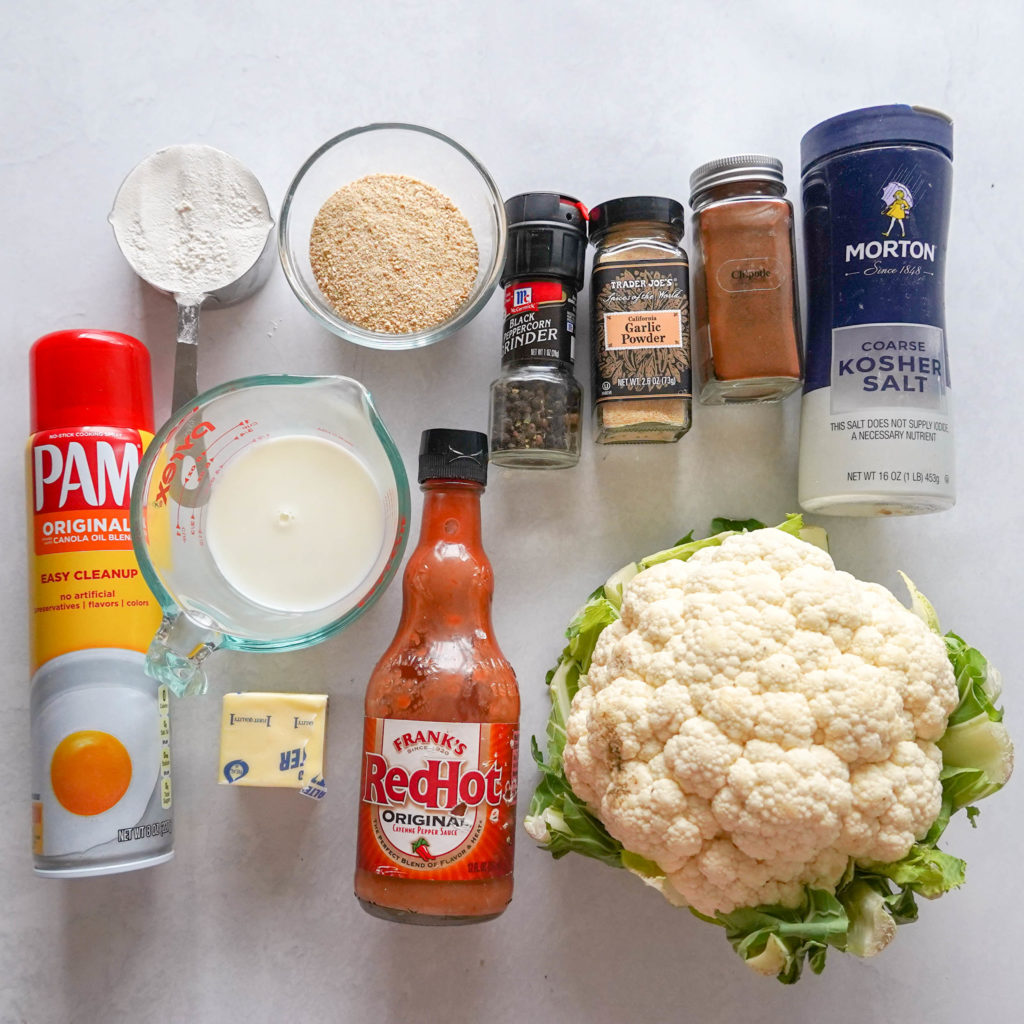 How to store and reheat this meal:
Keep in mind that when we meal prep "crispy" dishes, they'll always lose their crispiness somewhat when kept overnight. Don't worry, the texture on these is still AMAZING. But if you want the crisp factor, eat these the day of or make sure to follow the reheating tips above.
You can store cauliflower wings for up to four days in the fridge and they're not freezer friendly.
Don't forget to pin this for later!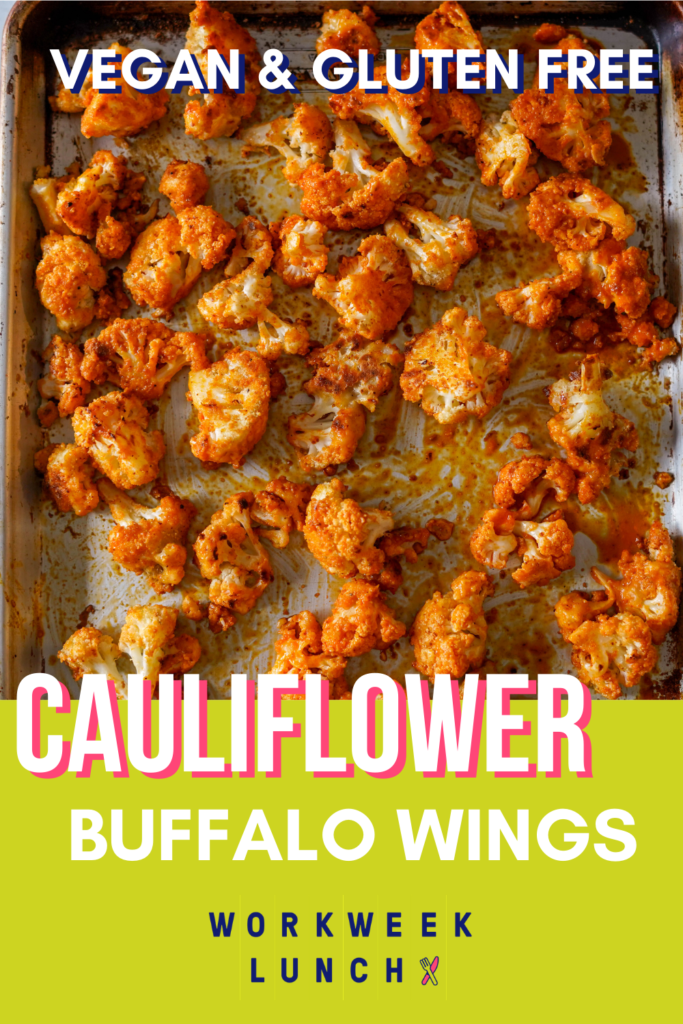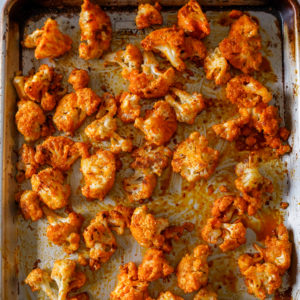 Buffalo Cauliflower Wings
Ingredients
1

cauliflower

chopped into big florets

cooking spray

1/2

cup

flour

of your choice, I used whole wheat

1/2

cup

milk of your choice

3

tsp

onion powder

2

tsp

chipotle powder

salt and pepper to taste

1/2

cup

bread crumbs

of your choice
for the hot sauce
3/4

cup

hot sauce

of your choice

1/2

cup

agave, maple syrup or honey

(you may want to add more depending on your spice tolerance)

1

TBSP

coconut oil

or vegan butter, melted

2

tsp

onion powder

sriracha

to taste, (optional)
Instructions
Preheat your oven to 450 F. Prepare a baking sheet with foil and cooking spray, set aside.

Prepare the batter by mixing the flour, almond milk, onion powder, chipotle powder, salt and pepper. If the mixture is too thick, add more almond milk. If it's too thin, add more flour.

Pour the breadcrumbs in a separate bowl. Dip the cauliflower in the batter and use your fork to scrape off any excess. Then coat the cauliflower in the breadcrumbs, shake off excess crumbs and place on the baking sheet. Repeat until you've done this with all of the cauliflower florets. Bake for 20 minutes.

While the cauliflower bakes, prepare the hot sauce mixture. Combine the hot sauce, sweetener, butter/oil, onion powder and sriracha if using in a bowl. Stir well and taste – then adjust flavors as necessary.

Pour the hot sauce mixture in a small saucepan and cook it on medium heat for about 5 minutes. This helps bring out the flavors.

When the cauliflower is done baking, toss it in the hot sauce mixture, coat it as well as you can, and return it to the baking sheet. Bake for another 5 minutes.
DID YOU MAKE THIS RECIPE?
Please leave a comment below on the blog or share a photo with us and tag @workweeklunch! Can't wait to see what you made!