Until last week, I had never shopped at a Costco for myself as an adult.
So last week, when my partner and I went there for the first time to get a membership and stock the new place, we were a little overwhelmed.
How could two people POSSIBLY use up that much rice within a year? Or that much maple syrup?
There's no way we'd get through a giant bag of greens before they'd start to spoil. Was shopping this way really cheaper?
Do people really eat this much??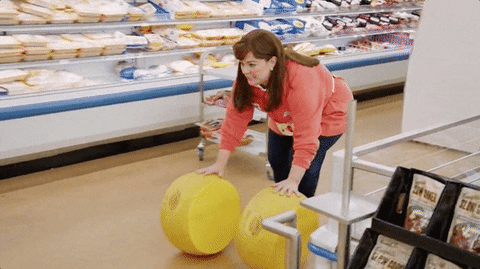 Let's take a closer look.
Pros and cons of grocery shopping at bulk stores
If you live alone/with roommates, a Costco membership might not be the best move UNLESS you can share it with a roommate or friend. That way, you can both shop there as needed and split the cost of shared items like toilet paper, paper towels and cleaning supplies that will last a long time (IF you have the space to store them!).
If you're a couple? It's a good idea to grab the membership and split it for shared items such as the ones mentioned above, laundry stuff, appliances and other household items you'll both use.
And if you're buying for the family? Costco makes a TON of sense, especially if you have little ones and need to stock up on diapers, wipes and stuff that you constantly use.
Of course, that's just the household stuff. What about the food?
Pros of doing your food shopping at Costco:
High-quality ingredients and foods for a great price… IF you want a lot of it. For example, if you love sweet potato chips, be ready to buy a 2-month supply at Costco.
The bigger your freezer, the bigger bang for your buck. You can grab so many amazing frozen foods in Costco (and get a great deal on meat) but you have to be able to have room in your freezer for all of it. 
You can grab pantry basics in large quantities. I hated having to stock up on oats every month from the grocery store in Colorado (we didn't have any bulk stores within an hour of where I lived) so grabbing a GIANT package old-fashioned oats for my pantry is going to be a lifesaver for me. Rice, flour, canned goods, quinoa, oats, your favorite oils, honey, etc are all great to buy in bulk if you use them often and they have a longer shelf life.
Snacks! Picking up your favorite non-perishable snacks for work or school at Costco is great if you can commit to one type/flavor/brand for a while and really love it.
Items that are usually more expensive even in smaller quantities like coffee and nuts are super affordable in Costco.
Cons of doing your food shopping at Costco:
While Costco does have an amazing return policy, for the most part you need to commit to what you're purchasing in large quantities. Costco is not the place to try a new brand (unless you're cool with making lots of return trips if you don't like what you bought!).
If you're buying fresh produce in Costco, you have to be able to eat it all before it goes bad or freeze it (which is fine).
For bulk pantry items, you have to have room to store it all!
If you're buying meat in Costco, be ready to freeze most of it and eat it for months! For some, it makes sense. For me? I just don't eat THAT much chicken and prefer to buy it fresher when I want it.
Some items still aren't a good deal. For example, you can buy HUGE containers of spices in Costco. But the average home cook doesn't need THAT much cinnamon or oregano or whatever… so by the time you use half of it, the rest is probably tasteless and useless. Spices lose their flavor/aroma over time. The giant containers of spice are probably useful if you had a food truck, cafe, restaurant or catering business… but if you're just meal prepping and cooking meals during the week? Not so much.
While doing my first Costco haul, one more subtle con came to mind: buying in bulk kind of motivates us to waste more.
There's something about having food and other products in abundance that makes us think less about our use of these products. Maybe that's just me, but the thought absolutely crossed my mind while unpacking all the items we came back with!
Click here to view this IGTV video of our Costco haul to see what food and household items we purchased!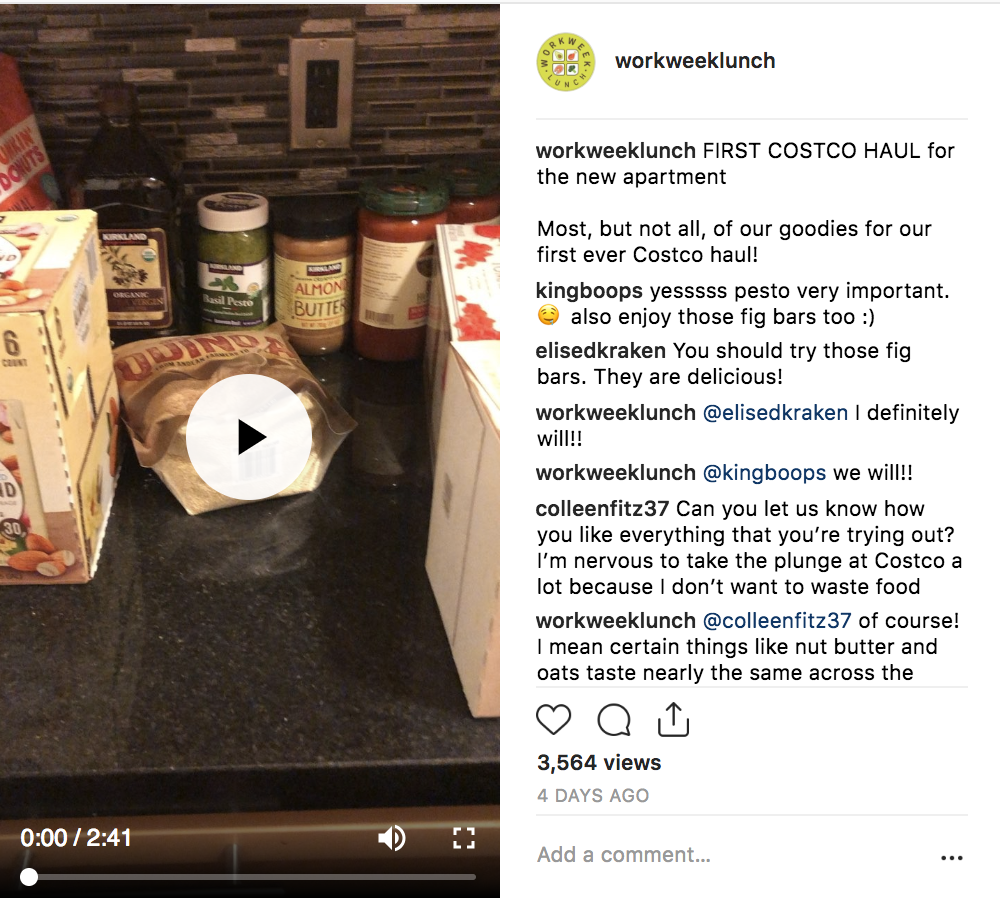 Costco recommendations from the Workweek Lunch Community:
Before my partner and I went to Costco on our first run, I asked the Workweek Lunch community for their recommendations of what to buy. It was super helpful!
So, we couldn't grab all of these items, but here's what came highly recommended that you should look out for next time you go to Costco.
These are broken down by section:
SNACKS & SWEETS
Almond coconut chocolate covered balls
Nuts in bulk for snacking on
Perfect bars (protein bars)
Sweet potato chips
Jumbo bags of popcorn
Hippeas (chickpea snacks)
Multigrain crackers
Fig bars
Brownie brittle
Rx bars (protein bars)
Turmeric lentil crackers
PRODUCE
Organic romaine 6 pack
Avocados
Mixed greens
Organic apples
Huge bags of broccoli florets
Salad packages
Vac packed beets
FROZEN
Gluten-free pizzas
Cauliflower pizza
Frozen veggies
Frozen fruit
Spinach chickpea patties
Morning Star veggie sausages
Edamame
Salmon burgers
Chicken cilantro wontons
REFRIGERATED/MEAT
Ground turkey
Rotisserie chicken
Chicken breasts
Bitchin' sauce (vegan condiments)
Sauerkraut
Tofu
Chicken sausage
Salmon
Eggs
Big chunks feta (to freeze)
Greek yogurt
Hummus
FOOD PANTRY
Peanut butter
Kirkland brand almond butter
Kodiak waffle/pancake mix
Chicken stock
Olives
Rice
Dave's killer bread
Flour
Sugar
Vanilla extract
Oats
Honey
Pesto
Banza pasta
Quinoa pasta
Quinoa
Olive oil
Coconut oil
Avocado oil
Wine
Nut milks (almond, coconut)
Black beans
Canned tomatoes
Lacroix
Beef jerky
Hemp seeds
Chia seeds
Pine nuts
HOUSEHOLD PANTRY
Paper towels
Toilet paper
Dish detergent
Laundry detergent
Kitchen trash bags
Sponges
Toothpaste
Got any more Costco recommendations? Drop them in the comments below!