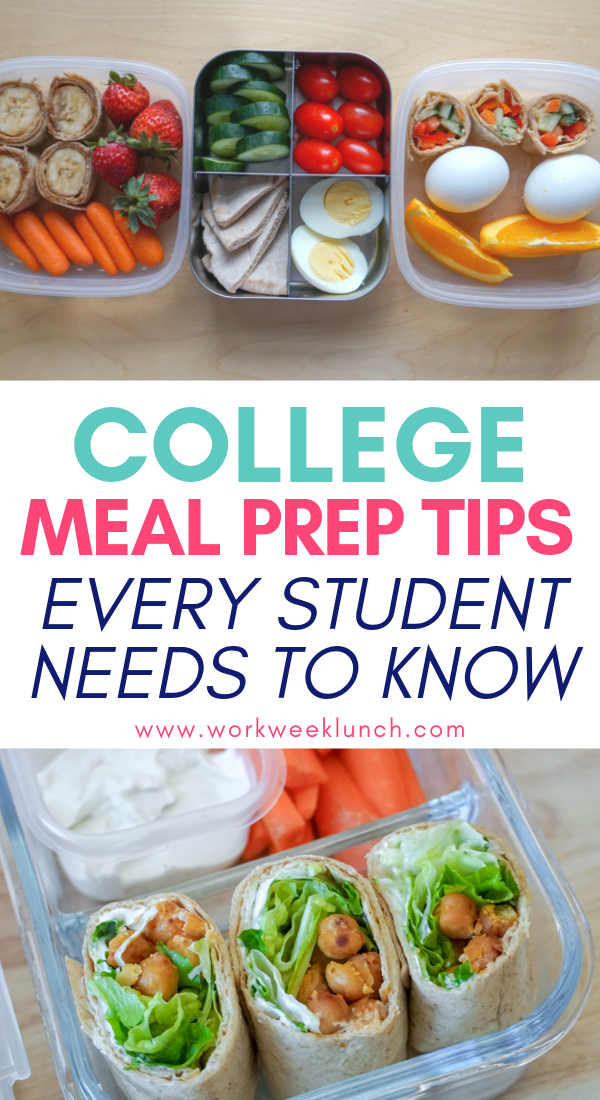 My freshman year of college was a blur of dining hall cookies, colossal calzones at 2 am, boxes of gluten-free cereal and burritos. Lots of burritos.
I knew how to eat healthy because I started educating myself about what a healthy diet looked like in high school.
The hard part was putting that knowledge to practice in the face of unlimited food in the dining hall.
If you're in college now or graduated already, you can probably relate.
Eating (healthy) in college can be a logistical nightmare when you're also dealing with studying, your social life, sleep and classes.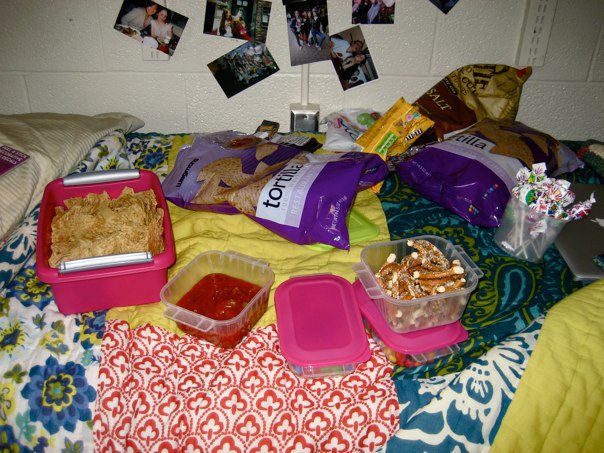 Everything in this post comes from what I wish I knew back in college when I had full autonomy over my food choices for the first time. I hope that if you're in college now (or going to college soon) this post helps!
Before we get into it, I want to let you know that you can get access to the full Workweek Lunch College Meal Prep Guide by signing up for the WWL Meal Prep Program for $7.99/month. The full college guide is complete with equipment recs, 83 college-friendly recipes/meal ideas, budget hacks, dining hall tips and so much more. Of course, the membership comes with weekly meal plans, grocery lists, a community and access to all WWL meal prep recipes. Learn more in the link above.
Why I Wish I Meal Prepped In College
Like every college student, I was busy with friends, classes, homework (sometimes…), a part-time job and lots of extracurricular stuff.
So when it came to food, I often found myself making not-so-great-choices in the dining hall, getting takeout and snacking on stuff from vending machines. My weight fluctuated like crazy and to "balance" my crappy diet, I tried to work off all the calories in the gym (that's NOT how it works, by the way).
I felt completely out of control around food and I think I spent way more energy than I needed to on food decisions.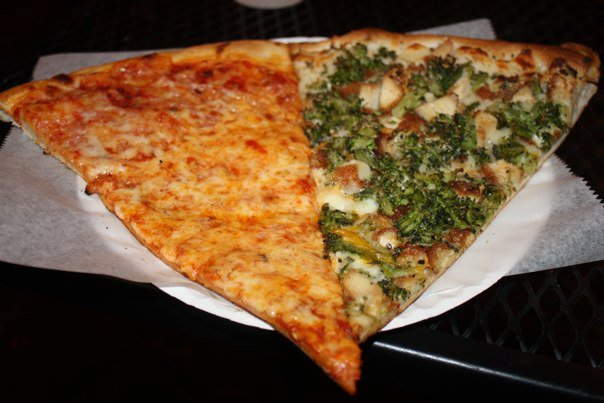 In my junior year, I had a small kitchen and learned how to cook some really basic foods on the Tone It Up workout plan that I dropped $160 on (I'm still mad about it – biggest waste of my money). I lived on egg white omelets, crappy tofu stir fries (I didn't know how to make food taste good back then) and grapefruit.
The worst part? I wasn't eating enough. And then I'd binge on pizza, calzones, Nutella, cereal, peanut butter right out of the jar and any snacks my friends would let me scarf down.
TL/DR: I was all over the place. 
Meal prepping in college would have helped me:
Save TIME by skipping the dining hall and not worrying about what to eat and when.
Eat healthier on a more consistent basis WITHOUT starving myself (and bingeing later)
Avoid fatigue during a long day of classes (which always ends up in a crappy food decision)
Save MONEY by avoiding the on-campus takeout options. It was either a $15 salad, $12 sandwich or a $7 box of greasy noodles. Ugh.
Not stress over food. Ever.
The food stress thing is huge.
In college, I wanted to be as thin as possible (while still eating every day) and food took up so much of my brain space and energy. I used to have a terrible body image and regularly got upset about my body. I thought that working out like a maniac would make me look different when my diet was the issue.
Meal prepping healthy meals would have helped me calm down around food a lot, think less about it and avoid the extra stress on top of all the other college stuff.
If you're overwhelmed with meal prep, have a full kitchen and want to give it a shot (without worrying about the planning and logistics part) I encourage you to check out the Workweek Lunch Meal Prep Program. It's a super affordable way to ease into meal prep and you can join/cancel any time. 
Where To Start With Meal Prep, Even If You Don't Have A Kitchen
I lived in a dorm the first two years of school, so I get it. Not having a (good) kitchen kind of sucks! Luckily, at Ithaca College, we had communal dorm kitchens on every floor with a fridge, oven, stove and storage. I remember that my friends had a microwave — so even though there wasn't one in the communal kitchen, I still had microwave access.
But I didn't use the communal kitchen to cook actual meals. Instead, I used it to cook CUPCAKES. Lots and lots of cupcakes. So if I knew about meal prep back then, it would have been doable.
Here are some ways to get around not having access to a full kitchen:
Make friends that have kitchens. I'm not kidding! I bet if you made a few extra goodies for them, they wouldn't mind.
Check out some microwave-only meals. Buzzfeed has an awesome list here.
If you can have a mini fridge in your dorm or room (if you share a fridge with lots of people in a house) DO IT. Best investment ever. You can grab one for under $60 on Amazon here.
You can do a lot with just a crock pot or Instant pot. If you don't have access to a stove or oven, this would be an excellent investment too. Here's a cheap crock pot (slow cooker) on Amazon. How easy would it be to throw in a bunch of ingredients and let it cook while you study or chill with friends?
Try some n0-cook meals. I have three vegan no-cook meal recipes here! You can make these on the cheap without a kitchen.
I don't want you to let not having full access to a kitchen stop you from eating healthy homemade meals!
Get creative. The sooner you start cooking, the sooner you'll become awesome at it.
Another thing I want to point out: you can meal prep snacks without a kitchen easily. Even having healthy snacks on hand can make a huge difference in the way you feel and your energy levels!
If you sign up for the Workweek Lunch Meal Prep Program, you'll get access to the official college meal prep guide complete with no-cook snack recipes. 
How To Carry Meals Around Campus (And What Type Of Meals Are Best)
When I asked my audience on Instagram what their biggest struggles were around college and meal prepping, being able to carry meals around all day was a BIG one.
I get it. You want to be able to carry meals around without lugging a gigantic lunchbox and you don't want them to go bad without being refrigerated AND they have to taste good without being reheated.
But that's not as tall of an order as it sounds. I hope these tips help!
Not all lunch bags are obnoxiously huge.
This is my favorite one from Lock and Lock that also comes with containers inside. It fits inside my backpack with my laptop and it's perfect for keeping meals cool all day with the help of an ice pack.
Consider researching "no reheat" recipes specifically.
If there's a type of recipe you need, I promise the internet has already taken care of it. Here's a bunch that I collected that would be great for meal prep on a college budget.
No Microwave? No Problem: Meal Prep Recipes You Can Eat Cold
I know that this isn't a possibility for many college students, but in my senior year I used to go home to eat meals. I lived fairly close to campus, had a car, and ate whatever (boring) salad I made that morning before class. If you can do this, I highly recommend it. OR if you have friends that live campus that would loan you some space in their fridge — that's an option too. Creativity is key. 
Balance: Is It Possible In College?
Let's say you have a kitchen and nothing is stopping you from meal prepping or cooking. But you don't want to just eat at home all the time, you want to grab brunch or dinner with friends too. You want to be able to spontaneously decide to get takeout without worry about wasting a meal that you already cooked (or ingredients on hand). Cooking for one is tough… so is it even possible?
Yes. I promise that it is.
Like anything else, it takes some time to learn how to fit meal prep and cooking into your lifestyle.
Let's get a couple things straight:
Meal prep IS the answer to cooking for one. If you make a batch meal, you end up using WHOLE ingredients (a whole can of beans, a whole zucchini, a whole thing of spinach etc). This helps you not waste ingredients (and money).
You do NOT have to meal prep breakfast, lunch and dinner like I do. You can choose one meal to prep to lighten the load a little, like just breakfast or just snacks. This helps you be more spontaneous and less "tied down" to cooking and staying in all the time.
Meal prep gives you so much more control over your diet. It helps you be more consistent, but you can also choose when you want to indulge. In making those decisions, you can find the best balance between eating healthy and eating the fun foods FOR YOU.
I believe balance is possible and it even becomes easier with meal prep in the picture. Keep in mind, just because you START something (like meal prep) doesn't mean you have to do it forever. Try for a week or two. See what happens. You literally have nothing to lose.
If you want help with the planning, or don't know where to start with finding good recipes and making a grocery list, you can get that all taken care of in the Workweek Lunch Meal Prep Program. Weekly meal plans, a support group and exclusive new healthy recipes for $7.99/month? That's a steal and it saves you even more time as a busy college student.
Note: this post contains Amazon affiliate links. This has no effect on the price of the items in the post, but by clicking on them you're supporting Workweek Lunch and helping us keep the meal prep magic coming to you!