These green enchiladas are always winners, whether you are using them for meal prep or a weeknight dinner. The flavors are bright, tangy, cheesy, and you can add some heat if you like spicy flavors! They are super easy to reheat in the microwave and are perfect for your freezer stash. Let's get into it!
Get more recipes like this in the Workweek Lunch Meal Prep Program with access to our meal planning tools, grocery list generator, and more. Start a free trial today!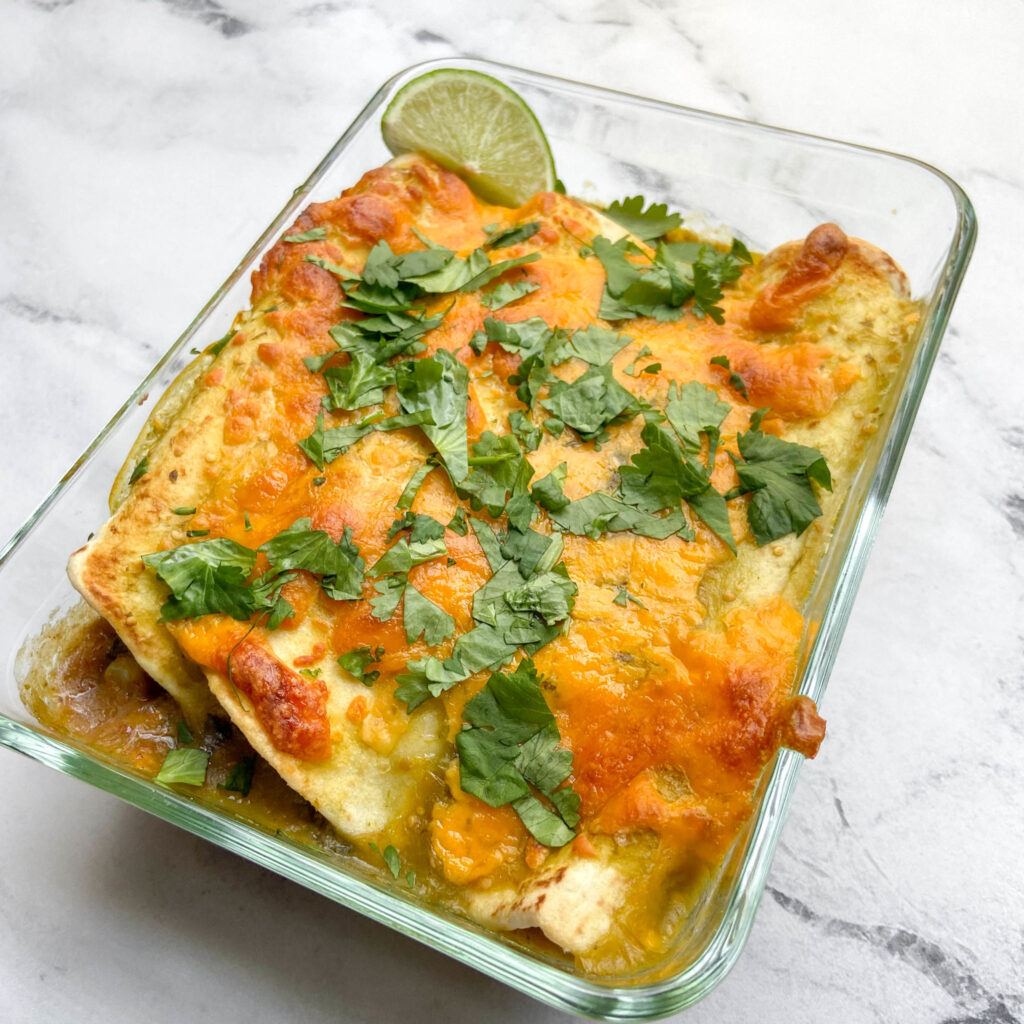 About these green enchiladas:
Here we're using salsa verde, canned diced green chilis (or jalapenos), black beans and corn, cheese, tortillas and some familiar spices like cumin, chili powder and paprika. In the veg version we're loading it up with spinach and in the omnivore version, we're using delicious shredded chicken. Note that you can use rotisserie chicken, but making it yourself will taste even better.
Have an Instant Pot?
This is a great opportunity to make the chicken in the IP if you want this to go faster. Add the chicken to the IP with the spices and about 1/2 cup of water. Pressure cook for 10 minutes on high and shred.
Pro tip: you can boil the excess liquid in the IP or the baking dish you're using if you're roasting the chicken for a few minutes and turn it into a sauce to toss with the shredded chicken for even more flavor.
Change the protein:
The protein in this recipe is shredded chicken. But you can use ground turkey or ground beef if you want. You can also add "meat" crumbles if you want to make these green enchiladas vegetarian. You can swap out black beans for any other bean you enjoy (red beans, pinto beans, chickpeas). Chopped-up mushrooms would also be a delicious protein-packed option.
Change the veggie:
This recipe calls for spinach (in the vegetarian and vegan versions) because it's easy and mixes well with beans, but you can swap that out for any other dark leafy green (swiss chard, kale, etc). You can also use mushrooms, peas, shredded carrots, chopped sweet potato, chopped bell pepper or zucchini would be easy options. You can also add some avocado on top when you are ready to eat!
Let's talk about the tortillas:
I love white flour regular tortillas because in my experience, they hold up well for meal prep, have great texture, are easy to work with and taste so good! We are using fajita-sized tortillas in this recipe. But if you want to use multigrain or whole wheat that works too. Gluten-free tortillas always work as needed!
If you can't find tortillas,I recommend mixing the ingredients with cooked pasta (then bake it) to make a similar ingredient meal.
Can't find Salsa Verde or want to make your own?
Here is a quick and easy recipe!
Is green enchilada sauce the same as salsa verde?
Technically, enchilada sauce is cooked, and salsa verde, or any salsa is raw. Here we are using a salsa verde for our base and in our filling.
If you want a classic sauce instead of green enchiladas:
Here are the ingredients to make it! Put all these ingredients in a small saucepan and cook on medium heat until everything is completely incorporated. It's super easy.
1 TBSP flour of your choice
2 TBSP olive oil
2 tsp chili powder
1/2 cup broth(veggie) or water
8 oz tomato sauce canned (I've used regular pasta sauce in a pinch!)
1 tsp onion powder
1 clove garlic minced
salt and pepper to taste
I can't wait for you to try these out!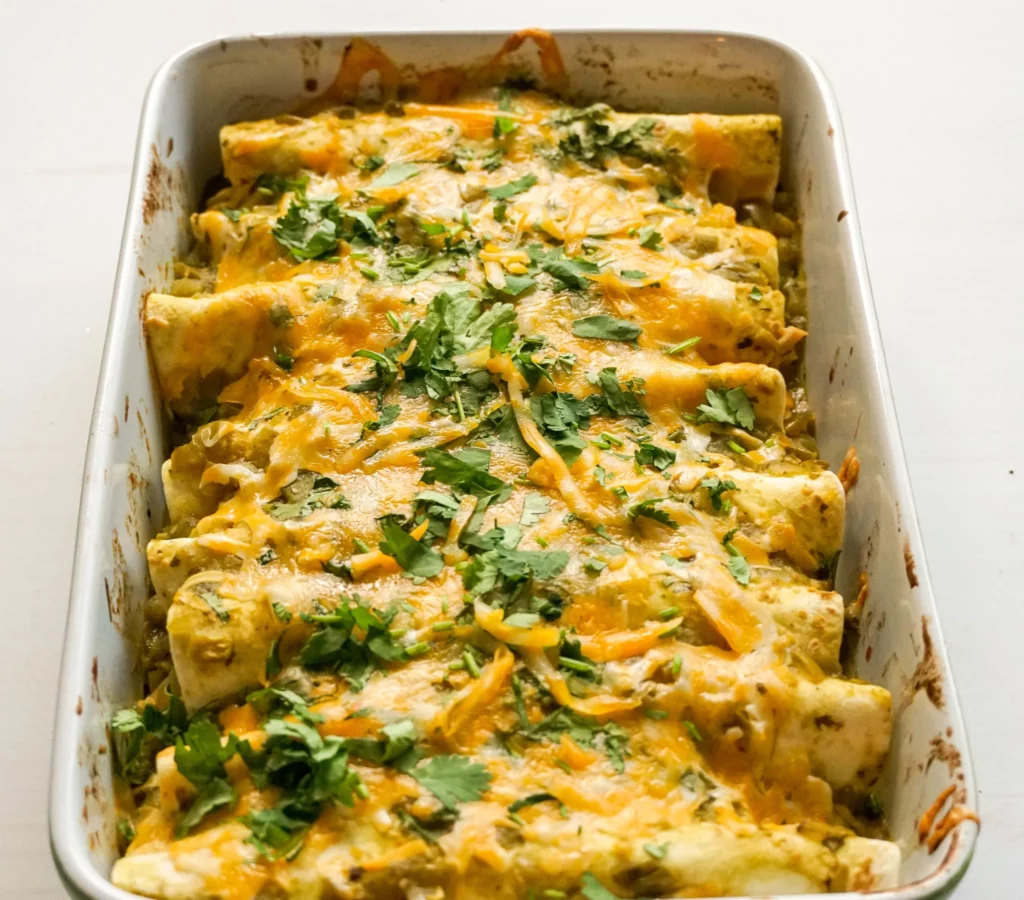 How to add more volume or double this recipe:
To double this recipe, simply double the ingredients! You'll need two baking dishes or you'll have to cook them in batches to get it done. To add more volume, start with adding another vegetable to your filling. I'd choose mushrooms, bell peppers or zucchini as easy, tasty additions. If you eat meat, you could also easily add more shredded chicken.
How to reheat these green enchiladas:
These enchiladas can last in the fridge for up to 4 days and they're freezer-friendly for up to 6 months! You can reheat them in the microwave, in the oven or on the stove. Happy prepping!
Other recipes to try out:
Vegetarian Black Bean And Spinach Enchiladas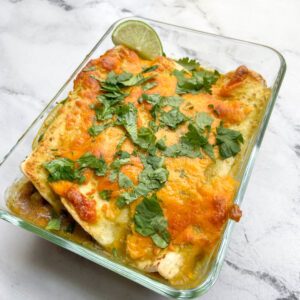 Green Enchiladas
Ingredients
For the Chicken
1

TBSP

olive oil

2

tsp

chili powder

1

tsp

paprika

1

tsp

cumin

1/2

tsp

allspice

sub cinnamon

salt and pepper

to taste

16

oz

chicken breast

chopped into big chunks
For the veggies and enchiladas
1

TBSP

olive oil

3

cloves

garlic

minced

4

oz

can of diced green chilies

drained

15

oz

canned black beans

drained and rinsed

2

cup

frozen corn

1

tsp

cumin

1/2

tsp

chili powder

1/2

tsp

oregano

salt and pepper

to taste

2

cup

shredded cheddar cheese

sub Colby jack or Monterey jack cheese, divided

16

oz

salsa verde

1

bunch cilantro

chopped, optional

cooking spray

9

fajita tortillas

1

lime

cut into wedges for garnish
Instructions
For the chicken: Preheat your oven to 400 F (If you have an IP, see notes below). In a small bowl or measuring glass, mix the olive oil with chili powder, paprika, cumin, allspice and a generous amount of salt and pepper. Add the chicken chunks to a baking dish and pour the spice/oil mixture over it. Toss the chicken in the mixture. Cover it with foil and bake for 30-35 minutes.

Meanwhile, heat the olive oil in a skillet over medium heat. Add the garlic, green chilies, black beans, corn, chili powder, cumin, oregano, salt and pepper. Mix well and cook for 10 minutes, stirring frequently. Add most of the cheese (save some for the topping), 1/3 cup of salsa verde (2/3 cup if doubling), and half of the chopped cilantro to the mix.

After the chicken is cooked, let it rest for 10 minutes and shred it. Add the chicken to the pan with the veggies and mix well. If the pan isn't big enough, transfer everything to a bowl.

Lower oven temp to 375 F. Prepare a baking dish (I used 9×13) with cooking spray (alternatively, bake right in your containers!). Coat the bottom of your container/s with salsa verde (about 1/4 cup for a large baking dish, or 1-2 TBSP for smaller containers). Scoop the chicken veggie mixture into the fajita tortillas and roll, placing seam side down in the container. Repeat until you're out of tortillas and/or filling. Aim for 2-3 enchiladas per meal.

Pour all the remaining salsa verde on top and spread it around on the tortillas. Add the remaining cheese on top and bake for 20-25 minutes, until cheese is melted and the dish is bubbling slightly. Top with some of the remaining cilantro and garnish with lime wedges. Let the enchiladas cool for about 15 minutes before separating them into containers. That's it!
DID YOU MAKE THIS RECIPE?
Please leave a comment below on the blog or share a photo with us and tag @workweeklunch! Can't wait to see what you made!