Before you get super skeptical about white bean chicken chili, hear me out first. I was skeptical initially as well, but the flavors and textures in this cozy meal prep won me over instantly.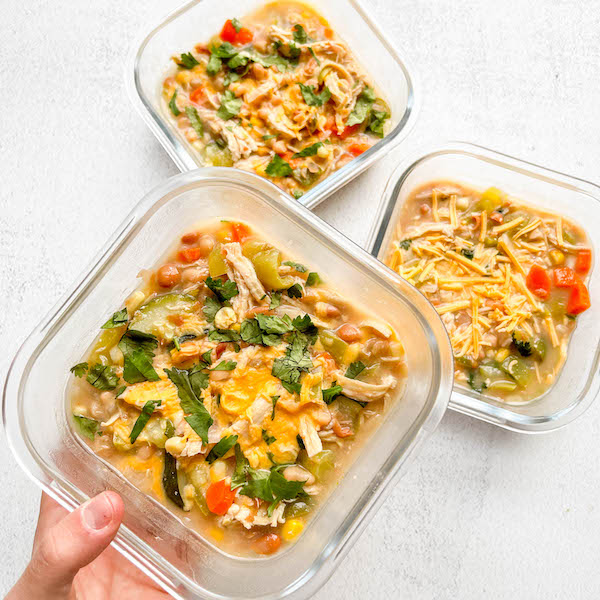 What is white chili? It's basically regular chili, but instead of tomatoes, it's got loads of cream — depending on the recipe. This one doesn't include cream! Instead, we're using white bean puree to get that thick texture. I have nothing against heavy cream or milk in recipes. The truth is that I have never successfully used up a whole thing of heavy cream before it spoils… and that's why I refuse to buy it for meal prep recipes. My goal for YOU is to use up nearly everything you buy, and everything leftover should be able to sit in your fridge or pantry for a while. You might be wondering… what about coconut milk? To be honest, I couldn't wrap my head around coconut milk in this chili recipe, but if you want to try it, be my guest!
Get more recipes like this in the Workweek Lunch Meal Prep Program with access to our meal planning tools, grocery list generator, and more. Start a free trial today!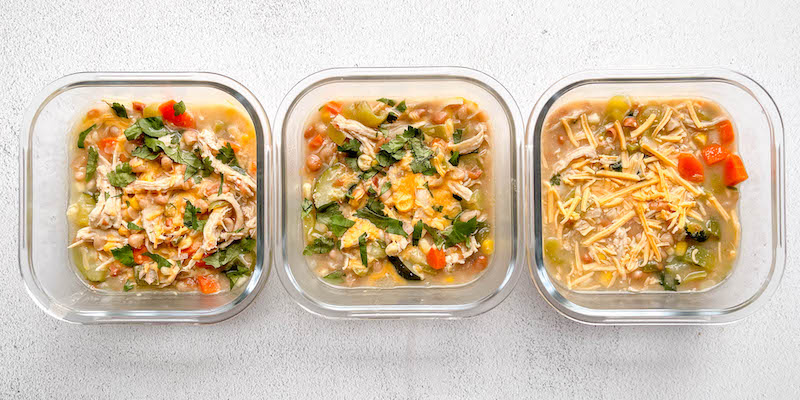 Let's talk about adjusting this white bean chicken chili
Pick your protein: This recipe is written with shredded chicken. If you want something different, you can try ground turkey, chickpeas, pinto beans, or more white beans for protein! If using ground turkey, brown the meat in the pot with salt, pepper, onions, and garlic before adding the rest of the ingredients.
Pick your veggies: Here we have corn, bell pepper, and green onion as our main veggies. You can add/replace them with chopped poblano peppers, chopped green beans, peas, shredded brussels sprouts, spinach, kale or swiss chard, and red onion. You can add tomatoes too, but then it's not really white chili anymore!
The one thing that probably shouldn't change in this recipe: The white bean base is a major component in this recipe and I personally wouldn't replace it! If you're really not into white beans, I suggest using the veggies/protein you picked in a different chili recipe with a tomato base instead.
Extras: Cilantro, chopped jalapeno, crumbled tortilla chips, avocado, and shredded cheese make excellent additions to this chili! Feel free to top the chili off with any of these and you'll be good to go.
How to add more volume to or double this recipe:
To double this white bean chicken chili, simply double the ingredients! You may need to do it in batches or use a really big pot. To add more volume to this recipe, start by adding more veggies. I suggest adding spinach, green beans, or peas as a good place to start. Another idea would be adding some cooked quinoa or wild rice to the chili to make it more filling.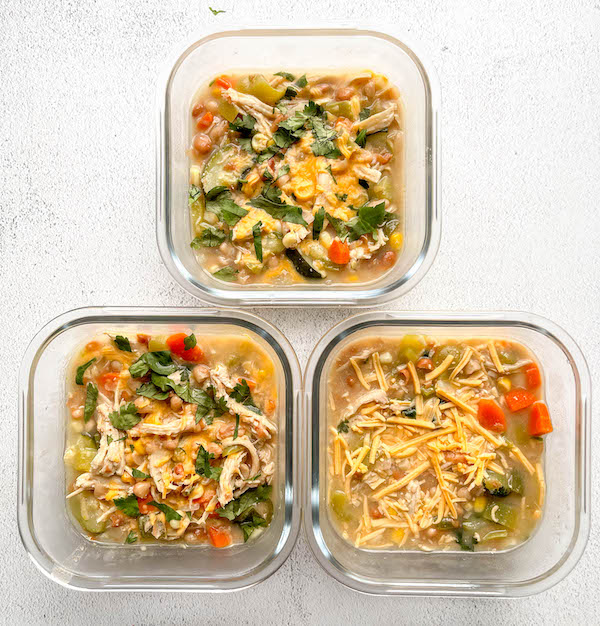 How to store & reheat this white bean chicken chili
This white chili lasts for up to 5 days in the fridge and it's freezer friendly for up to 3 months! It reheats well in the microwave or on the stove. If you freeze it, you can thaw it out in the fridge overnight then reheat it quickly in a pot on the stove for best results. I also recommend adding 1/4 cup of shredded cheese on top before heating up! Happy prepping!
Other recipes you'll love:
The Best Slow-Cooked Beef Chili Recipe
Soul-Warming Chipotle Sweet Potato Chili
Homemade Chicken Noodle Soup (Freezer-Friendly!)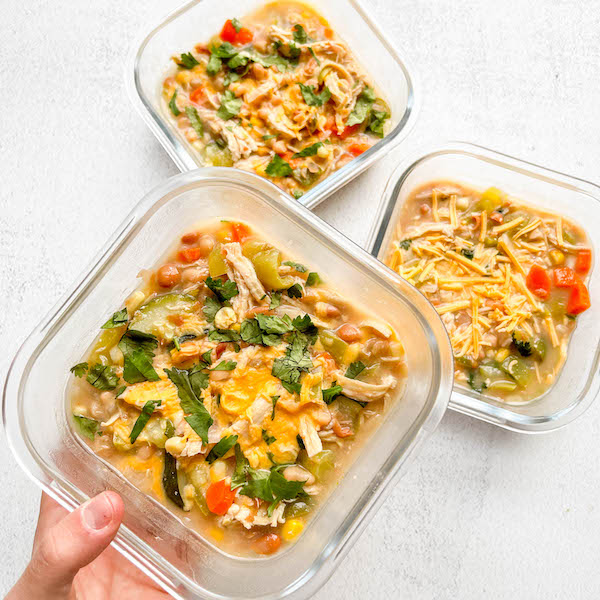 White Bean Chicken Chili
Ingredients
3

TBSP

olive oil

divided, for the chicken, white beans and chili

16

oz

chicken breast

30

oz

can cannelini beans

1

TBSP

water

1

red bell pepper

chopped

2

clove

garlic

chopped

1/2

yellow onion

chopped

2

cup

broth

or water

15

oz

can of corn

drained and rinsed

1

jalapeno

seeded and chopped

1

tsp

onion powder

salt and pepper

to taste

1/2

tsp

chipotle powder

1

lime

cut into wedges

1

bunch cilantro

chopped

1

cup

shredded cheese

any kind of your choice
Instructions
Add 1/3 of the olive oil (1 tbsp if using recipe as written) to a large pot, followed by the chicken breast and salt to taste. Cover the chicken with water and bring to a low boil, then reduce to a simmer and cover. Let the chicken cook for 15-20 minutes (until it's not pink in the middle), then remove it from the pot and set it aside to rest. Rinse out the pot.

Puree the beans: Rinse and drain half of the beans and add them to a food processor or blender. Add salt, another 1/3 of the olive oil (1 tbsp if using the recipe as written) and 1 TBSP water to the processor/blender and process until smooth. Set the bean puree aside.

Add the remaining olive oil (1 tbsp if using the recipe as written) to the large pot over medium heat, followed by the chopped onion, bell pepper and garlic. Cook and stir occasionally for about 5 minutes, or until fragrant. Add the broth, bean puree, corn, jalapeno, onion powder, salt, pepper and chipotle powder. Rinse and drain the other can of beans and add it to the pot as well. Give it a good stir and bring the chili to a low boil, then reduce to a simmer. Cook uncovered for 15-20 minutes.

Taste the chili and adjust spices/seasonings as needed. Squeeze half a lime over the pot and add the cilantro, cooked chicken and cheese, then divide the chili into your meal prep containers. Use the remaining lime wedges and any remaining cilantro as garnishes.
DID YOU MAKE THIS RECIPE?
Please leave a comment below on the blog or share a photo with us and tag @workweeklunch! Can't wait to see what you made!