I'm sure you've seen the viral lasagna soup on Instagram or TikTok by now. It is no surprise that a recipe like this got so popular, it has been a WWL member favorite for years. And what's not to like about your favorite pasta casserole, in soup form?
Get more recipes like this in the Workweek Lunch Meal Prep Program with access to our meal planning tools, grocery list generator, and more. Start a free trial today!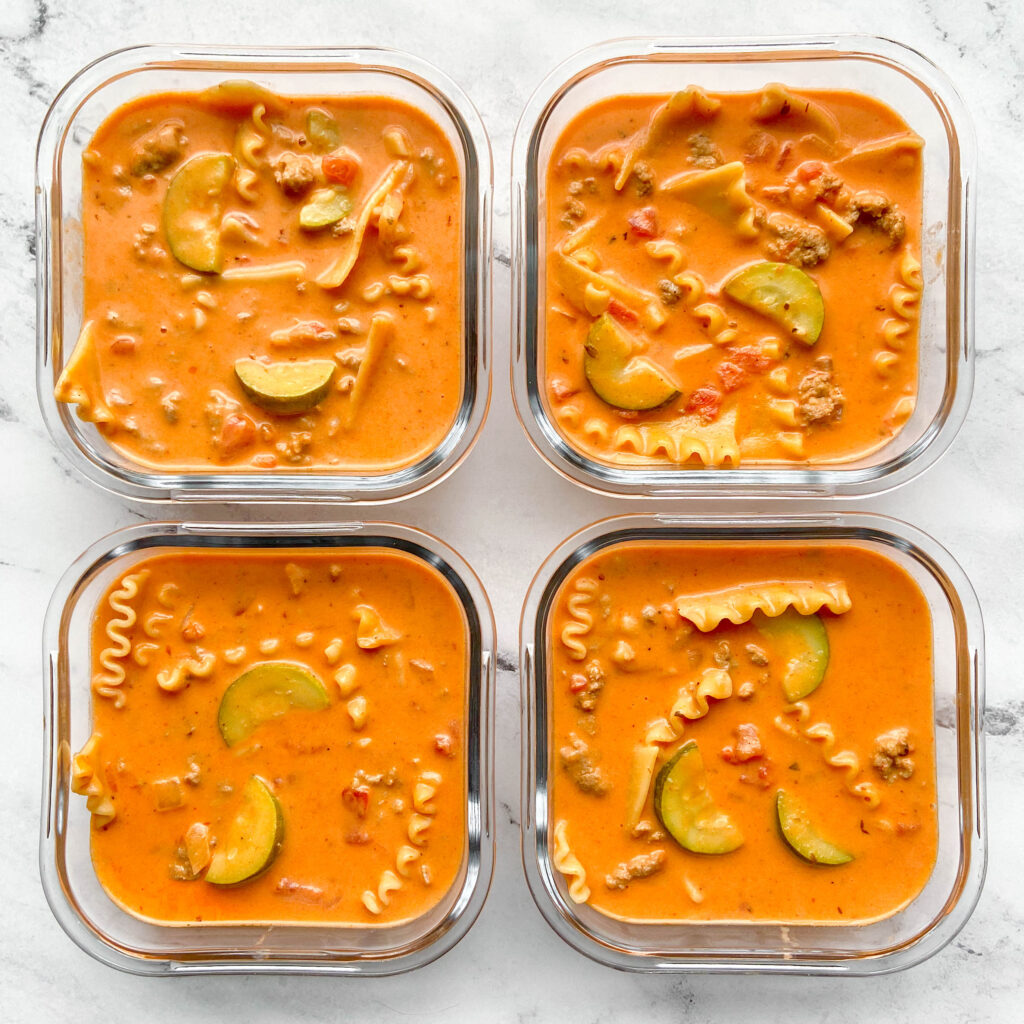 Veggies that would be delicious in this meal:
Eggplant
Mushrooms
Summer squash
Cauliflower, broccoli
Fresh tomatoes of any kind
Spinach, kale and chard (we're using kale in this)
Peas
Artichoke
Bell peppers
See what you have in your fridge/freezer and just throw it in!
Related: The Best Soup Recipes You Can Meal Prep
Switching up the protein
Ground "meat" is an easy choice for this (I love Beyond ground "meat"), but you can absolutely use white beans instead or add 2-3 cups more of veggies if you want to make this lasagna soup vegetarian. Use ground beef or chicken instead of ground turkey if you like it more or have it one hand.
Making this dairy-free
Instead of heavy cream, use your favorite non-dairy milk as well as vegan shredded cheese!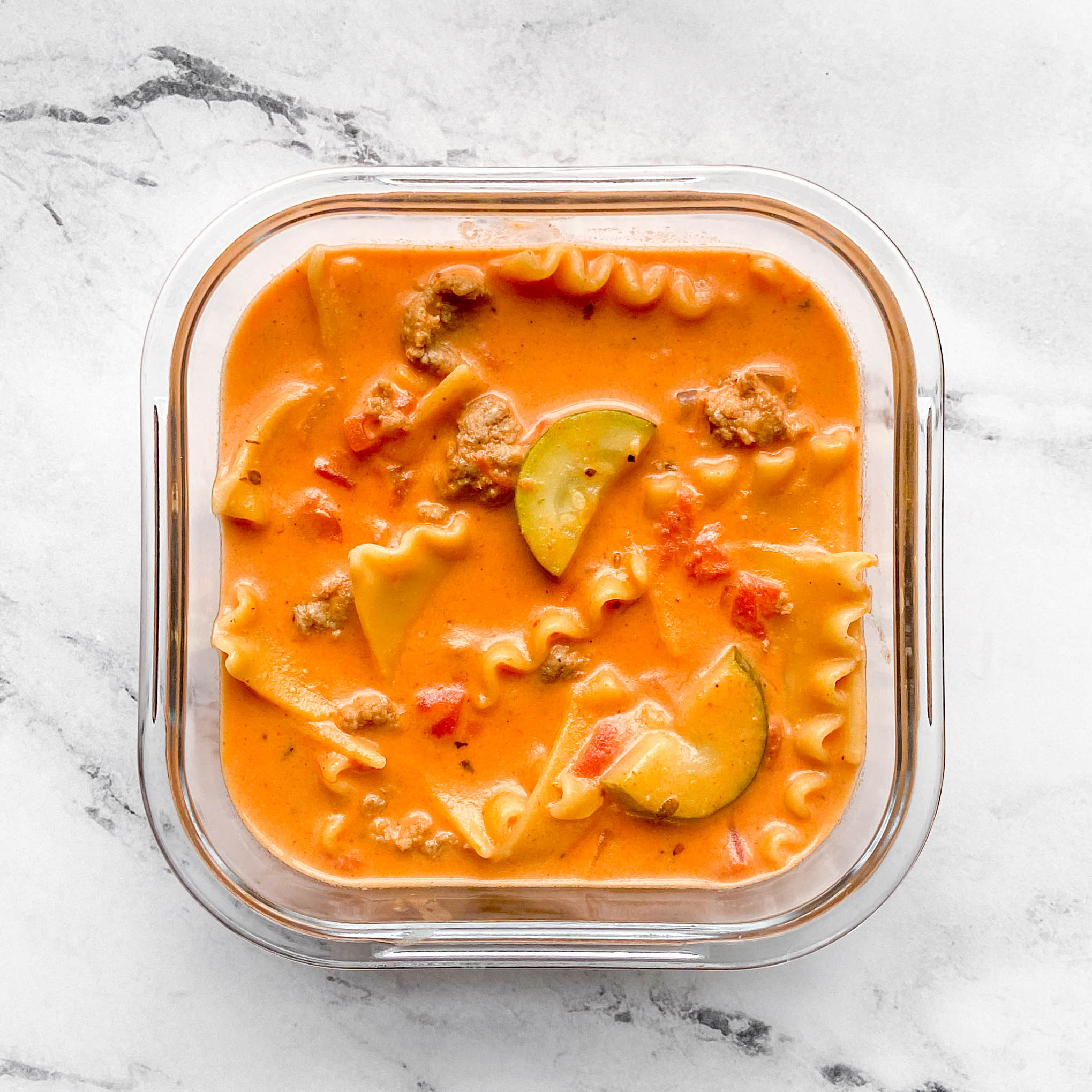 Making this gluten-free
Aim for gluten-free lasagna noodles if you can find them! In a pinch, any "big" pasta that's gluten-free can work. Shells, big rigatoni, whatever you can find.
Pro-tip: An easy way to break the lasagna noodles is to put them in a gallon bag. This keeps all the little pieces from flying all over the place!
Add-ons
If you want an even cheesier experience, you can serve this soup with a dollop of ricotta cheese on top.
Crusty bread is another great addition.
Top this soup off with fresh basil and/or a sprinkle of parmesan cheese!
Feel like making croutons?
Take some fluffy bread (I used an Italian roll), chop it into cubes, drizzle with olive oil and bake in the oven at 350 F until they get crispy or start to dry out – about 20 minutes.
How to store & reheat this lasagna soup
This soup is good in the fridge for up to 5 days. It reheats best in the microwave or on the stove. Keep croutons separate at room temp if you make them. You can freeze this soup for up to 6 months in an airtight container, and even longer if you use something like Souper Cubes to freeze it in to avoid freezer burn. If you freeze it, you can thaw it in the fridge overnight, in the microwave or in a pot on the stove. Happy prepping!
Other soup recipes you'll love: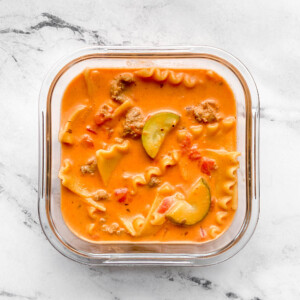 Easy Lasagna Soup
Ingredients
1

TBSP

olive oil

16

oz

ground turkey

sub ground chicken or beef

1/2

yellow onion

chopped small

1 1/2

tsp

salt

1/2

tsp

black pepper

1 1/2

tsp

garlic powder

1

tsp

oregano

15

oz

tomato sauce

15

oz

can diced tomatoes

4

cups

chicken broth

sub water or veg broth

8

lasagna noodles

broken into bite-sized pieces

1

zucchini

cut into thick half-moons

4

tsp

granulated sugar

optional

1

cup

heavy cream

sub milk

1

cup

shredded mozzarella

optional
Instructions
Heat a soup pot over a medium flame for 1-2 minutes. Add the olive oil, turkey and onion. Cook for 3-5 minutes, then add the salt, pepper, garlic powder, and oregano. Cook until the turkey is completely browned, about 3-5 minutes more. Drain any excessive grease over the sink.

Add the tomato sauce, diced tomatoes (the whole can), and chicken broth and stir well. Increase the heat and bring to a boil. Add the broken lasagna noodles and stir. Cook for 7 minutes until the pasta is softened, reduce the heat to a gentle boil, and add the zucchini. Cook for another 3-5 min until the noodles are fully cooked and the zucchini is tender. If the soup tastes too sharply acidic (depending on your tomatoes), add the granulated sugar one teaspoon at a time.

Stir in the heavy cream and mozzarella. Simmer 2-3 minutes until the cheese is fully incorporated. Divide the soup into meal prep containers and let them cool for 15-20 minutes before storing in the fridge or freezer!
DID YOU MAKE THIS RECIPE?
Please leave a comment below on the blog or share a photo with us and tag @workweeklunch! Can't wait to see what you made!