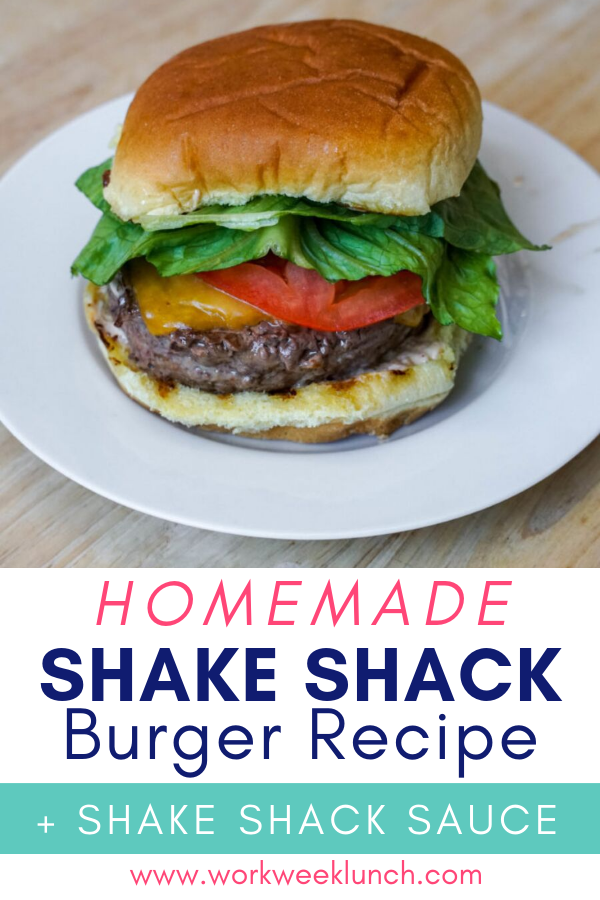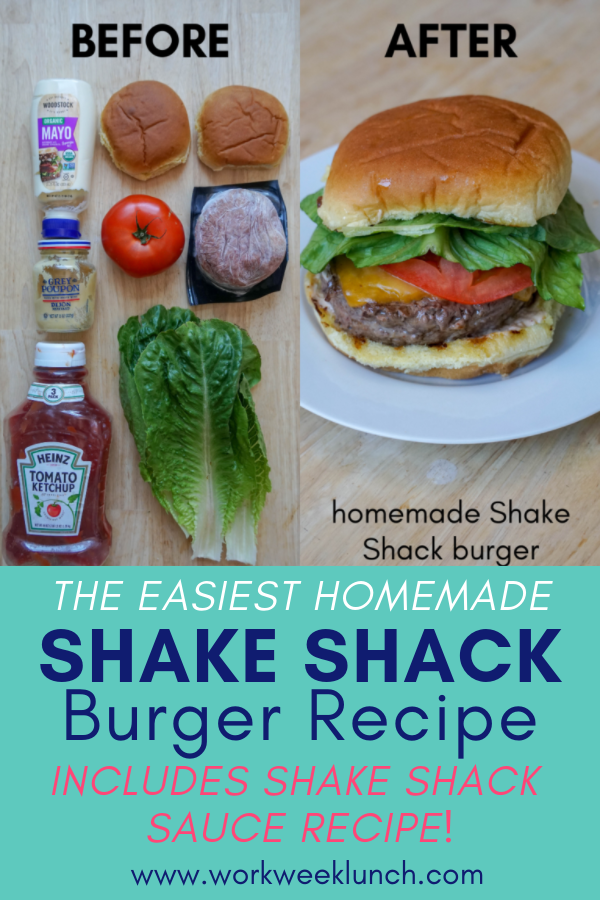 I can't stress the importance of learning how to make your favorite takeout meals at home. That's why I love this homemade Shake Shack burger recipe. It proves that I can eat my FAVORITE burger anytime I want, without waiting in crazy lines!
Ready to take it for a spin?
PS- this recipe was not sponsored by Shake Shack. I just love their food.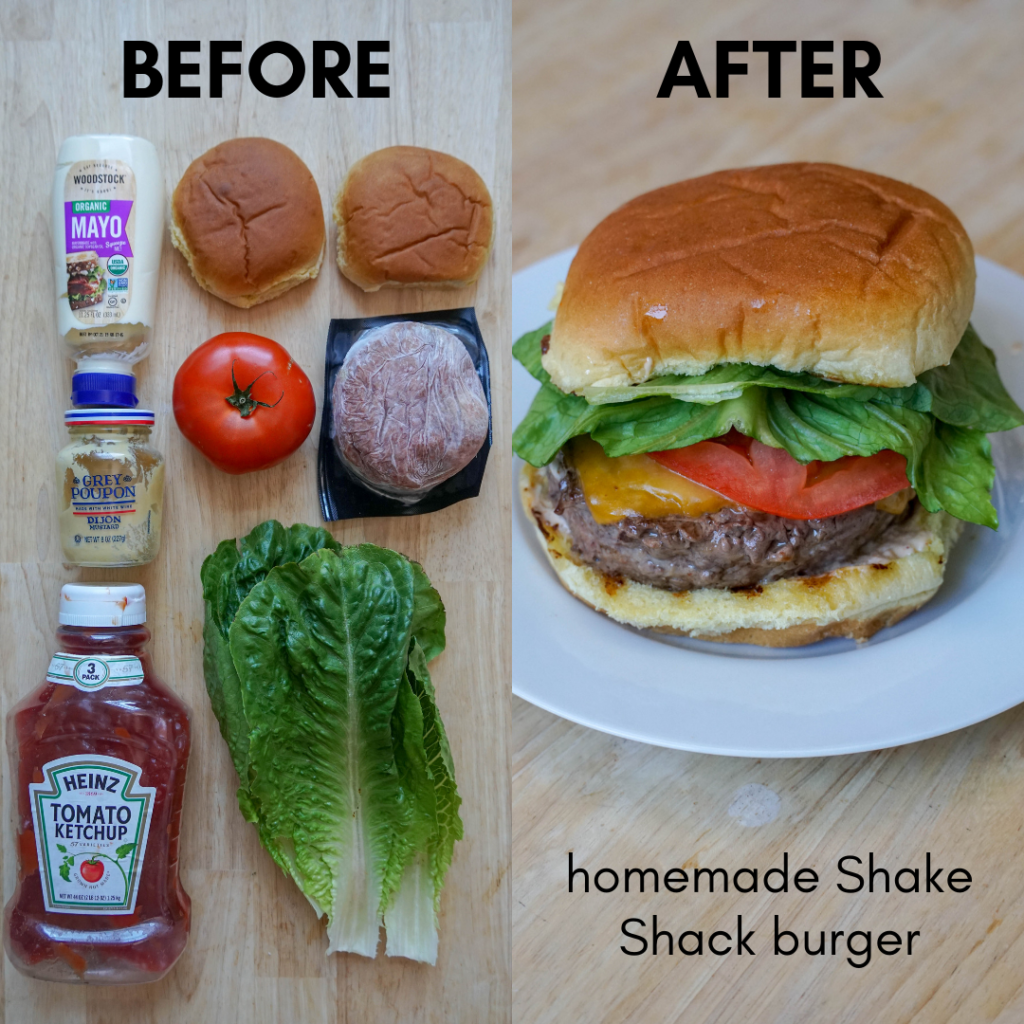 What you need to know about this homemade Shake Shack burger recipe:
Traditionally, Shake Shack burgers have thin-ish beef patties (not as thin as other takeout chains though). I used beef patties from ButcherBox that were pre-made, but you can make your own with ground beef! You can also try this with turkey burgers, chicken burgers and veggie burgers of your choice.
As always, fixin's are optional. Lose the tomato, lettuce and cheese if you must. Other ideas: caramelized onions, regular onions, pickles, pickled jalapeno, avocado, and whatever else you normally like to put on your burger. Are these traditional? No. But if it makes you enjoy this meal more, that's all I care about.
Vegan? Use a veggie burger, non-dairy mayo and non-dairy cheese slices.
Gluten-free? Use a gluten-free bun.
I can't wait to see you make these your own!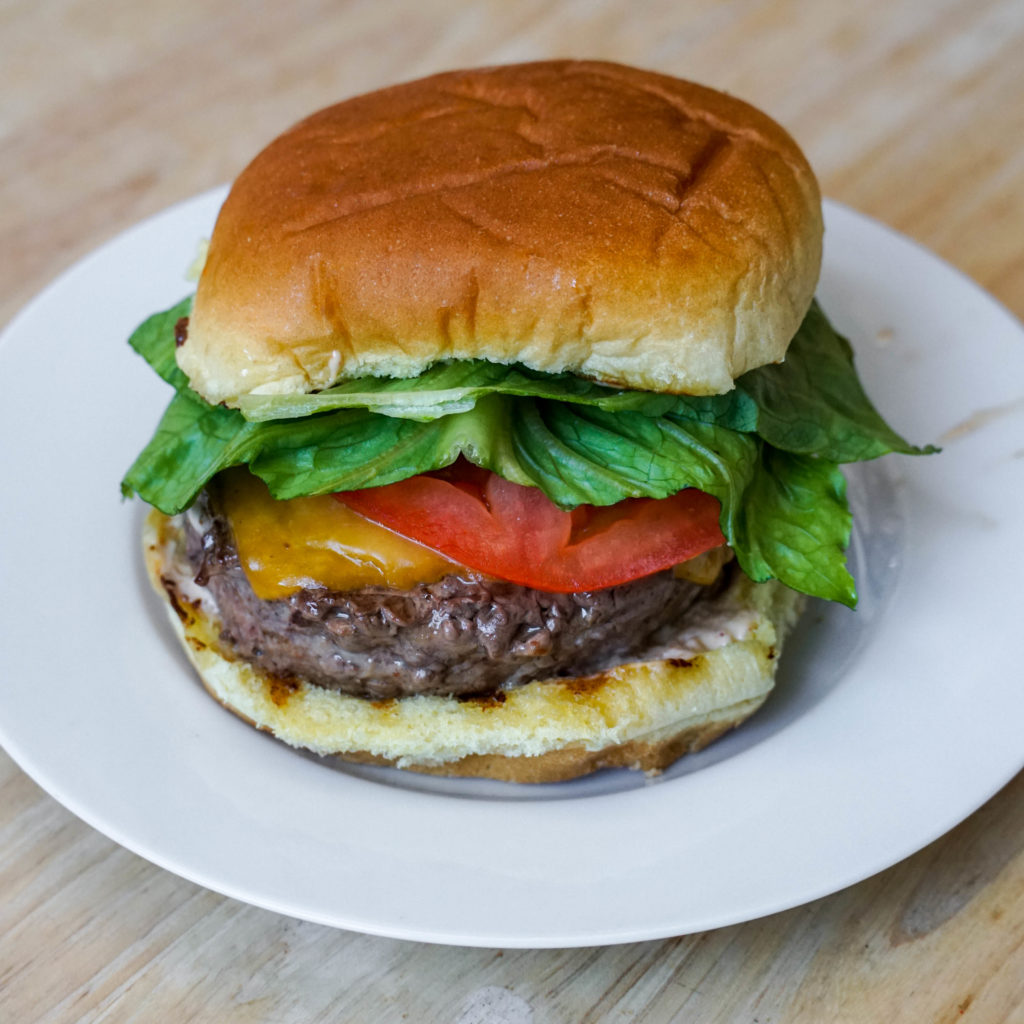 Ok, this is not a meal prep recipe. I would not advise meal prepping these burgers. Think of this as a fun summery recipe to pull out when you feel like you need to shake things up! (pun intended)
Happy grilling!
New to Workweek Lunch?
Hey! Welcome.
So there are a few things to know about my recipes. One, I will never, EVER drone on and on about the meaning behind a recipe or what I did at my grandpa's house last summer blah blah. My recipes are always quick and to the point, providing only what you truly need to know.
This Shake Shack burger recipe is free, but the majority of my recipes (over 250 of them) are available only to members of the Workweek Lunch Program, a meal prep planning subscription service that I offer for $7.99/month. Learn more here.
Lastly, I love seeing what you cook. So feel free to share your meal prep photos with me on Instagram by DMing me at @workweeklunch or using hashtag #workweeklunch.
Talia's Favorite Homemade Shake Shack Burger
Ingredients
For sweet potato fries (optional)
1

medium

sweet potato

chopped into wedges

1

TBSP

olive oil

salt and pepper to taste
For the sauce
1/2

cup

mayonaisse

sub vegan mayo if needed

2

TBSP

ketchup

1

TBSP

dijon mustard

sub yellow mustard

1

tsp

rice vinegar

sub lemon juice or pickle juice

1/2

tsp

onion powder

1/4

tsp

paprika

1

pinch

cayenne

optional
everything else
2

beef burgers

sub veggie burgers

2-4

slices

American cheese

sub cheddar cheese slices

2

potato buns

sub any kind of bun you like

4

slices

tomato

4

leaves

romaine lettuce

torn into bun-sized pieces

pickles

optional
Instructions
If making sweet potato fries: preheat your oven to 400 F. Toss the potato wedges in a bowl with olive oil, salt and pepper. Pour onto a baking sheet, spread them out so they have room and place the sheet on the bottom rack of the oven. Bake for 15-20 minutes, flipping halfway.

Make the sauce: combine all the sauce ingredients in a bowl. Taste and adjust flavors as needed! Set aside.

Grill or cook your burgers in a pan: Salt each side of the burger before cooking. We cooked ours with a splash of avocado oil (it has a higher smoke point) on a grill pan but you can use a little olive oil too. Make sure the pan, if you're using one, is VERY hot. Cook burgers according to your preferred level of done-ness. Add cheese slices on top in the last few minutes of cooking.

Assemble the burgers! On the bottom half of the bun, spread a generous amount of sauce. Then add the cheese-covered burgers, followed by pickles if using, tomato, lettuce and finally, the top part of the bun. (I slathered more sauce on the other bun before topping the burger with it! Enjoy immediately with a milkshake and a side of sweet potato fries if desired.
DID YOU MAKE THIS RECIPE?
Please leave a comment below on the blog or share a photo with us and tag @workweeklunch! Can't wait to see what you made!