This meal prep combines so many delicious Mediterranean flavors in a way that's familiar and cozy! Burgers are such an easy way to incorporate new flavors and they're simple to make at home. I can't wait for you to try this!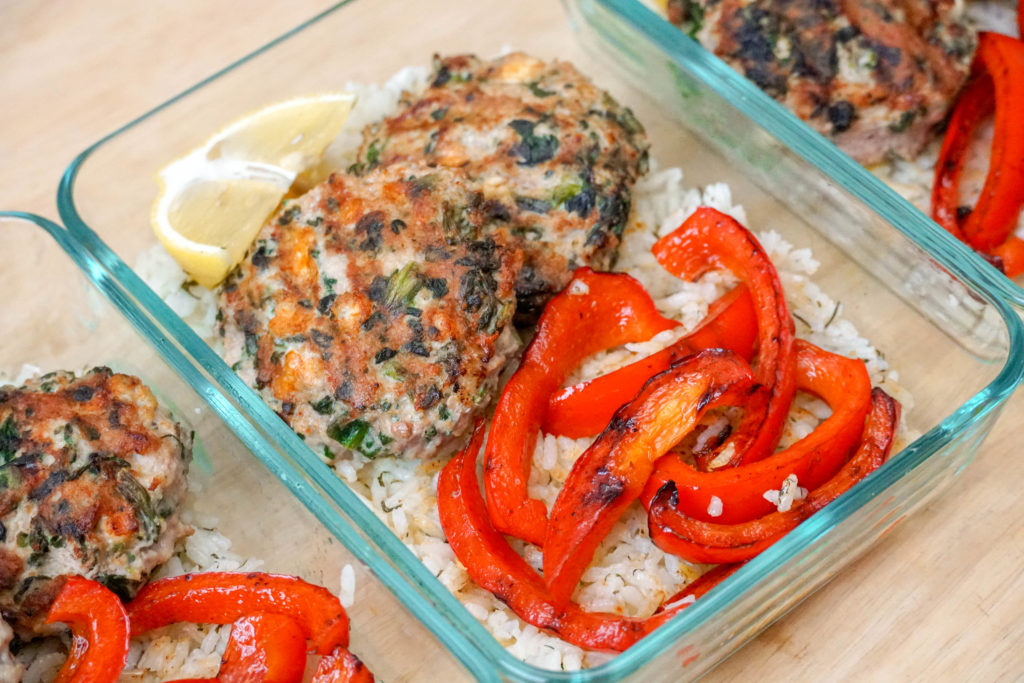 The main ingredients in this recipe are rice, ground turkey and red bell peppers. We're using a spinach feta flavor profile in the burgers and a lemon dill profile in the rice. The lightly charred bell pepper adds some flavor and extra color to the meal and ties it all together nicely!
How to customize this meal:
You can swap ground turkey for ground chicken or beef!
Spinach works great in the burgers, but you can swap it for chopped parsley or steamed and chopped kale
Not into feta? Try gorgonzola, goat cheese or blue cheese
Dairy-free? Use chopped and pitted kalamata olives instead of feta cheese (1/2 cup)
Not into bell peppers? Any vegetable will work in this meal. Really, any. My picks would be broccolini, asparagus, green beans, brussels sprouts or cauliflower.
Don't like rice? Use quinoa, farro or couscous instead. You can also swap white rice with brown if you're into that!
Don't like/don't have dill? Swap it with sage or parsley in the rice.
See? There are so many ways you can tweak this recipe to make it your own without screwing it up at all.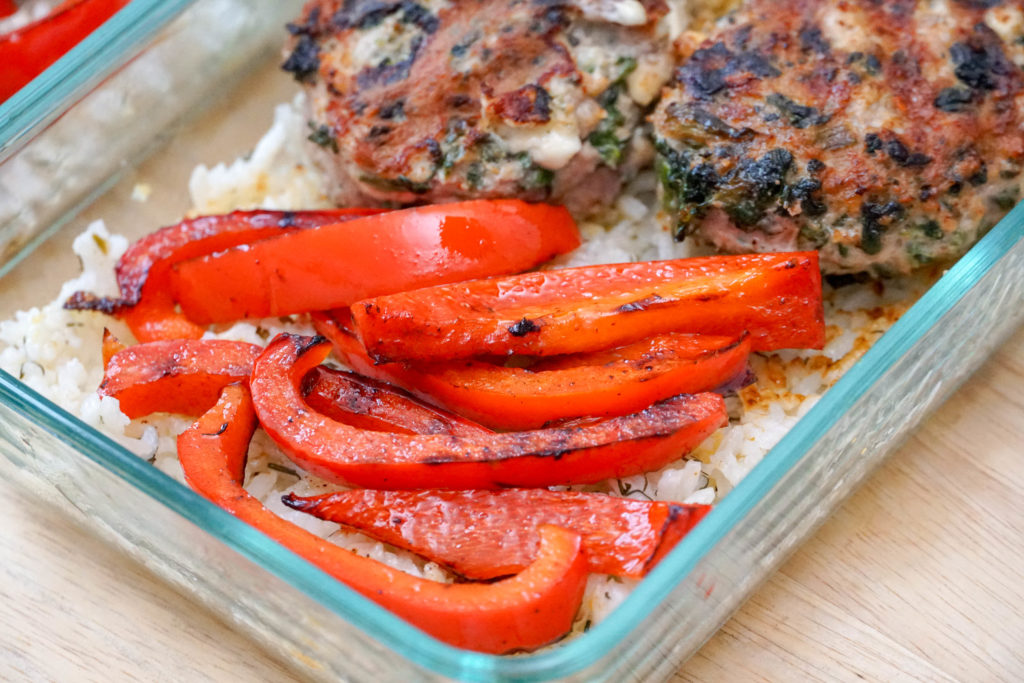 Storage & reheating notes:
This meal can last in the fridge for up to four days. It's not freezer-friendly. I recommend reheating it in the microwave or on the stove.
Happy prepping!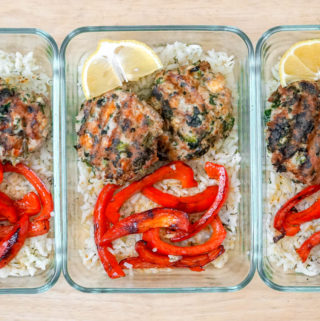 Spinach Feta Turkey Burgers With Lemon Dill Rice
Ingredients
For the burgers
16

oz

ground turkey

sub ground chicken

1/2

cup

feta cheese

sub blue cheese, gorgonzola, goat cheese

1

cup

frozen spinach

thawed, squeeze the water out

1

clove

garlic

minced

1/2

tsp

salt

1

TBSP

olive oil
For the rice
1

TBSP

olive oil

1/2

tsp

salt

1-1/2

cup

water

3/4

cup

rice

sub farro or couscous

2

tsp

dried dill

sub 1 TBSP fresh dill if you have it

1

lemon

wash it well (for zest)
For the bell peppers
1

TBSP

olive oil

1

large

red bell pepper

chopped into strips

salt and pepper to taste
Instructions
Start the rice: add the rice and olive oil to a pot over medium heat. Stir to combine and let the rice toast for 5 minutes. Then add the water and dill. Stir once, then bring to a boil. Cover, reduce to a simmer and let it cook for 10-15 minutes. Turn off the heat and let the rice steam for an additional 10 minutes. Uncover it when it's done and let it sit/cool a bit.

In a bowl, add the ground turkey, feta, drained spinach, garlic and salt. Mix well to combine. Form 6 small or 3 large patties with your hands and place them on a plate. To make it easier, let the mixture chill for a few mins in the fridge (otherwise it's pretty sticky) before forming the patties.

Heat a nonstick skillet, cast iron skillet or grill pan over medium heat for 3-4 minutes. Add 1 TBSP olive oil (or a high heat oil if you have it, like coconut or avocado oil) and let it warm up for 2 minutes. Then add the patties to the pan. Cook on each side for 5-7 minutes over medium heat depending on the size. When they're done, they should be pretty firm, but not hard, to the touch. Remove from the pan and set aside.

In the same pan, add 1 TBSP over medium heat. Add the bell pepper strips with a little salt and pepper, then turn up the heat to medium-high. Stir/flip the peppers every few minutes until they're done to your liking! I cooked mine for about 10 minutes.

Finish the rice: to the rice, add 1 tsp of lemon zest (2 if you doubled the recipe) and juice from 1/2 a lemon. Mix with a fork, taste and adjust flavors if needed (I added more salt). Cut the remaining lemon into wedges for garnish.

Assemble: Add a layer of rice to each container, followed by the burgers, bell peppers and lemon wedge for garnish. That's it!
DID YOU MAKE THIS RECIPE?
Please leave a comment below on the blog or share a photo with us and tag @workweeklunch! Can't wait to see what you made!