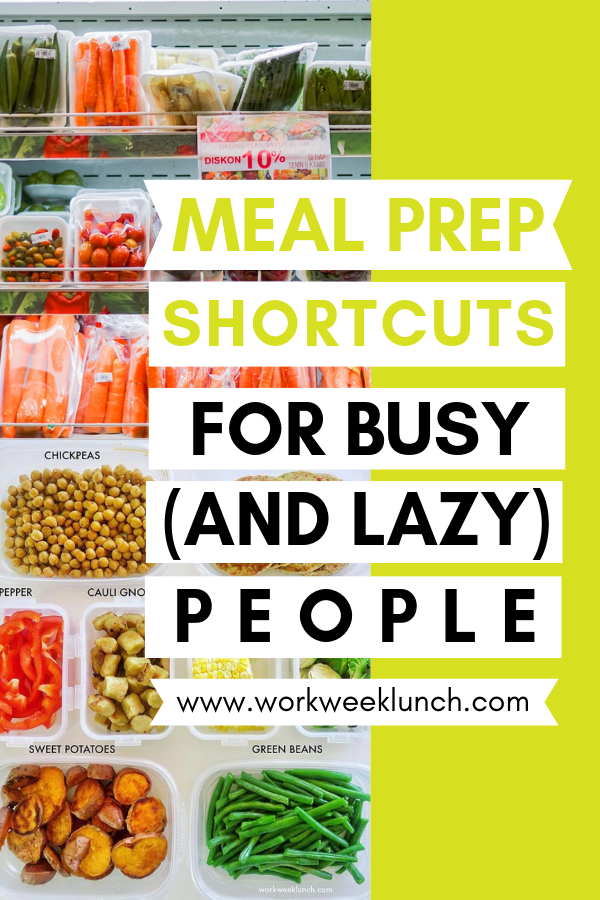 If you've followed Workweek Lunch for any length of time, you know that meal prep doesn't have to be a sadistic activity that takes hours and hours of your precious free time. In fact, most of the meal preps you'll see Talia post take around two hours – not even 2% of your week!
That said, we've all had one of "those weeks." You know, the ones where you're hard-pressed to find time to sleep, let alone cook a meal. The ones where work or school or taking care of family completely rules all of your decisions and leaves you wondering how it's already the weekend.
We've all had one of "those weeks." We also have all had Lazy Weeks, where you know future you will thank you for meal prepping, but jeez, two hours in the kitchen (plus shopping time, ah!) sounds like torture.
So whether you're crazy-busy or just want to get back to Netflix faster (been there), we've got the tips that will keep your prep time short, but the results just as tasty.
Best Meal Prep Shortcuts
At the Store
Get Your Groceries Delivered
I enjoy grocery shopping, provided I can get there at 10 am on a weekday when the aisles are blissfully empty and the shelves are fully stocked. Grocery shopping on the weekends, though? Nope nope nope.
Maybe you hate grocery shopping no matter when you go. If you can afford a small fee (between $5-10, depending on location), then you can afford the lavish life of grocery delivery (or at least try it out). Many grocery chains offer their own grocery delivery service, or you can order non-perishable items online through companies like Instacart, Prime Now or Thrive Market. I'm also a big fan of Butcher Box because picking out meat is actually kind of stressful for me? Whatever, I'm working on it.
Grocery delivery is an especially great option for those in cities, so you can avoid the Grocery Shuffle of Shame, lugging all your bags across the city. The only drawbacks to grocery delivery are the added time (in most cases, you'll need to wait for a "shopper" to become available, which can take a while during peak times and in large cities) and being at the mercy of the selection skills of your designated shopper, although you can add notes to your order if you need something specific (like an unripe avocado or chicken that's good for a few days).
Let the Grocery Store Help
Your local grocery store can do a lot more for you than you likely realize. First up: the produce section. Chances are, there's a section fully stocked with vegetables prepared in various ways: steamed beets, spiralized zucchini, pre-chopped mirepoix (or onions, celery, and carrots), and more. These items are definitely more expensive than doing the legwork yourself, but can really cut down on prep time.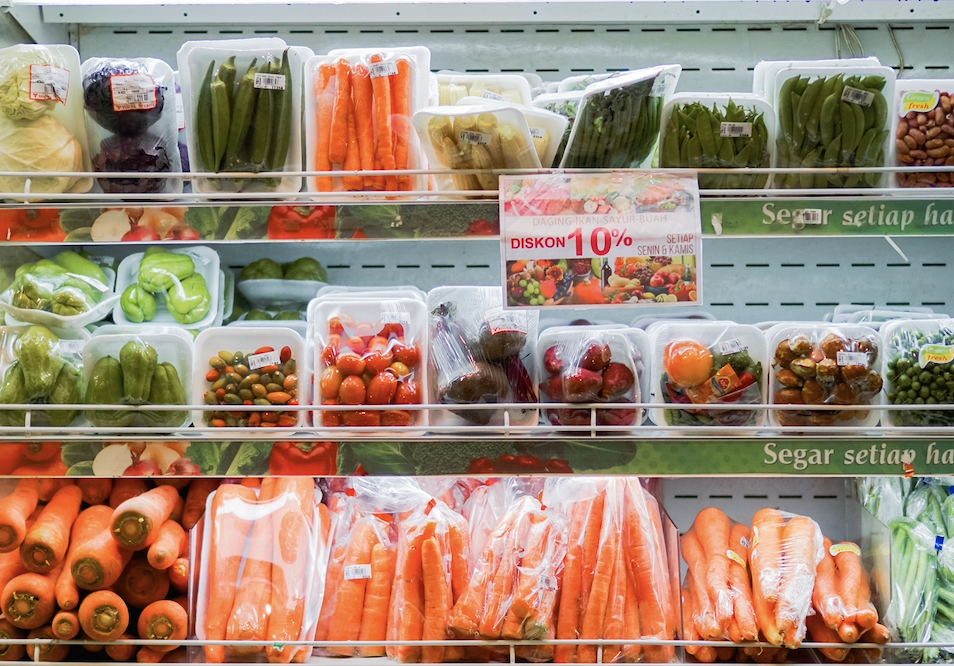 The deli section is another area where you can lean on your grocer. Rotisserie chickens are a lifesaver when time is tight: remove the meat and you'll have between 3-5 cups of chicken to add to soups, salads, quesadillas, sandwiches, and more. My favorite rotisserie chicken recipe right now is this take on Greek avgolemono soup from Pinch of Yum.
Next up, visit the butcher counter! Many of us head straight for the pre-portioned meats, but your butcher does much more than just stock the shelves. For starters, he or she can get you exactly the quantity of meat you need, so you're not wasting any or having to adjust recipes to account for what you found on the shelf. Most butchers will also help prep your meat, including tenderizing or pounding meat into a specific thickness, removing bones, chopping it into cubes or strips, and even adding seasoning.
We also recommend taking a walk through the canned goods and frozen food aisles. Canned fruits and vegetables are often a great value and many are pre-cooked, making them ready-to-use in a variety of recipes. Frozen foods get a bad rap (TV dinners, anyone?), but the freezer aisle also features fresh-frozen fruits (even avocados!) and vegetables in a variety of formats (riced, diced, and everything in between), for prices that are often similar or better than those of fresh produce.
Opt for Pre-Made Instead of Homemade
Homemade sauces, broth, and marinades are amazing and easy to make, but they do take some additional time. When time is short, opt for store-bought broth, herb pastes, pre-made sauces (like tomato sauce, peanut sauce, and salsa), and canned beans. Not only will it save you time, but there are so many options available that you're sure to find something you like (or maybe try something new!).
You will, of course, pay slightly more for the convenience, but it can be really worth it. I hate chopping ginger and swear by frozen pre-minced ginger. Is it expensive? Considering I could buy an entire pound of raw ginger root for the same price, yes. Is it worth it? 100% yes.
Best Meal Prep Shortcuts
At Home
Get Cozy with Your Crockpot
Crockpots and Instant Pots are en vogue right now, and for good reason: they can seriously cut down your hands-on cooking time. Crockpots, in particular, are very affordable and can cook large quantities of food at once. A slow cooker does take up some space but is well worth the sacrifice if you can commit to using it.
Picking the right size crockpot is key. Slow cookers come in tiny, 2-quart sizes (perfect for a tailgate) all the way up to 10 quarts, and because the slow cooker needs to be filled at least halfway for proper cooking, having an appropriate size for your family (and how many leftovers you want) is crucial. A 4-5 quart slow cooker is typically appropriate for a family of two (with leftover) to four (no leftovers), whereas a 6-10 quart can accommodate larger families.
Using a slow cooker is incredibly easy: simply load it up with veggies, meat (or beans), and some liquid, set the temperature, and go about your business until the time is up. Some swear by cooking food overnight (talk about multi-tasking!) and others leave it on while they're at work. Pick a method that works with your schedule, find a recipe, and get cooking!
Try A Buffet-Style Prep
You've heard us talk about buffet meal preps for picky eaters and families, but they can also work well for the busy and the lazy among us.
Buffet meal preps entail preparing each component of a meal separately and then combining them in new ways during the week. They allow you to take advantage of the time-saving benefits of meal prep, without committing upfront to what those components will build.
For example, you could prepare two different proteins, a few roasted veggies, a sauce or dressing, and some rice and pull together a Buddha Bowl, salad, or wrap very quickly during the week. You can check out some more buffet prep ideas here!
Get A Done-For-You Meal Plan & Grocery List
Sometimes, the most overwhelming part of meal prep is just deciding what the heck you're going to make. And how it'll all fit together. And how you'll use up all the ingredients you need to buy without eating the same thing for five days.
Enter: the WWL Meal Prep Program. Talia's super affordable program gives you complete grocery lists and meals for breakfast, lunch, and dinner for the entire workweek. She does all the planning for you, so all you have to do is shop, cook, and eat. I feel more zen already.