If you're looking for a simple, delicious, and flavorful recipe to enjoy this week, look no further than this beef stir fry! Stir frys are a classic meal prep staple because they come together quickly and can be customized endlessly. This beef stir fry takes only 30 minutes and you can enjoy it for dinner or as meal preps during the week!
Get more recipes like this in the Workweek Lunch Meal Prep Program with access to our meal planning tools, grocery list generator and more. Start a free trial today!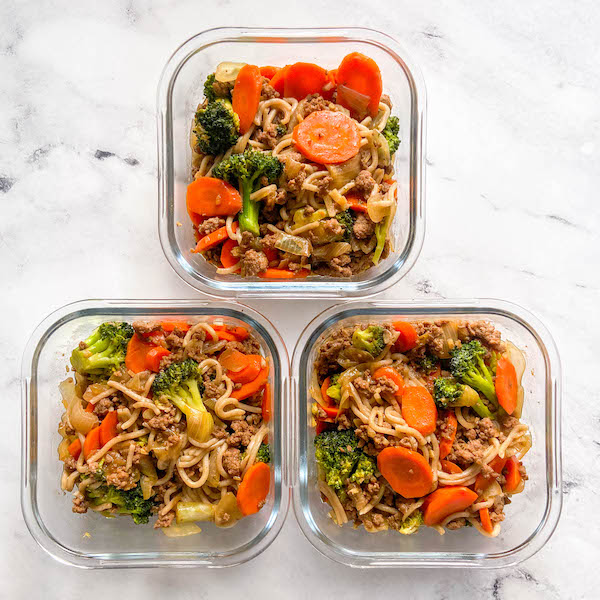 How to make this beef stir fry your own
We always encourage customization!
Change up the protein in this beef stir fry
Not into ground beef? Use ground turkey, chicken, pork, or tofu instead! Or throw the whole ground meat concept out the window and opt for shrimp, chicken breast chunks, beef strips, or chunks of pork tenderloin.
For tofu: The way we make "ground" tofu is really similar to how we make tofu scrambles. It's just a matter of breaking it up into small pieces in the pan – it's super easy! But you can totally bake tofu cut into cubes (how we normally cook tofu in a stir fry) or use an entirely different protein. Lightlife makes veggie "meat" crumbles that resemble ground beef. Crumbled tempeh is also an option.
Check out the video below for a quick chicken or tofu stir fry recipe!
If you want a more traditional Chinese stir fry recipe with beef strips instead of ground beef, we would recommend this recipe!
Swap in your favorite veggies
I like starting with broccoli and carrots (you can't go wrong) but the veggies are entirely up to you.
Try green beans, peas, corn, onion, scallion, celery, snap peas, eggplant, cauliflower, bell peppers of any color, your favorite dark greens (like spinach or kale), or mushrooms instead. The cooking process will be the same, but note that some veggies are faster/slower to cook through.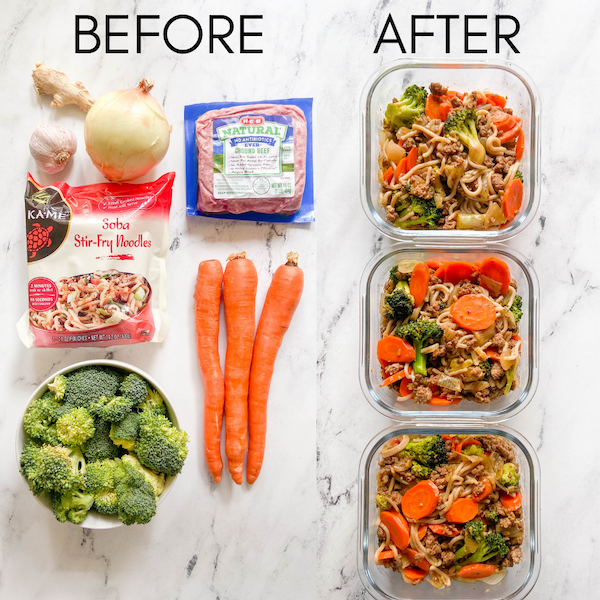 Skip the soba noodles
I found these really fast cooking soba noodles which are easy to just throw in the pan. But if you can't find them or want to use something else, regular spaghetti, veggie-based pasta, or rice noodles will work. You can also use a grain like rice or quinoa in place of noodles!
You can also make this easy beef stir fry with rice! Simply cook rice on the stide while you're putting the beef stir fry together.
Related: Meal Planning for Beginners (Meal Plan Template Inside!)
Adding flavors to the beef stir fry sauce
Here, we're using my favorite basic Asian-inspired sauce. But you can make it your own by adding sriracha or peanut butter. If you're into it, you can also chop up extra garlic and ginger to throw into the sauce. Lime juice would be delicious too.
If you don't have the ingredients or simply don't feel like making the sauce, you can buy stir fry sauce at the store!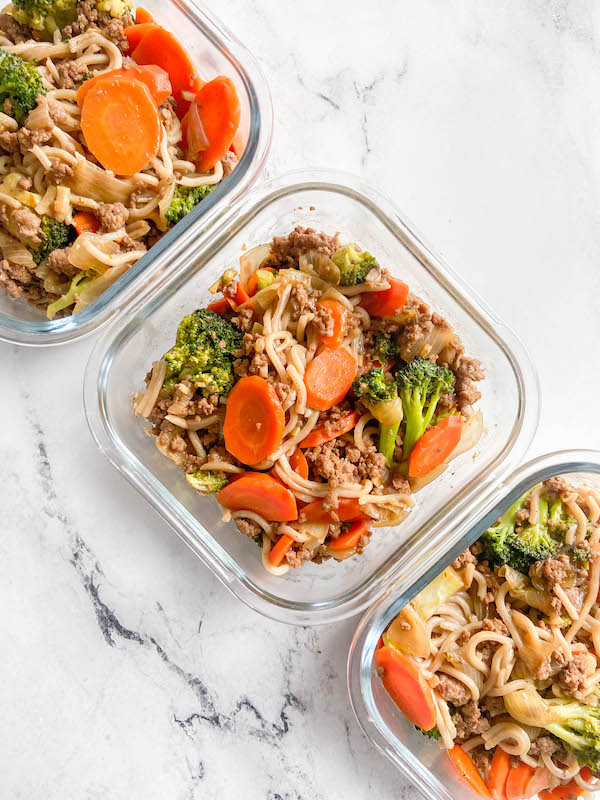 Storing this easy beef stir fry meal
This ground beef stir fry can last in the fridge for up to 4 days. It's freezer-friendly for up to 3 months! I recommend reheating it on the stove or in the microwave. Happy prepping!
Related: 12 One-Pan Dinner Ideas You Can Also Meal Prep For The Week
Don't miss out on our other delicious meal prep recipes!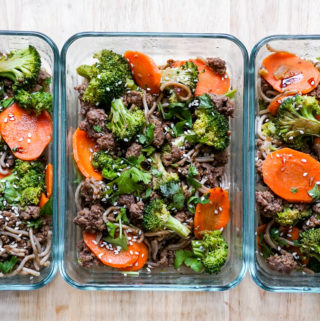 Beef Stir Fry WIth Soba Noodles
Ingredients
1

TBSP

olive oil

1

inch

ginger

minced

2

clove

garlic

minced

1

small

yellow onion

chopped

16

oz

ground beef

1

head

broccoli

chopped into florets

3

medium

carrots

chopped into 1/4 inch thick rounds

salt and pepper to taste

1

TBSP

soy sauce

7

oz

soba noodles

sub rice noodles or regular spaghetti/pasta
for the stir fry sauce
1/3

cup

water

1

TBSP

cornstarch

1/3

cup

soy sauce

sub tamari or liquid aminos

1

TBSP

rice vinegar

1

tsp

sesame oil

1

TBSP

agave, maple syrup or honey

add more if needed
Instructions
IF USING RICE NOODLES/SPAGHETTI: cook according to the package and set aside.

Heat a large skillet for 2-3 minutes, then add olive oil and let it heat for a minute. Next, add yellow onion, garlic and ginger with a small splash of water (this helps it avoid burning) and saute for 5 minutes, stirring frequently.

Add the ground beef to the skillet with salt and pepper to taste. Use a wooden spoon to break up the ground meat and cook, stirring frequently, until all the beef is cooked through and no longer pink in color.

Push the beef to the edges of the pan, then add the veggies in the center with salt, pepper and soy sauce. Stir, cover, bring the heat down a bit and let the veggies steam for 3-5 minutes, until they're tender-crisp. Try a piece of broccoli or carrot to check for doneness! It should still be a tiny bit crunchy. Remove the tofu and veggie mixture from the pan and set aside. You'll be adding it back in later!

IF USING SOBA NOODLES: Add the soba noodles and cook according to the package (you just need a little bit of oil to get them going, break them up with your spatula as they cook for a few minutes). When finished, remove from the pan.

Whisk the cornstarch and water in a bowl and set aside. In the skillet, add the soy sauce, rice vinegar, sesame oil and honey. Stir well and bring to a low simmer. Then whisk in the cornstarch and water mixture. Bring the sauce to a low boil, stirring frequently, until it has thickened. If it's not thickening, bring up the heat and keep stirring! It might take awhile. You're looking for a sauce that holds together and isn't too watery.

Add the ground beef mixture and cooked noodles into the skillet with the sauce and stir well to coat everything. Finally, divide the mixture into three meal prep containers and let cool for 30 minutes before storing!
DID YOU MAKE THIS RECIPE?
Please leave a comment below on the blog or share a photo with us and tag @workweeklunch! Can't wait to see what you made!