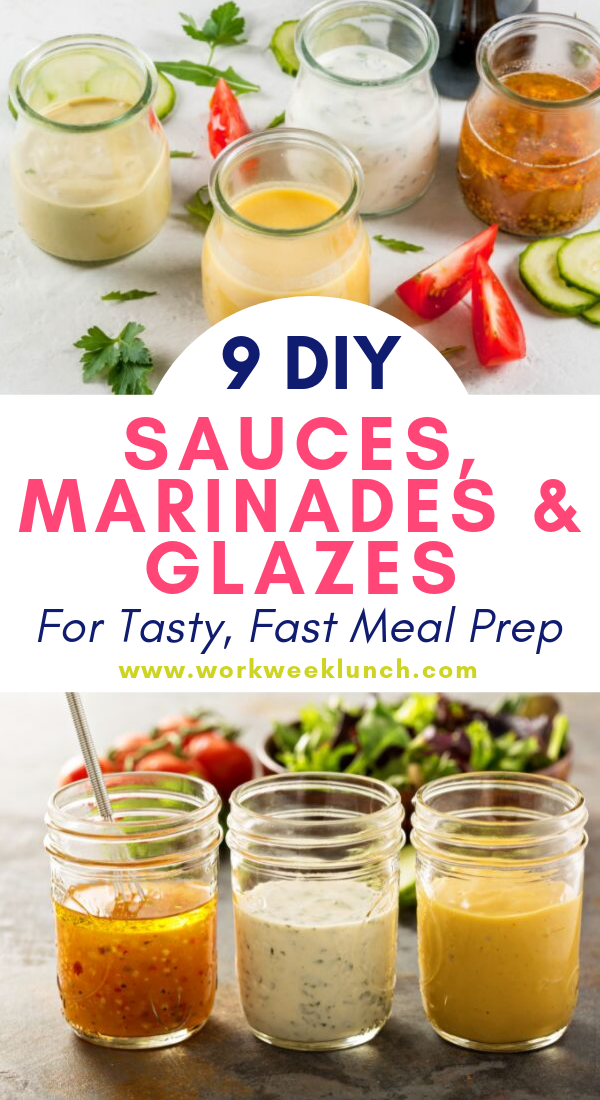 True story: My mom used to put HONEY on lettuce to get me to eat it.
We called it a salad, but it was literally just a few sweet, sticky lettuce leaves. But the lesson there is that putting stuff (like sauces, marinades and glazes) on food can make it taste better or different. The problem? It's just another step to take care of, which is why a lot of people just skip it.
That's why I'm giving you nine sauces, glazes, and marinades that each have three to six ingredients.
Sauces used to intimidate me because of all the ingredients. But after cracking the code to the 10 most common aromatics and ingredients for flavor, I started getting more confident about making them without a recipe.
If you skim through most recipes, they usually require many ingredients. Sometimes, you even have to go an extra mile to cook some of those ingredients. Yeah, no thanks.
Frankly, when you're going for budget-friendly, quick meal preps, sauces like this aren't going to cut it:
Learning how to make basic sauces and marinades for protein upgraded my cooking skills (and confidence).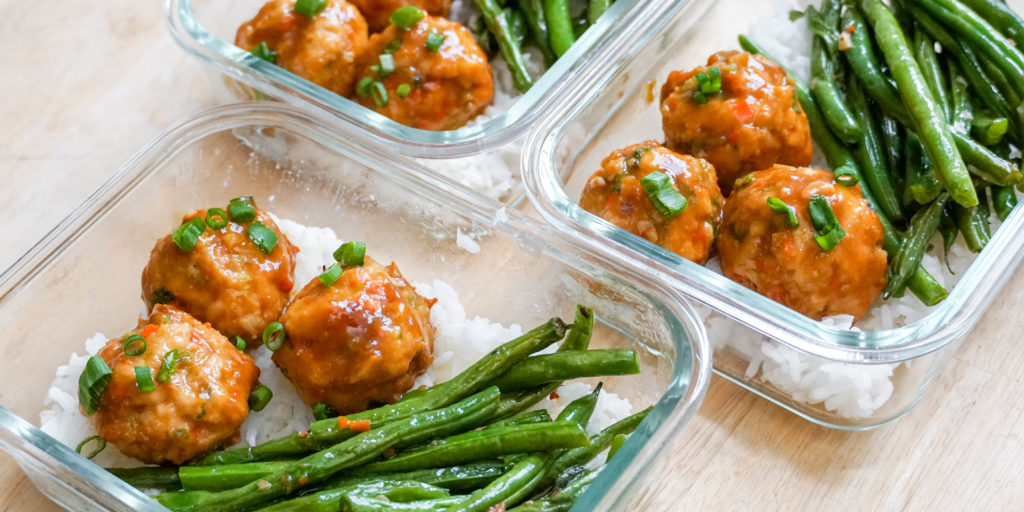 To be honest, there's a reason why some people might not like the taste of vegetables or "healthy" food. Using only salt, pepper, and olive oil on everything is an awesome way to make your food taste boring. The thought of eating that today makes me shudder, but your girl had to start somewhere.
After all, you can use a simple formula to make a salad dressing.
To make a salad dressing that will taste good over just about anything, all you have to do is follow a simple formula—no recipe necessary.
Every salad dressing has a fat source, an acid source, and an emulsifier, which binds the two together. In general, you need 3 parts fat to 1 part acid, with about a tablespoon of your chosen emulsifier. Fat sources include everything from olive oil to avocado; acid includes lemon juice, soy sauce, and apple cider vinegar, among other things; and honey, mustard, miso, and tomato paste are just some examples of the emulsifiers you can choose from.
Don't be afraid to experiment with different combinations—you might just find the next great salad dressing.
And making my own sauces from scratch has saved me a bunch of money.
It's no secret that all kinds of sauces can be expensive at the store. Not when you make them at home, though! Pre-made Caesar dressing may cost a pretty penny, but it'll be significantly cheaper (and you'll have way more) if you whip one up yourself.
When I say sauce, here's what I mean:
1. Marinades
A marinade basically infuses chicken, fish, meat or tofu with flavor. You can marinate ingredients for 15 minutes to 24 hours.
Marinades usually have an acidic ingredient (like lemon juice or vinegar) that penetrates the meat and makes it tender.
If I'm cooking chicken, I normally whip up my marinade before doing anything else, pour it in a Ziploc bag with raw chicken, and let it sit there while I prep vegetables. That usually gives it 15-20 minutes to marinate while I prepare my other ingredients.
2. Glazes
The difference between a glaze and a marinade is that a glaze is meant to just go on the surface of the protein to give it flavor, where a marinade is meant to soak through.
I mostly use glazes for cooking salmon or chicken. They usually involve a syrup, like agave or maple syrup.
3. Dressing
Sauces can be made or eaten cold, but generally, they're cooked to either thicken the texture or make the flavors stronger.
None of the sauces in this post require heat.
I RARELY measure ingredients when making sauces.
Instead, each list of ingredients is going to start from the ingredient with the largest quantity to the smallest.
Why do I never measure? Because I use my taste buds. I'm constantly trying my food as I cook so I know what to add (or what not to add). If you start to taste your food more while you cook, I guarantee you'll become very in tune with what your food needs (or doesn't need).
I make large batches of sauce or dressing to use on my food all week long.
Whether I'm making dressing, marinades, or glazes, I love to make them ahead of time so they're ready to go when I need them.
Obviously not everything will last in my fridge indefinitely, but a lot of sauces will stay good for a while, especially if I store them in airtight containers. These mason jars work perfectly! Anything that's just oil and vinegar and salt and sugar will basically never go bad—and by never, I mean you have about 3 to 4 weeks in the fridge before you need to toss them.
It's when you start to incorporate organic ingredients like animal products, fruits and veggies, and even nuts, seeds, or nut spreads (which go rancid faster than you think), that things begin to run the risk of developing bacteria.
When in doubt, toss your sauce in the freezer, where it will safely last for months if properly sealed. The pros say the best way to get the longest lifespan out of your freezer food is to vacuum seal it first, but an airtight Ziploc or food container will definitely get the job done. Basically, if you have a ton of Caesar dressing, and you aren't sure when you'll be able to eat it all, pop it in the freezer. Otherwise, it'll go bad after 4 to 5 days in the fridge.
Each of these sauces can be prepared by mixing the ingredients in a small bowl.
---
The best Asian stir fry sauce
This is adapted from this recipe I found for baked tofu, but it turned out to be my favorite stir-fry sauce ever.
1/4 cup Soy sauce
1 tsp Sesame oil
1 TBSP Rice vinegar
2 TBSP Agave (or maple syrup)
1 tsp Sriracha (optional)
A note about Asian sauces:
Though you might not be super familiar with sesame oil and rice vinegar, I highly suggest you pick them up next time you go shopping. They last a long time and aren't expensive. You can usually find them in the "international" section of your grocery store and most Asian sauces require those two ingredients.
When to use this sauce:
In vegetable stir-frys
For marinating tofu, chicken or beef
---
The simplest "Teriyaki" glaze
I made this one up and it's easily my favorite.
1/2 cup Soy Sauce
1/2 cup Honey (or agave or maple syrup)
1 tsp Ginger powder (or 1 inch of fresh grated ginger)
When to use this glaze:
Pour it over raw meat or fish before baking it in the oven
Marinate your favorite protein in it for grilling
---
Easy "tahini" dressing (savory and sweet)
My favorite Tahini is from Trader Joe's! It's super cheap and tastes great.
Many grain bowl dressings have tahini base (which is made out of sesame seeds) because of it's lovely neutral but nutty flavor. It pairs well with other ingredients and has a satisfying consistency.
Don't have tahini? You can actually use hummus instead and still make a delicious dressing or sauce.
Savory:
1/3 cup tahini or hummus
1 TBSP Olive oil
Juice from 1/2 a lemon
2-3 tsp Dijon mustard
pinch of salt
pinch of red pepper flakes (optional)
Sweet:
1/3 cup tahini or hummus
1 TBSP Olive oil
Juice from 1/2 a lemon
1 TBSP Honey (or agave)
pinch of salt
If you want to use a general tahini sauce, Minimalist Baker is the queen of that. Check out her three ingredient tahini sauce here.
When to use a tahini dressing:
on any dish with chickpeas
over grain bowls that have quinoa, rice or faro
on salads
on any dish with winter squash or sweet potatoes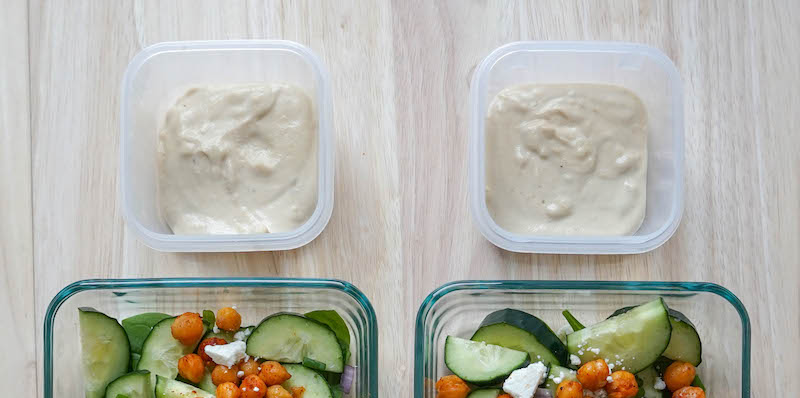 ---
Thai peanut sauce
Oh man, I love this sauce so much! I put it on black bean and chickpea noodles (pictured below) and it was just superb.
1/3 cup soy sauce
1 TBSP peanut butter (sub any nut butter)
1 tsp sesame oil
2-3 tsp rice vinegar
1 TBSP brown sugar
1 tsp sriracha (optional)
It's adapted from a recipe from Mark Bittman's book, How To Cook Everything Fast. (Thanks, grandma). I use this sauce in this peanut stir fry with broccoli, peppers and quinoa recipe.
When to use this sauce:
on noodles!
tossed with protein and veggies in a stir-fry
marinate your favorite protein in it for grilling
---
Mustard glaze (savory and sweet)
Dijon mustard is a versatile ingredient to keep in your fridge for chicken and fish glazes. I didn't always "get" mustard, but after using it in cooking, I totally understand the hype.
Savory:
2 TBSP olive oil
3 TBSP dijon mustard
Juice from 1/2 a lemon
salt and pepper to taste
Water to thin
Sweet:
same as above, replace lemon with 1 TBSP honey, agave or maple syrup
When to use this glaze:
On baked chicken or fish
On seitan or tempeh
It works well on salads too!
---
Honey balsamic marinade
Sweet and tangy, this one is a "go-to." This is my version of it based on a recipe (linked below) from Damn Delicious.
Balsamic vinegar
Honey
Mustard
Salt & pepper to taste
Get the full recipe for honey balsamic chicken on Damn Delicious here.
---
Basic lemon garlic herb marinade
My laziest marinade that always makes food taste fresh and light:
Juice from a whole lemon
1 TBSP Olive oil
Pepper (a generous amount)
1/2 tsp salt
1 clove garlic, minced
2 tsp Parsley flakes
2 tsp dried thyme
When to use this marinade:
Chicken, fish, shrimp
on salads
tossed with veggies
---
Honey garlic lime marinade
Another simple one to give your protein a good kick:
Juice from 1 lime
1 TBSP olive oil
2 TBSP Honey (or agave, maple syrup)
1 clove minced garlic (or garlic powder)
When to use this marinade:
This is one of the first Workweek Lunch recipes ever! Check out this Honey Lime Chicken Recipe.
---
When in doubt? Just use pesto.
Pesto is extremely comforting. You can buy some in a jar or just whip some in your food processor. All you need is:
Fresh basil
Pine nuts (walnuts or pecans work too since pine nuts are very expensive)
Olive oil
Garlic
Parmesan
Salt
Pepper
Here's a simple recipe for no-frills pesto.
When to use pesto:
Literally on everything and anything.
I encourage you to get creative!
Mixing up a bowl of sauce while you're cooking makes you feel super fancy. Give it a whirl. Your meal prep and cooking will be THAT much tastier.
Like I said before, use your taste buds. Try your sauces as you go. Everyone is different.
I personally love spicy food so I'll add cayenne and Sriracha to basically everything. Cooking based on your preferences is where you can really get creative with cooking.
Want to skip hours of meal prep recipe research?
I got you. The WWL Meal Prep Program has 300 recipes, over a year of meal plans and all the support you need to get meal prep done each week to save time and money (while eating healthy!). Click here to sign up today for $7.99/mo. You can cancel anytime if it's not for you. Can't wait to see you inside!