This Cajun pasta is comforting, a little spicy, and comes together in one pot for minimal clean-up. This recipe is perfect for an easy weeknight dinner or quick meal prep and gets even more delicious after a few days in the fridge. You can completely control the spice level of this recipe so if you're a fan of heat, simply add more cayenne and opt for a spicy sausage! And if you're not a fan, leave them out. It's as simple as that. Now let's dive into this delicious one-pot recipe!
Get more recipes like this in the Workweek Lunch Meal Prep Program with access to our meal planning tools, grocery list generator, and more. Start a free trial today!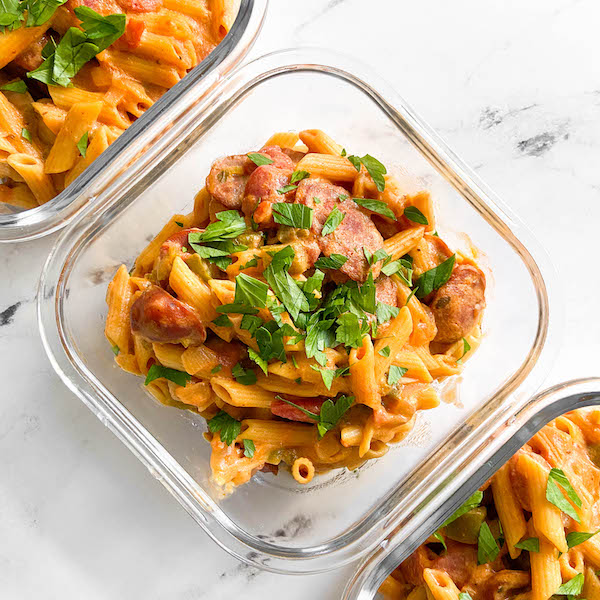 What you need to know about this Cajun pasta
Cooking with "the holy trinity". In Cajun cooking, onion + green bell pepper + celery is known as "the holy trinity" and is used as the base of many recipes, similar to how the French use mirepoix. If for some reason you don't like/can't have one of the trinity, you can substitute with more of the other two ingredients or use a traditional mirepoix (carrot instead of green bell pepper) although the flavor will be a little different.
Can I use a different color bell pepper? Traditionally, no. But we don't let tradition keep us from wasting ingredients or eating delicious meals!! So I say use what you have or use what you like. Green bell peppers are traditionally used because they are readily available and they have a less sweet flavor than other bell peppers.
Ways to customize this recipe. As written, this recipe is a little bit spicy. I added 1/8 tsp of cayenne and I could feel the heat! If you are sensitive to spice, omit the cayenne and reduce the chili powder and replace it with paprika. If you LOVE spice, feel free to add cayenne and/or some of your favorite hot sauce. You can also buy a spicy sausage to really crank up the heat!
You can substitute 4 tsp Cajun/Creole seasoning of your choice for all of the seasonings in this recipe.
Related: Weekly Meal Prep: 12 One-Pot Dinners Under 30 Minutes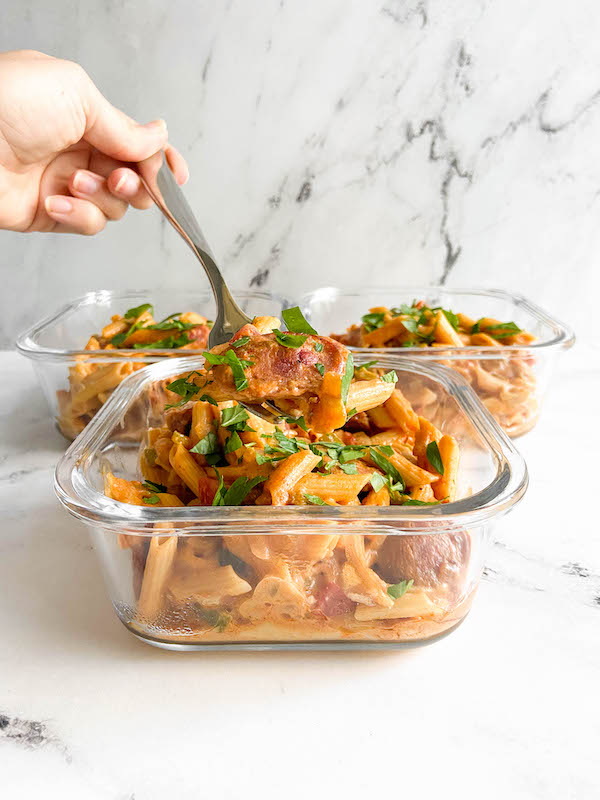 Other ways to customize this Cajun pasta recipe:
Switch up the protein: shrimp, diced or shredded chicken, shredded jackfruit, sliced mushrooms, ground sausage/pork/beef would all be delicious
Add some more veggies! Greens, cauliflower, carrots, peas, and zucchini would all be delicious in this pasta
Swap out the grain: I used short pasta but this would work with any pasta or orzo, and maybe even rice (you may need to reduce some of the milk for rice). You can even eat this over grits or polenta (reduce the liquid so it isn't too soupy).
Related: Meal Planning For Beginners (Meal Plan Template Inside!)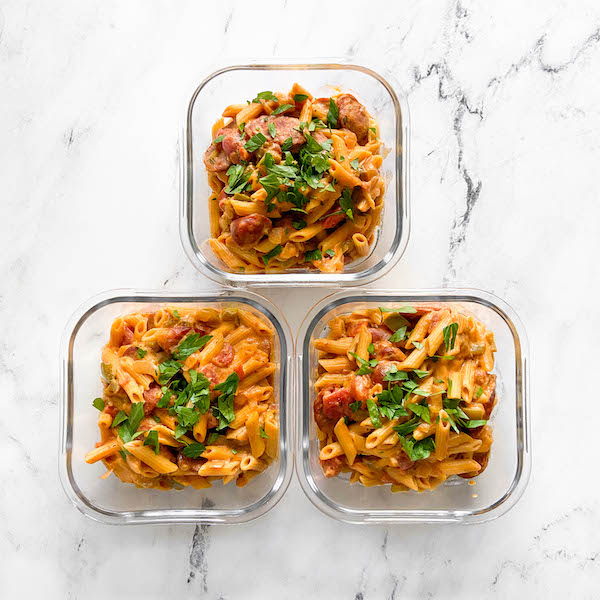 Storage & reheating notes
This dish will last in the fridge for up to 4 days and in the freezer for up to 3 months. This reheats well in the microwave or on the stove. Happy prepping!
Equipment you'll need:
Other recipes you'll love:
Meal Prep Tuscan Chicken Pasta Skillet
20-Minute Ground Beef Pasta With Swiss Chard
Pumpkin Pasta With Ground Turkey, Mushrooms & Kale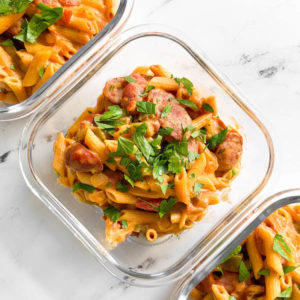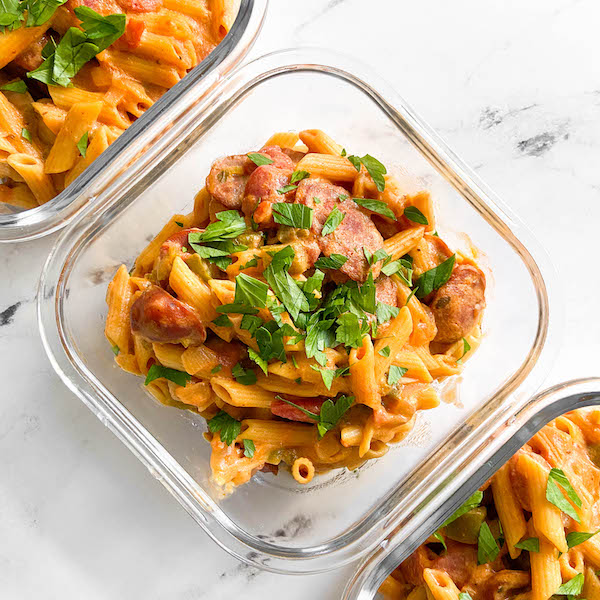 One-Pot Creamy Cajun Pasta
Ingredients
2

TBSP

olive oil

1

yellow onion

diced

1

green bell pepper

diced

2

stalk celery

diced

3

cloves

garlic

minced

1

tsp

chili powder

1

tsp

paprika

1/2

tsp

oregano

1/2

tsp

garlic powder

1/2

tsp

onion powder

1/4

tsp

thyme

cayenne

optional for more heat – I added ⅛ teaspoon

salt and pepper to taste

3

sausage links of your choice

sliced, I used andouille style

15

oz

canned diced tomatoes

fire-roasted and Rotel style also work

2

cup

broth of your choice

6

oz

short pasta

I used penne

1/2

cup

milk of your choice

2

oz

cream cheese

1/2

cup

parmesan cheese

optional

parsley

optional for garnish
Instructions
Heat a large pot or dutch oven over medium heat and add the oil. Once the oil is hot, add the onion, bell pepper, and celery with a sprinkle of salt. Cook, stirring frequently, until the onions are translucent and the veggies are starting to brown, 7-10 min. If things are sticking to the pan, feel free to add a splash of water.

Add the garlic, chili powder, paprika, oregano, garlic powder, onion powder, thyme, cayenne (if using), salt, pepper, and sausage with a splash of water to scrape up the brown bits. Stir until everything is evenly coated in the spices. Cook until the sausage is nearly done, 5-7 min.

Add the tomatoes (including their juices), broth, and pasta. Increase the heat until the mixture comes to a low boil. Stir well, cover and cook on a low simmer for 10 minutes. Stir occasionally and monitor the water level–if the liquid seems to be evaporating really quickly, turn your heat down a little and add water as needed. If there is excess liquid when the pasta is getting close to being done, let it cook some with the lid off.

When the pasta is done, reduce the heat and add the milk and cream cheese and stir until the cream cheese is fully melted and incorporated. Add the parmesan cheese gradually, if using, and stir until melted. The sauce will thicken as it cools so don't be alarmed if there is extra liquid!

Assemble. Divide the pasta between three meal prep containers and allow to cool completely before putting it away. Garnish with parsley (if desired). That's it!
DID YOU MAKE THIS RECIPE?
Please leave a comment below on the blog or share a photo with us and tag @workweeklunch! Can't wait to see what you made!