If cooking were as simple as throwing a few ingredients in one pan, I would make all my meals from scratch. In reality, the actual cooking is usually only half the battle. Hopefully, these one-pan dinner ideas will be your shortcut for the whole process.
Between finding a recipe, prepping all of the ingredients, and spending who-knows-how-long cleaning up afterward, it can be hard to convince myself not to order takeout some nights—especially when I can barely muster the strength to open the fridge, let alone wash a sink full of dishes.
Thankfully, one-pan dinners exist, and they make it easier for me and busy people everywhere to whip something up in no time, even when they're totally exhausted. Instead of having to dance between several pots, pans, and a live fire, all your ingredients are right there in one skillet or sheet-pan—minimal fuss required. And when you're finished, only that one pan (and maybe a cutting board and knife) need to be washed. It's much harder to justify ordering delivery when dinner is that easy.
One-pan dinner essentials
Not only can these 12 one-pan dinners be made in just one pan, but they also include an array of options for vegans, vegetarians, and omnivores, and all of them were designed with meal prep in mind. They're basically guaranteed to make your life easier, whether you choose to prep them ahead or throw them together on a weeknight.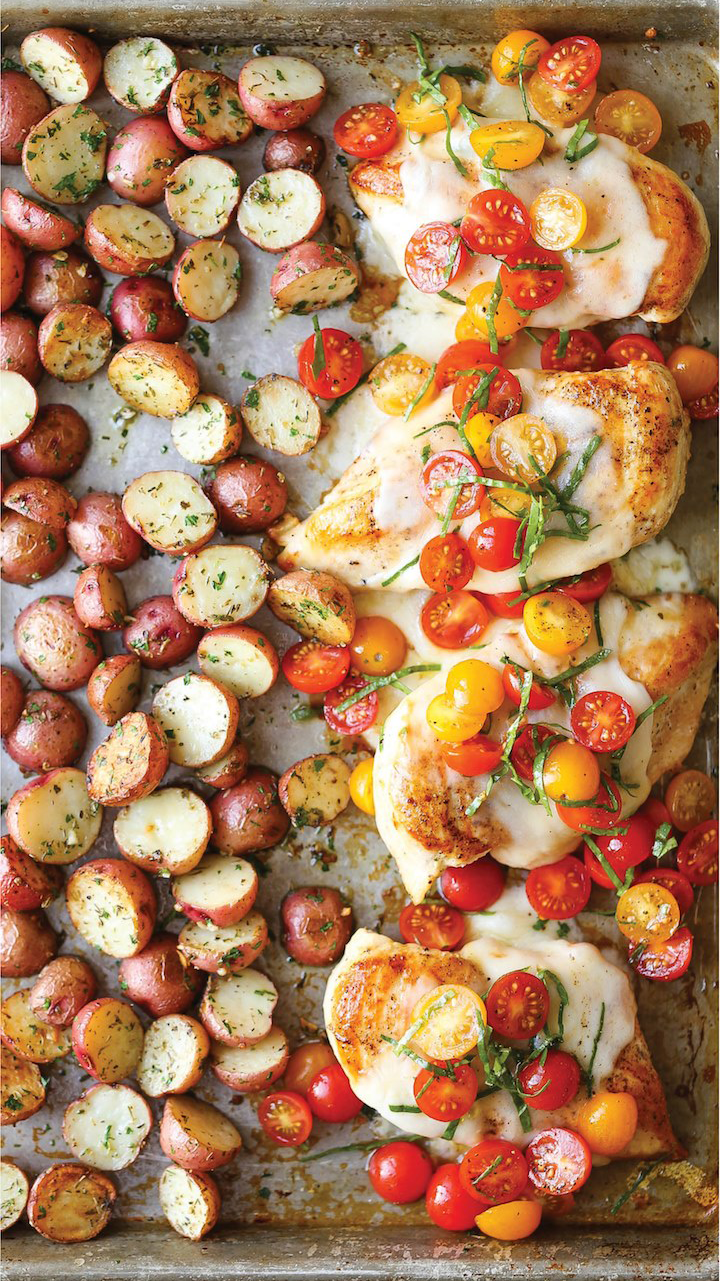 This one-pan dinner recipe proves that bruschetta isn't only meant to be eaten on bread. Prep it while your potatoes and chicken are in the oven and wait to top them with it until they're out of the oven. Or, if you're planning on prepping this for later in the week, let the chicken and potatoes cool before you pack everything up in the same container. Otherwise, you may accidentally cook the tomatoes with the residual heat from the other ingredients.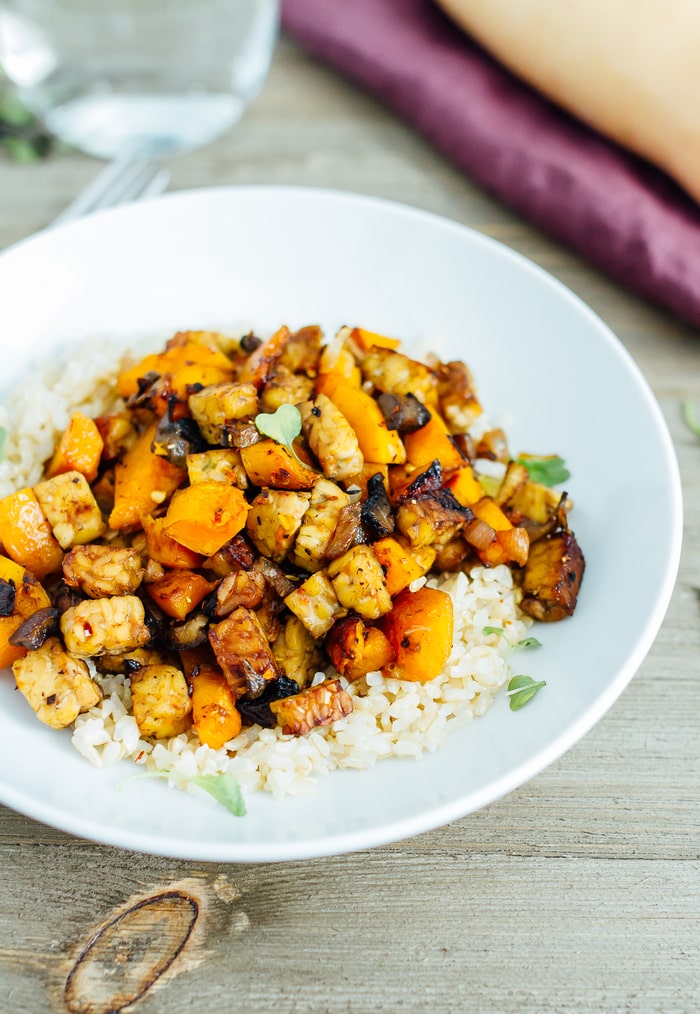 A ginger-soy sauce glaze balances the nutty flavor of the tempeh in this hearty, sheet-pan dinner. You can serve it over a grain that you already have meal prepped, like rice or quinoa, or eat it as is—after all, it's extremely filling all on its own. If you can't find tempeh at your local supermarket, feel free to swap in tofu (just be sure to use one that's extra-firm).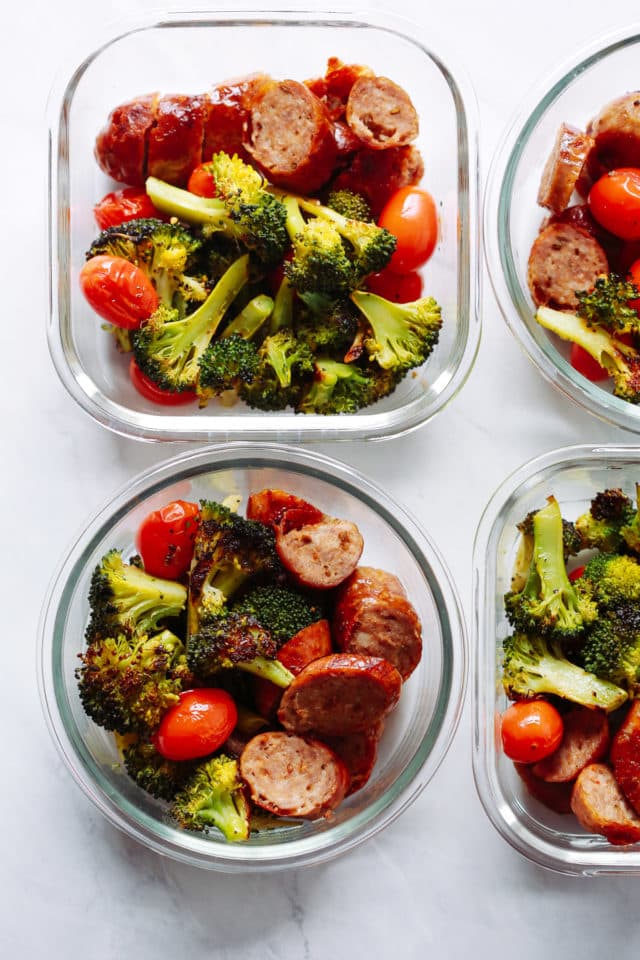 The nice thing about this simple recipe is that you can swap in whatever protein source you have on hand for the sausage. Make it vegetarian and swap in tempeh or tofu, or, if you prefer to keep it meaty, try chicken or meatballs instead. You can make swaps like this with many one-pan dinners!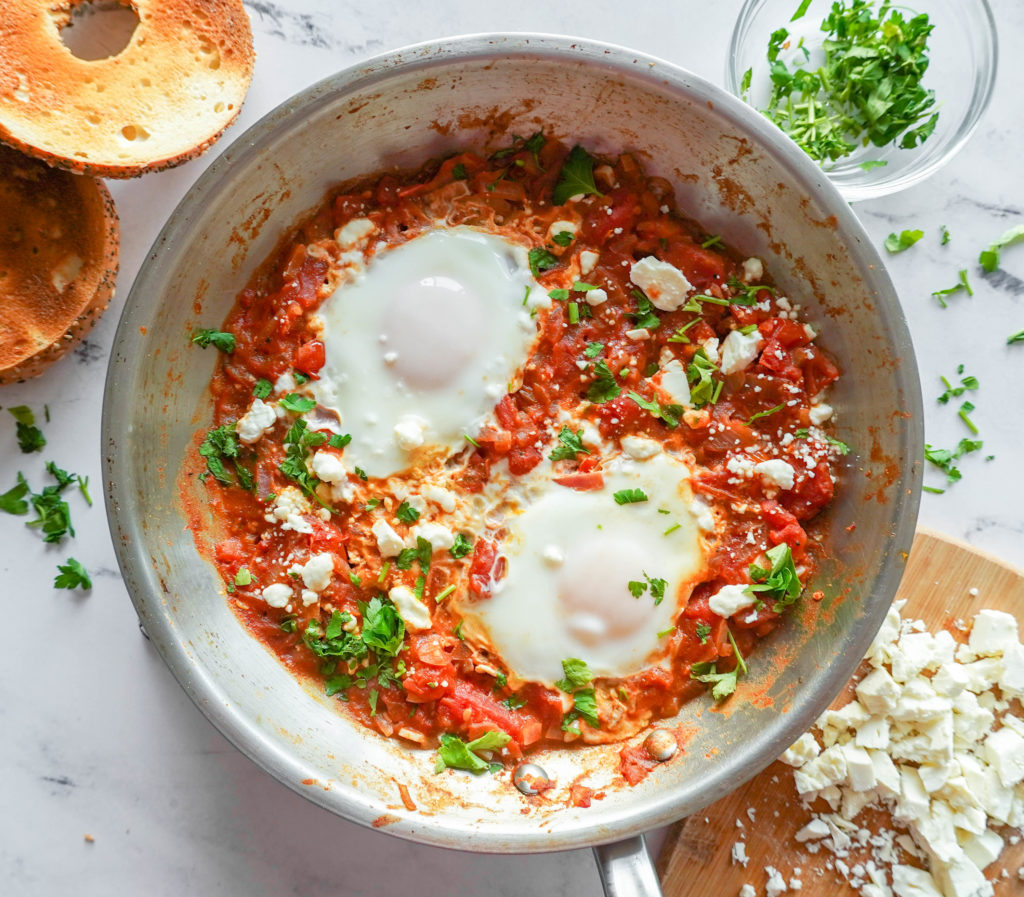 When I first heard that you can meal prep shakshuka, I was skeptical. Since it's one of my favorite meals, I had to give it a shot. The results? Well… just take a look! Shakshuka is a dish where eggs are poached in a tomato and onion mixture. and is now a popular Middle Eastern meal. It's an amazing, flavorful and versatile breakfast (or any meal!) and it's perfect for meal prep.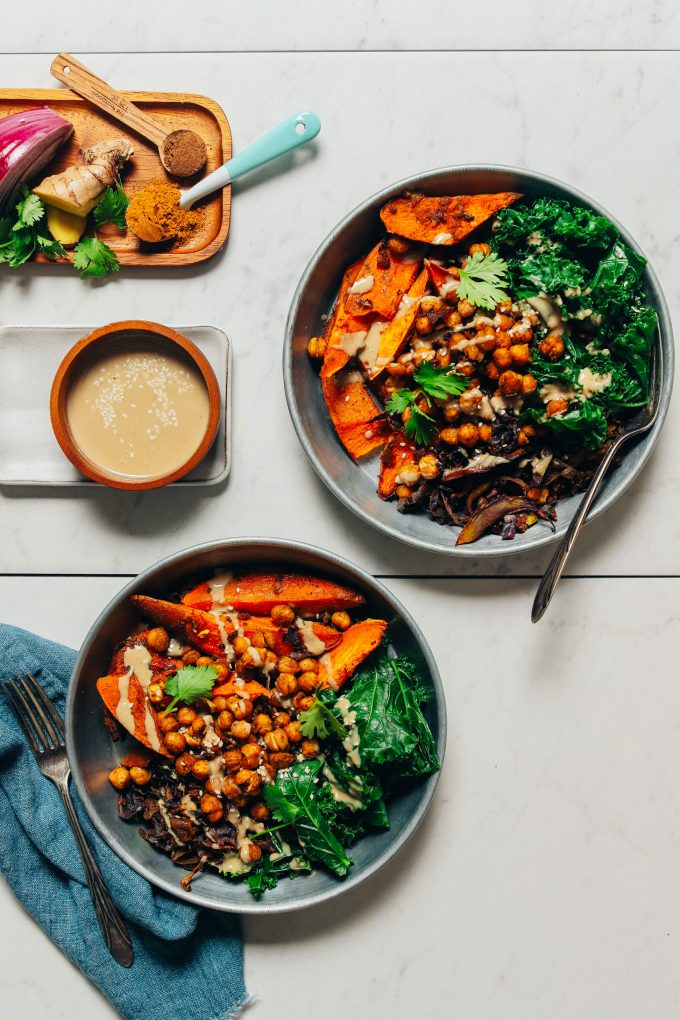 With sweet potatoes, red cabbage, roasted chickpeas, and kale, this one-pan dinner is both extremely filling and totally vegan. And it's customizable! If something on this list is hard to find at your supermarket or out of season, swap in something similar that you are able to find. Not into cabbage? Roast the kale in its place. Squash in season? Use that instead of sweet potatoes!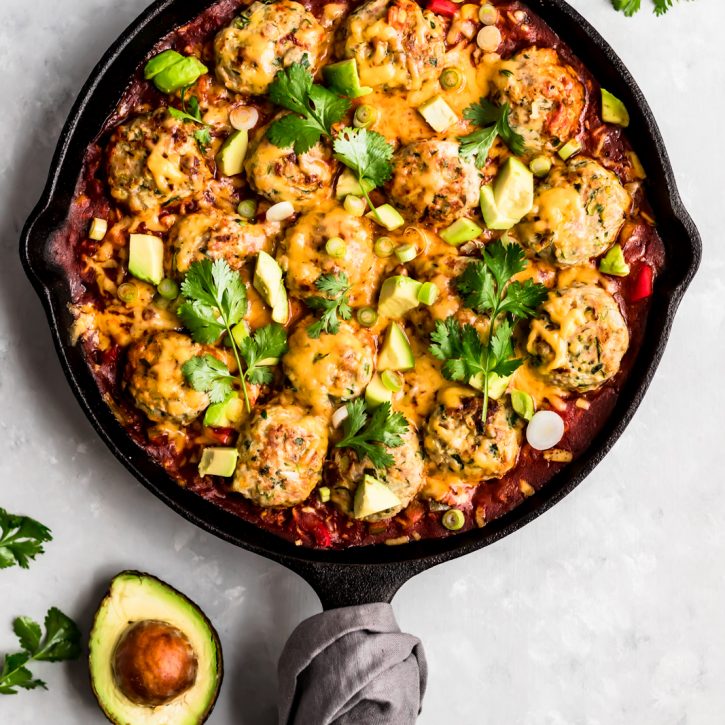 Topped with meatballs and stuffed with rice, you've never seen an enchilada more decked out than this one. If you prefer a grain other than rice (or no grain at all) use quinoa or cauliflower rice instead. And don't forget the toppings—a few chopped scallions, avocado, or cilantro are all you need to freshen up this extremely rich one-pan dinner.
The filling for these wraps is so good, you'll want to use it in a bunch of other recipes, too. For example, it's great in stuffed mushrooms, peppers, tomatoes—the list goes on. Make it in bulk and freeze it for later so you always have some on hand to throw together a quickie meal.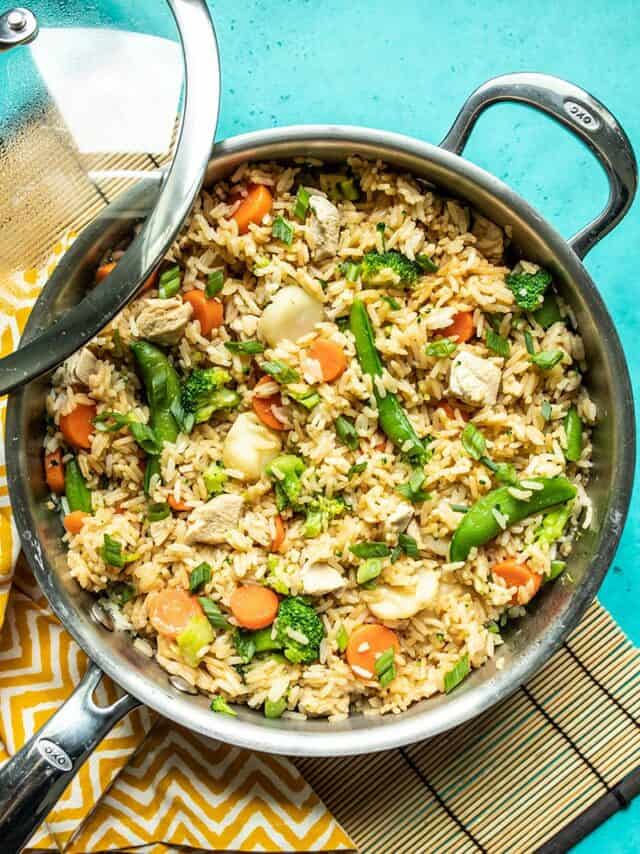 This one-pan dinner recipe takes two takeout favorites (chicken teriyaki and fried rice) and turns them into one. You only need about 30 minutes to make it, which is less time than it would take to order delivery. Use pre-chopped frozen vegetables, like broccoli and carrots, to save yourself even more time.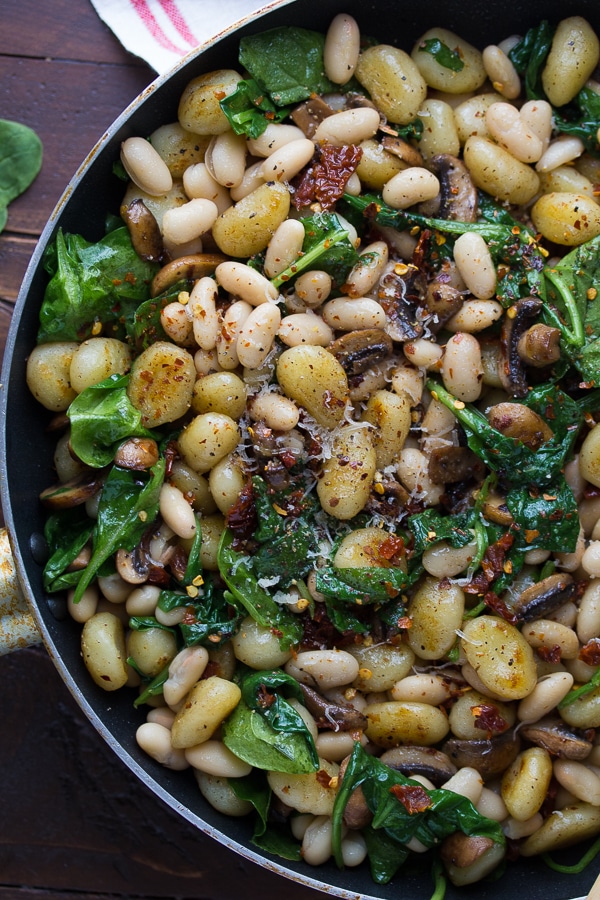 This recipe tastes great either hot or cold. So it's great if you don't have easy access to a microwave or stovetop. Feel free to use whichever store-bought gnocchi you prefer (even Trader Joe's cauliflower gnocchi will work!).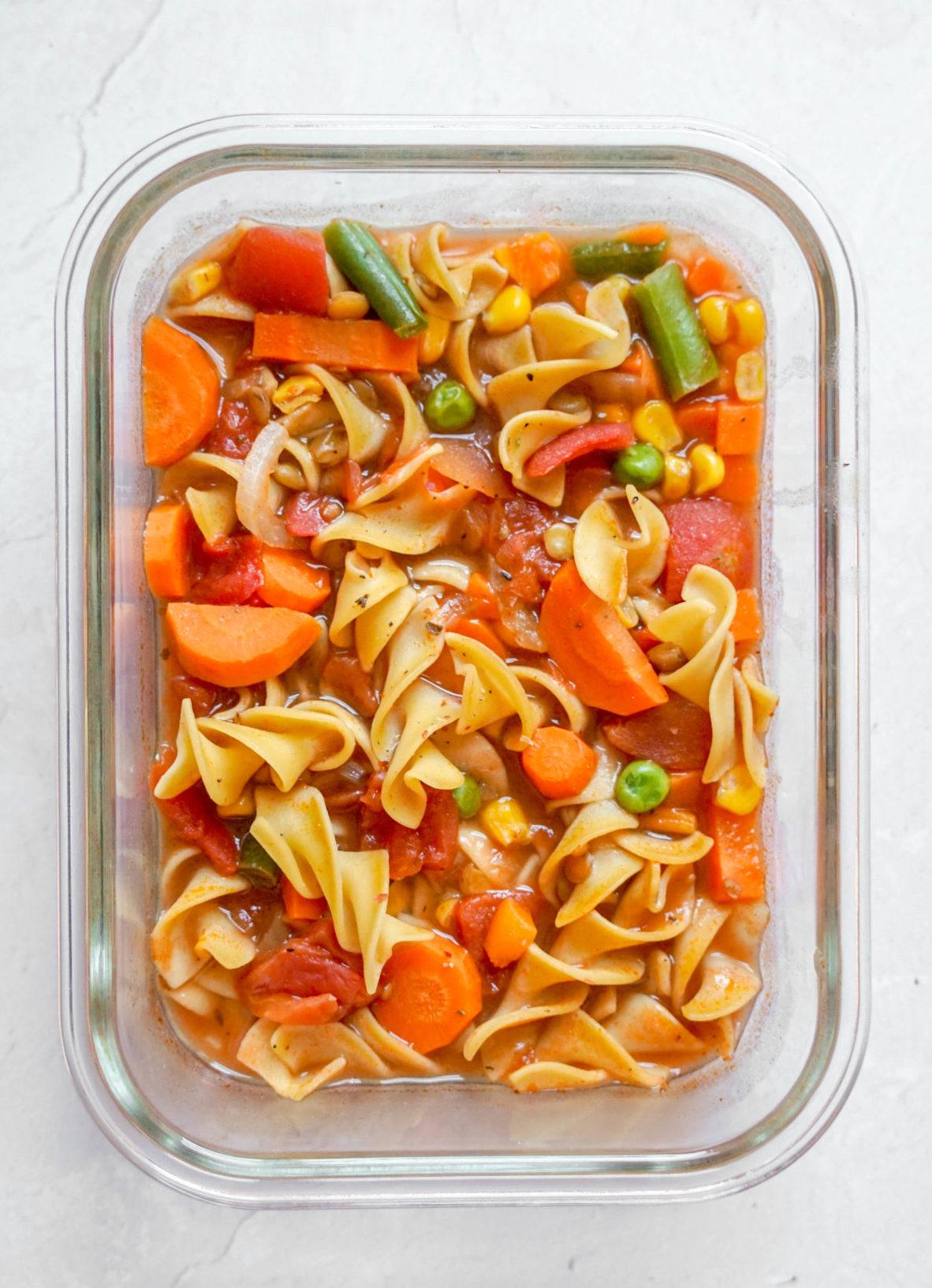 This vegan lentil minestrone is perfect for meal prep, it's freezer-friendly and super customizable. I love the light tomato flavor of this soup along with the hearty veggies and pasta, making this an excellent lunch or dinner option!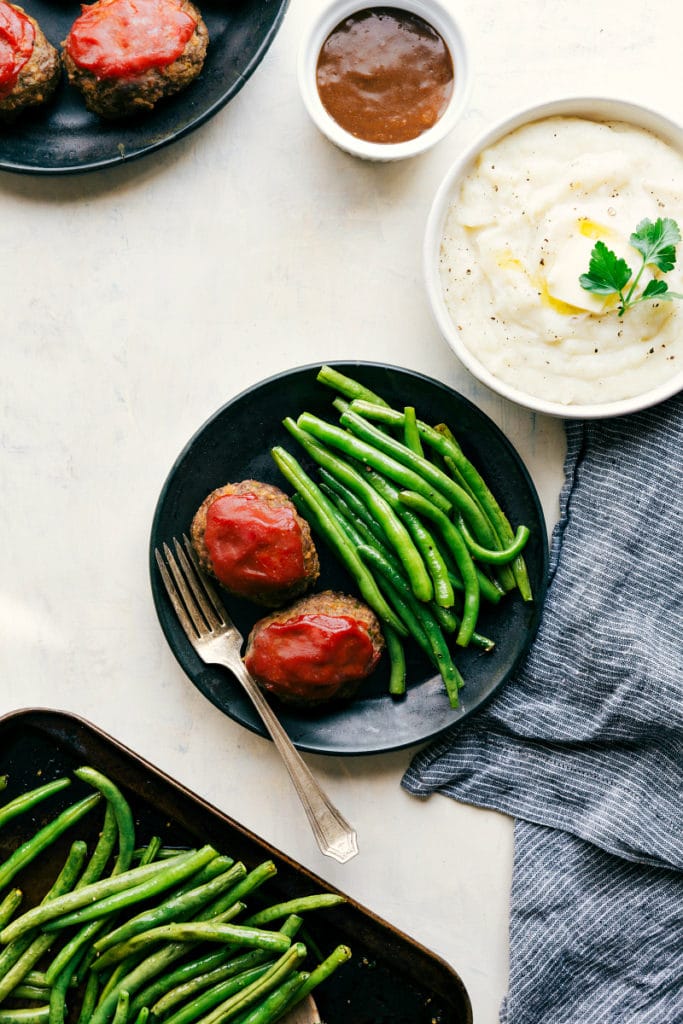 Yes, you do make this full meal on one sheet pan—green beans, potatoes, meatloaf, and all. You'll begin by roasting the potatoes whole and wrapped in tinfoil. While the green beans and meatloaf are in the oven, mash up the potatoes with a bit of butter, salt, and pepper. Pack it up for later or dig right in.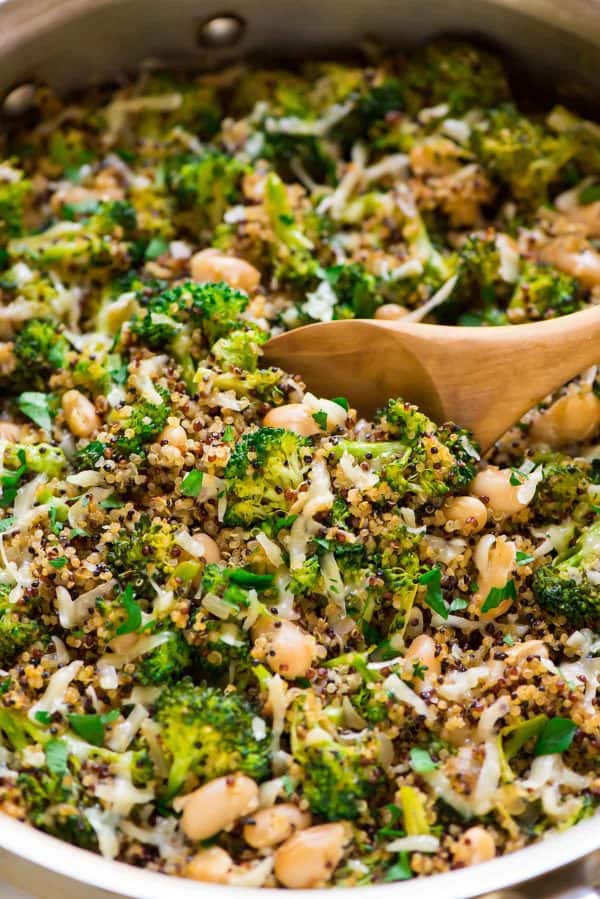 With beans, broccoli, quinoa, and a bit of cheese, this recipe is perfect for whipping up on those nights when you don't have many ingredients in your pantry. That doesn't mean you shouldn't meal prep it, though. Those same ingredients will hold up well in your fridge for days, and the whole thing will taste great whether you eat it hot or cold.
Want more recipes that are great for meal prep? These sandwiches and wraps are begging to be part of your lunch routine. If you liked these one-pan recipes, go ahead and SAVE this post for next time!