Shakshuka 101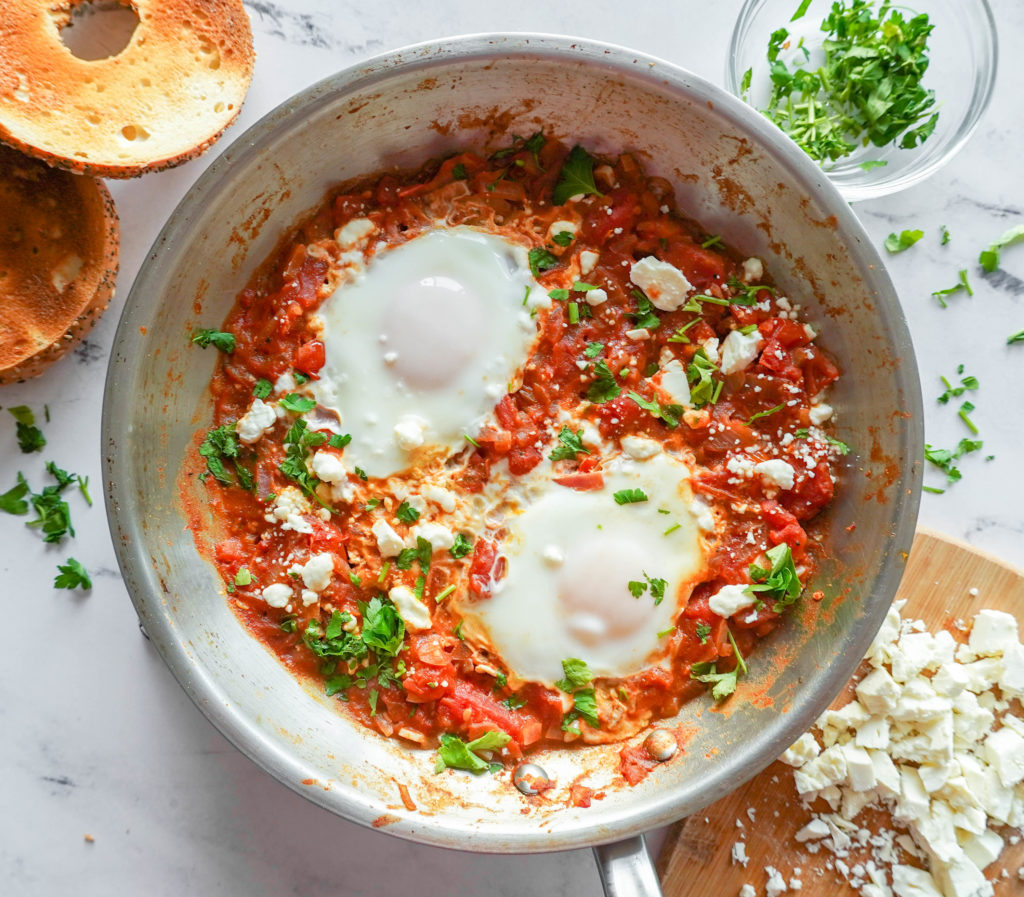 Shakshuka with feta is an easy vegetarian one-pan dish made with eggs, tomatoes, peppers, herbs and onions where the eggs are poached in the other ingredients. The tomatoes, peppers and onions cook to form a delicious sauce (make it as spicy as you want!) and then eggs are cracked into the pan to cook. I love it with a side of bread or pita!
This is one the easiest, most delicious dishes you can enjoy any time of day whether you're a total beginner cook or pro home chef. It's something you can whip together or one person in a small pan or feed a crowd at brunch.
Bonus! Shakshuka is the perfect vehicle for leftover veggies on their last leg in the fridge! I've thrown cauliflower, eggplant, spinach, broccoli, and really any vegetable I have in my shakshuka to use it up before it goes bad.
Get more recipes like this in the Workweek Lunch Meal Prep Program with access to our meal planning tools, grocery list generator and more. Start a free trial today!
How to make shakshuka with feta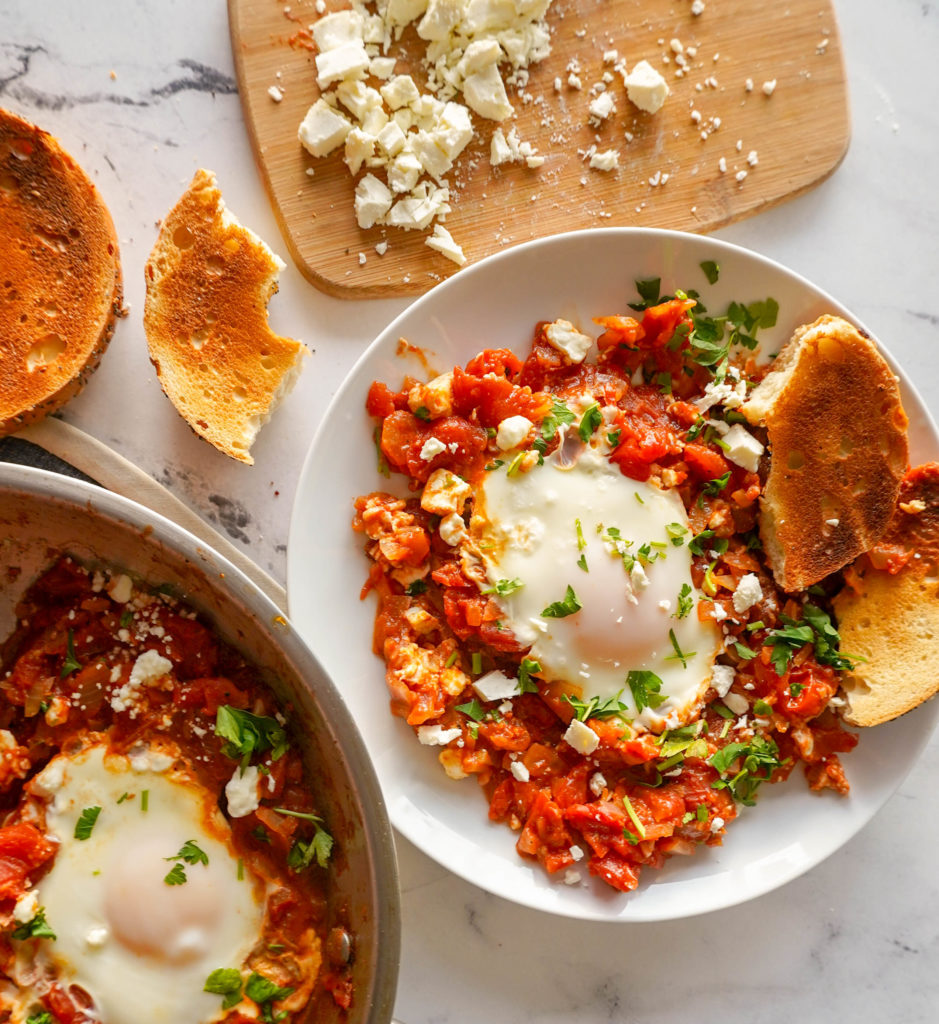 Making shakshuka is super easy.
It involves first sauteing onions in oil in a skillet here's my skillet of choice, followed by the onions, other veggies, tomatoes, spices and herbs.
This is a low maintenance dish, so you can simmer the sauce for awhile if you'd like, just making sure to stir every 5 minutes or so to avoid veggies sticking to the bottom.
Once your sauce is cooked (make sure to taste it!) push the ingredients in teh pan to the side a bit to create little "wells" for your eggs. You can crack as many eggs in the pan that will fit! I usually do 2-4 eggs depending on how many servings I need. Once the eggs are in, you can cover the pan and cook them to your preferred level of done-ness. I like mine runny, so I usually let them cook for about 4 minutes.
That's it! Turn off the heat and add the feta cheese if using. Then you can scoop your shakshuka onto a plate with bread or any other side dishes and enjoy warm.
What to serve with shakshuka
LIke I mentioned before, crusty bread, naan or pita is the ideal side to serve with shakshuka. How else will you soak up all the delicious extra sauce?
Here are some other ideas for what to serve with shakshuka:
Bagels!
Roasted potatoes
Couscous
Rice
Quinoa
Greek salad
Hummus
What you need to know about shakshuka…
Still have questions about shakshuka? We got you.
How do you pronounce shakshuka?
It's pronounced "shahk-shoe-kah."
Is Shakshuka a breakfast food?
You can eat shakshuka at any time of day! I personally love it for a quick lazy dinner.
Is Shakshuka the same as eggs in purgatory?
Eggs in purgatory generally has simpler ingredients and less spices! But if you're familiar with eggs in purgatory and enjoy it, you'll probably love shakshuka too.
What country is Shakshuka from?
It's hard to say for sure, but we know that shakshuka originated in countries like Yemen and Tunisia. It's popular throughout Middle-Eastern countries and you'll find so many different variations on it! I was first introduced to it on trips to Israel visiting my family and it became a fast favorite, even as a picky eater.
I've also learned that shakshuka is inspired by a similar dish made with meat, and this is the vegetarian version of it!
How do you make vegan shakshuka?
To make shakshuka vegan, I recommend replacing eggs with chickpeas! We have a fully vegan recipe in the Workweek Lunch Meal Prep Program, which you can check out here and even see our weekly plans, grocery lists, and more on a free trial!
Customizing Shakshuka With Feta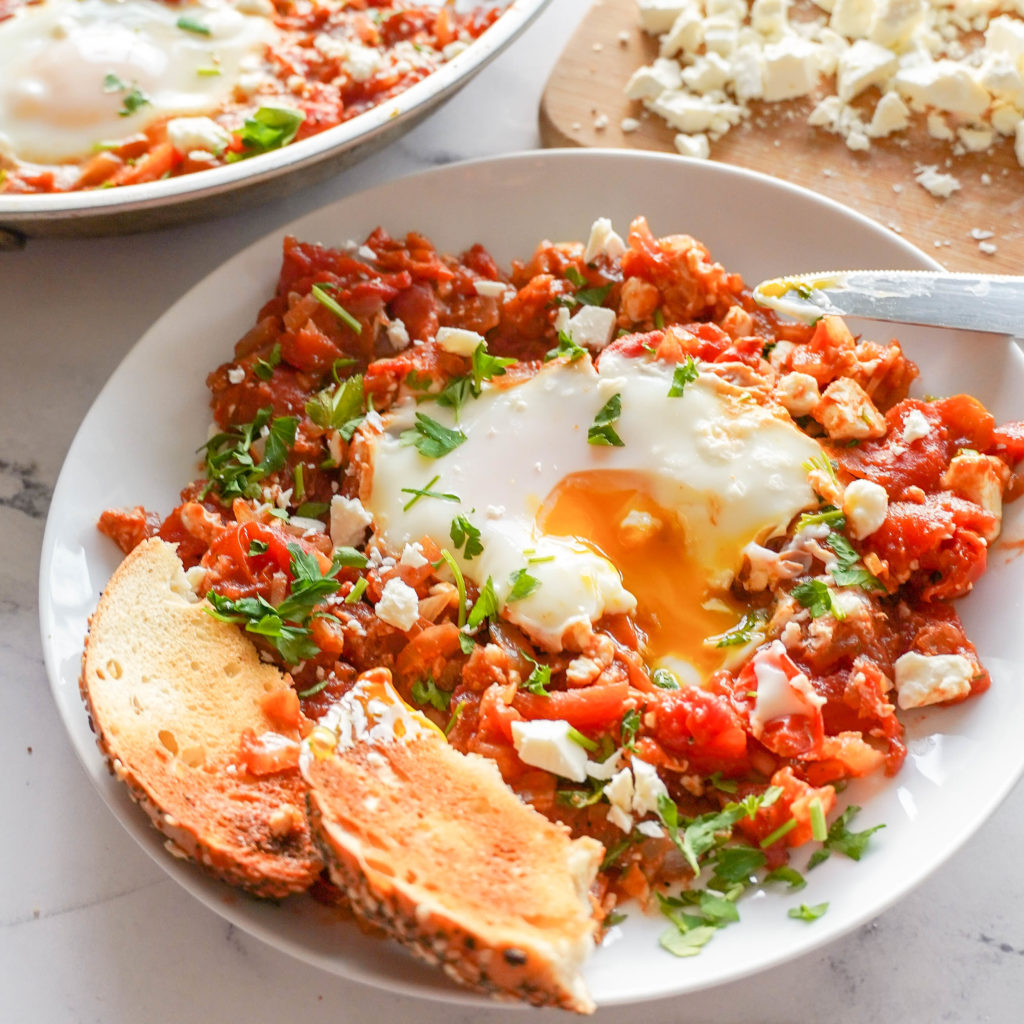 Want to add more veggies? Red bell pepper and spinach would be excellent options. Zucchini, swiss chard, and eggplant would be good too.
Want to add more protein? If you don't want to use chickpeas, add rinsed and drained white beans or cooked quinoa into the skillet when you add the canned tomato.
Want to change up the spices? The tomato/egg combination leaves a ton of room for experimentation and creativity. You can use simple salt, pepper, and onion powder… or you can really get creative and throw in Indian-inspired or Italian-inspired spices too. (Think curry powder or basil or oregano). In the photo below, I used fresh parsley and dill because I had them on hand. I would totally use basil or mint next time to try it out!
You can leave feta out if you're not a fan, or use a different cheese! Goat cheese and gorgonzola would both be great in this dish.
How to meal prep shakshuka
You can easily meal prep shakshuka with feta by whipping up this recipe and separating it into meal prep containers instead of eating it right away (if you can wait!).
I promise reheating eggs is safe. But if you're not into that idea, you can prep the sauce and quickly cook up a portion for one by adding the sauce to a pan with an egg or two on top.
Storage & reheating notes:
If not eating immediately, this meal can last for up to 4 days in the fridge. It's not freezer-friendly with the eggs. If you just make the sauce, that is freezer-friendly! It's best when reheated in the microwave or on the stove. Happy prepping!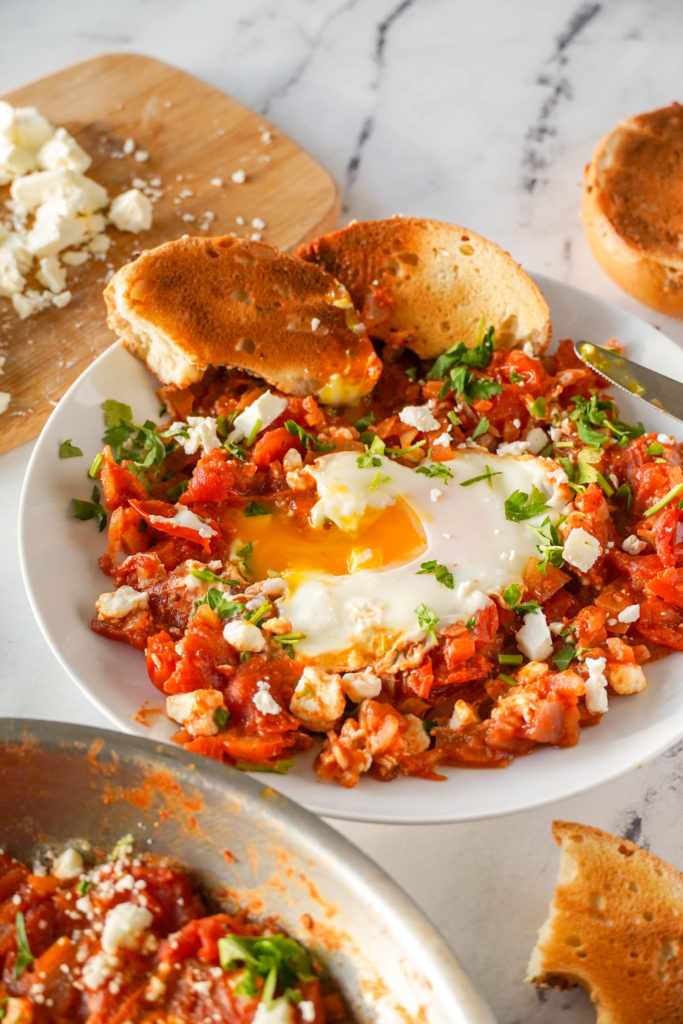 Here are some other delicious Shakshuka recipes to check out!
Or, try our other breakfast recipes!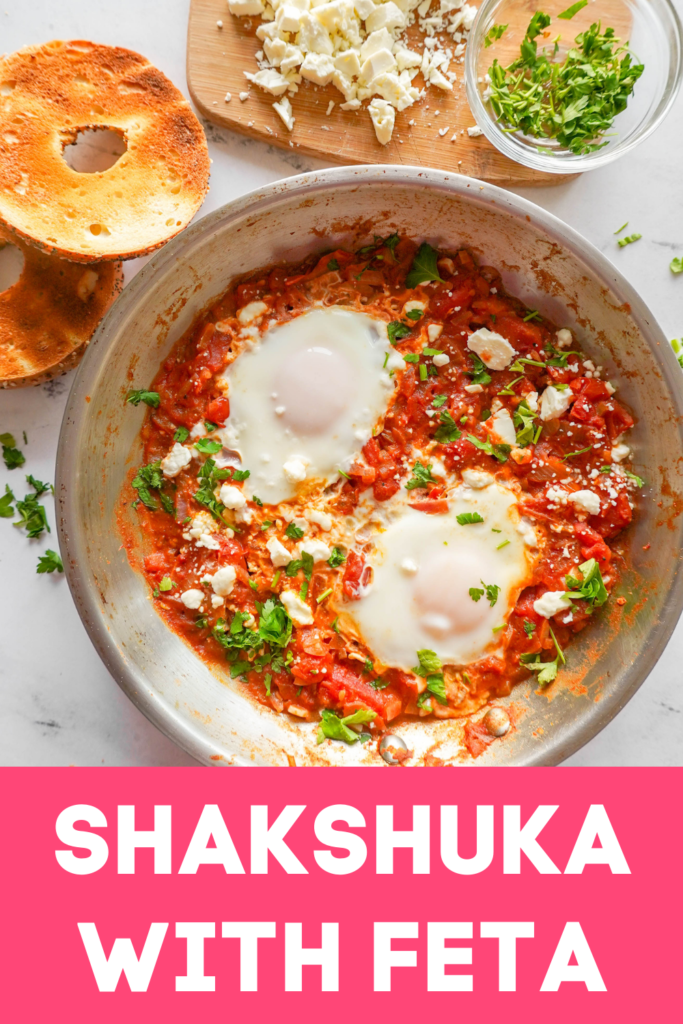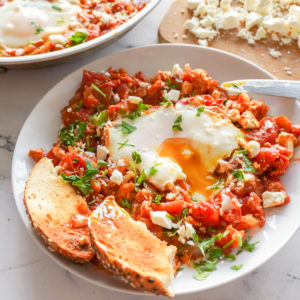 The Best One-Pan Egg Shakshuka For Meal Prep (Vegetarian)
Ingredients
1

TBSP

olive oil

15

oz

can of diced tomatoes

1/2

yellow onion

chopped

1

TBSP

sriracha

(optional if you like heat!)

1/2

cup

olives

chopped, optional

6

egg

salt and pepper to taste

2

tsp

paprika

2

tsp

cumin

2

tsp

cinnamon

1

tsp

turmeric

optional

1

cup

parsley

chopped, optional

3/4

cup

feta cheese

1/4 cup per serving

3

slice

bread

of your choice, for serving
Instructions
Add the oil to a large skillet over medium heat. After a minute, add the chopped onions and stir occasionally until fragrant (about 2-3 minutes).

To the skillet, add the canned diced tomatoes (with the liquid), sriracha, olives if using, salt, pepper, paprika, cumin, cinnamon and turmeric if using.

Stir well to combine and bring it to a boil, then turn the heat down to a simmer.

Crack the eggs over the pan and try to spread them out if possible so they're not touching too much, but it's okay if they are. NOTE! if you can't fit 6 eggs all at once, take 1/3 of the tomato mixture out of the pan and transfer it to a bowl. Do four at a time first, remove that from the pan, and then add the remaining tomato mixture + the remaining two eggs. This will double cooking time, but it's worth it I promise!

Cover and cook for about 10-15 minutes. The eggs will poach in the tomatoes and covering it speeds up the process a bit. Gently tap the eggs with your finger to see if they're done to your liking. Taste the tomato mixture and adjust spices if necessary (I added more heat to mine). Add in the feta and parsley if using!

Divide the mixture between three meal prep containers (you can freeze this!) Enjoy this meal heated up with a slice of toasted bread.
DID YOU MAKE THIS RECIPE?
Please leave a comment below on the blog or share a photo with us and tag @workweeklunch! Can't wait to see what you made!