It's official. I'm never buying hummus again. Why would I when I can make a much better-tasting version at home with this quick and easy hummus recipe?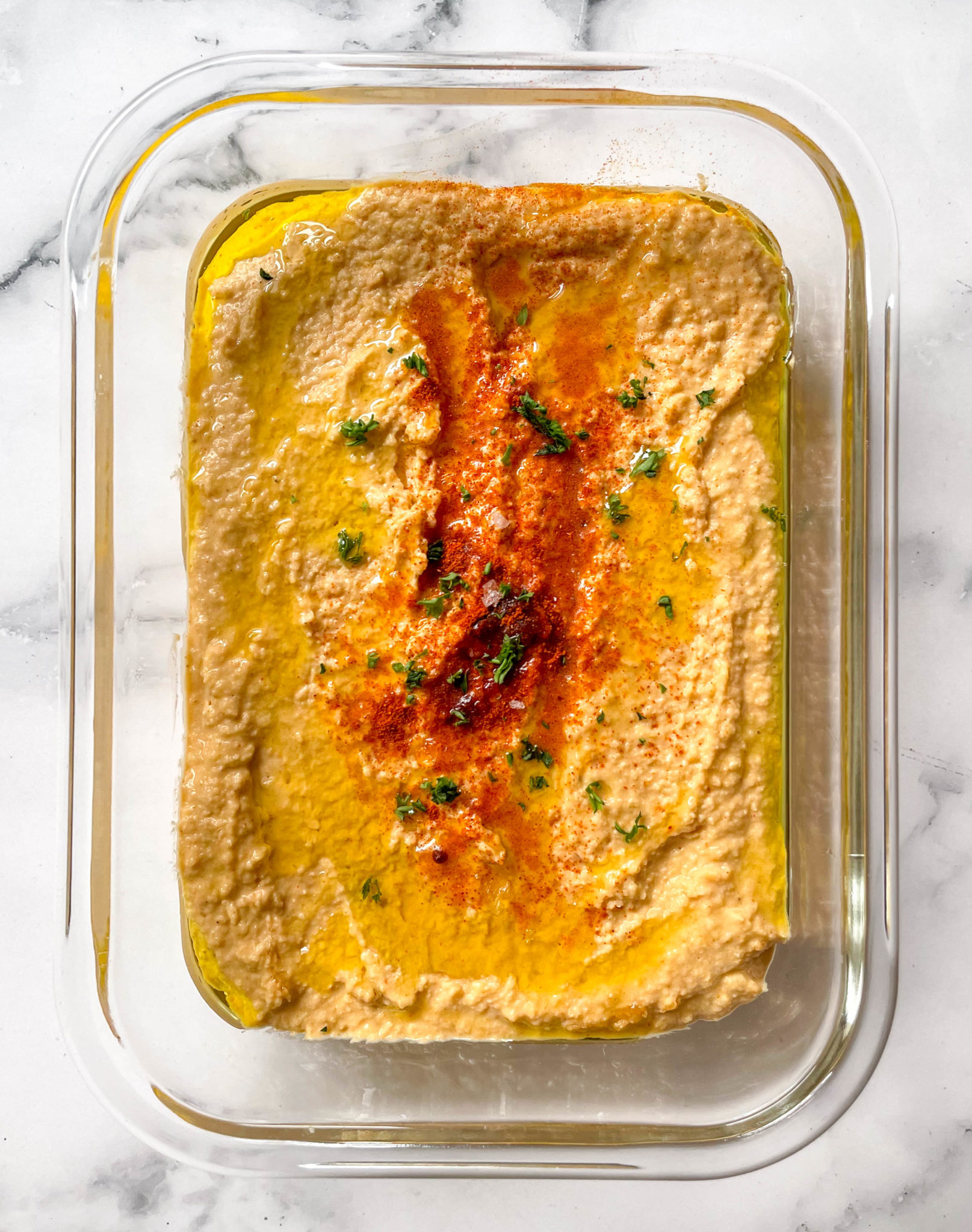 It started when my hummus-obsessed partner asked me if we had any of his favorite spread left… and I realized we were out. So I suggested we just make some!
Since then, I've been making this hummus recipe every week for snacking. It takes 10 minutes and just 5-6 ingredients (depending on how fancy you want to get!).
Get more recipes like this in the Workweek Lunch Meal Prep Program with access to our meal planning tools, grocery list generator, and more. Start a free trial today!
To make hummus, you'll need to buy tahini.
Tahini is made from ground-up sesame seeds and it's one of the main ingredients of hummus. It adds more depth to the flavor of the hummus (you could technically blend up the chickpeas without it) and gives it a nuttier taste.
You can find Tahini in most stores like Trader Joe's, Walmart, Aldi, Hy-Vee, Target, Kroger etc. My Key Foods store here in Queens had several brands to choose from in the "international" aisle next to the other Mediterranean foods.
It's not the cheapest ingredient (running anywhere from $6-$10) BUT it does last up to six months in the fridge so I'd say it's worth the small investment.
If you have a Trader Joe's near you, the tahini is quite affordable! I stock up every time I go.
How to change up this hummus recipe:
There are MANY ways to make hummus. If you search "hummus recipe," you'll get about 38,900,000 results. So here are some ways to make this recipe your own:
Roast that garlic. You can use regular raw minced garlic in this hummus, but I found roasting mine (just a couple cloves for 15 minutes on 375 F) added extra flavor.
Make it hot. A sprinkle of cayenne or sriracha would add a nice kick to this hummus if you like heat!
Blend in roasted red pepper. This adds a nice red color to the spread and rich, sweet flavor
Blend in herbs! This is a great way to use up leftover basil, cilantro or parsley.
Add roasted sweet potato for a creamy, comforting hummus experience.
Mix it up with avocado. Then it's like guacamole and hummus all in one!
Throw in roasted beets. This adds an incredible pop of color to any snack plate.
Hungry yet?! These are just a few of the MANY ways to jazz up this basic hummus recipe.
Related: Picnic Food: No-Reheat Meals for a Perfect Picnic
Let's talk about texture.
See the picture below? That's what happens when you're too excited to eat/take photos of your hummus masterpiece before having a chance to properly process it.
If I had processed my hummus for another minute with another dash of water and olive oil or tahini, I would have had a creamier, less chunky-looking hummus.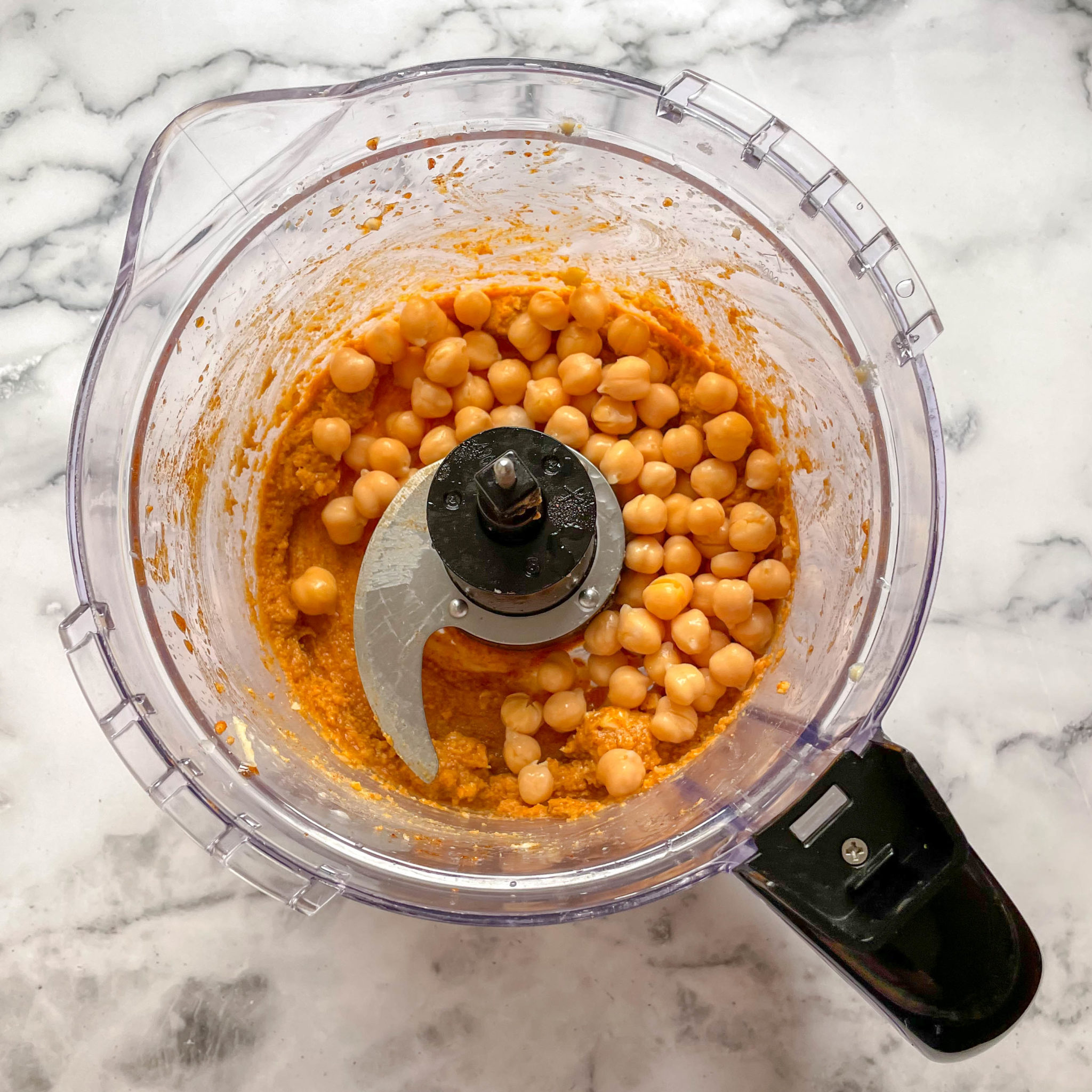 Lucky for me, my partner and I both like it a little chunky. It's entirely up to you! Just note you'll have to process it longer to get it to be creamier. Adding more water, olive oil or tahini helps.
The MANY uses for homemade hummus:
Maybe you're like me and the only feasible use for hummus is eating it directly out of the food processor with a spoon (or your finger). But there are a few other foods you can use as a vehicle for more hummus:
Eat it with chopped raw veggies, like carrots, celery, cucumber, sliced pepper, tomatoes, and snap peas
Use it as a spread for wraps and sandwiches
Make salad dressings and sauces with hummus (super easy, just reprocess the hummus with olive oil, lemon, and herbs!)
You can actually use hummus to make vegan alfredo sauces like this one.
I also like to use hummus as a dairy-free element in quesadillas and pizzas!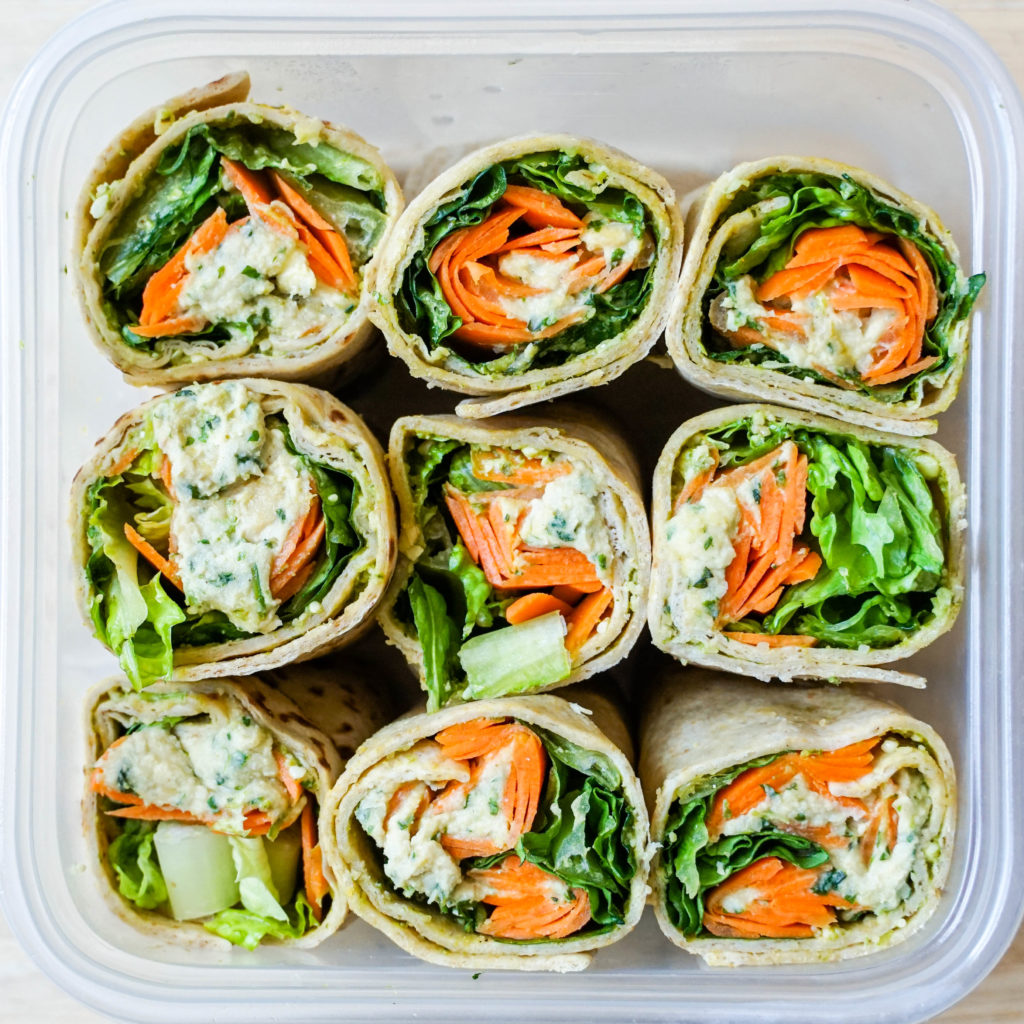 But there's nothing wrong with eating it straight with a spoon too.
Storage notes for this hummus recipe:
This hummus will last for 8-10 days in the fridge in an airtight container and 6-8 months in the freezer. If you freeze it, let it thaw in the fridge overnight before eating.
Happy hummus-ing!
PS: This recipe is free to the public, but if you want exclusive access to all of my easy, tested, and meal prep-friendly recipes and more, check out the Workweek Lunch Meal Prep Program.
If you want to try out a non-traditional hummus recipe, give one of these a shot!
And don't forget to try our other delicious recipes!
The Easiest Hummus Recipe You'll Want To Make Every Week
Ingredients
1/3

cup

tahini

1

lemon

for juices

2

cloves

garlic

minced or roasted

2

tbsp

olive oil

1

tsp

cumin

1/2

tsp

paprika

1

tsp

salt

15

oz

can of chickpeas

rinsed and drained

water

to thin
Instructions
Add the tahini and lemon juice to a food processor and process for about 30 seconds, until fully blended.

Add the olive oil, salt, cumin, paprika and garlic. Add any other spices you'd like at this point. Process for about 30-60 seconds. Scrape the sides down and process for another 30 seconds.

Add 1/2 of the chickpeas and process for about a minute. Then add the rest with a splash of water and process for a minute until the chickpeas are fully incorporated, scraping the sides down as needed. It may still be lumpy at this point, so add a little more water and process until it's at your desired consistency. Taste the mixture and adjust spices as needed. That's it!
DID YOU MAKE THIS RECIPE?
Please leave a comment below on the blog or share a photo with us and tag @workweeklunch! Can't wait to see what you made!