Maybe you've heard of jackfruit, maybe you haven't.
Either way, it's a little weird and can be intimidating to cook with.
But after you try it once, you'll realize how easy (and delicious) it is!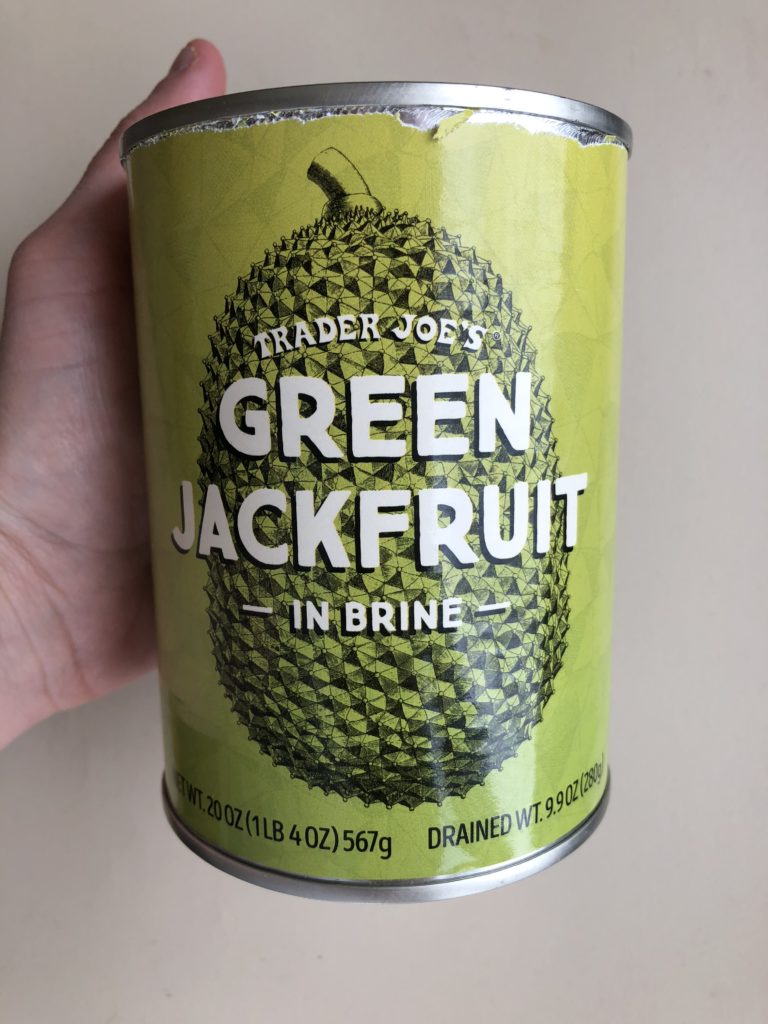 What's jackfruit?
Jackfruit is a fruit native to India and Southeast Asian countries. It grows in tropical areas.
You can get green (unripe or young) jackfruit that's used in more savory dishes, or you can get the yellow (ripe) variety that's sweeter and stickier.
I've never seen jackfruit whole in the grocery store (though I'm sure you can find it some stores), but it comes canned in Trader Joe's and in Whole Foods in either brine or syrup.
Jackfruit, like most fruit, has no protein and is high in fiber. So before using the recipe below, note that it should be paired with other ingredients to make a well-rounded meal! Meal ideas with jackfruit are also below.
What does jackfruit taste like?
Young jackfruit, the kind we're using in this recipe, is bland in taste. It has a very faint sour smell, but not in a bad way — and only before you cook it. It could be the brine, which you should rinse off before handling the jackfruit.
The taste after cooking really depends on how you flavor it!
What's the texture of jackfruit?
Even though it looks kind of like shredded meat, it's not chewy at all. It's soft and melts in your mouth. Plus, it's super easy on the stomach.
I love the texture of jackfruit, honestly! If you're iffy about it, order it at a restaurant first. It's often used in vegetarian Mexican dishes (tacos, burritos, quesadillas, enchiladas, tostadas etc).
The texture of jackfruit is not at all like tofu or tempeh. Give it a try!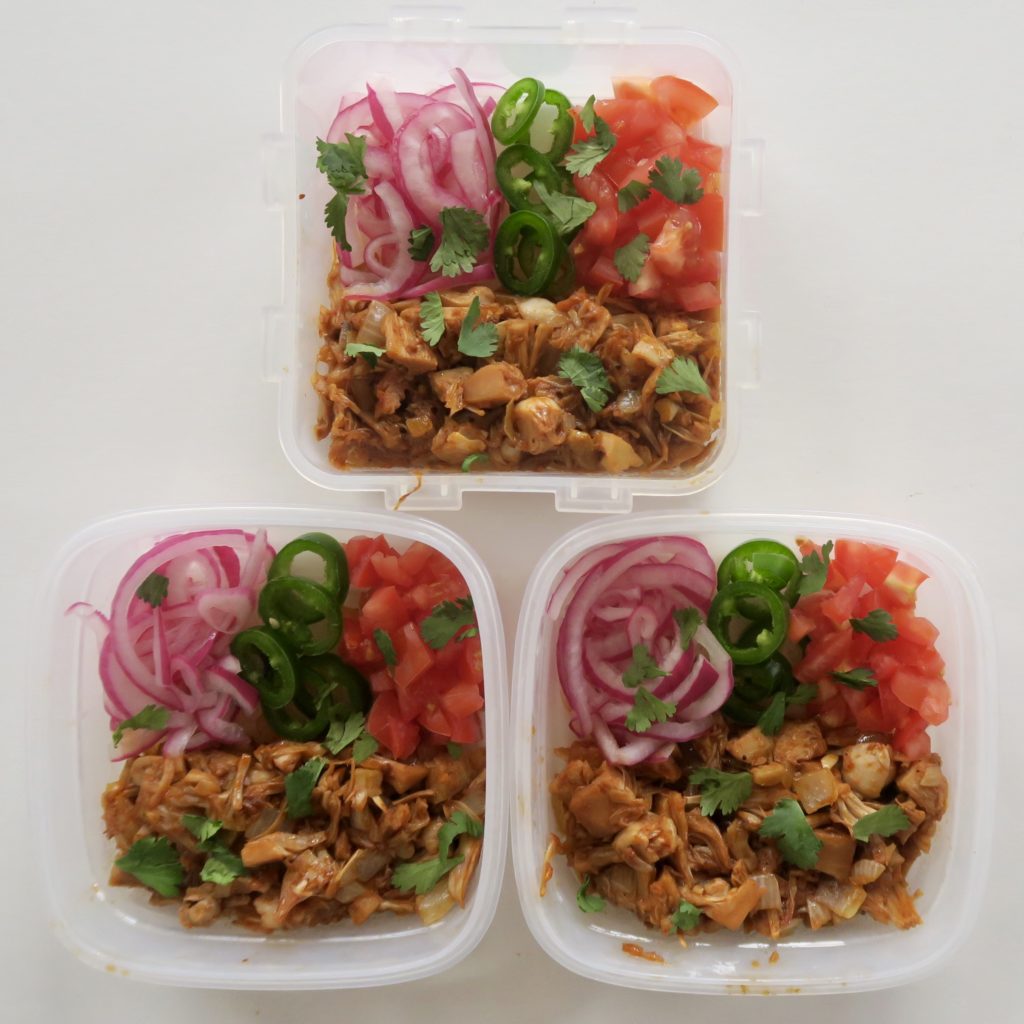 Different ways to use jackfruit:
Again, since it's not a protein source, it has to be used in meals with other ingredients — otherwise, you might be hungry later!
Here's a list of dishes that you can easily incorporate jackfruit into:
Curries
Chilis
Tacos
Enchiladas
Burritos
Sandwiches (think like pulled pork)
As a vegan replacement for tuna
Buddha bowls
Stir frys
Don't be afraid to get creative! In the photo above, I used what was in my containers as a taco filling. In the photo below, I used it as a sandwich filling. Both were awesome.
Where to find Jackfruit:
Trader Joe's, Whole Foods, Amazon and Thrive Market (they have the Upton's Naturals brand) are where I'd look first. Specialty stores may have it as well (and it's cheap).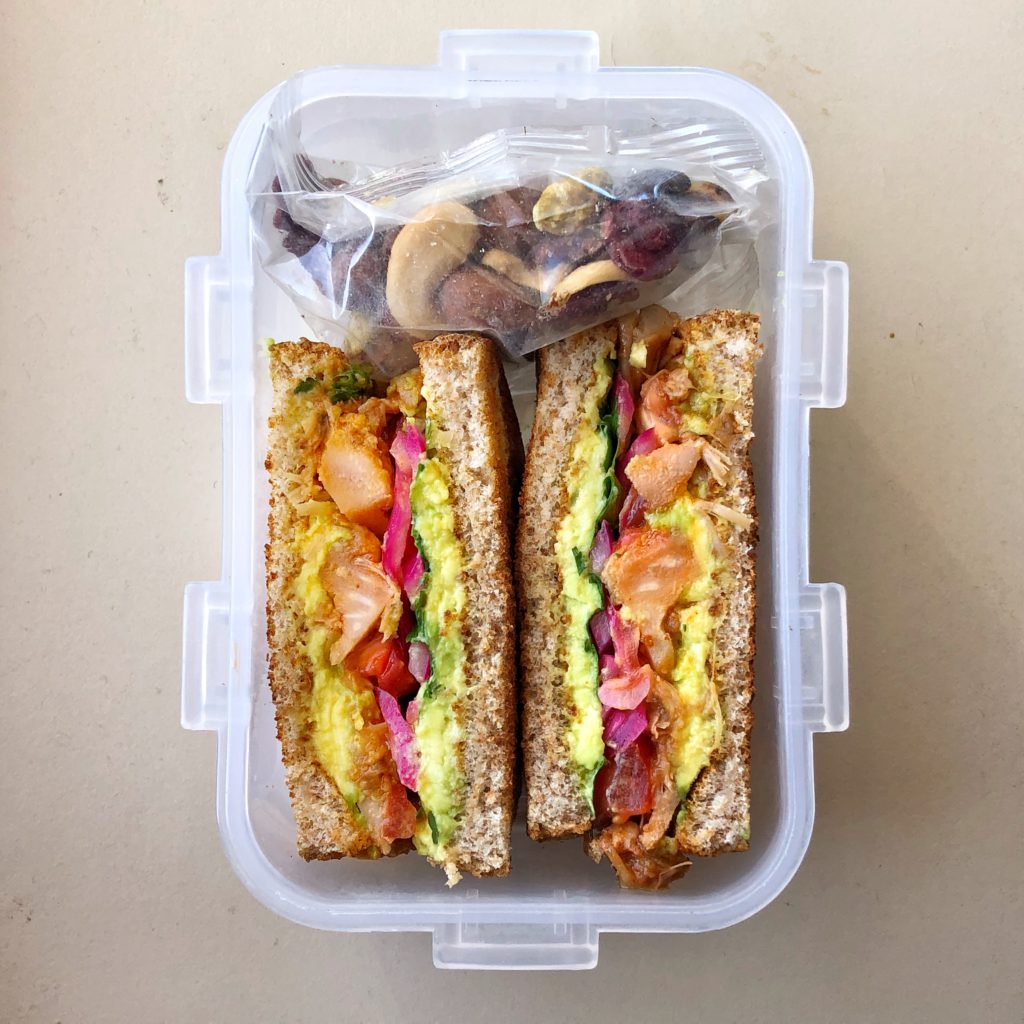 BBQ Jackfruit recipe notes:
BBQ jackfruit will last in your fridge for up to four days. You can eat it cold or reheat it on the microwave or on the stove.
Feel free to play with different sauces – it doesn't have to be BBQ sauce! An sianA stir fry sauce would go well with it too.
One can gave me four servings of shredded jackfruit (though the can said two servings, I found that it was a lot!).
I haven't tested freezing cooked Jackfruit yet, but I honestly don't see why it wouldn't work!
If you end up making this recipe, please share it with me on Instagram @workweeklunch or use the hashtag #workweeklunch!
Want to crush meal prep next week? Sign up below and immediately get my free meal prep guide for busy people!
Easy Vegan BBQ Jackfruit
Ingredients
1 20

oz

can of green jackfruit in brine drained and shredded*

567g, I got it from Trader Joe's

1/2

yellow onion

chopped

2

cloves

garlic

minced

1

TBSP

olive oil

3/4

cup

BBQ sauce

of your choice

2-3

tsp

cumin

cayenne

or crushed red pepper to taste, if you like heat! optional

salt and pepper to taste
Instructions
To prep the jackfruit, drain the brine from the can and use two forks to pull apart the jackfruit pieces. It will resemble shredded meat. Set aside.

Add oil to a large skillet over medium heat. After a minute, add the onion, stir and saute for a few minutes, until fragrant. Then add the garlic and stir.

Add the shredded jackfruit to the skillet, followed by the cumin, salt, pepper and bbq sauce. Stir well to combine.

Cook the jackfruit mixture, stirring occasionally, for about 7-10 minutes. Taste and adjust flavors if necessary.