The rumors are true. Meal prepping without a stove or microwave is totally possible, and I'm going to show you how to do it in this post. All you need is a small fridge to store your food in! As a result of  tons of requests from members of the WWL community I finally took the plunge into creating these no-cook vegan meals — I always appreciate what you all want to know!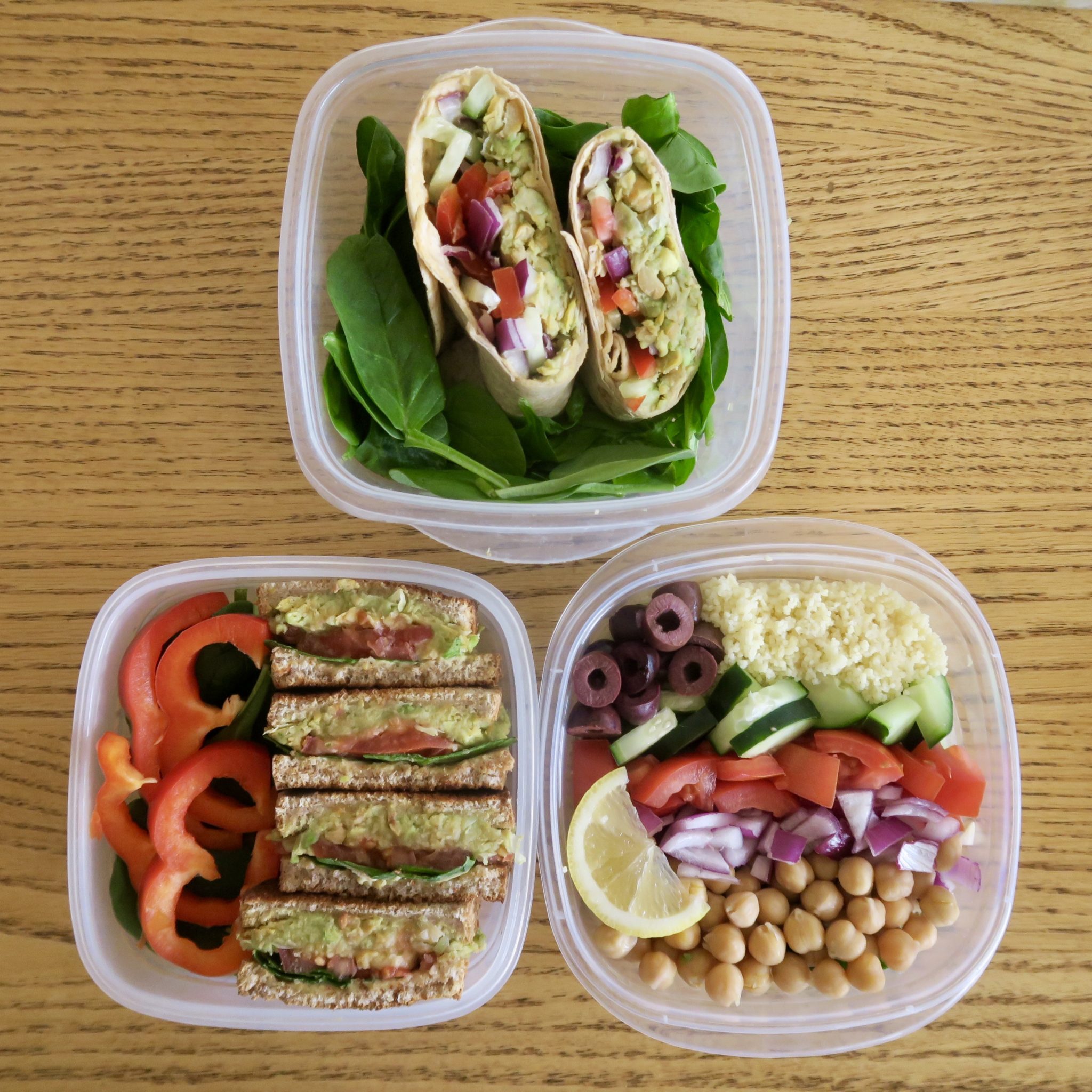 If you're a college student and as a result, you're just living somewhere that doesn't have a full kitchen, or even if you're traveling — all you need is access to a grocery store to make these recipes happen. You can meal prep without a kitchen!
These meals are vegan because I don't really like any of the common no-cook meat options (and meat can be more difficult to store):
rotisserie chicken
canned sardines
canned tuna
deli meat
Et cetera. If you happen to love these meat options, you can, of course, incorporate them into any and all of the recipes I'm about to share.
I decided to go with a trusted protein, chickpeas, and other veggies that taste delicious raw. However, if you're looking for more protein options check out this guide breaking down the top sources of meat-free protein and ideas for how to use them. 
You have two options for these recipes. You can:
Make one of each recipe, like I did, with the same ingredients
Or you can make three servings of ONE recipe to make sure you don't have a ton of leftover bread or wraps
It's totally up to you! As always, I invite you to customize these recipes based on the ingredients you have on hand, your dietary preferences or whatever food mood you're in.
Shopping List
1-15 oz (425 g) can of garbanzo beans (chickpeas)
Hummus
1 avocado
Spinach (or any green you like)
1 red onion
Whole wheat wraps (or whatever wraps you like)
1 cucumber
Sliced bread (I used whole wheat)
1 red pepper
1/4 cup of couscous
1 lemon
1 roma tomato
Olives (optional)
Dressing of your choice (optional)
No-Cook Couscous Chickpea And Veggie Salad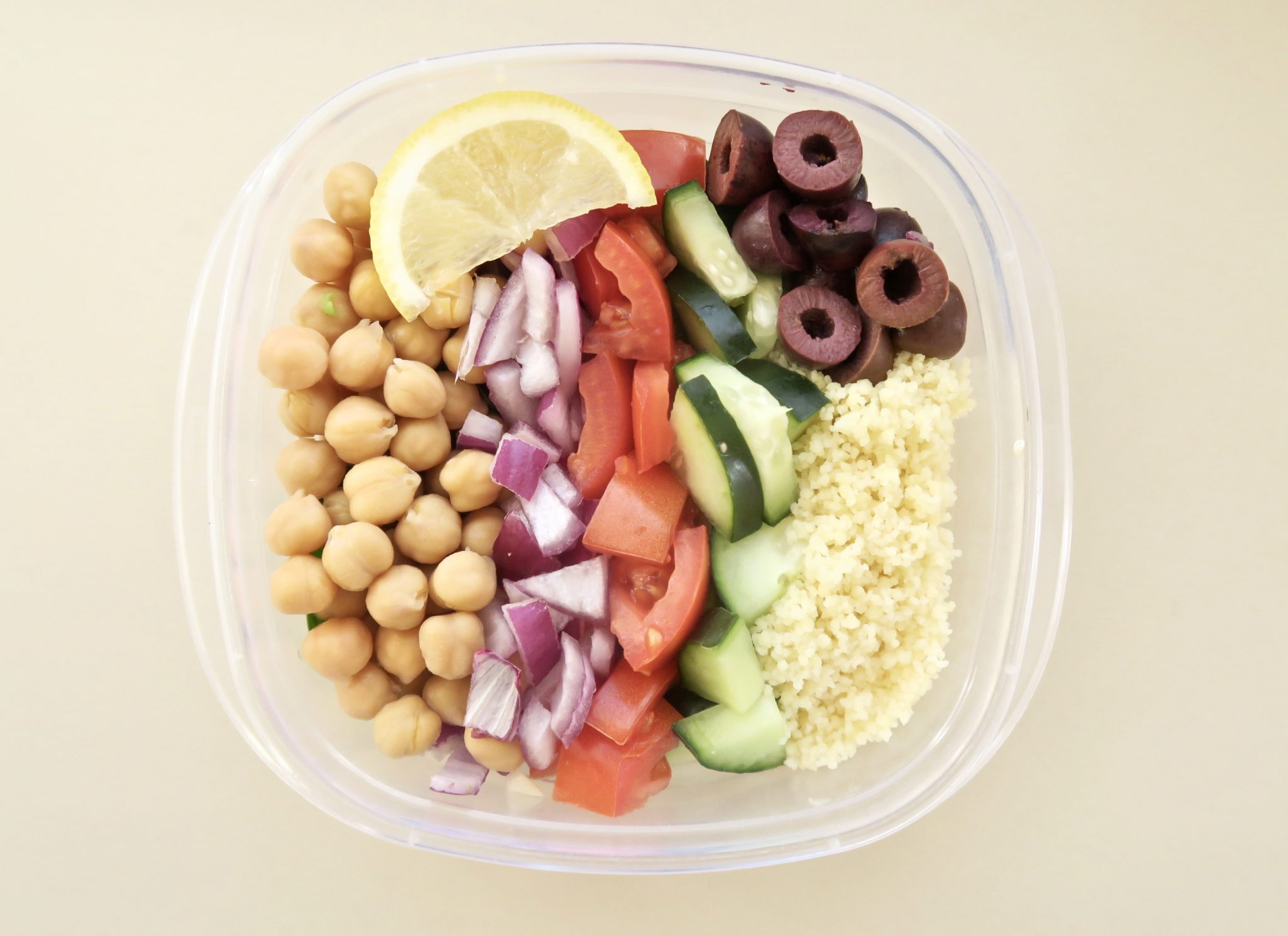 You'll need:
1/2-2/3 cups of chickpeas, rinsed and drained
1/4 cup of couscous
6 tablespoons of water or veggie broth
1/2 cup chopped cucumber
1/4 cup chopped red onion
1/4 cup chopped tomatoes
1 thick lemon wedge
salt and pepper to taste
olives (optional)
Make it:
To "cook" the couscous, simply add the water or broth to a bowl with the couscous. Next, let it sit for about 15 minutes until all the water is absorbed. That's it!
After that, combine the "cooked" couscous, chickpeas, onion, tomatoes, cucumber, olives if using, and lemon wedge in a bowl.
Finally, store for up to four days in the fridge. Before eating, you can warm it up in the microwave or eat it cold. Squeeze the lemon wedge over the salad and add some fresh pepper or your favorite salad dressing.
No-Cook Chickpea Avocado Wrap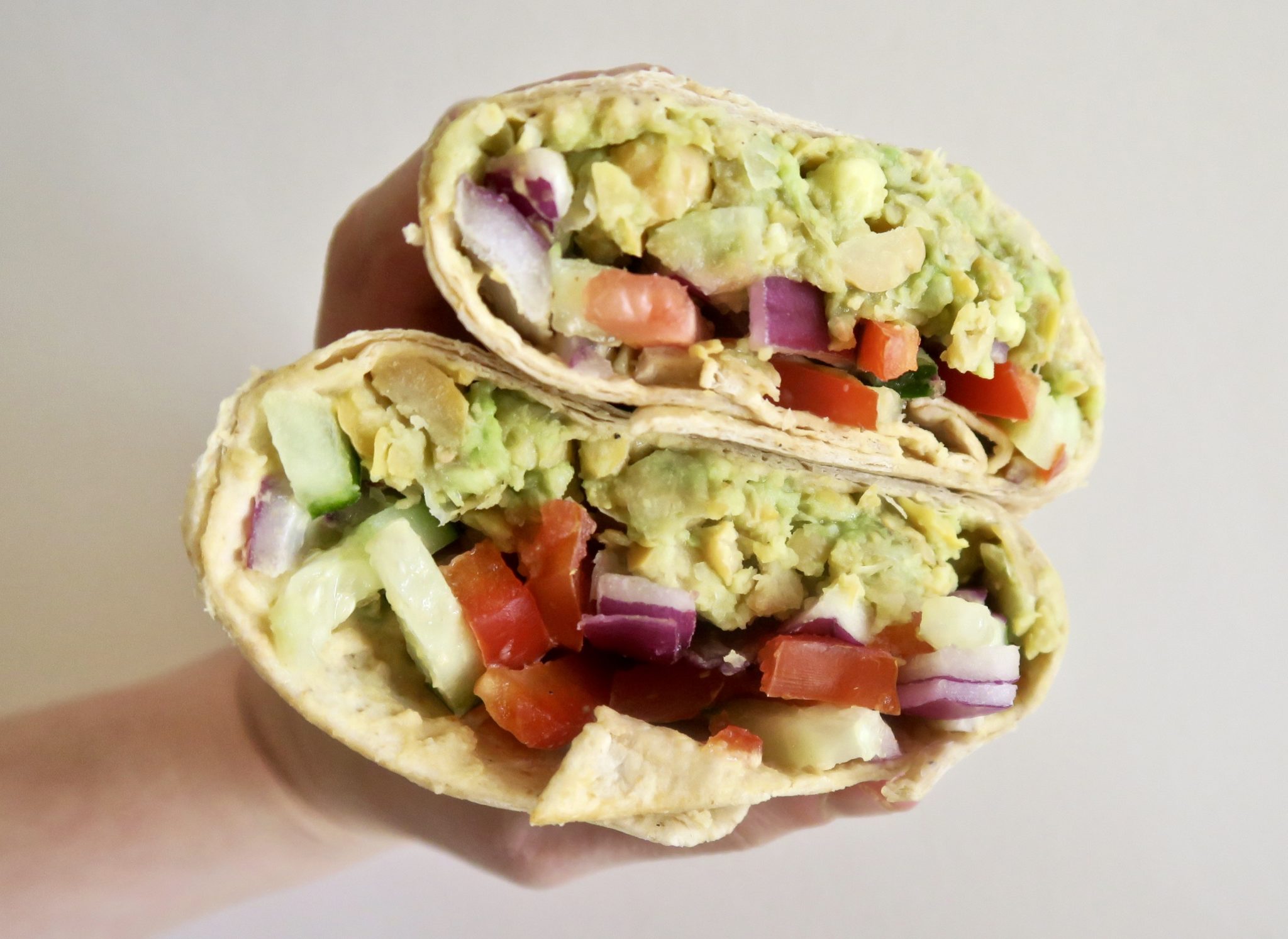 You'll need:
1/2-2/3 cups of chickpeas, rinsed and drained
1/2 avocado
hummus
a small handful of chopped red onion, cucumber and red pepper
salt and pepper to taste
juice from a lemon wedge
1 whole wheat wrap (or more if you're making multiple)
Make it:
Spread a layer of hummus all over the wrap, make sure it meets the edges
In a bowl, mash the chickpeas and avocado with a fork. After that, add the salt, pepper and lemon juice and mix.
Add 1/4 cup of the mixture to the wrap. Top with the other veggies.
Finally, wrap it up! Here's a video to show you how to do this.
Wrap the wrap (haha) in tin foil and store in the fridge for up to four days. Heat in the microwave for a minute or eat cold.
No-Cook Chickpea Avocado Sandwich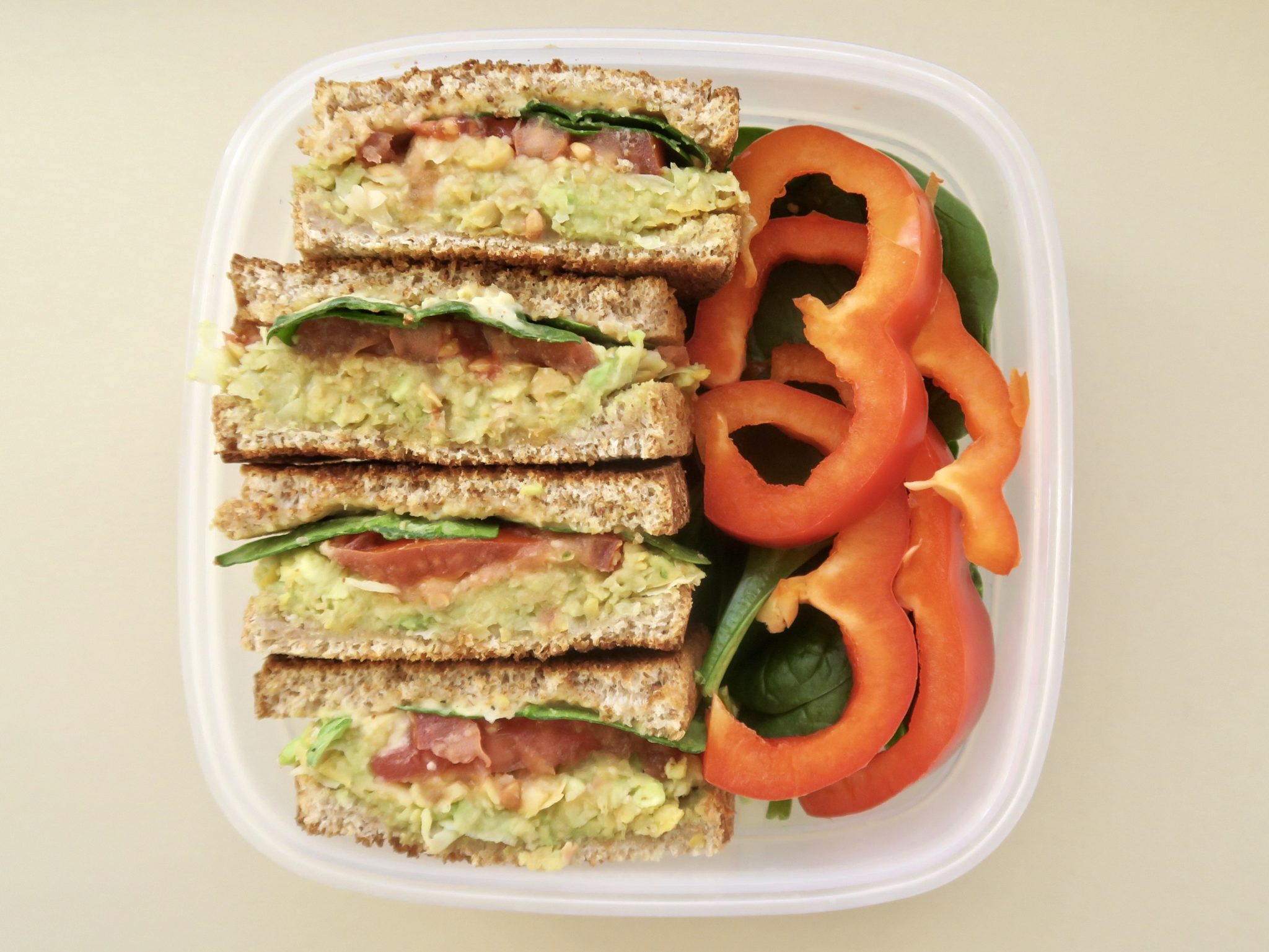 You'll need:
1/2-2/3 cups of chickpeas, rinsed and drained
1/2 avocado
hummus
a few thin slices of tomato
A couple spinach leaves
salt and pepper to taste
juice from a lemon wedge
2 slices of bread (or more if making multiple sandwiches) – For instance, you may need more bread depending on the size of your slices.
Make it:
Lightly toast your bread, then spread a layer of hummus on each slice.
Mash the chickpeas and avocado in a bowl with a fork. Add the salt, pepper and lemon juice and mix.
After that, on one of the slices, add 1/4 cup of the chickpea avocado mixture. Top with sliced tomatoes and spinach leaves. Complete the sandwich by topping it with the other slice of bread, hummus side facing down.
Finally, wrap the sandwiches in foil or store in airtight containers. Adding raw red pepper on the side is a great touch! Sandwiches should keep in the fridge for up to four days.
Some notes about these vegan no-cook meal prep ideas:
These recipes work best when you make them all in the same prep otherwise, you're going to have a lot of leftovers!
The avocado WON'T get brown because, of the citrusy lemon in the chickpea/avocado mixture, therefore, preserving the color.
I prefer a warm meal, so I heated these all up in the microwave and it worked great!
If you end up making these meals, don't forget to send me a picture or use #workweeklunch on Instagram.
Looking for more simple no-reheat/no-cook meal prep recipes?
6 no-cook recipes using chickpeas. I love chickpeas because they're ready to eat as soon as you open them and they're packed with the essential nutrients that keep you satisfied, like protein, fiber, and complex carbohydrates. In addition, they don't need a lot of maintenance to taste great—basically, they give me no excuse to skip lunch.
No reheat lunches (that are also 5-ingredient recipes) are also some of the simplest. Their simplicity is what guarantees their flavors work well whether piping hot or ice cold.
No microwave? These recipes are ideal for anyone without easy access to a microwave and they each cost less than $2 per serving, and they actually taste good!
Want to meal prep like a boss this week WITHOUT the overwhelm? Sign up below and get my free Meal Prep Essentials For Busy People email series (and guide).