I used to eat Easy Mac in college.
Thinking about it now, I shake my head because it never tasted nearly as good as the real stuff. But I get it. Adding water to noodles and adding powdered cheese was just EASIER than making it from scratch. Fine.
I'm happy to report that I've upgraded my life from instant mac to healthy mac.
What makes this mac 'n' cheese secretly healthy?
Chickpea pasta instead of regular pasta gives it an extra kick of protein
It's MOSTLY dairy-free, except for real cheddar cheese
Instead of breadcrumbs, I topped it with nutritional yeast
Let's keep all that between us, okay?
Of course, there's absolutely nothing unhealthy about normal pasta, using all dairy products and breadcrumbs as a topping.
Personally, eating a lot of dairy in one sitting gives me a stuffy nose. And eating lots of regular pasta puts me into a food coma.
Basically, use what's most affordable or convenient for YOU to use.
The other secret is in the sauce.
I added chipotle powder to the sauce because I feel like, in general, mac 'n' cheese needs to be a little tastier and spicier.
Even if you don't like spicy, the taste of it is pretty subtle. Plus, chipotle powder isn't that spicy on its own.
Just trust me on this one!
How to make this a complete meal:
I would probably not eat this on its own. Instead, add a green veggie and/or a protein.
In the video above, I paired this mac with BBQ baked tempeh and green beans.
Other great ideas would be adding peas, asparagus, broccoli, brussels sprouts, carrots, leafy greens, peppers, tomato… really any vegetable you fancy!
Grilled chicken and veggie, turkey or chicken sausage would be great protein pairings too. If you're feeling dangerous, mix ground beef or turkey right into the mac 'n' cheese to give it a Tex-Mex flare.
Notes about this recipe:
It's super freezer friendly. Feel free to freeze it for up to 6 months.
Double the recipe if you want to have extra for the fam.
You technically don't HAVE to bake this, but I think the texture is better for meal prep/leftovers
Feel free to use a gluten-free flour if you need to (in the sauce)
Use whatever cheese you want – could be fun to experiment with different flavors!
These meals can be stored in the fridge for up to four days.
Happy prepping!
Want to crush meal prep next week? Sign up below and immediately get three FREE mini meal plans!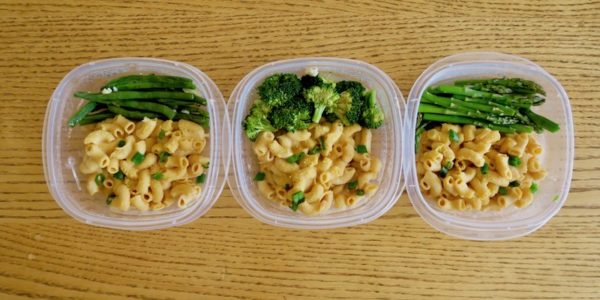 | | |
| --- | --- |
| | |
Preheat the oven to 400 F (200 C)

Prepare the pasta according to the package.

Melt butter in a medium-sized sauce pan. Add the flour and stir until combined. Then add the milk. Turn up the heat and stir constantly until the mixture thickens. Pour in the cheese and stir until melted. Add the chipotle powder, salt and pepper. Turn down the heat and set aside.

Drain the pasta and add it to the sauce. Stir until well combined.

Prepare a 9x9 baking dish with cooking spray & pour the pasta in. Top with nutritional yeast if using. Bake for 15 minutes uncovered.

Divide the mac n' cheese into as many servings as you want, I got 4 out of mine. Pair with a green vegetable for a complete meal! This will last 4 days in the fridge or 3-6 months in the freezer.