Butternut squash can be a tricky beast of a vegetable, but it's so worth the work. This cozy meal prep recipe comes together really quick and easy… once the butternut squash is in the oven.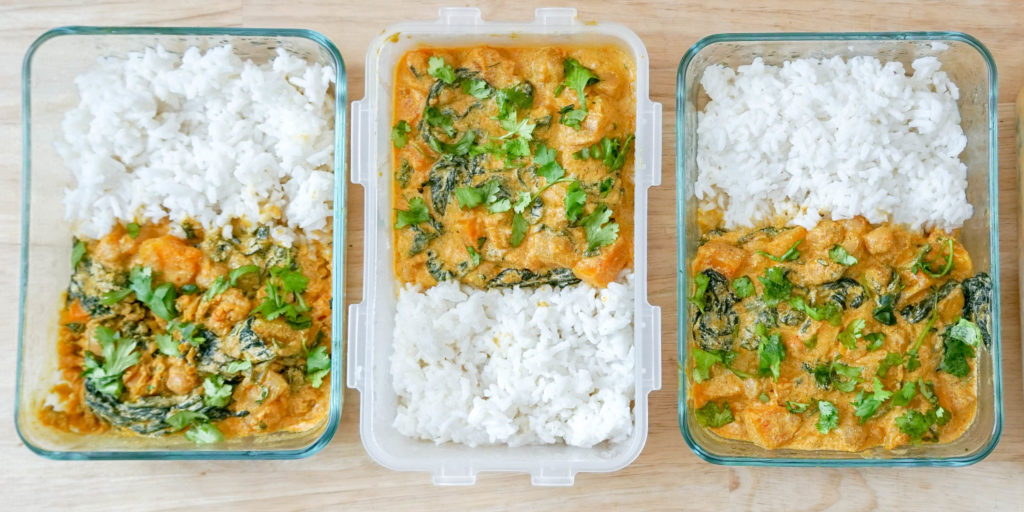 The butternut squash hack
It's fall and let's face it, butternut squash appears in many seasonal recipes.
If you're buying a whole squash for this recipe, we're going to peel, chop and roast (in cubes) the whole thing, BUT you only need half of what you roast for this recipe! The remaining half will be frozen for future fall recipes (like when my butternut squash mac n' cheese recipe drops in a few weeks).
Your future fall food-craving self will thank you. I've done this many times and it works beautifully (even though dealing with butternut squash is tough at first).
Annnnd if you plan on buying pre-cut squash, I guess you can ignore all that. You'll need 2-3 cups (about 16 oz) of chopped squash for this recipe.
Replacing butternut squash
Guess what? You don't have to use butternut squash if you don't want to. Acorn squash, pumpkin and sweet potato all work. You just need 16 oz of whatever you decide to use. The same method applies: roast it up with some olive oil, salt and pepper, then add it to your curry!
Check out all our curry recipes here!
Adding protein to this recipe
I'll be honest, this recipe was PLENTY filling without a direct protein source. I was satisfied all afternoon after eating it for lunch and I didn't even have that post-lunch slump.
But if you want a direct source of protein, we can rely on our usual suspects: chicken breast, chicken thigh, tofu, tempeh and chickpeas.
I think pork tenderloin would work well in this curry too. I've never tried chicken sausage in a curry, but the more I think about it, the more it makes sense. So that's also an option. Another veg option for protein would be mushrooms and peas, both which have a lot of protein as far as vegetables go!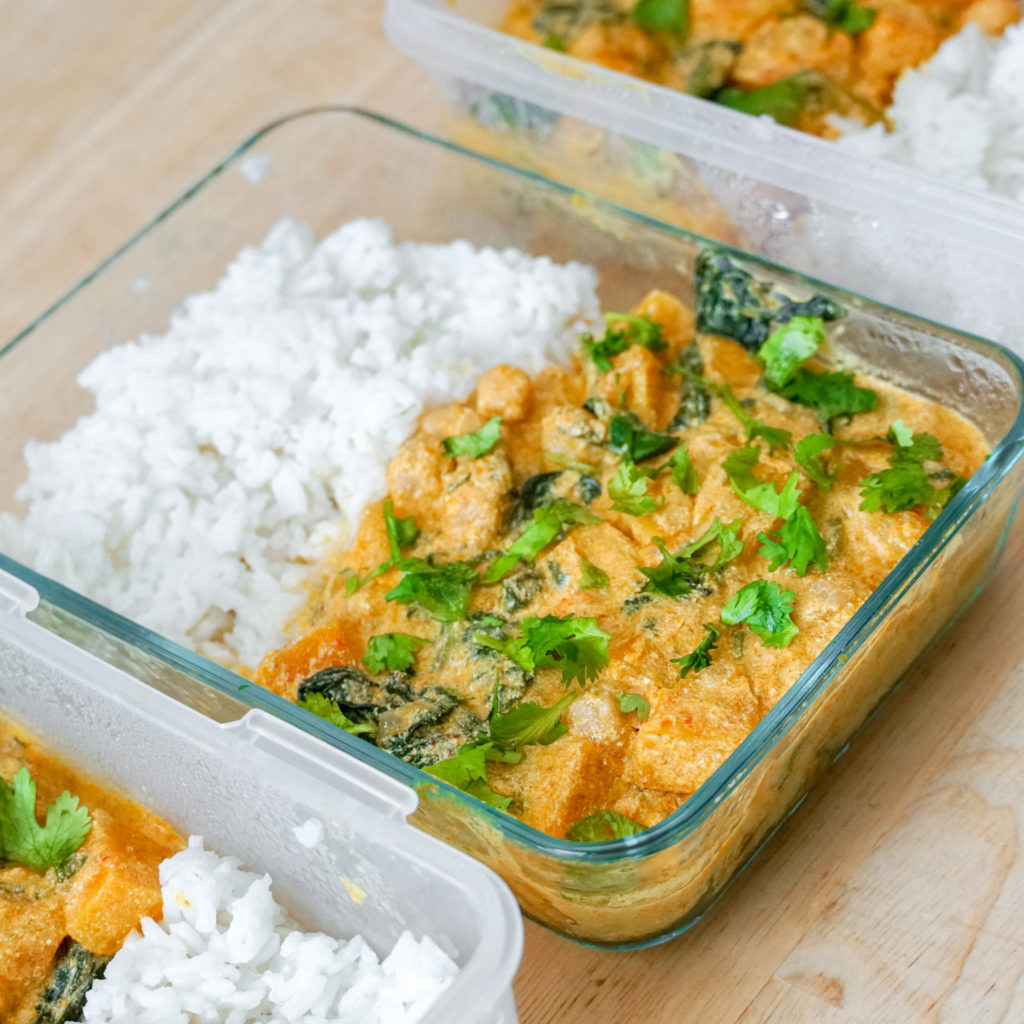 Instead of coconut milk…
Allergic to coconut? You can still make this recipe! Swap coconut milk out for almond milk, soy milk or others listed here.
If you want your curry to be thick, keep in mind that letting the water evaporate by cooking the curry uncovered over medium/high heat is an easy way to make it less liquidy on the stove.
Other veggies to add to this curry:
We're keeping it simple with spinach, tomato and butternut squash, but you can use:
cauliflower
carrots
snap peas
peas
bell pepper
kale
swiss chard
mushrooms
zucchini
Rice on the side
Curry over rice is divine, but if you want to swap the rice out for a different grain, go for it! Adding naan or pita on the side instead of rice could work too (or use both, why not?!). Brown rice, wild rice, cauliflower rice — whatever you prefer can work.
This butternut squash curry will probably be the food highlight of your week. Ready to try it?
(photo)
To double this recipe, simply double the ingredients.
Storage & reheating notes:
This meal can last in the fridge for up to 4 days. It's freezer friendly too! Reheat it in the microwave or on the stove for best results.
Tip for reheating rice: keep the container slightly covered when reheating (in the microwave) to steam the rice a bit as it heats up. This usually brings it back to life!
Happy prepping!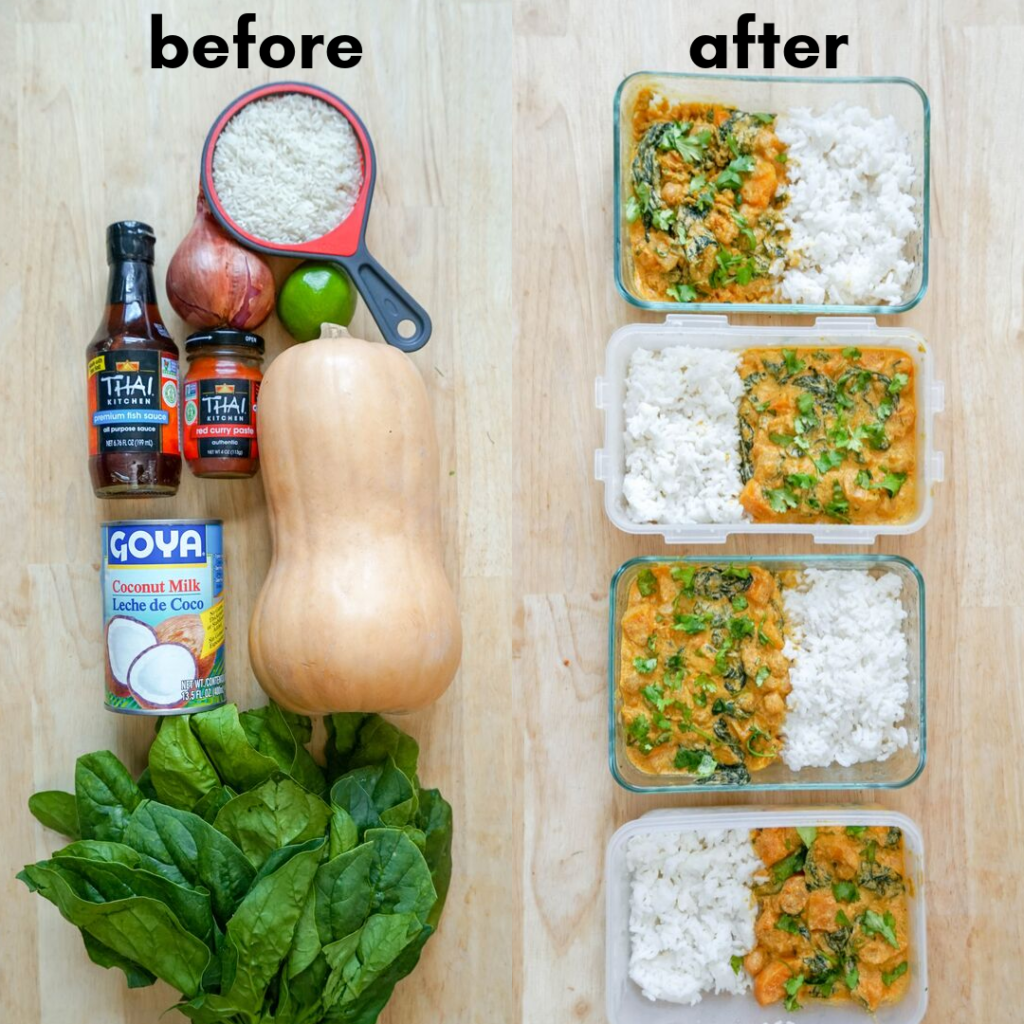 If you like this recipe, go ahead and SAVE for next time on your Vegan Meal Prep board!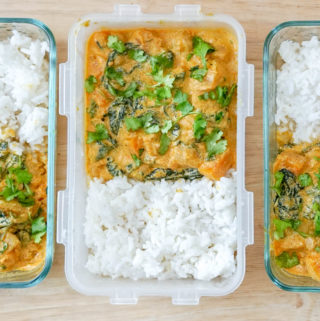 Creamy Butternut Squash Curry Over Rice
Ingredients
3

TBSP

olive oil

divided

1

large

butternut squash

salt and pepper to taste

3/4

cup

rice

sub grain of your choice

1

clove

garlic

minced

1

inch

ginger

minced

1

small

yellow onion

chopped

1

TBSP

curry paste

sub 2-3 tsp curry powder

15

oz

can of diced tomatoes

drained

15

oz

canned coconut milk

10

oz

spinach

fresh or frozen

1

cup

cilantro

optional

1

lime
Instructions
Preheat your oven to 425 F.

FOR THE BUTTERNUT SQUASH: Microwave the squash for 2 minutes. Then chop it in half in the middle. Chop the halves in half so you have 4 quarters. Scoop the seeds out of the bottom half with a fork or spoon. Then carefully use a knife or the best peeler you have to peel the skin off. Finally, cut the whole squash into cubes (think bite-size, but not too small either).

In a bowl, toss the butternut squash with two tablespoons of olive oil and salt. Pour the squash onto a baking sheet and try to spread out the pieces as much as possible. Roast for 30 minutes. Note that you will only use half of the squash for this curry and you'll freeze the other half for future recipes (so you don't have to chop again!)

RICE: Cook the rice according to the package.

Once the squash has been in the oven for 20 minutes, start the curry: Heat up a large skillet over a medium flame, then add the remaining olive oil, garlic, ginger and onion. Add a pinch of salt. Cook, stirring frequently, until the onions have softened and darkened in color, about 5-7 minutes.

Add the curry paste to the pan and toss it with the garlic and onion mixture. Then add the drained tomatoes and 1/2 of the roasted butternut squash to the pan (set the other half aside to cool before freezing) and toss to coat it in the curry mixture. Then add the coconut milk. Bring the mixture to a low boil and let it reduce a bit.

Turn off the heat and stir in the spinach until it wilts (you can cover the pan to speed this up). Squeeze 1/2 a lime over the pan and stir. Then divide the rice between three meal prep containers, followed by the butternut squash curry. Garnish with cilantro and lime wedges.
DID YOU MAKE THIS RECIPE?
Please leave a comment below on the blog or share a photo with us and tag @workweeklunch! Can't wait to see what you made!