Having a declicious turkey burger recipe in your meal rotation is a must. You can easily switch them up with different sauces, spices, toppings, and sides- needless to say they will never let you down! Don't be intimidated by the thought of making your own patties, you'll be surprised at how easy it is. Let's get into it!
Get more recipes like this in the Workweek Lunch Meal Prep Program with access to our meal planning tools, grocery list generator, and more. Start a free trial today!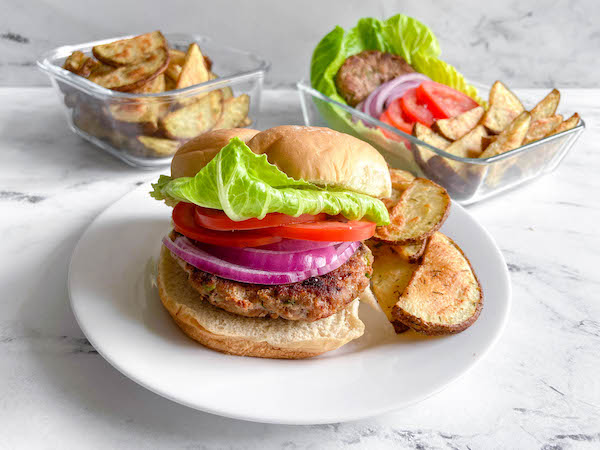 Here's how to change up this turkey burger recipe:
If you hate onions, don't use 'em! It will still be tasty. Pickled red onions or caramelized onions would be delicious as well.
You can pair this with a salad or really anything you want on the side. You could eat the patties over rice or a grain of your choice.
Add in your favorite toppings! Mushrooms, sauteed peppers, and onions, bacon, grilled pineapple, guacamole, or a fried egg. There are endless ways to customize.
You can use whatever spices you enjoy to season the burger.
Use whatever sauce you enjoy. Stick with a classic like ketchup or barbecue sauce, or try out one of these delicious homemade sauces.
Turn these into meatballs instead of patties!
You can swap the potatoes for sweet potatoes when making the fries. You can also buy frozen fries or tater tots to make this recipe even easier!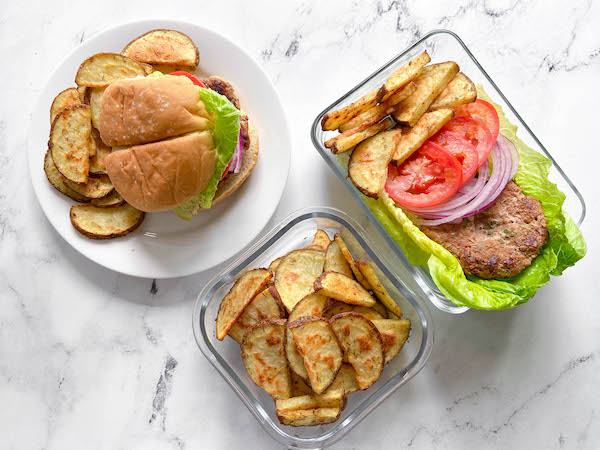 How to get crispy fries:
The best way to get your fries nice and crispy is to soak them in warm water with salt as the recipe states! You will then dry the potatoes before adding them to the pan.
You can use russet, Yukon gold, or sweet potatoes in this recipe!
If you want them extra crispy, you can cut them into matchsticks instead of wedges.
You can also use an air fryer for this step if you have one! This recipe details how to make crispy fries in an air fryer.
As mentioned above, you can also simply buy frozen french fries or use tater tots to make this recipe even easier.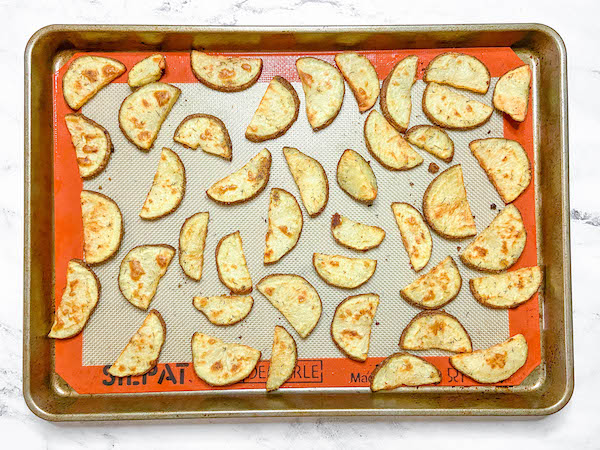 The best way to store this turkey burger recipe:
This turkey burger recipe will last for up to four days in the fridge. You can freeze extra turkey burger patties to make in the future for up to three months. Make sure to thaw them out in the fridge the day before cooking!
This meal reheats well in the microwave or you can reheat turkey burgers on the stove for a few minutes. For crispy fries, reheat in the oven, air fryer, or stovetop. I recommend storing any chopped fresh veggies for toppings separate from the patties and fries. If you're adding a homemade sauce, store that separately as well!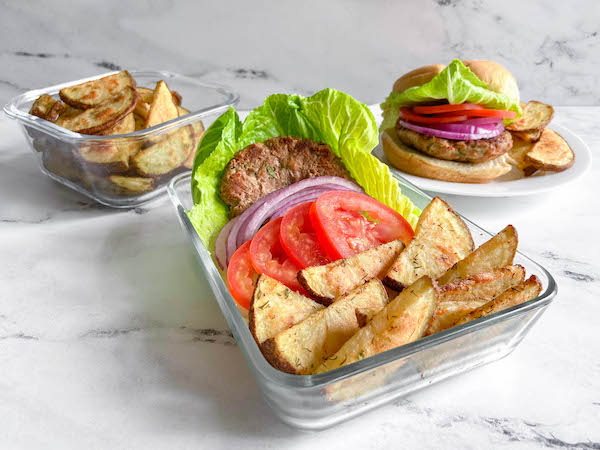 Don't forget to try all our other delicious free recipes!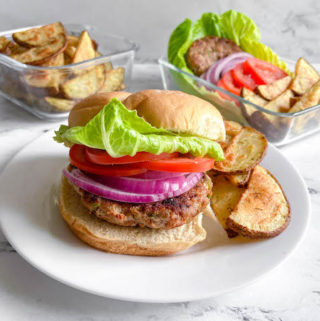 Meal Prep Turkey Burger With Crispy Fries
Ingredients
For the french fries
cooking spray
1 cup water warm for soaking
1 TBSP salt
2 russet potato sliced into wedges or half moons
1 tsp garlic powder
1 tsp onion powder
1/2 tsp dried dill
1 tsp salt
1/4 tsp pepper
1 TBSP olive oil
For the turkey burgers
16 oz ground turkey
3 scallions thinly sliced
salt and pepper to taste
1 tsp onion powder
1/4 tsp cayenne
1 tsp cumin
8 leaves romaine lettuce
1/2 medium red onion sliced
1 roma tomato or plum tomato sliced
3 burger buns optional
Instructions
Preheat the oven to 400F (200C) and spray a baking sheet with cooking spray.

In a medium bowl, add the salt and 1 cup of warm water and gently swish together with your hands to dissolve the salt.

Add the sliced potatoes and more water until the potatoes are completely covered and let soak for at least 15 minutes. After they soak, drain the potatoes and pat them completely dry with a clean kitchen towel.

In the same bowl, add all of the spices and mix with a spoon. Add the dry potatoes on top, then top with the olive oil. Combine everything with your hands until the fries are well coated in spices and oil.

Spread the fries in an even layer on the baking sheet (or two) making sure they do not touch. Bake for 25-30 minutes, flipping the fries with a fork after 15 minutes. Once they are crisp and lightly browned, remove them from the oven.

While the fries are baking, prepare the burgers: In a large bowl, combine the ground turkey, green onion, salt, pepper, onion powder, cumin and cayenne (add any other spices you like here to mix it up!). Mix until combined, then form patties with your hands. I made 3 large patties.

Heat a skillet over a medium flame for 2-3 minutes, then add the oil and let it heat up for 1-2 mins. Add the patties and let them cook about 7-9 minutes on each side. I had to flip mine a few times and it took a bit longer than I thought it would.

Assemble: Place the patties on the lettuce, stack the red onion and tomato next to them, then add the potato wedges. Let cool for 30 mins before placing in the fridge. Eat within 4 days and top with your garnishes and sauce before eating!
DID YOU MAKE THIS RECIPE?
Please leave a comment below on the blog or share a photo with us and tag @workweeklunch! Can't wait to see what you made!