I used to go to this place called Blossom to get a vegan sweet potato, avocado and kale wrap for lunch.
It was my special treat (because they were $12 a pop). When I moved to Colorado, I couldn't find anything like them. So naturally, I made them myself for half the price!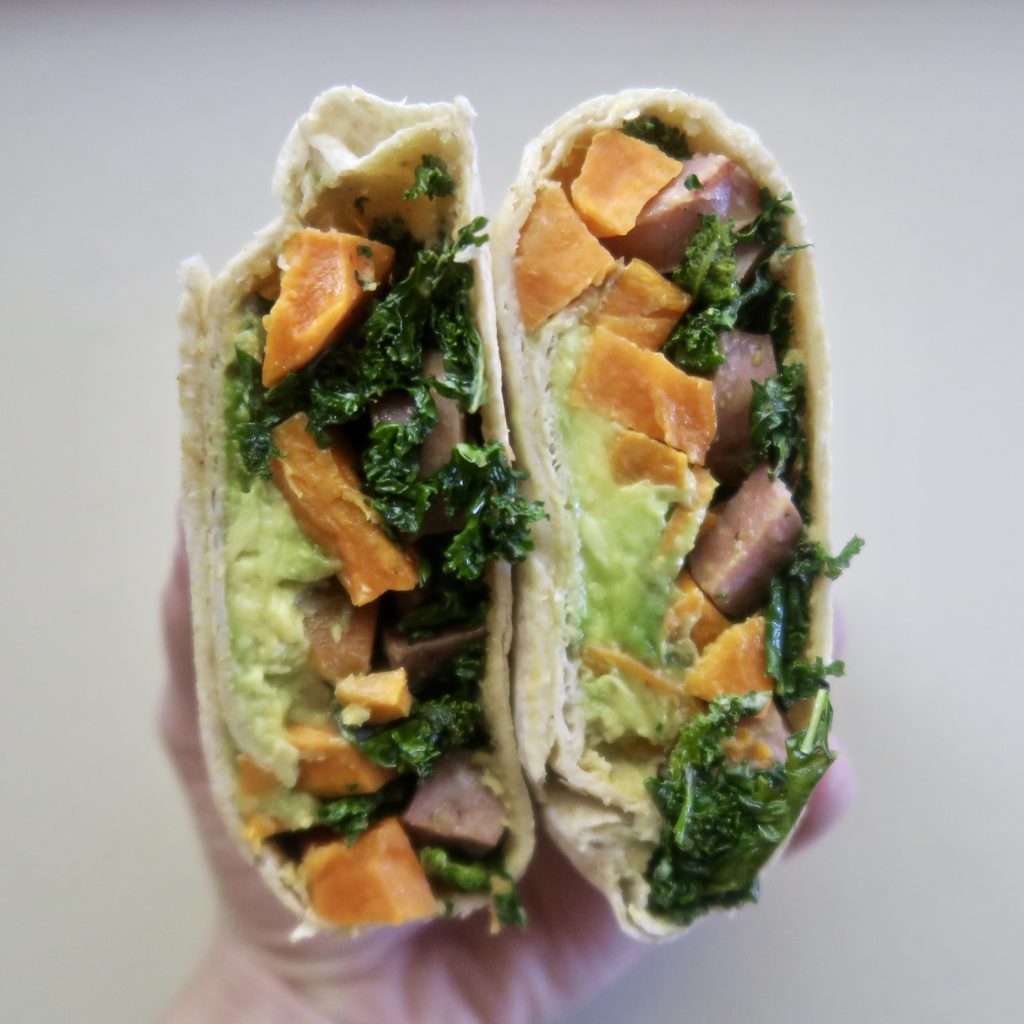 How to crush this recipe (and make it your own)
You don't have to use sweet potato! This could totally work with other types of potato, winter squash and even rice.
You don't have to use kale either! Spinach or other greens would totally work. I just love the texture of kale in a wrap.
Can't find avocado or don't want to use it? That's fine, just add more hummus instead.
I used chicken apple sausage (my favorite) in these wraps as the protein element, but you can use vegetarian/vegan sausage too.
Make sure to get the kind that looks like hotdogs — not the loose sausage that comes in a giant tube.
This would also work with tempeh chunks, tofu chunks and maybe even cut up veggie burger!
How to wrap a wrap properly:
I am admittedly terrible at this and I hope that by watching this incredibly short video, you can be better at wrapping wraps than I'll ever be.
How to wrap a Tortilla - 2 methods in 60 seconds - Recipes by Warren Nash
How to double or add more volume to this recipe:
To double this recipe, simply double the ingredients!
To add more volume, I'd start with veggies. Other good wrap-friendly veggies are bell pepper, carrot, cabbage and cucumber. You can also stuff more greens in there! I also find that whole wheat wraps are more filling than regular tortillas, but that might just be me.
Storage & reheating notes:
This wrap lasts for up to 4 days in the fridge. You can store it in a container or in foil/saran wrap — totally up to you.
This is a no-reheat meal! It's awesome cold and at room temperature. I personally wouldn't heat it up, but if you wanted to, I suggest the toaster oven or in the microwave wrapped in a paper towel to absorb extra moisture.
Happy prepping 🙂
Sausage, Sweet Potato, Kale And Hummus Wrap
Ingredients
3

8"

tortillas

of your choice

1

sweet potato

medium, chopped small

3

cups

kale

or spinach, chopped

1

avocado

mashed

1

cups

sausage links of your choice

chopped, (optional)

salt and pepper to taste

1

tsp

cinnamon

1

tsp

cumin

or something with a kick

2

TBSP

olive oil

1/2

cup

hummus

1

lemon

sliced into wedges
Instructions
Preheat your oven to 400F. Line a baking sheet with foil and set aside.

In a bowl, toss the sweet potatoes with 1 TBSP olive oil, salt, pepper and cinnamon. Pour onto the baking sheet and bake for 20 minutes.

Add 1 TBSP olive oil to a skillet over medium heat, followed by the kale and sausage if using. Add cumin, salt and pepper. Cook, stirring frequently, for 7ish minutes until kale has wilted.

When the sweet potato is done, assemble! Spread a few spoonfuls of hummus on each wrap. It should be a fairly thin layer. To the middle, add the kale and sausage, sweet potato, avocado. Squeeze a lemon wedge over the veggies and wrap it up! (Watch the video above for the best wrapping technique
DID YOU MAKE THIS RECIPE?
Please leave a comment below on the blog or share a photo with us and tag @workweeklunch! Can't wait to see what you made!