This idea came to me because whenever I make a frittata, it's only filling if I include some kind of carb element. Sometimes it's toast, muffin or slice of banana bread, but everything changed when I wrapped a slice of frittata in a tortilla and grilled it. Wow. Crunchy, satisfying, easy to eat – what more could you want?
If you've made a frittata before, this is going to be easy and you'll love it. If not, you'll learn a new skill along the way! Frittatas are the perfect way to use up leftover veggies at the end of the week.
Recipe overview
Here we're using a bunch of eggs, some cheese (which you can leave out if you're dairy-free), veggies for texture and color and tortillas. I bet you have most of these ingredients on hand right now!
Vegetables that work in this (from hardest to softest)
bold = you have to cook them before they go in the frittata!
potatoes of any kind: Yukon gold, fingerling, sweet potato, russet etc
Hard squashes like butternut squash, acorn squash and pumpkin
Brussels sprouts
green beans
broccoli
cauliflower
eggplant
mushrooms
asparagus
leeks
onion of any kind
shallots
peppers of any kind
zucchini
peas
summer squash
tomatoes
greens of any kind
Veggies that don't work: super watery veggies that shouldn't be cooked like cucumbers and very sweet veggies like corn and carrots.
You can also add leftover cheese and herbs to your frittata!
How to cook veggies to go in a baked frittata:
From the list above, the ones highlighted in bold need to be cooked for about 10-15 minutes (chopped small so they cook fast!) before baking them into a frittata. You can choose to roast them (since you're using the oven anyway) or quickly sautee them in 1 TBSP of oil in a skillet on the stove. Cover the pan to get them to cook faster.
The remaining veggies can go into a frittata raw or lightly steamed in the microwave.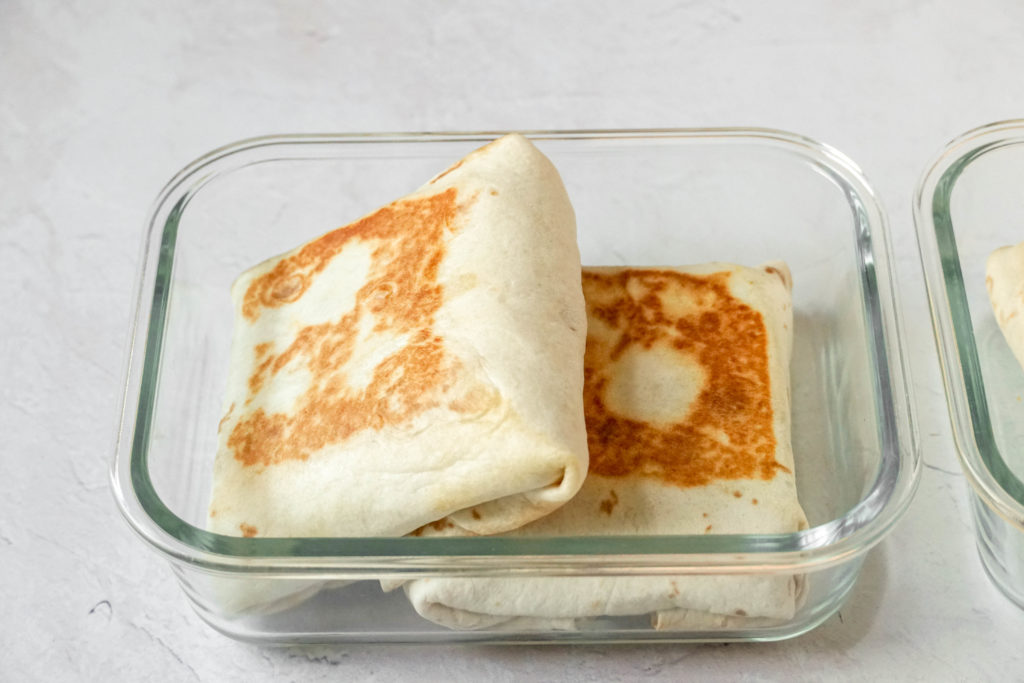 Want to add meat?
Cooked sausage, bacon and ground meat go really well in frittatas too! Just make sure it's cooked before you add it to the egg mixture.
Best tortillas to use
You know I love Mission tortillas, but for this, any kind will work because you're grilling these to seal them shut. They shouldn't fall apart!
But you can absolutely wrap and grill (on a nonstick pan) just before eating, which I've done in the past, if you're worried about them falling apart or any sogginess.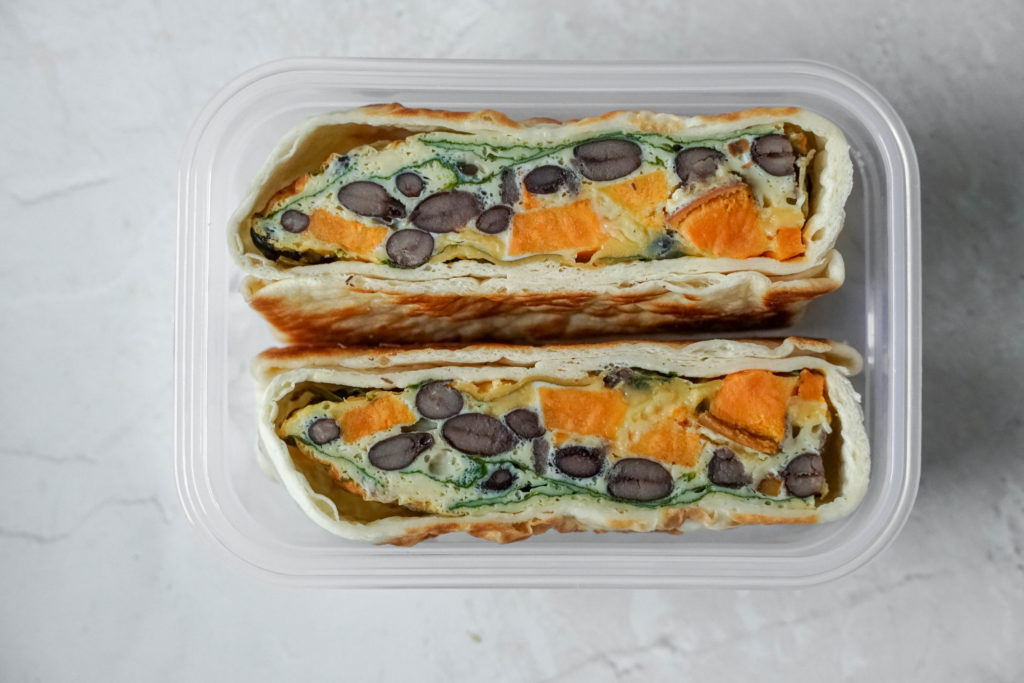 Storage & Reheating Notes:
This brunchwrap supreme can last in the fridge for up to 4 days and in the freezer for up to 6 months. It reheats well in the microwave, on the stove, in the oven or in the toaster oven (covered so it doesn't dry out). You can also eat it cold or at room temp!
My favorite way to reheat this: microwave for 1 minute, broil for 30-60 seconds.
Happy prepping!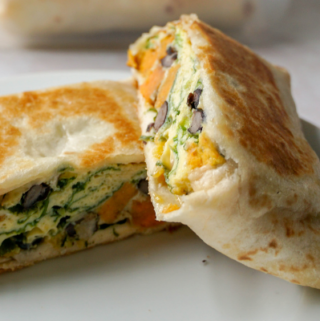 Brunchwrap Supreme
Ingredients
cooking spray

7

eggs

1/4

cup

milk of your choice

salt and pepper to taste

1

red bell pepper

chopped

1

green bell pepper

chopped

1

cup

shredded cheese

optional

4

large

tortillas
Instructions
Preheat your oven to 400 F. Grease a baking dish with cooking spray.

Whisk 7 eggs in a large bowl with milk of your choice and set aside.

OPTIONAL: If adding any meat or leftover veggies that must be cooked, give them a quick saute at this point.

Pour the whisked eggs in the baking dish. Add salt and pepper and stir. Add the chopped red and green bell peppers and cheese, then stir. Bake uncovered for 30-35 minutes, until the top of the frittata is golden in color and firm to the touch. If it's still a little soft in the middle, cook for an additional 5 mins.

Let the eggs cool for 20 minutes (it's normal if they deflate a little!) and slice the frittata into pieces. Note that the size of the pieces is completely up to you! This meal is freezer friendly and extras can be frozen.

Wrap each slice in a tortilla "envelope" style. Fold two opposite sides in, then fold the two other sides over. Place fold side down on a plate and repeat until all the frittata slices are wrapped.

Preheat a skillet for 2-3 minutes over medium heat. Then add cooking spray and one of the brunchwraps fold-side down. Let it cook for 3-4 minutes over medium-low heat, until it's golden in color and firm. Flip and cook on the other side for 3-4 minutes. Repeat until all the brunchwraps are sealed up! Let them cool before storing in an airtight container in the fridge.
DID YOU MAKE THIS RECIPE?
Please leave a comment below on the blog or share a photo with us and tag @workweeklunch! Can't wait to see what you made!