I've been dreaming of a peach salad for a few weeks now and am so happy I finally put one together! This salad is bright, full of texture and really hits the spot! I enjoyed it with some homemade croutons for lunch and dinner and can't wait to make it again.

Recipe overview
In this salad, we're using peaches, kale, sauteed chickpeas, toasted almonds, corn and basil. We also have a simple yet delicious honey balsamic dressing. The basil makes it to be honest!
Here's what you can change.
How to customize this salad
Keep all the ingredients separate if you're worried about sogginess and assemble salads as needed. I like to pre-assemble them in containers just to make life easier. Whatever you do, don't mix it all up and add the dressing if you intend to eat it the next day.
You can use fresh, canned, or frozen corn.
Dairy-free or vegan? Skip the feta! Nutritional yeast on top of this salad would be a delicious swap.
If you just don't like feta- swap it out for gorgonzola, blue cheese, or goat cheese!
If you don't have peaches- mangoes, apples, nectarines, apricots, and even plums would work in this!
Instead of chickpeas, try cooked and cooled quinoa, baked tofu cubes, or tempeh.
Add some more crunch! Walnuts, cashews, peanuts, seeds, or croutons would be great.
Adding avocado would be awesome if you have any!
Swap kale for spinach or other salad greens you enjoy. Kale is the best for these though! It seems to hold up best in the fridge in my experience.
Use a dressing of your choice
Honey balsamic worked great for this, but you can use whatever dressing you like or have on hand!
I think a tahini based dressing would be great for this too.
Turn it into a wrap
If you think a salad isn't enough for a meal for you, I highly recommend wrapping this salad up in a tortilla or stuffing it into a pita pocket to add more volume.

Storage Notes
This salad lasts in the fridge for up to 4 days. It's not freezer friendly. You don't have to reheat it! It tastes great cold or at room temp. Happy prepping!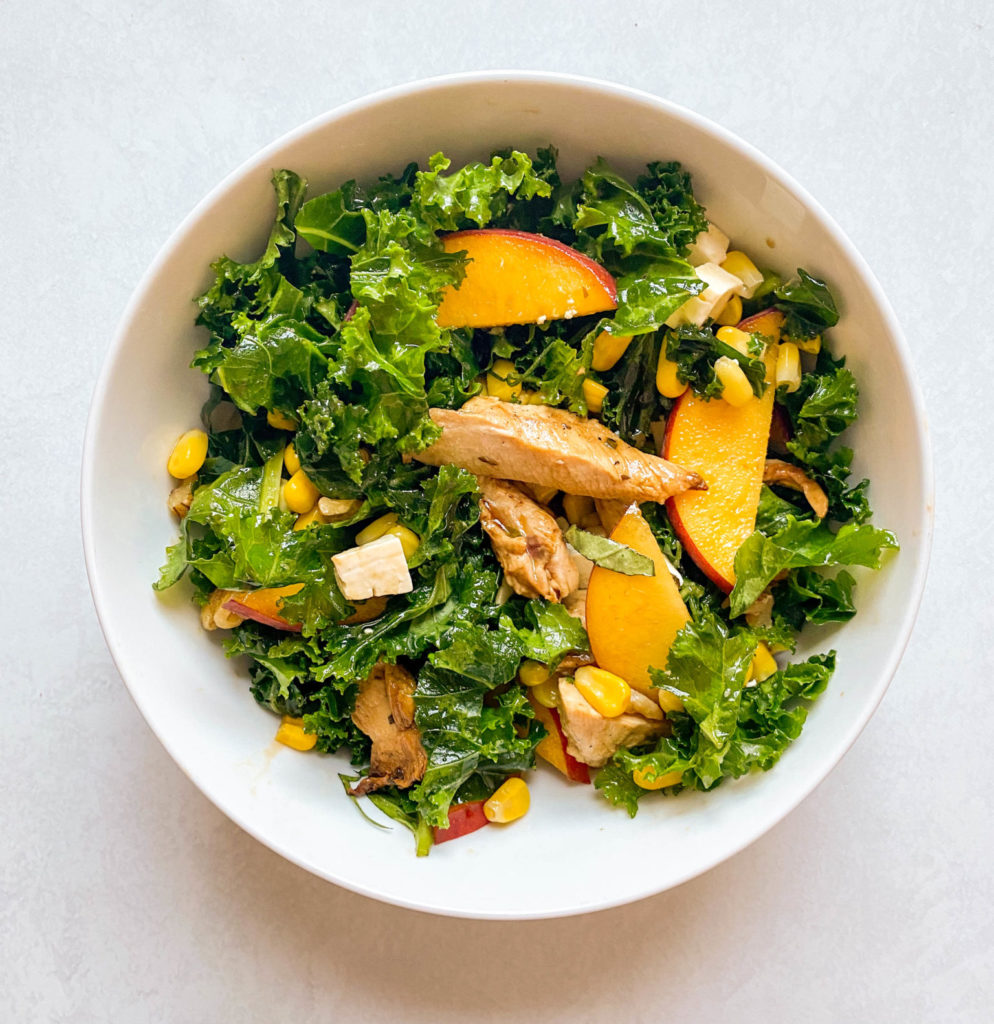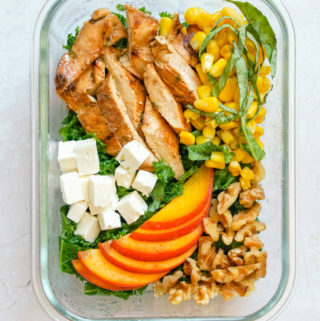 Basil Lime Chicken & Peach Kale Salad
Ingredients
For the chicken/marinade
2

limes

cut in half

2

TBSP

olive oil

divided

1

TBSP

honey

sub agave or maple syrup, plus more to taste

1

cup

basil

chopped finely, divided

1

cloves

garlic

minced

1

TBSP

soy sauce

1/2

tsp

salt

16

oz

chicken breast

sliced into thin pieces
For the salad
2

peaches

sliced

1

cup

corn

fresh, canned or frozen

1

cup

walnuts

chopped, sub almonds

1

cup

feta cheese

sub gorgonzola, blue cheese or goat cheese

6

cups

kale

chopped, sub spinach or greens of your choice
For the dressing
1/4

cup

olive oil

2

TBSP

balsamic vinegar

1

TBSP

honey

sub agave or maple syrup, plus more to taste

1

tsp

worcestershire sauce

sub soy sauce

salt and pepper to taste
Instructions
Make the marinade: To a measuring glass, add juice from 2 limes, half of the olive oil, honey, half of the basil, garlic soy sauce and salt. Stir well and taste. Place the sliced chicken in a big bowl or baking dish and pour the marinade on top. Let the chicken sit for 15 minutes up to 24 hours in the fridge.

Meanwhile, chop and prepare the remaining salad ingredients and set aside.

Make the dressing: Add the olive oil, balsamic vinegar, honey, Worcestershire sauce and salt and pepper to a small jar or container. Seal and shake well. Taste and adjust flavors as necessary.

Cook the chicken: heat up a skillet for 3-5 minutes (it needs to be hot!). Add the remaining oil (1 tbsp) and let it heat up for a minute or two. Making sure the chicken has enough space, add a few pieces to the pan. Try to get as little liquid in the pan as possible. Cook the chicken on each side for 4-5 minutes if they're thin pieces. You'll need to cook longer for thicker pieces. Set aside and repeat until all the chicken has cooked.

Let the chicken rest and cool down completely before slicing to assemble them with the salads. Hot chicken = soggy salads!

Assemble: add 2 cups of kale to each container (you'll have to really pack it in! Deep containers are better for this) followed by 1/3 cup of corn, walnuts, and feta cheese per container. Divided the sliced peaches between each container. Slice the chicken into pieces and divide it between the containers. Top with remaining basil. Keep the dressing separate.
DID YOU MAKE THIS RECIPE?
Please leave a comment below on the blog or share a photo with us and tag @workweeklunch! Can't wait to see what you made!