How to make your kitchen smell amazing: make this butternut squash lasagna.
That's it, that's all you need to do.
Seriously, this lasagna was so much less effort than I thought it would be!
Want to make this meal? This recipe is stoppable via Jupiter! Click here to fill your cart with groceries and have them delivered to you asap.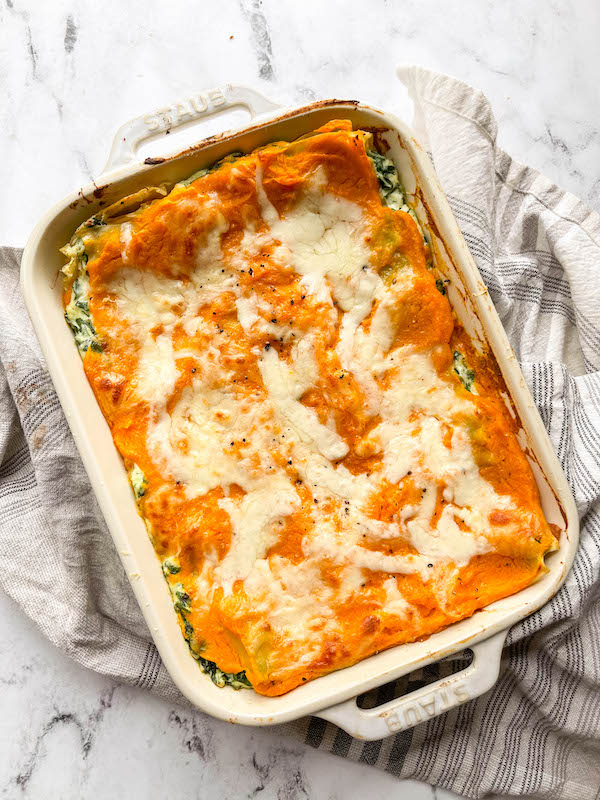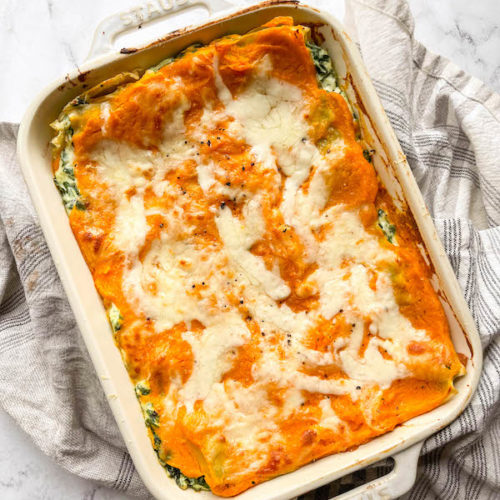 Need help meal planning? We're all about it in the Workweek Lunch Meal Prep Program! Get access to our meal planning tools, grocery list generator, and more. Start a free trial today!
This lasagna is part of my Holiday Meal To Meal Prep Series.
That means you can serve it to guests at holiday meals like Thanksgiving, bring to a potluck OR make as a regular freezer-friendly meal prep! If you want an easier recipe that still packs all the flavor, try out our easy lasagna soup.
What you need to know to crush this recipe:
This is a vegetarian, gluten-free-friendly dish. So there's no meat in it, and you can choose gluten-free lasagna noodles if necessary.
You can replace butternut squash puree with canned pumpkin puree (2 16 oz cans should do it!) or roast pumpkin to make the puree (same method as the one in the recipe below). This shortcut would save you lots of time! But I think the squash version tastes better.
You can add more vegetables. Sliced mushroom and chard would do really well in this recipe! You can add more veggies when sauteeing spinach for this recipe.
I would not add ground meat to this recipe, but if you want to, check out this recipe for butternut squash lasagna with ground turkey to read up on the method and how to incorporate it properly. It seems pretty simple!
Want to dress this lasagna up? Add sprigs/leaves of fresh thyme, sage or rosemary on top after it's baked.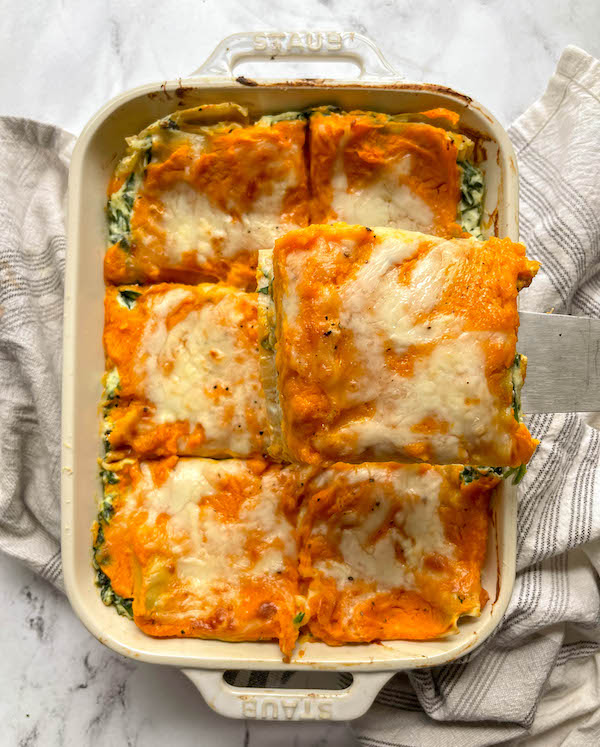 How to make this lasagna vegan:
Use a tofu ricotta. This is my favorite recipe for tofu ricotta. You'll need 1 package of tofu, lemon, nutritional yeast, salt and pepper.
Use non-dairy mozzarella cheese. Daiya works well in recipes like this and it's easy to find in most stores these days!
If you're using this recipe for meal prep…
This lasagna (like most) is freezer-friendly! After you bake it, let it cool for about 15-20 minutes before cutting it into pieces to add to your containers.
It will last in the fridge for up to four or five days and reheats well in the microwave, oven or toaster oven (covered).
If will last in the freezer for up to 6 months! You can defrost it in the fridge and then reheat it in the microwave, or pull it from the freezer and defrost it in the microwave directly.
If you're using this butternut squash lasagna for a celebratory meal…
You can absolutely make this lasagna ahead, freeze it and defrost it in the fridge the day you need to eat it. Then heat it up in the oven (covered) at 300 or 350 F for 30 min to an hour and it will be as good as when you just made it.
You can also assemble the lasagna at home and bring it unbaked to your friends/family dinner to bake in the oven if there's room!
If you don't want to make the whole thing ahead, you can take care of the butternut squash puree a few days in advance or the day before. Follow the directions below for roasting the squash and store it in the fridge in a sealed container until ready to use (or in the freezer if you want to prep it more than 3 days in advance).
Other recipes you'll love:
Meal Prep Tuscan Chicken Pasta Skillet
20-Minute Ground Beef Pasta With Swiss Chard
Pumpkin Pasta With Ground Turkey, Mushrooms & Kale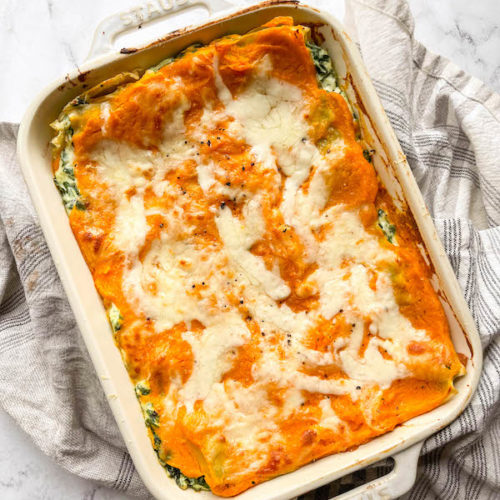 Butternut Squash Lasagna
Ingredients
1/2

large

butternut squash

2

TBSP

olive oil

1/4

tsp

cinnamon

1/4

tsp

nutmeg

salt and pepper to taste

8

oz

lasagna noodles

24

oz

spinach

chopped

16

oz

ricotta cheese

2

tsp

ground sage

2

tsp

ground rosemary

2

tsp

ground thyme

2/3

cup

milk of your choice

cooking spray

8

oz

mozzarella cheese

1

cup

parmesan cheese

divided
Instructions
Preheat your oven to 400 F.

Prepare the squash: peel the squash with a vegetable peeler. Scoop out and discard the seeds. Chop the squash into cubes. Pour the squash cubes onto a sheet pan. Drizzle the olive oil over the squash. Add the cinnamon, nutmeg and a generous pinch of salt and pepper, to taste. Toss well with your hands to coat the squash with the oil and spices, then arrange the cubes out on the pan so that they are not over-crowded. Bake for 30-35 minutes, until the squash is soft and fragrant.

Bring a large pot of water to boil. Cook the lasagna noodles 2-3 minutes less than the time the package says, stirring occasionally. You can spray them with cooking spray to avoid sticking!

Add the spinach and entire container of ricotta cheese to a bowl. Add sage, rosemary, thyme and salt & pepper to taste. Mix well until combined and set aside.

Add the cooked squash to a food processor or blender. Add the milk, salt, and pepper to the butternut squash and blend until smooth. The consistency should be similar to marinara sauce. Taste, adjust seasonings, and blend again if needed.

Preheat your oven to 375 F (190 C) (or just turn the heat down) and now it's time to assemble! Grease the bottom of a 9×13 (22x33cm) baking dish with cooking spray. Add a thin layer of butternut squash puree to the bottom of the pan. Then add a layer of noodles (I added 3 noodles to each layer).

Top the first layer of noodles with half of the ricotta/spinach mixture. Then add 1/4 cup of mozzarella cheese, followed by 1/3 cup parmesan cheese. Top with another layer of noodles.

Add a layer of butternut squash puree on top of the noodles. (Make sure you'll have enough left for a generous amount for the last layer!). Then add 1/4 cup of mozzarella cheese, followed by 1/3 cup parmesan cheese. Top with another layer of noodles.

Top the new layer of noodles with the remaining ricotta mixture, followed by 1/4 cup mozzarella cheese and 1/3 cup parmesan cheese. Then add the last layer of noodles.

Add the remaining butternut squash puree to the last layer of noodles, followed by the rest of your mozzarella cheese. Bake, covered, for 30 minutes. You can remove the cover for the last 10 minutes of baking!
DID YOU MAKE THIS RECIPE?
Please leave a comment below on the blog or share a photo with us and tag @workweeklunch! Can't wait to see what you made!