If you're looking for easy, delicious, no-bake breakfast bars you've come to the right place!
One of my favorite things to pick up on a road trip is dried fruit, especially dates. There is a roadside spot near me called Hadley's that has the best dates and date treats. These bars are inspired by some of my favorite date snacks from Hadley's, along with my desire for more no-bake bars. I hope you enjoy them as much as I did!
Want to make this meal? This recipe is stoppable via Jupiter! Click here to fill your cart with groceries and have them delivered to you asap.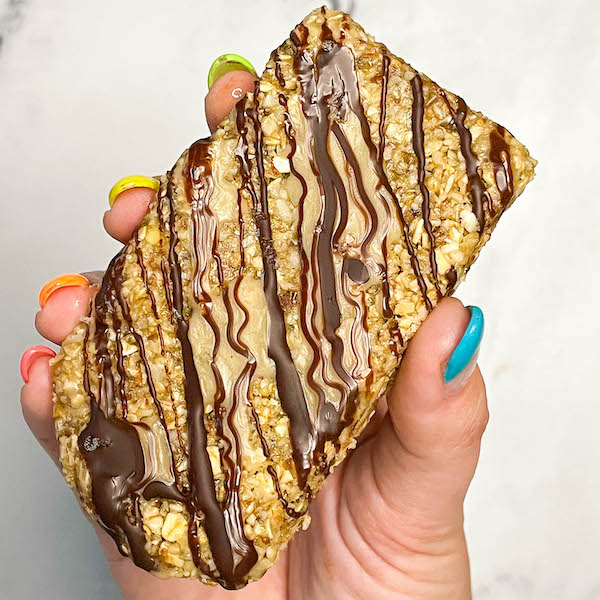 The base for these breakfast bars:
You will need a food processor or high-speed blender to make these bars. If you don't want to blend your base, you can choose to finely chop the dates and almonds – The base will be chunkier, but still good!
Feel free to customize the base to your liking! Dates play a pretty big part in these bars so I would not skip them. Make sure to buy pitted dates or remove the pits yourself prior to blending or chopping!
I chose almonds for these bars but you can swap them with whatever nuts of your choice. I recommend using roasted and salted nuts for added flavor, but if you would like to use raw nuts they will still be tasty, just add a pinch of salt to the base while blending. If you are allergic to nuts, you can use sunflower seeds or skip the nuts entirely and add extra coconut, dried fruit, or chocolate chips.
Tahini and maple syrup provide a lot of flavor and also hold the bars together! If you don't love the flavor of tahini, you can use your favorite nut butter in its place, or sunflower seed butter for a nut-free option. You can swap honey or agave for maple syrup, but I do not recommend using granulated sugar because you need the moisture that the liquid sweeteners provide!
Related: Breakfast Ideas: Our Master List Of Go-To Meals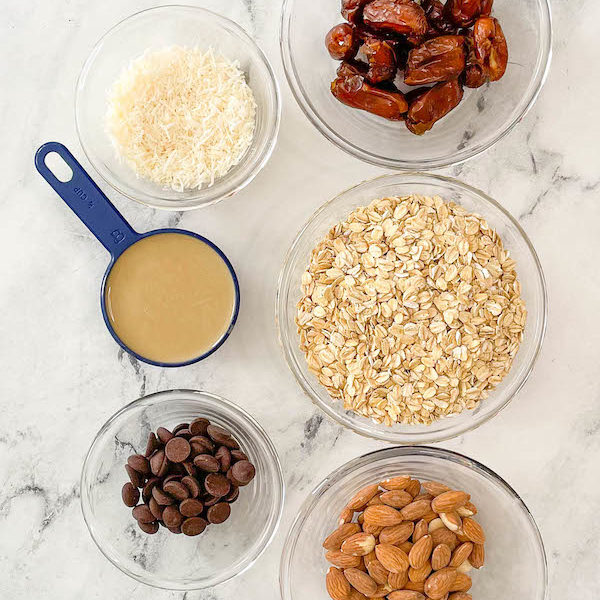 For the drizzle:
The chocolate chip and tahini drizzles make these bars feel extra fancy! Plus it would be a fun way to let the kids help with the bars, although things could get a little messy.
If you don't want to drizzle the toppings, you can pour both the melted chocolate and tahini on top of the chilled bars and do a little swirl action instead. They will set in the fridge the same but they will be messier because the topping does melt relatively quickly when out of the fridge.
Feel free to skip it entirely if you like! You can toss some chocolate chips in the base if you still want a little chocolate, but don't want to deal with the mess.
Related: Kid-Friendly Breakfast Recipes: 9 Overnight Oats Flavors To Try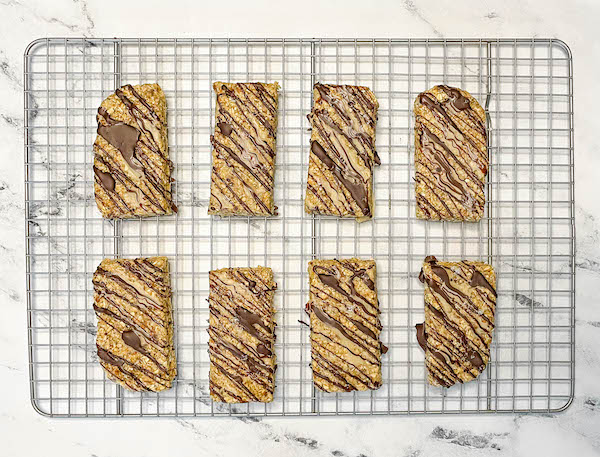 Storing these tahini breakfast bars:
These bars will last in the fridge for up to 5 days and are freezer friendly for up to 6 months. Store in the fridge or freezer to prevent melting or the bars from softening.
Happy prepping!
Related: How Long Do Meals Last: A Quick Cheat Sheet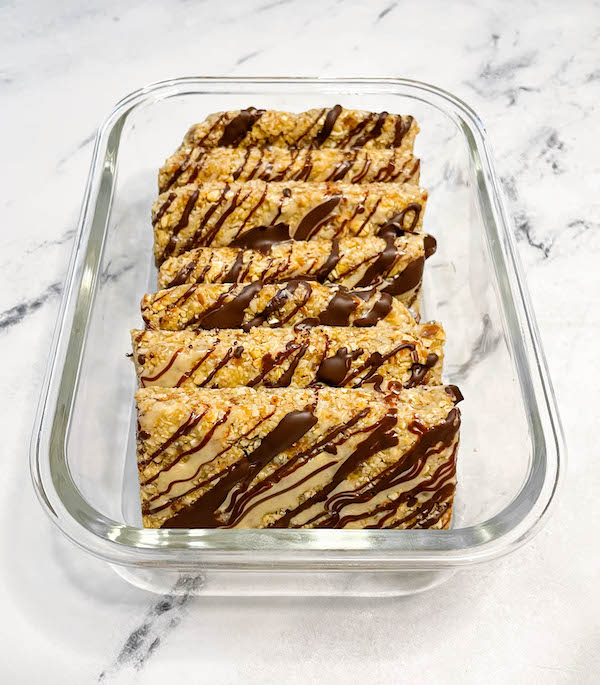 Don't forget to try our other delicious breakfast recipes: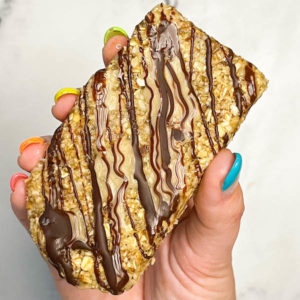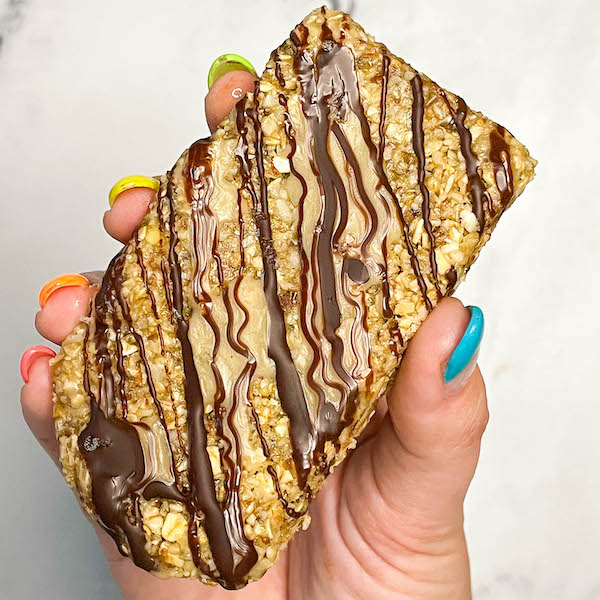 No Bake Tahini Breakfast Bars
Ingredients
For the bars
1

cup

dates

pitted

torn or roughly chopped

1/2

cup

almonds

sub nuts of your choice

1/4

cup

maple syrup

sub agave or honey

1/4

cup

tahini

plus more as needed

2

cup

old fashioned oats

1/2

cup

shredded coconut

unsweetened
For the drizzles
2

TBSP

chocolate chips

semi-sweet

2

TBSP

tahini

2

tsp

coconut oil

divided

salt

flaky sea salt is best
Instructions
To a food processor or blender, add the dates and almonds. Pulse for one minute until the ingredients have broken down. If the dates are not processing, add 1 teaspoon of water and pulse again until the dates and almonds are roughly chopped into small pieces.

Add the maple syrup, tahini, oats and coconut to the food processor. Pulse at a high speed for 1-2 minutes until the mixture is a fine crumble that sticks together when you press it together. If the mixture is too dry, add more tahini, 1 tablespoon at a time.

Prepare a 9×9 (21x21cm) dish with parchment paper. Scoop the date mixture on top of the parchment and press down with the back of a measuring cup or a spatula until you have a smooth, even surface.

Refrigerate the bars for at least 15 minutes. After they have chilled, remove the bars from the dish and cut them into rectangles.

While the bars chill, make the chocolate and tahini drizzle: Divide the coconut oil between two small microwavable bowls and microwave it for 10-15 seconds to melt. To one of the bowls, add the chocolate chips and continue to microwave at 10 second intervals, stirring after each session, until the chocolate chips are melted and smooth. Be careful not to overheat! In the other bowl, combine the coconut oil and tahini until smooth. Use a spoon and drizzle the desired amount of each over the bars.

Let the bars chill in the fridge for 15 minutes or until hardened. Store the bars in the fridge for best results. Enjoy!
DID YOU MAKE THIS RECIPE?
Please leave a comment below on the blog or share a photo with us and tag @workweeklunch! Can't wait to see what you made!