Salmon, sweet potato and green veggies are a super meal. It has everything. When you eat at work, it I guarantee that people next to you are jealous of how it smells and looks.
Roasted salmon and veggies is my go-to meal when:
a) I'm feeling lazy
b) Or maybe just super tired
c) I have no idea what to cook
d) It's Tuesday… or any day
e) All of the above
Roasted salmon and veggies is healthy, full of good fats and proteins, and most of all? It's so easy to prep, cook and pack up for work.
Tonight, I made the most basic version possible, because I was just super tired. But this meal is easy to jazz up too.
If you think you don't have time to cook, I dare you to try this simple recipe with less than 10 ingredients.
---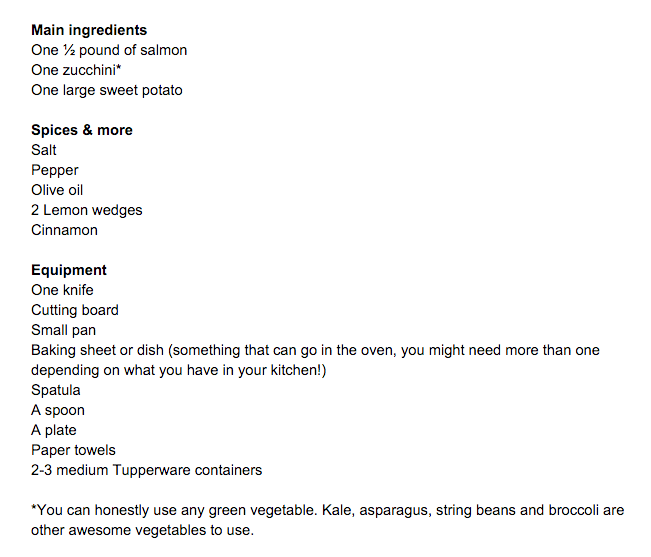 ---
Step one: Prep
Preheat the oven to 400 degrees.
Wash your hands! (Just have to say it)
Line a large baking sheet or several smaller baking pans (whatever you have) with foil.
If you're using zucchini, wash and slice it however you want. I slice it into cylinders about a half an inch thick.
Peel and wash the sweet potato. Then slice into wedges or cubes.
Set the sliced zucchini and sweet potato aside.
Slice the lemon into wedges.
Put a paper towel on a plate.
---
Step two: Assemble the baking sheet/dishes
Lay the salmon skin-side down on the foil-lined baking sheet. Sprinkle the filet with salt and pepper (as much or as little as you want). Then squeeze the lemon wedges over the salmon, covering with the juice evenly.
Next to the salmon or on another baking sheet/dish, place the slices or cubes of sweet potato evenly. Try to make sure they don't overlap!
Then drizzle olive oil directly onto the sweet potato. To do this, you can pour olive oil into a spoon and drizzle. I would use three spoonfuls, but it's up to you.
After that, sprinkle salt and cinnamon on the sweet potato. Make sure to be careful about not completely dumping cinnamon on the sweet potato. To avoid that, pour some cinnamon into a spoon and sprinkle with your fingers.
Then you're done! Stick the salmon and sweet potato in the oven and forget about it for the next 15 minutes. Don't forget to set a timer!
---
Step 3: Cook the zucchini
While the salmon and sweet potato are in the oven, place a pan on the stove and heat a glug of olive oil. Not sure what a glug is? Just make sure the bottom of the pan is evenly covered. Use a spatula to spread the olive oil as it heats.
After about a minute, add a layer of zucchini slices and let them cook for two minutes. Then flip them over with a spatula and cook for another two minutes.
Transfer the slices to the plate with a paper towel on it.
Repeat until all the zucchini slices are cooked. I have a small pan, so I had to do this three times.
When you're done cooking the zucchini, pat the slices dry with the paper towel. This just removes excess oil.
---
Step 4: Wrap it up
Check on the salmon after 15 minutes by cutting through the thickest part of the filet with a knife. If it's still bright pink inside, it should go back in the oven. If not, you're good!
Salmon cooked perfectly won't have any bright pink inside and will flake apart easily. Overcooked salmon will be tough to cut through.
The sweet potatoes should be nice and done by then as well. But you can always stick them back in the oven after the salmon is done.
Every oven is different. You may have to put it back in the oven for a minute or two.
Now that you're done with cooking, here's the fun part. You're going to divide this meal into two or three portions.
Note: there is no one size fits all for portions. For me, this batch gave me three meals. For someone else who needs to take in more calories, it might give them two.
---
Check out the finished product.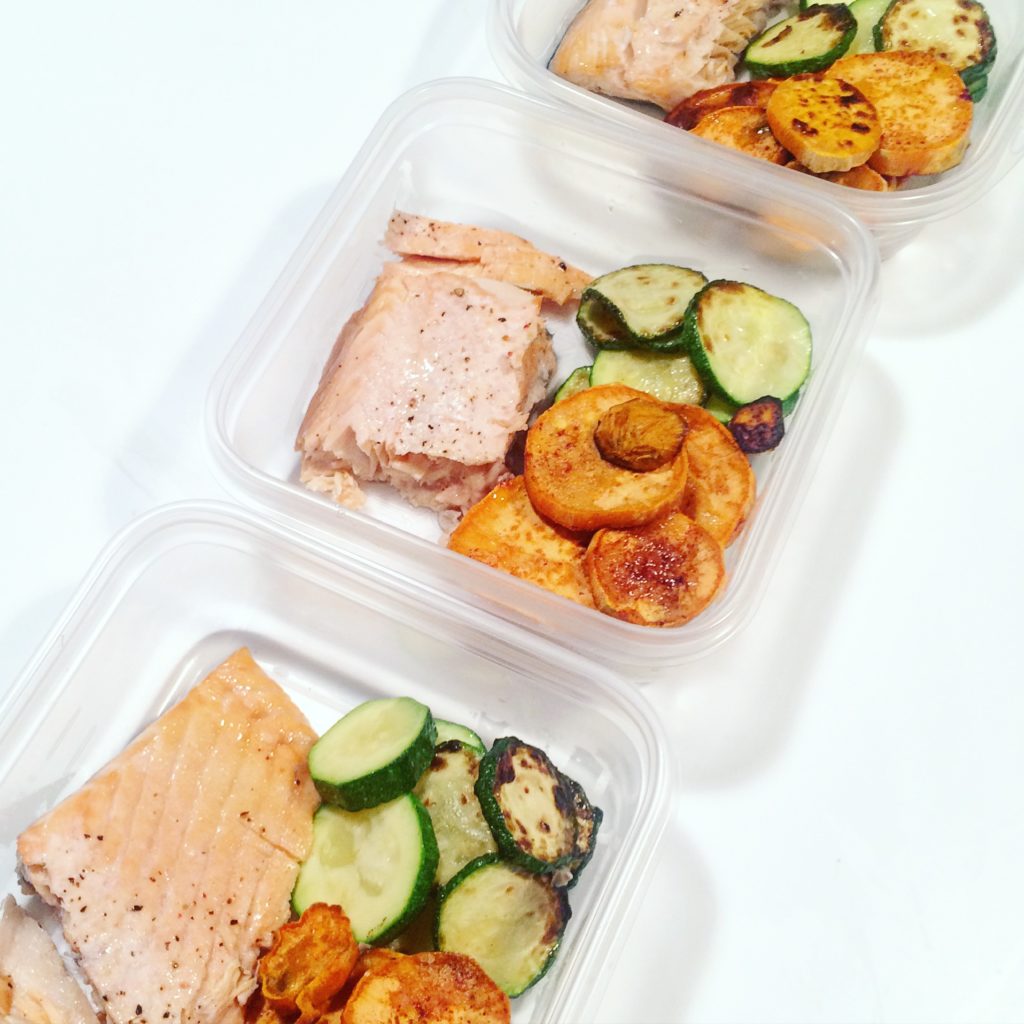 From Wednesday to Friday, I don't have to worry about lunch. I won't have to sit there at my desk debating over where to spend $8-$15 on food I don't actually enjoy. It's just one less thing to think about.
This meal cost less than $10 to make. To be exact, each meal is worth $3.10. Guess how much salmon, sweet potato and a green veggie costs at Dig Inn? $11 with tax. You really can't beat that.
Also, I controlled each portion size and how much salt I put into this meal. No way am I going to hit that 2pm slump for the rest of the week.