This is the ideal mandarin orange salad with a broccoli slaw base! It's perfect if you're looking for a non-lettuce salad. Broccoli slaw is totally underrated as a salad ingredient. It's easy to find, comes pre-chopped and it's delicious!
Get ready to use up most of a big bag of mandarins for this recipe, which uses seven of them! Then you can just snack on the leftovers. You can swap salmon out for any protein you'd like in this salad recipe. Want to turn this salad into a stir fry? Just add rice or noodles!
This recipe is also featured in my cookbook, The Workweek Lunch Cookbook: Easy, Delicious Meals to Meal Prep, Pack, and Take On The Go out on March 29, 2022! It includes 60 approachable recipes designed to be meal-prepped and stored.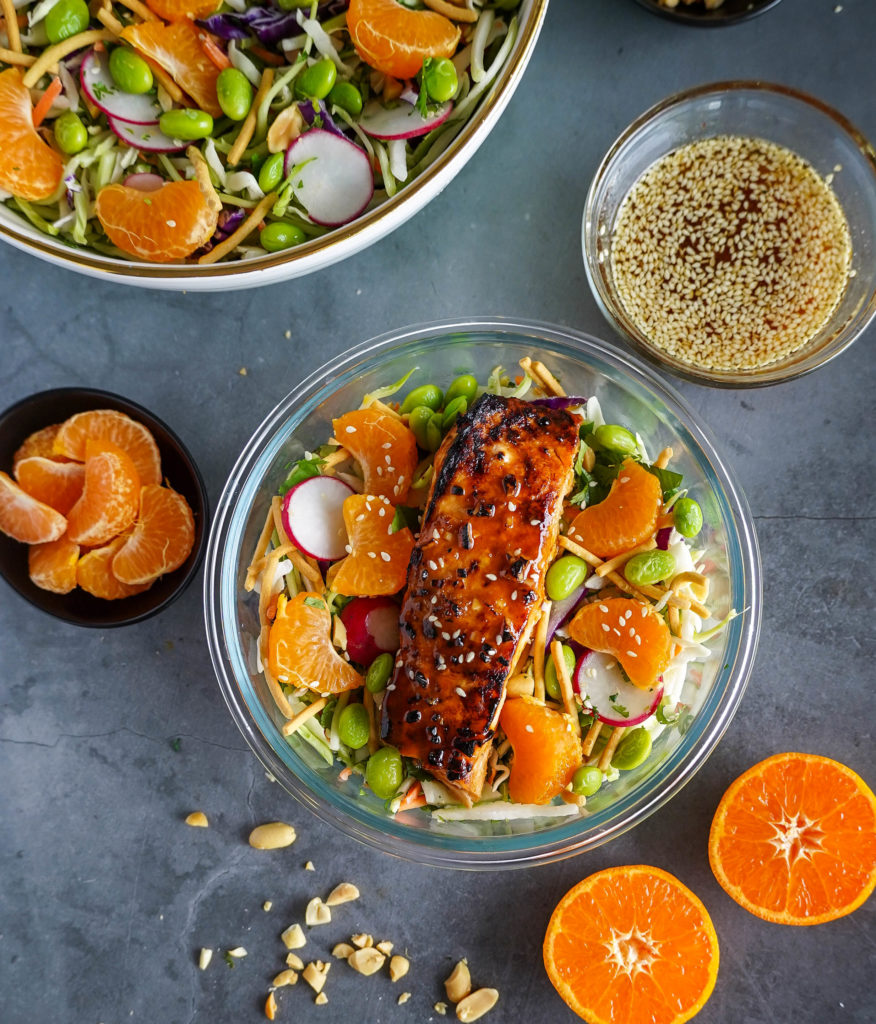 What you can change about this mandarin orange salad
The protein:
I opted to bake my salmon to make this recipe more hands-off and convenient. You can also pan-fry your salmon over medium heat (7-9 minutes) if you prefer it that way.
If you don't like salmon or want another baked protein, you can try:
chicken breast – 35-40 minutes (you may want to sear it on the stove first)
chicken thigh – 40 minutes
shrimp – 20 minutes
Pork loin – 25-30 minutes (you may want to brown it on the stove first)
tofu/tempeh – 20 minutes
Chickpeas – 15-20 minutes
Your favorite veggie/meat patties
For even more ideas, check out our master list of vegan protein options!
You could also make any of the above options on the stove instead!
Related: Cold Lunch Ideas: Meal Prep Recipes When You Don't Have A Microwave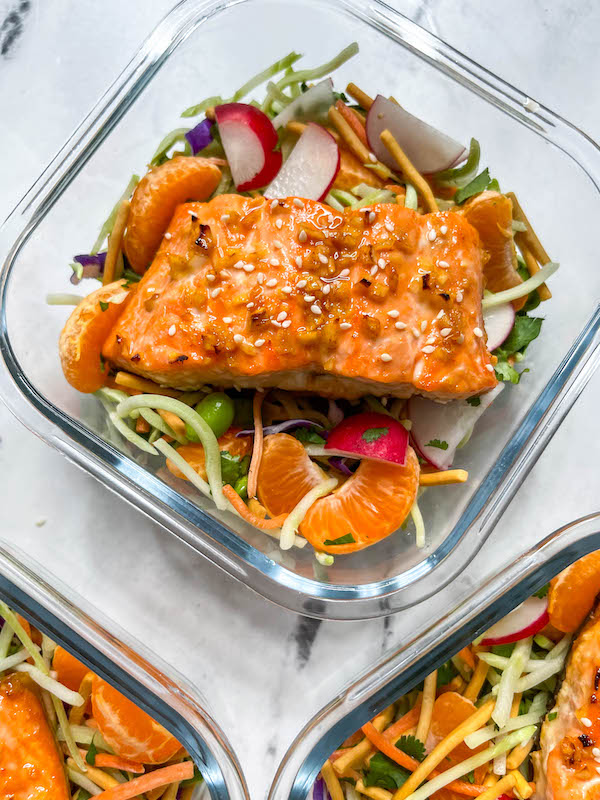 The salad itself:
While I do recommend you use broccoli slaw because of its heartiness and crunch factor, you can certainly use traditional slaw if you prefer it. Other ways you can customize this salad:
Add your favorite herbs! We're already using cilantro, but basil would go great with this dish
Add some salad greens! Spinach and arugula would be my go-to, but feel free to add some crunchy kale or iceberg lettuce
Add some chopped red onion for extra zing
Add other veggies you love such as sliced red bell peppers, more carrots, shaved Brussel sprouts, and green onions.
Related: 20 Meal Prep Salads That You'll Actually Enjoy Eating
Change up the dressing
We're making a sesame mandarin dressing for this recipe, but you can always change it up! If you want to keep the sesame mandarin dressing but don't feel like making your own, this one looks great.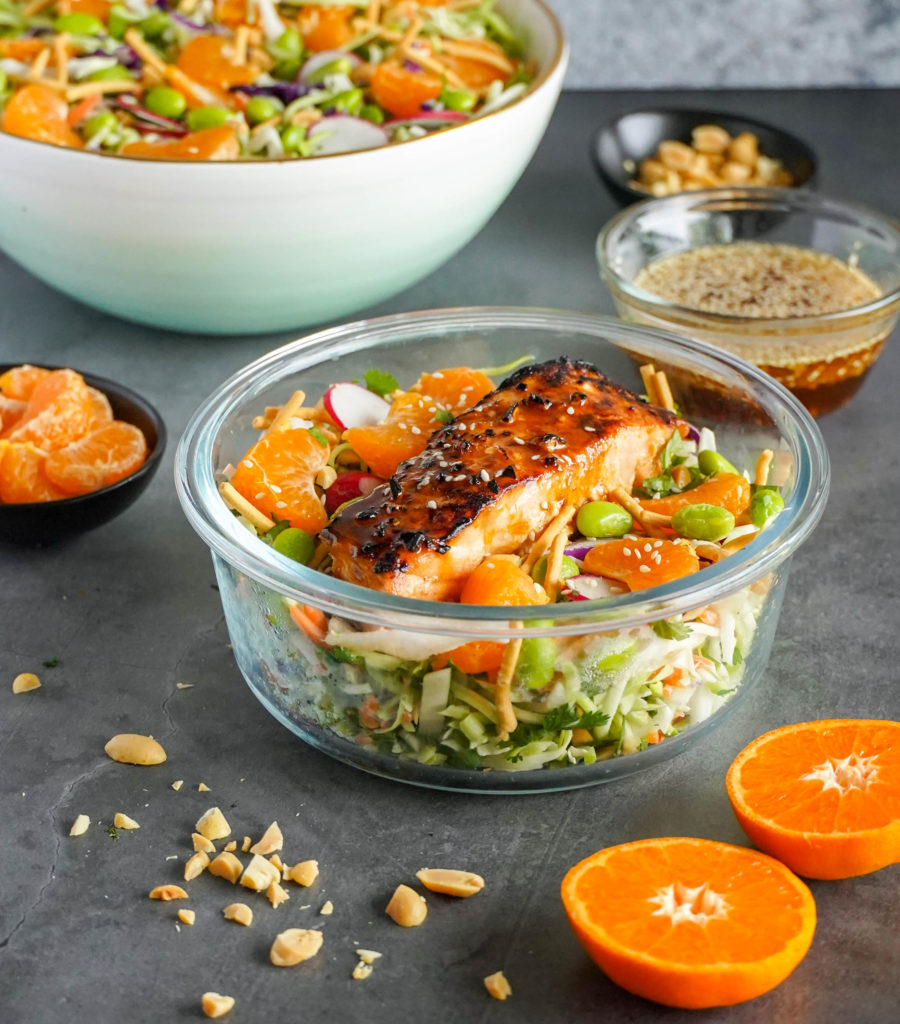 How to store and reheat this salad
This meal lasts for three to four days in the fridge. It's not freezer friendly. Enjoy this meal cold or at room temperature.
You can reheat the salmon in the microwave, on the stove or in the oven if you'd like! The salmon should flake apart easily when you're ready to eat. Drizzle the dressing on top before eating.
And don't forget to try out our other delicious recipes!
Here are a few you may be interested in: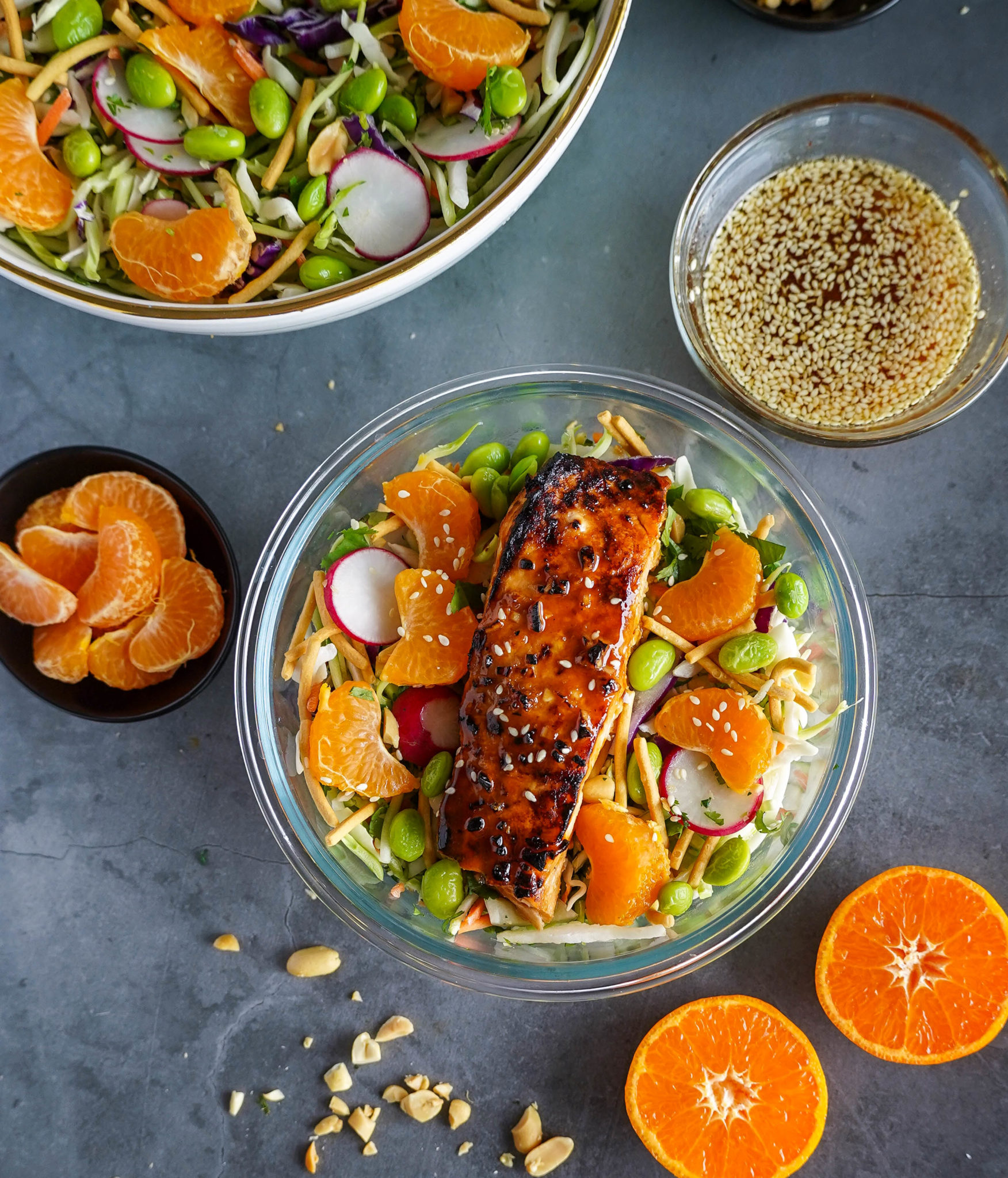 Mandarin Orange Salad With Salmon and Sesame Dressing
Ingredients
For the salmon
2

TBSP

honey

3

cloves

garlic

minced

1

inch

ginger

minced

1

TBSP

rice vinegar

2

tsp

sriracha

2

tsp

sesame oil

1

TBSP

soy sauce

1

mandarin

chopped in half

cooking spray

16

oz

salmon

cut into three pieces
Salad ingredients
12

oz

broccoli slaw

3

mandarin

peeled and separated into slices

8

radishes

sliced

1

cup

edamame

shells removed and cooked according to the package

2/3

cup

cilantro

chopped

1/2

cup

cashews

chopped, sub almonds

1

cup

fried chow mein noodles

optional for topping, omit for GF
Sesame mandarin dressing
1/2

cup

sesame oil

2

TBSP

soy sauce

1/4

cup

honey

2

tsp

rice vinegar

3

TBSP

sesame seeds

2

mandarin

chopped in half
Instructions
Preheat your oven to 400°F (200°C).

To a measuring glass, add the honey, garlic, ginger, rice vinegar, sriracha, sesame oil and soy sauce. Squeeze juice from the 2 mandarin halves over the glass and mix well. Prepare a baking sheet or dish with cooking spray. Place the salmon on the dish and pour the glaze on top. Use a spoon to scoop up sauce from the bottom of the dish and drizzle it on the salmon, ensuring the tops and sides of the filets are completely covered in the sauce. Bake for 15 to 20 minutes, until the salmon is firm to the touch or a meat thermometer reads 140°F (60°C). If more caramelization is desired, broil the salmon for exactly 1 minute before taking it out of the oven.

While the salmon bakes, toss the broccoli slaw, mandarin slices, radishes, cooked edamame, cilantro and cashews. Set aside.

To make the dressing, add the sesame oil, soy sauce, honey, rice vinegar and sesame seeds to the same measuring glass you used before. Add the juice of two mandarins and mix. Transfer the dressing to small containers to keep on the side until you eat the salad.

Divide the broccoli slaw mixture between three meal prep containers. Place the cooked salmon on top.
DID YOU MAKE THIS RECIPE?
Please leave a comment below on the blog or share a photo with us and tag @workweeklunch! Can't wait to see what you made!