This is one of the first Workweek Lunch recipes ever! The original post is here.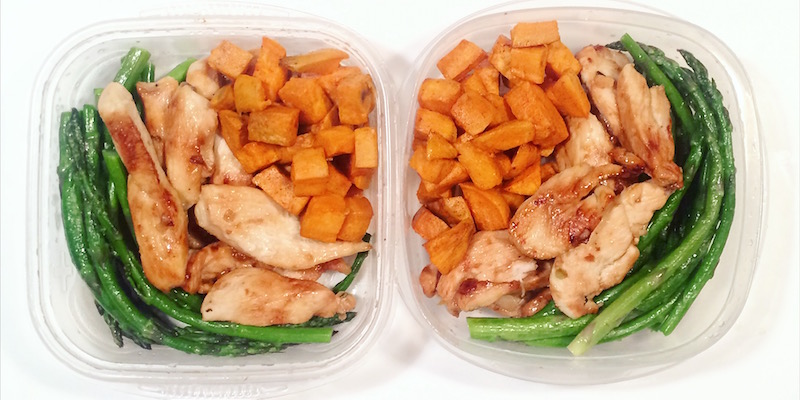 You only need to be able to cook one legitimate thing to be considered "good" in the kitchen. That's where it starts. No, toast doesn't count. For me, it's chicken.
Until college, I basically only ate breaded chicken, grilled cheese and pizza. My mom would get me to eat salad sometimes by putting honey on it. No joke.
So naturally, when I started cooking I felt most comfortable making chicken on the stove or in the oven. It took me a long time to figure out exactly how to make it taste good. (No, I never really read recipes). The secret is in the sauce, my friends. For real, making tasty chicken is all about the marinade.
Marinating chicken doesn't have to be a 4-hour long thing either. If you plan on using a marinade, you just need to make sure that's the first thing you do when making a meal.
Marinate first, then prep, then cook.
This honey lime chicken recipe paired with sweet potatoes and asparagus make a satisfying lunch that you won't get bored of. I highly recommend adding the honey-lime marinade to your bag of quick kitchen tricks.
It cost less than $9 to make and requires the simplest ingredients.
That's the real deal, folks. Like all of the meals I make, it has a balance of protein, carbs and veggies.
Pro tip: Asparagus can be hard to eat out of a Tupperware so it might be a good idea to cut them in half before or after cooking!