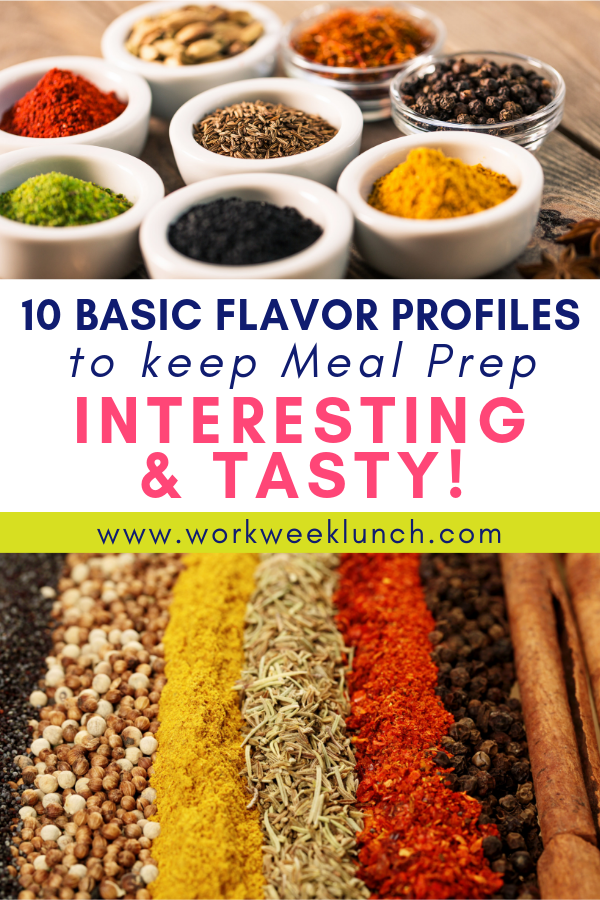 You know what they say—spice is the variety of life.
OK, I might have messed that up, but the gist is that spicing up your meals is the best way to guarantee you stay excited about meal prep and keep doing it every week.
Meal prepping the same basic recipes weeks in a row can be awesome when you're first starting out, but as you might have already figured out, it gets boring fast. And it makes meal prep A LOT harder to stick with.
Bland food leads to boredom, which leads to takeout.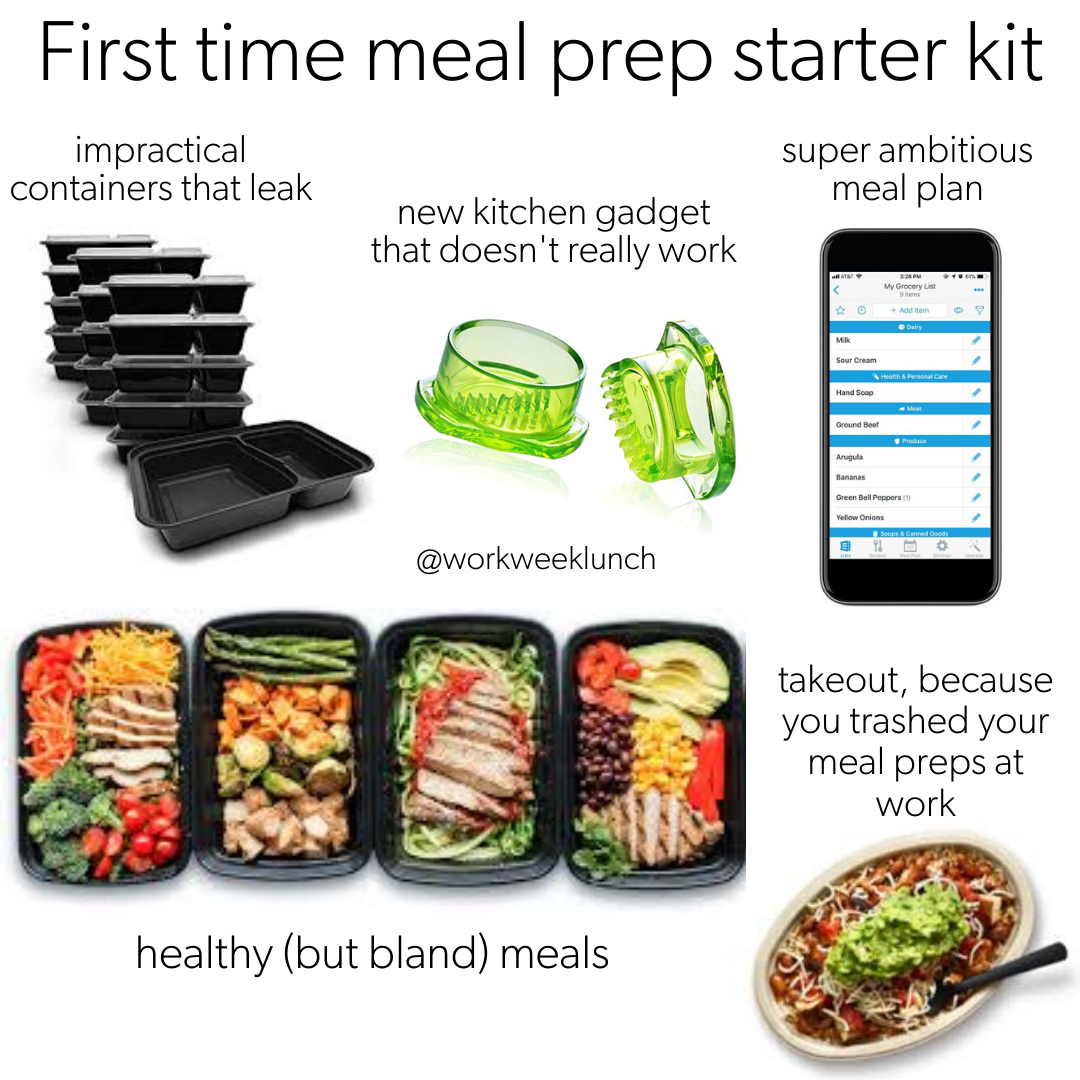 I've been there so many times. I'd make a basic meal prep with no flavor, pull it out the next day for lunch, and find it so unappetizing and boring that I'd toss it and get takeout instead.
Have you ever done that?
The most obvious way to avoid this whole scenario from happening is to make food that's so flavorful, you'll actually want to eat.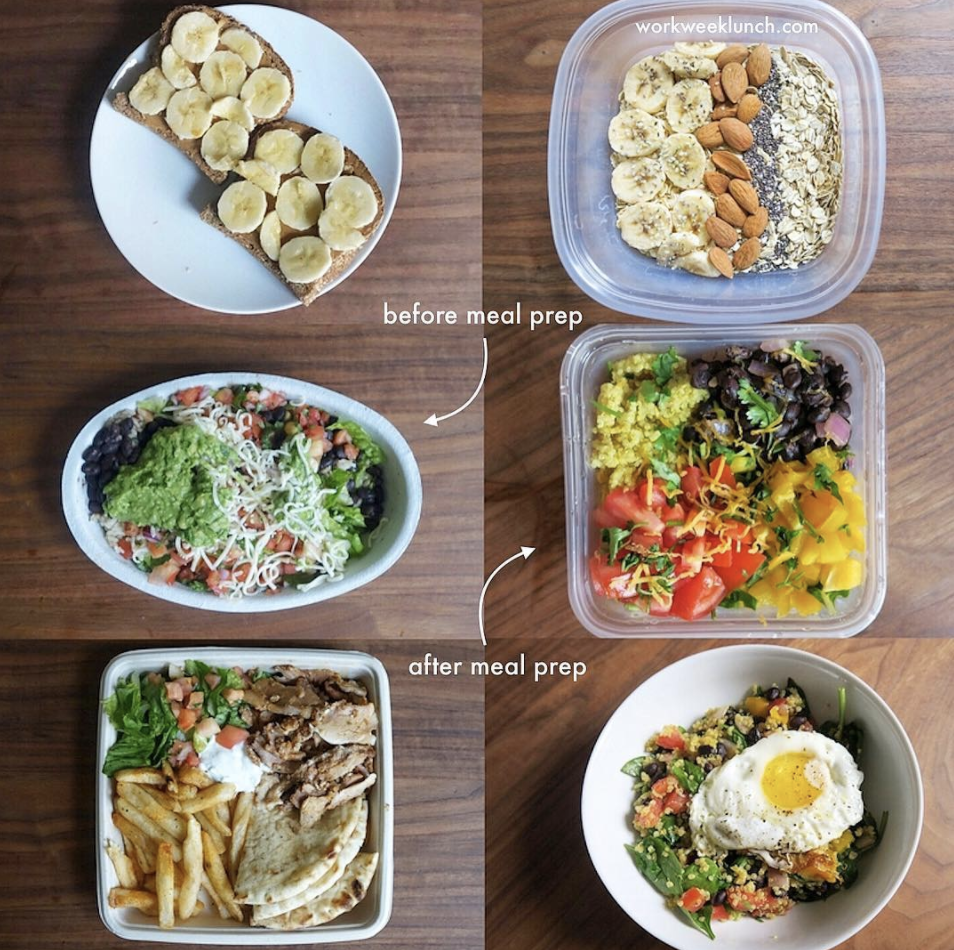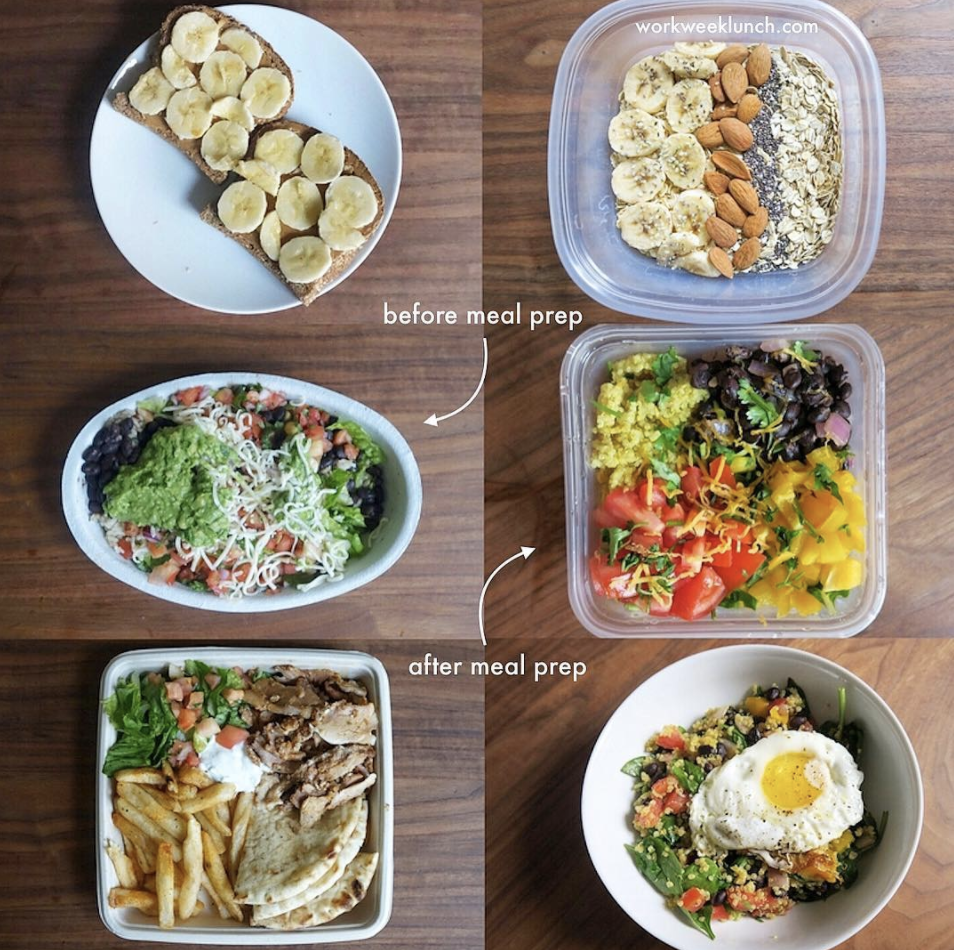 But why is the struggle with keeping meal prep interesting so real? Here's why:
You don't know where to start when it comes to trying new flavors.
You don't know if you'll even LIKE new flavors.
Discovering new flavors and cooking styles requires more time and effort than your go-to dish
You'll probably have to spend more money on fancy ingredients
Even just looking up new recipes is time-consuming!
How do you keep it interesting without using up a ton of time learning new recipes, spending money on fancy ingredients, and cooking something that potentially tastes bad to you?
First of all, I like to draw inspiration from the restaurants I eat at on a regular basis. I LOVE Asian food of all strokes and I've eaten enough Thai and Japanese food to know what ingredients make them different. Every time I travel, I also try to include a cooking class on my itinerary, as this is a quick and easy way to turn my vacation into a meal prep, learning opportunity (not to mention, eat great food and meet amazing people).
What do all of these different kinds of meals have in common? Flavor profiles.
What's a flavor profile anyway?
A flavor profile is a set of basic and common spices, seasonings, and aromatics that emulate a specific cuisine.
The keyword in that definition is basic.
Flavor profiles are memorize-able. Meaning, you won't need a recipe to whip up a Thai-inspired meal because you will already know the basic ingredients that will make it taste kinda like Thai food.
Again, you're not going all out to make authentic meals here. You're simply taking inspiration from other cuisines and cultures to spice up your basic, go-to preps.
Side note: my very first idea for this site was to be JUST about flavor profiles because they've been a huge factor in my cooking journey.
In fact, I originally didn't want to write recipes at all because I rarely use them myself! I just rely on these basic flavor profiles, which I've pretty much memorized because they're really THAT simple.
1. Asian-inspired
Basic Americanized Asian dishes include stir-frys, rice bowls, noodle bowls, broccoli bowls (all the bowls).
Check out this easy spin on a traditional stir-fry.
What you'd need to create an Asian-inspired prep:
Spices
Ground garlic
Coriander
Ground ginger
Star anise
Ingredients
Soy sauce
Rice vinegar
Sesame oil
Agave (I use this when making a stir fry sauce)
Sriracha (or any type of chili sauce)
White or brown rice
Tofu
Meat: beef, chicken, fish, seafood
Fresh ginger
Fresh garlic
Noodles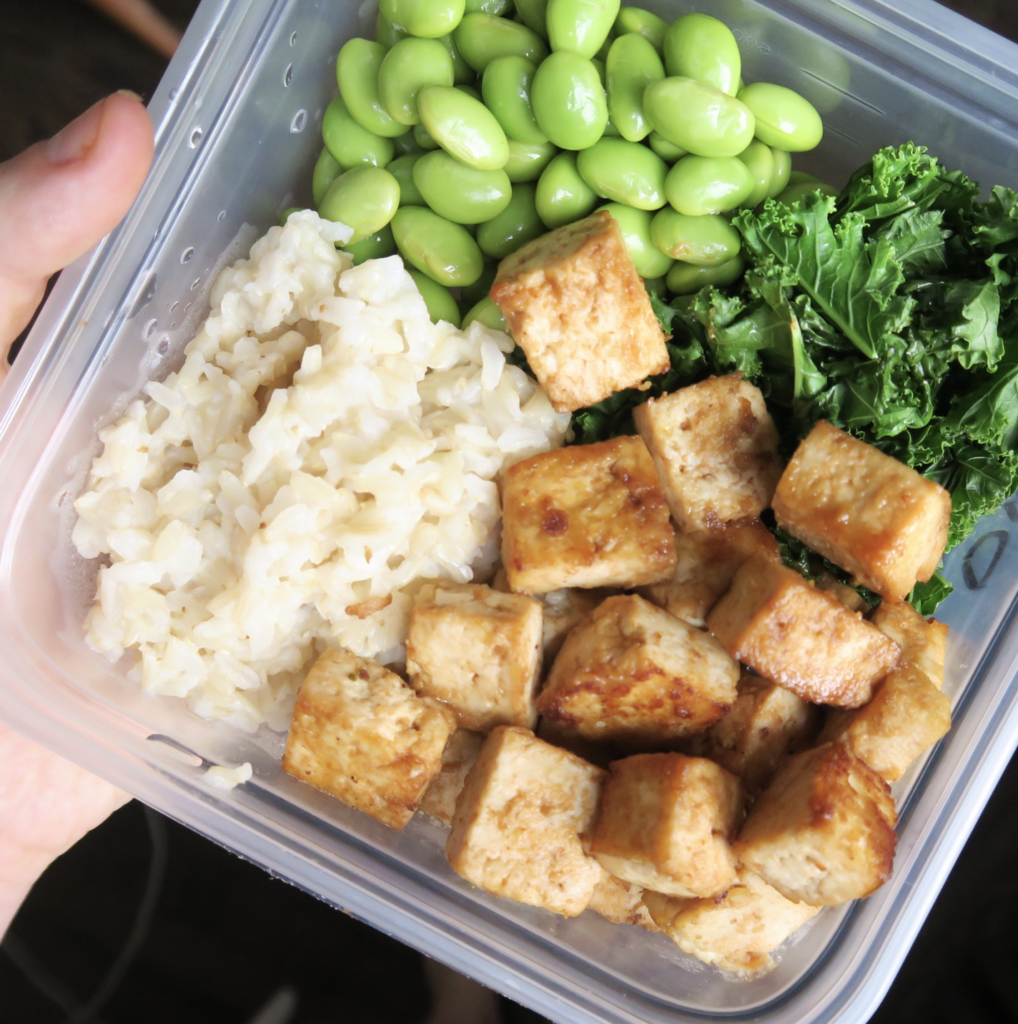 2. Mexican-inspired
Basic Mexican dishes include burritos, fajitas, tacos, quesadillas and enchiladas. I like making burrito and fajita bowls the most!
This tortilla soup recipe is by far one of my easiest recipes!
What you'd need to create a Mexican-inspired prep:
Spices
Cumin
Chili powder
Onion powder
Garlic powder
Ingredients
Cilantro
Limes
Avocado
Tomatoes
Peppers
Onion
Sweet potato
Cheese
Black beans
Rice
Tortillas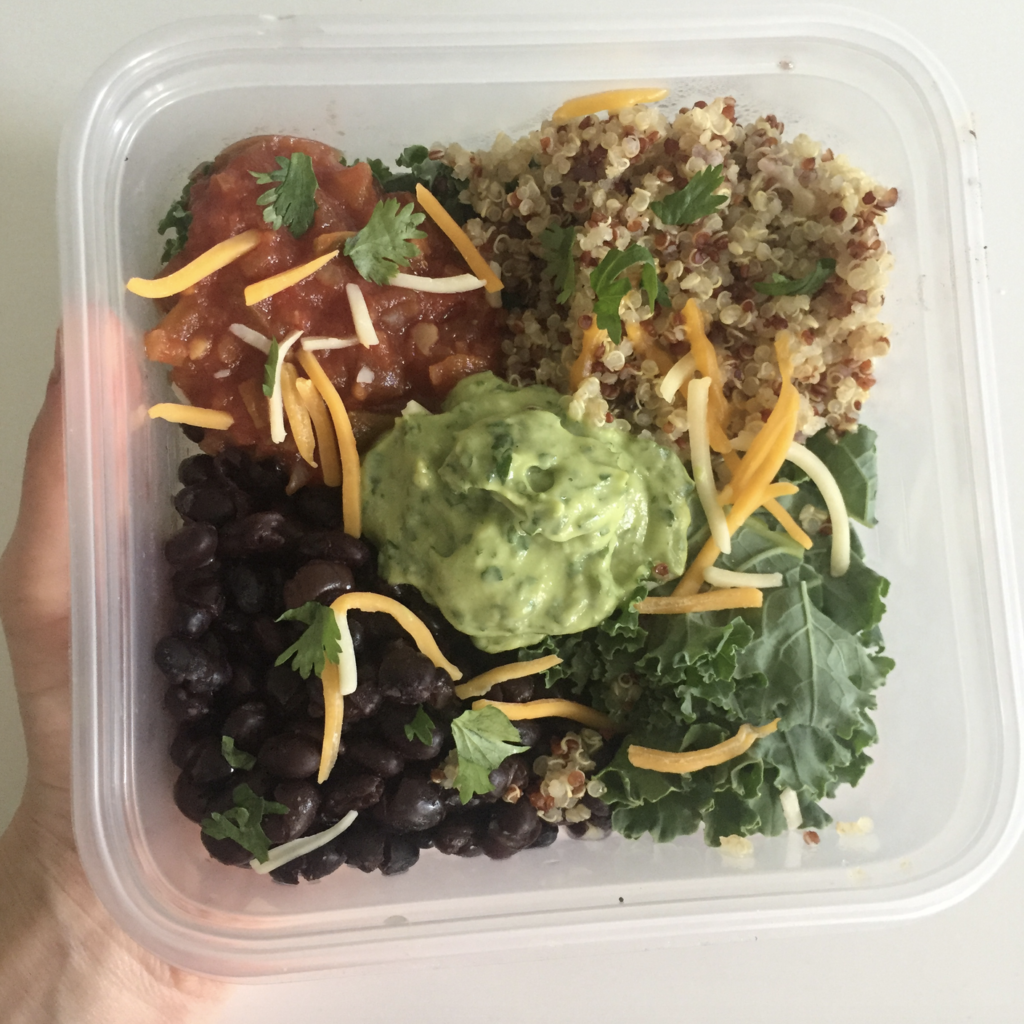 3. Thai-inspired
Basic Thai dishes include pad Thai, peanut chicken or tofu, chicken or tofu lettuce wraps, shrimp rice bowls.
Check out this delicious no-reheat Thai tofu, zucchini and carrot bowl.
What you'd need to create a Thai-inspired prep:
Spices
Garlic powder
Coriander
Turmeric
Lemongrass
cardamom
Basil
Ingredients
Coconut milk
Fish sauce
Limes
Peanuts
Noodles
Chilis
Peanut butter
4. Indian-inspired
Basic Indian dishes include curry, tikka masala, butter chicken, lentil dal.
Super cozy and freezer-friendly creamy butternut squash curry over rice.
What you'd need to create an Indian-inspired prep:
Spices
Garam masala
Turmeric
Cinnamon
Cumin
Nutmeg
Curry powder
Ground ginger
Garlic powder
Ingredients
Fresh ginger
Fresh garlic
Coconut milk
Tomatoes
Cilantro
Chilis
Onions
Curry paste
Limes
Lentils
Chickpeas
Potatoes
Basmati rice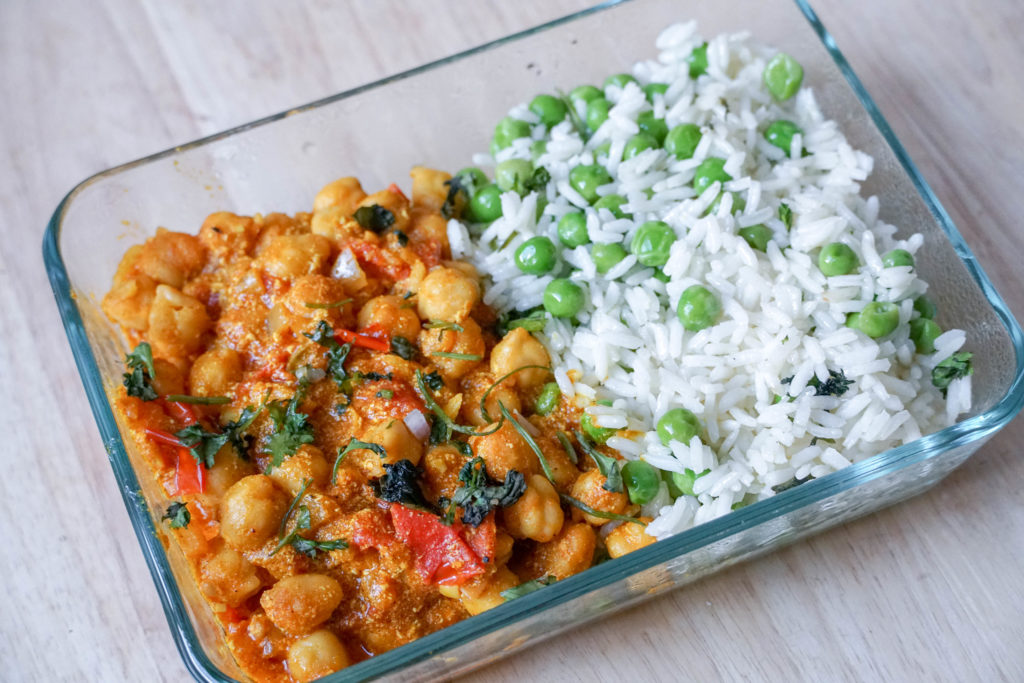 5. Italian-inspired
Basic Italian meal prep dishes include pasta, pizza, and roasted meals (think chicken bakes).
What you'd need to create an Italian-inspired prep:
Spices
Garlic
Basil
Oregano
Parsley
Rosemary
Thyme
Ingredients
Parmesan and mozzarella cheese
Canned or fresh tomatoes
Pesto!
Olives
Olive oil
Lemon
Mushrooms
6. Moroccan-inspired
Basic Moroccan meal prep dishes include couscous and rice bowls, stews, kebabs.
Moroccan chickpeas, tomatoes and sweet potatoes.
What you'd need to create a Moroccan-inspired prep:
Spices
Cumin
Ground ginger
Cayenne
Cloves
Cinnamon
Ground garlic
Parsley
Ingredients
Olive oil
Couscous
Cilantro
Potatoes
meat (chicken, beef, lamb)
Tomatoes (canned, whole)
Onion
Chickpeas
Carrots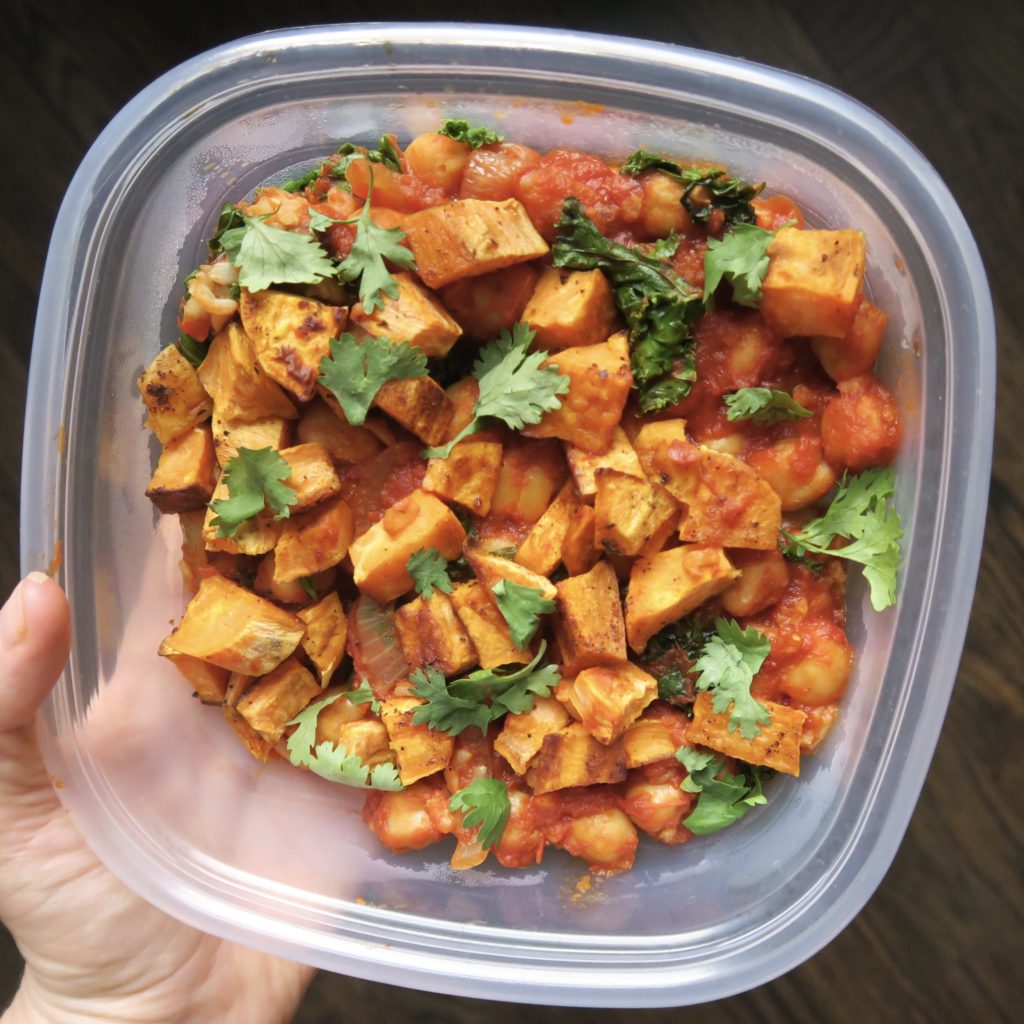 7. Mediterranean-inspired
Basic Mediterranean meal prep dishes include couscous and rice bowls, chickpea or lentil salads, roasted chicken or fish with veggies.
What you'd need to create a Mediterranean-inspired prep:
Spices
Basil
Parsley
Rosemary
Oregano
Dill
Ingredients
Fresh mint
Lemon
Cilantro
Couscous
Rice
Tomatoes
Fish, chicken
Peppers
Cucumbers
Lettuce and greens
Chickpeas
Lentils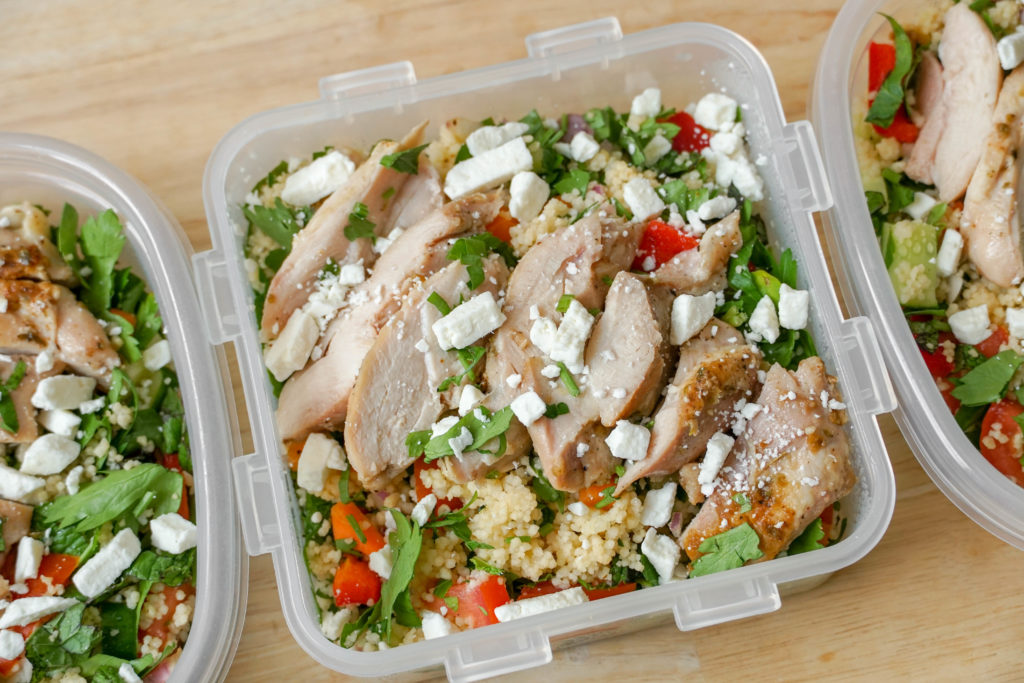 8. American-inspired
Yes, it's a thing!
Basic American meal prep dishes include pasta bakes, casseroles, wraps, BBQ anything, burgers.
When thinking American-inspired, think of making a healthy version of whatever you'd order at a fast food place, for example this delicious turkey burger with sweet potato fries meal prep recipe
What you'd need to create an American-inspired prep:
Spices
Salt + pepper
Chili powder
Garlic
Ingredients
Potatoes
Corn
Cheese!
Meat: chicken, beef, pork, fish
Hearty veggies, collard greens
Sriracha
Soy Sauce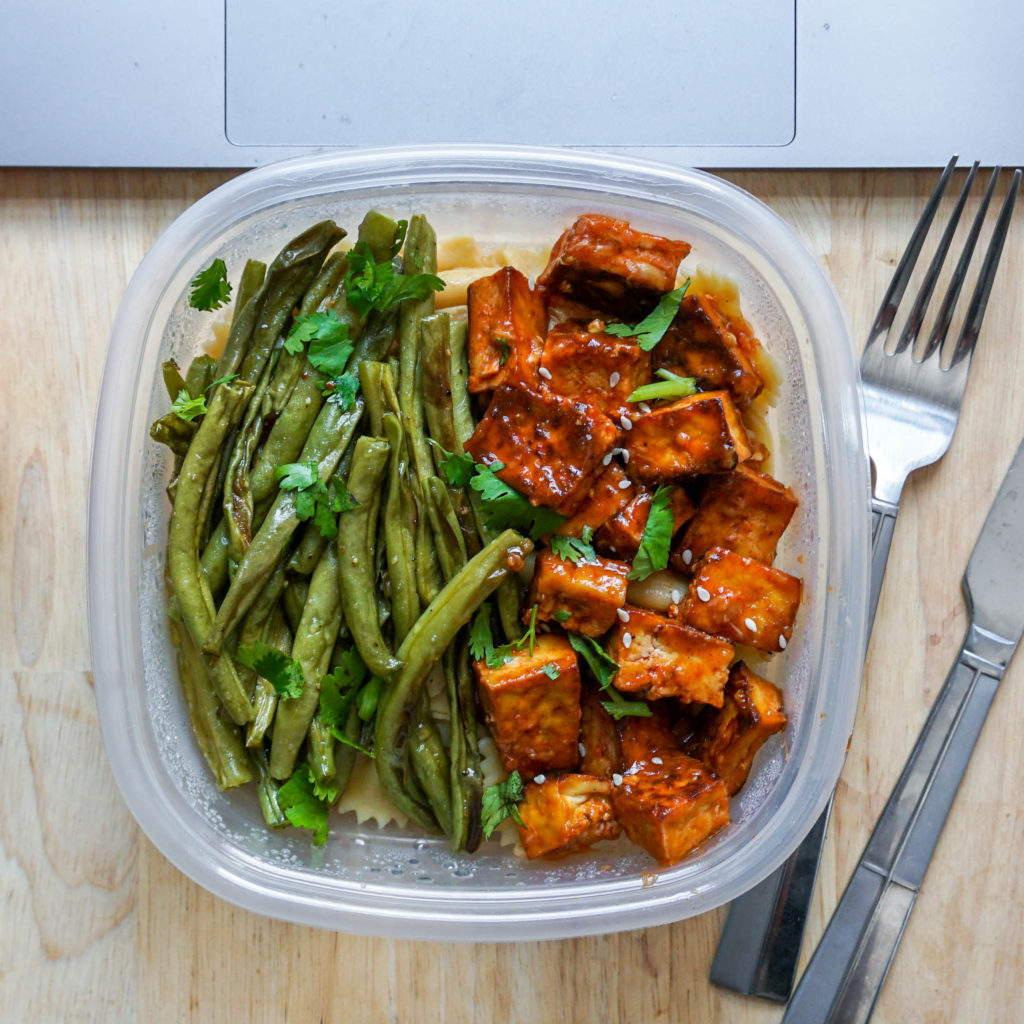 9. Basic Lemon Garlic
This is my go-to in a rush!
Basic lemon garlic dishes could be anything with chicken, fish and green veggies. Best for grilling, steaming and baking when you're in a rush but want a punch of flavor.
What you'd need to create a lemon garlic meal prep:
Spices
Lemon
Garlic
Olive oil
Salt + Pepper
Ingredients
This flavor profile works great with chicken, fish, green veggies, quinoa, pasta and salads.
10. Basic Grain Bowl
This is a flavor profile I made up that I love using when making easy grain bowls!
A grain bowl generally has a base of quinoa, rice or beans and goes with various proteins (eggs, fish, chicken, beef, tofu, tempeh, seitan) and pretty much any veggies you want (I like broccoli, carrots, tomatoes, red peppers, asparagus, onions, cauliflower and zucchini).
Spices
Salt + Pepper
Cumin
Cayenne
Cinnamon
Garlic
Ingredients
Proteins:
Grains:
Veggies:
Top with your favorite sauce (I like this tahini one from Minimalist baker).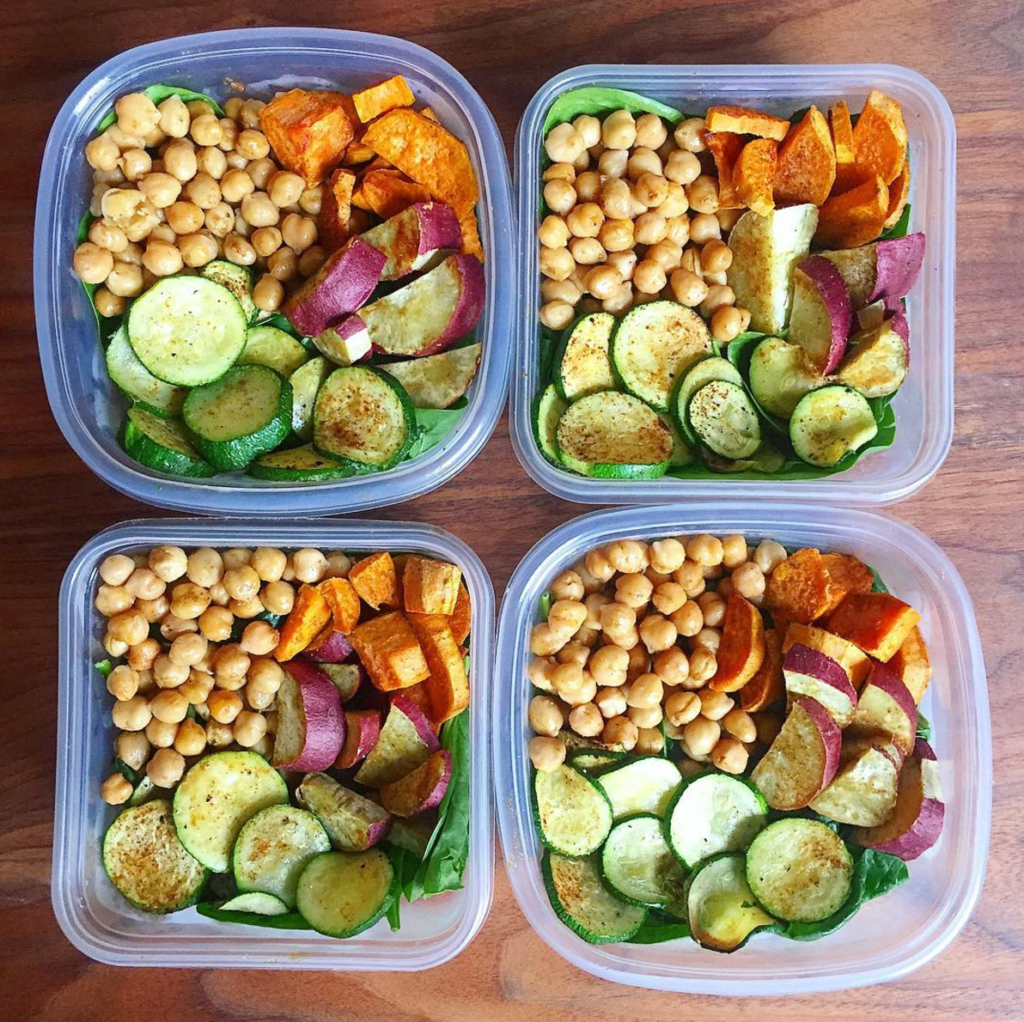 Other flavor profile ideas:
You may also want to look into Cajun, Cambodian, Eastern European, French, Cuban, Korean, Filipino, and Spanish flavors and basic recipes for meal prep inspiration! Don't be afraid to let your tongue travel the world.
Want meal-prep friendly recipes for these flavor profiles?
Sign up below and immediately get a PDF that includes 40 Workweek Lunch-approved recipes for these flavor profiles!